Website Setup

Business Software
Need any help?
If you have any questions or dificulities manging your business website, just reach out to our Customer Success Managers!
With the VEVS website builder, you can add any other app or service by integrating the provided code to your website. Usually, these services give a piece of JavaScript code that you need to place on your web page. Once the code is added, the service will start working. An example of such service is Google Analytics - probably the most popular website visitors analytics software. They provide you with a piece of JS code that, once placed on your website, will start tracking all website visitors, and later through the Google Analytics platform, you will have access to that data.
With our External Code support, we made it possible for you to place such JavaScript code on every or specific page on your website. If your website supports multiple languages, you have the option to place this code only for certain languages. For example, if you use some online chat platform and need to put a chatbox on the English version of your website, but not the Spanish, you can do that.

And last but not least, you can specify the exact position in the code of your web page as different services require different places within the code of your web page where the JS snippet should be placed.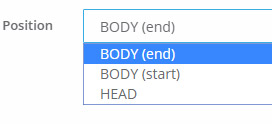 Check-out our Recommended Software page for all kinds of web apps that you can add to your website.