Website Setup

Business Software
Need any help?
If you have any questions or dificulities manging your business website, just reach out to our Customer Success Managers!
What we call a "Demo data" is all the dummy data that is added to your trial account, so it does not look empty. For example, a demo data for the Car Dealer website are all the vehicles that we've added, so when you open the Vehicles page, you can see some real vehicles and also use the search form to look for a car. And for the Car Parking website, a demo data will be the few parking locations and parking space types so that you can try out how the reservation form works.
Of course, you can delete any or all of that demo data. Next to each demo record you will see a small info icon
When you click on that icon, a pop-up window will pop with information about the demo data. You will have the option to either keep that particular demo record, which will hide the info icon for it, and it will no longer be considered by our system as a demo record or delete all the demo records on your website.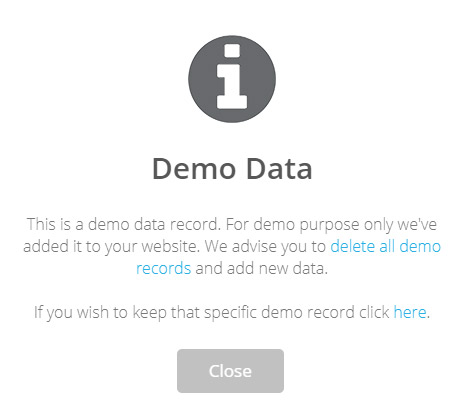 If you choose to delete all the demo records, it's quite possible that you won't be able to fully test the website as, without data, it won't function properly. For example, if you build a real estate website and delete all properties, you won't be able to see how the Property Search function works as there will be no properties.
If you choose to edit a demo data record and add your real data (for example edit one of our demo properties and add details for your own property) but forget to set that particular demo record as a real one when you delete all demo records this record will also be deleted! So be careful when you start adding your actual data and make sure that it's not selected as a demo one (having a small info icon next to the edit/delete buttons).
The demo data can be deleted at any time, no matter if you are on trial or already upgraded your account, but still have demo data. Once the demo data is deleted, it cannot be restored, so make sure you carefully check which records of your data are set as demo ones, so you do not lose any of your real data.