As of 2019, the global car rental market was valued at $92.92 billion and is projected to increase in size to $214.04 billion by 2027, despite the current difficulties that the market experiences because of the Covid-19 pandemic. With this increase in market size, comes a great increase in opportunity for growth and expansion, and what better way to take advantage of just that than with a solid online presence for your business.
In this blog post, we want to discuss why you should choose the VEVS Car Rental Website Solution for your rent a car business and the benefits it entails.
Who We Are? What We Do?
We created VEVS to help small and medium-sized companies to get online quickly and painlessly and start serving their clients right after launch.
The web abounds with great looking website templates but very few of them come with the key functionalities necessary to manage particular industry niches and their daily operations. That's why we decided to focus on what a website can do rather than how it looks. Of course, we offer a variety of layout designs. Still, we want VEVS to stand for simplicity and enhanced usability.
Our decade-long experience in developing comprehensive online business solutions and web tools has taught us how to identify and respond to diverse customers' needs. We pride ourselves on a great team of experts who complement each other perfectly and work together towards one unified goal - delivering high-value products and excellent customer services.
Today, 35,000+ people and companies of all sizes and industries rely on us to empower their websites and make their lives easier.
VEVS Website Solution For Your Car Rental Business
As we have mentioned, we created VEVS to help small and medium-sized companies to get online quickly and painlessly and start serving their clients right after launch. This is reflected within our website solution software and all of our car rental websites.
VEVS Car Rental Websites come with a built-in Car Rental System and all must-have features and functionalities. Upon request, we can make any custom modification to fit your specific business needs.
Some of the top features that are found within all of our car rental websites are:
Car Rental System
The VEVS car rental software allows you to show your fleet, add pick-up and drop-off locations, set booking options, manage reservations, collect client details, etc.
Different Vehicle Types
Add multiple car types (e.g. Small, Medium, Large), specify their features and extras, show number of cars by type, and create a great image gallery for each category.
Multiple Office Locations
Add multiple pick-up and drop-off locations and help your clients navigate more easily by pinning them on a handy Google Map available on your Locations page.
Take Payments Online
Enable your customers to make payments online the moment they make a reservation. VEVS supports 9 of the most popular payment gateways like PayPal and Stripe.
Manage Reservations
Process online bookings and add bookings manually from the back-end system. Set minimum reservation length, car on-hold time, and other advanced booking rules.
Standard & Seasonal Fees
Set standard car booking price per hour and per day. Promote sales by launching different seasonal and promo campaigns for predefined periods. Plus Even More Features:
Advanced reporting
Upsells through extras and excess insurance
Simple booking process that follows the industry standards
Booking system settings to fine-tune the system to fit the client business model and booking rules
4 Good Reasons As To Why You Should Choose VEVS
If the features above weren't enough to convince you to begin your subscription, we have included 4 more reasons below as to why VEVS is the perfect choice for your car rental website.
All In One Business Solution
Our ready-made business websites come with a complete service pack: stylish and responsive design, hosting, domain, smart CMS 3.0, business-centric software features, customizations, and add-ons.
We also offer hosting and life-long support, along with specific additional support services, such as help setting up your VEVS website. Alongside our website services, we are able to offer digital marketing, should you wish to give your website the best chances of ranking well within the search engines, creating a great social media presence, creating fully SEO optimized blog posts and more.
Easy To Start & Manage
VEVS Website Builder is the digital proof that simplicity can go along with efficiency. You can launch your online store within the shortest terms, on a budget, and navigate your website with a minimum amount of guidance.
Life Long Support
Having ensured the easiest possible website administration doesn't mean we will leave you unattended. You can count on our technical assistance and friendly attitude as long as your e-commerce website is live!
Mobile & SEO Optimized
All websites created by VEVS Website Builder are fully optimized for mobile devices and developed in line with the latest technology trends. With search engines such as Google adopting a mobile first approach, having a website that is fully optimized for mobile devices is a must by current standards.
We understand how important SEO is for any website, which is why our software includes specific options and settings for search engine optimization. Feel free to create meta titles and meta descriptions for each webpage, rename filenames and compress imagery, create a sitemap, integrate external software such as Google Search Console and more!
Should you wish to have assistance with your SEO efforts, you can find more information here.
Browse Our Clients Car Rental Websites
We know that the proof is in the pudding, which is why we encourage you to have a look at some examples of our clients car rental websites here.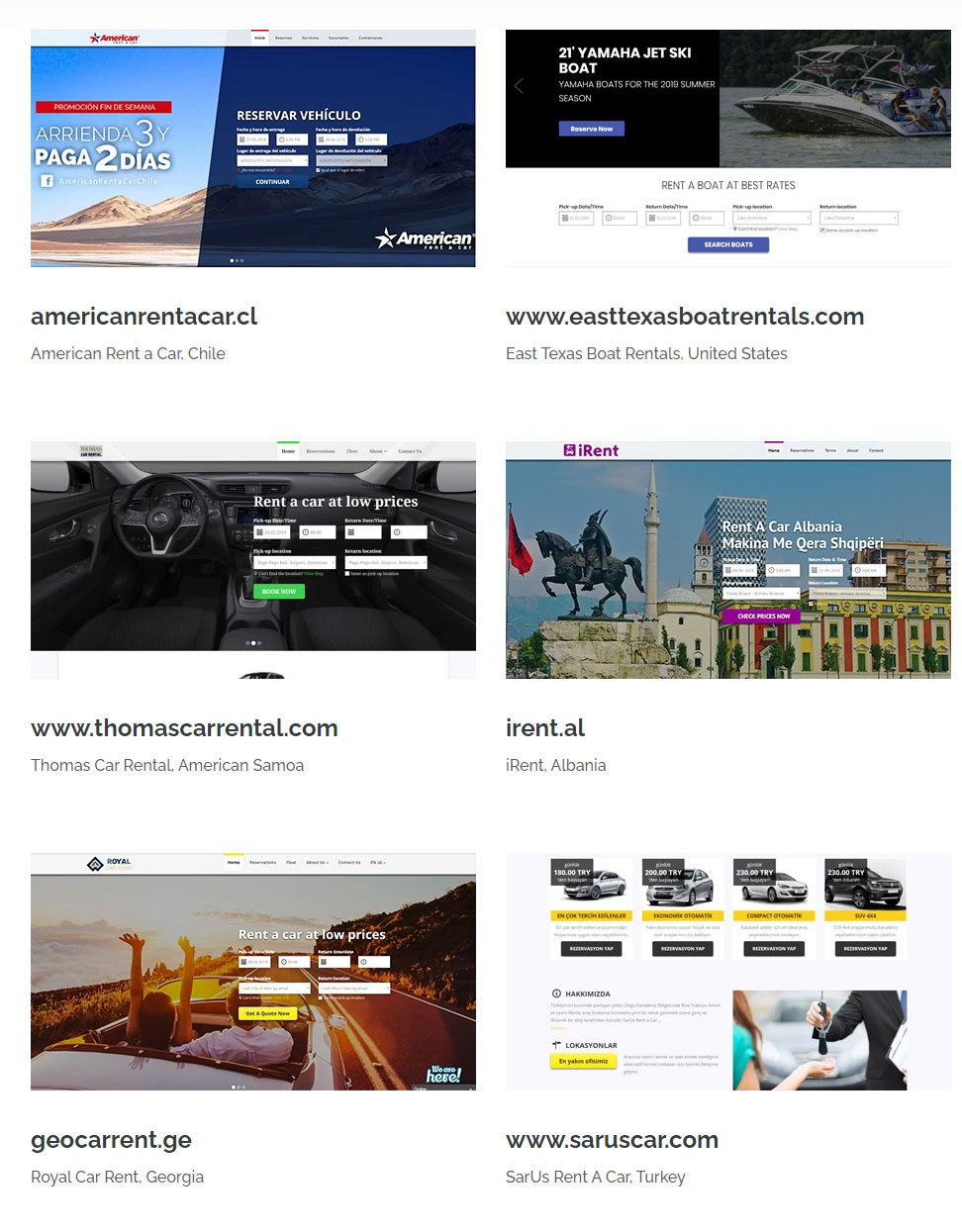 Conclusion
Should you wish to know more about our car rental websites, you can do so here.
What better way to take a smart decision than review and test the VEVS solution before you buy. Start your free trial here.
Should you have any questions, do not hesitate to contact our friendly customer care team.
Are you following us on Facebook? Click here to like our page and be notified whenever we publish a new blog post!
Other blog posts to read: