Website Setup

Content Management

Business Software
Need any help?
If you have any questions or dificulities manging your business website, just reach out to our Customer Success Managers!
How to change the Color Theme of my website
Our websites are available in different Color themes in order to accommodate to your corporate branding or individual taste.
To change the color theme of your site, follow these simple steps:
Go to the Website Settings menu on the sidebar in your website's CMS.
Open the Design & Colors menu.
Click on the Change Colors button in the Color Theme box.





Choose your favorite Color Theme or scroll down to request your preferred Custom Color Theme combination.





Here you will find all our pre-made Color themes and can select the one that suits your needs best.
If you don't find a suitable Color theme, we can also offer custom color themes against a reasonable extra fee. There are three ways to request a custom color theme:
1) Select the primary and secondary colors you would like to be used on the website.
2) Upload a sample image of the desired color theme.
3) Share the URL of a web page where you have seen the color theme.
How to change my website's Font style
We are aware that there is no font that can match all customers' tastes. That's why we offer a wide choice of Fonts that can be enabled on your website upon request.
Take a look at our selection of Fonts by going to Website Settings / Design & Colors / Fonts box and let us know which of them you would like to be applied on your business website.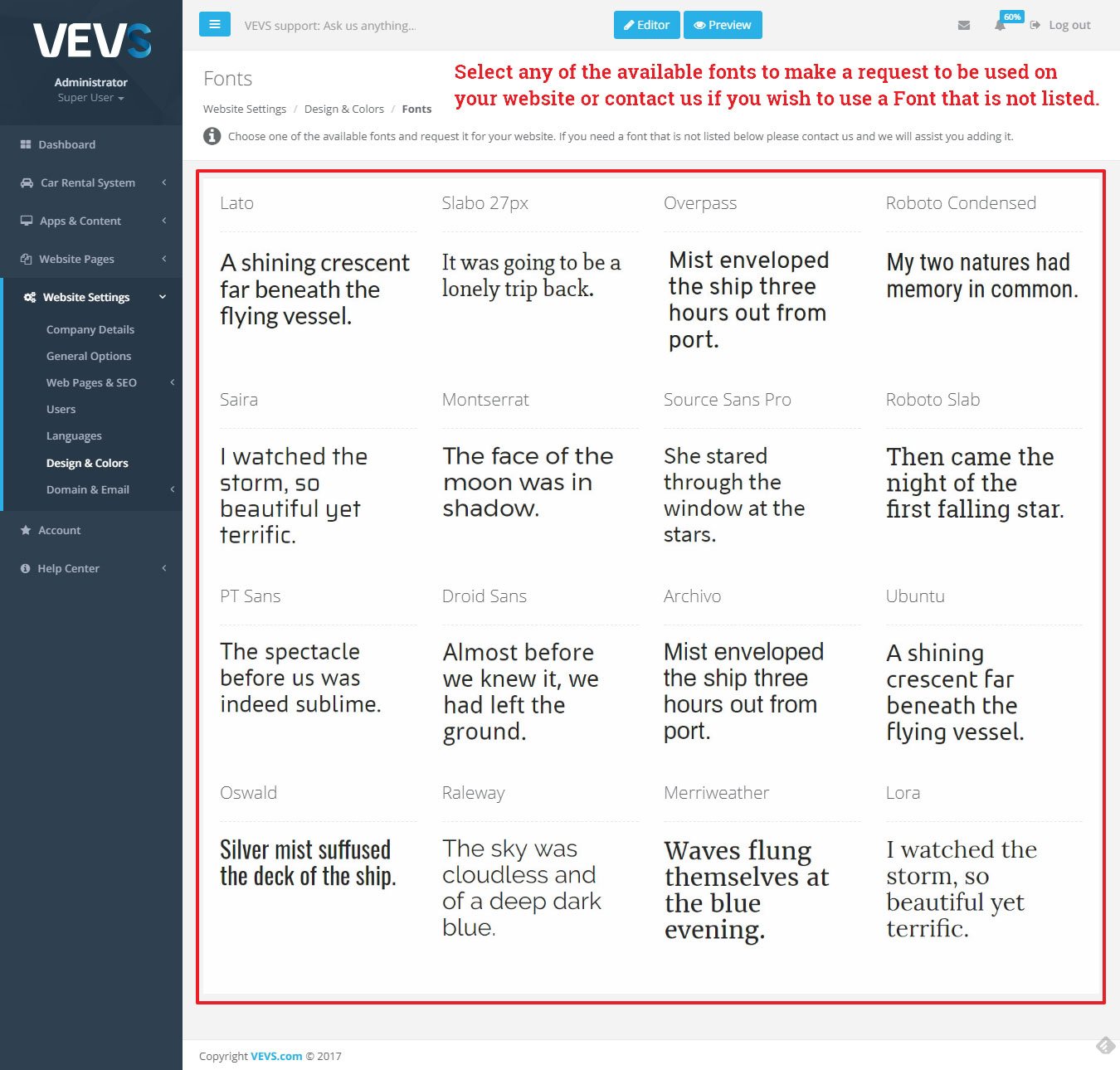 If you have a specific Font in mind that you would like to be used on your website, but you do not see it in our list of Fonts, just send us its name or a link where we can find it.
IMPORTANT NOTE:
Please keep in mind that some Fonts are not free to use. So if the Font you would like to use on your website includes any form of license or requires additional payment, we may be asked to cover the expense.
How to request a Custom Page Layout
You can change your web pages' layouts and request slight modifications and element reshuffles. Just go to your Website's Admin Page / Website Settings / Design & Colors / Page Layout box and describe the desired changes.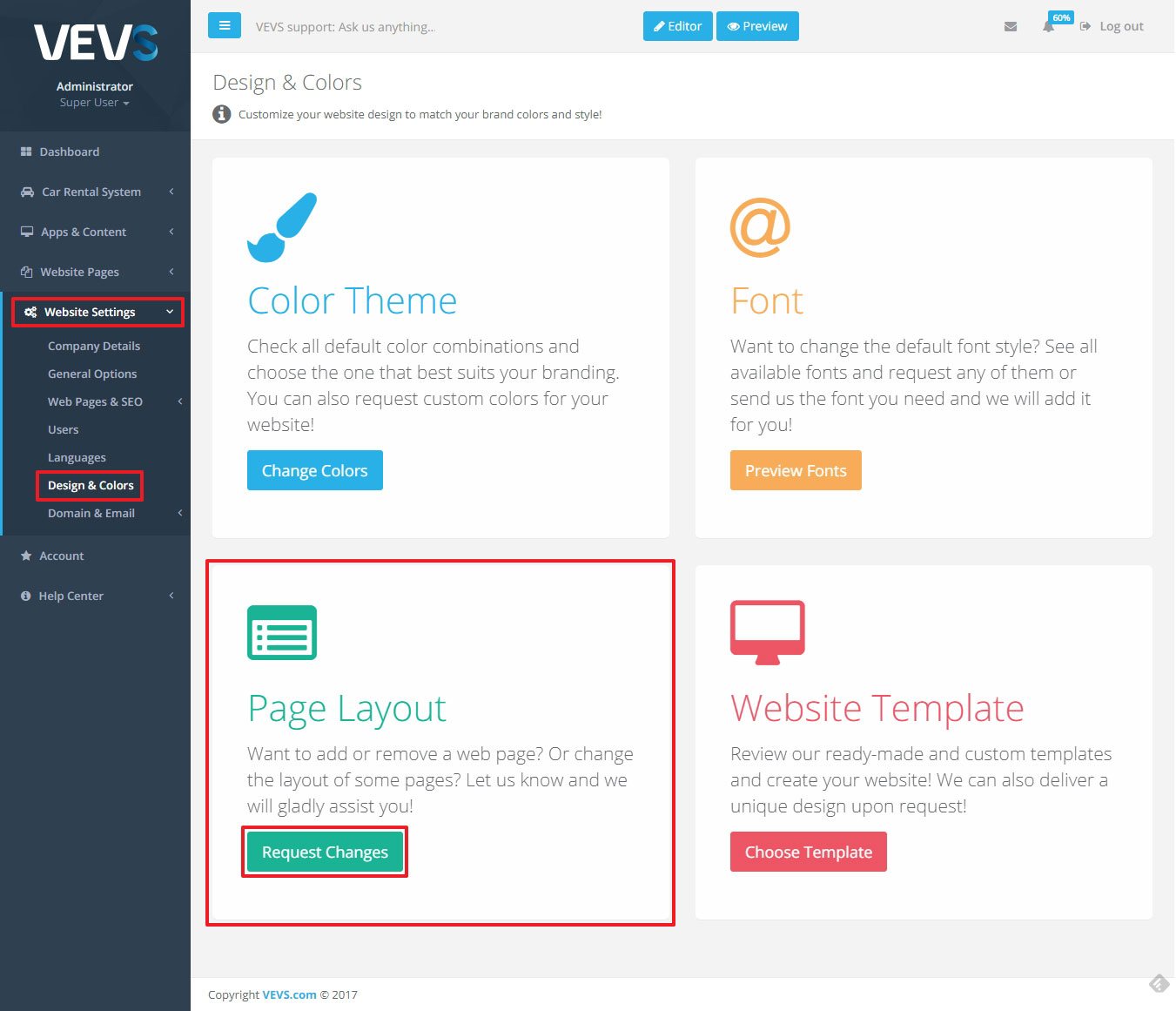 You can also upload a mockup screenshot of the new page layout to better visualize your idea. Once we receive your Custom layout request, we will review it, ask some clarification questions, if necessary, and then provide you with our best quote.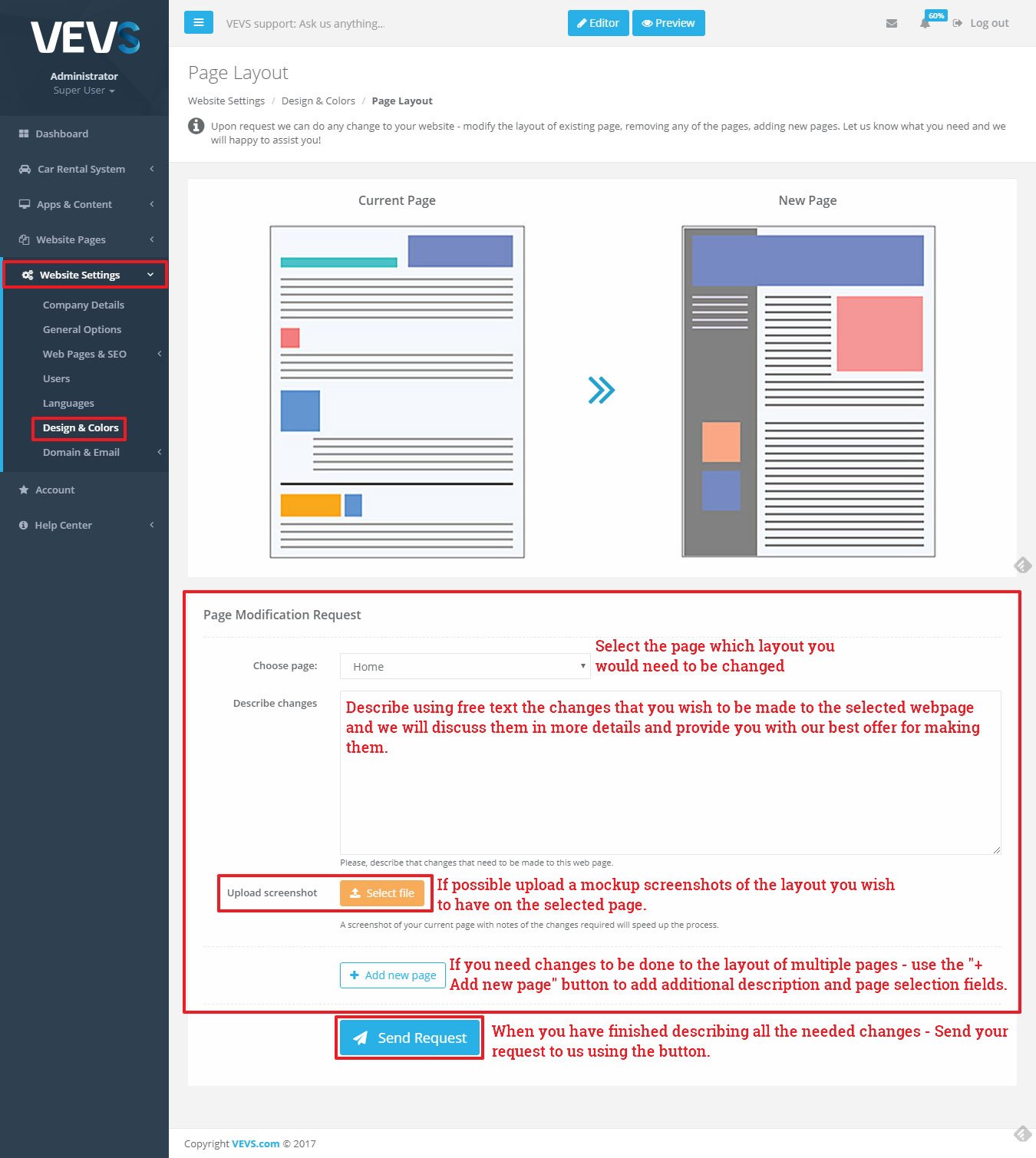 How to request a Custom Website Template
Review our ready-made Website Templates and request any of them for your website. Just go to your Admin Page / Website Settings / Design & Colors / Choose Template. You can also request a unique, custom design for your website. Just tell us how you imagine it, then we will send you our best offer and will create the tailor-made website following your exact requirements.