Website Setup

Content Management

Business Software
Need any help?
If you have any questions or dificulities manging your business website, just reach out to our Customer Success Managers!
"Users" menu
Depending on the internal organization of your business, you can grant other people (system admins, staff members, etc.) full or limited access to your website's functionalities / menus. There are two types of Users in VEVS CMS for both access rights:
Super Users
Regular Users


Super Users can access all menus and manage all settings on the Admin page of your VEVS website, while Regular Users have certain access limitations.
You can add as many users of each type as you need. In the sections below you can read more about both user types.
Super User
The Super User can access and change all settings on the Website's Admin page. By default, when you create a VEVS website, you get a Super User account for the email you have signed up with.
Super Users can manage all website's aspects and most importantly the business-critical ones. Hence we recommend you to give Super User access rights only to your trusted partners and top-level staff. This will limit the access of third-parties to confidential information and prevent potential malpractice.
Regular User
The Regular User account type is intended mainly for the staff employees that will need to have access only to specific parts of your Website's Admin system on a daily basis - for example, to view and update bookings and customer details, keep track of payments, etc. They will not be authorized to make any changes to the system settings.
Regular Users can only access the software options related to the specific business website type (e.g. Car Rental System, Car Dealer System, Job Portal System, etc.) and only some of the general Website Settings.
User Profile
Each type of user can edit his/her User Profile details and password. While Super Users have access to the Users menu and can change any user's details they want, Regular Users can access and alter their User Details and Password only through their Profile Settings page.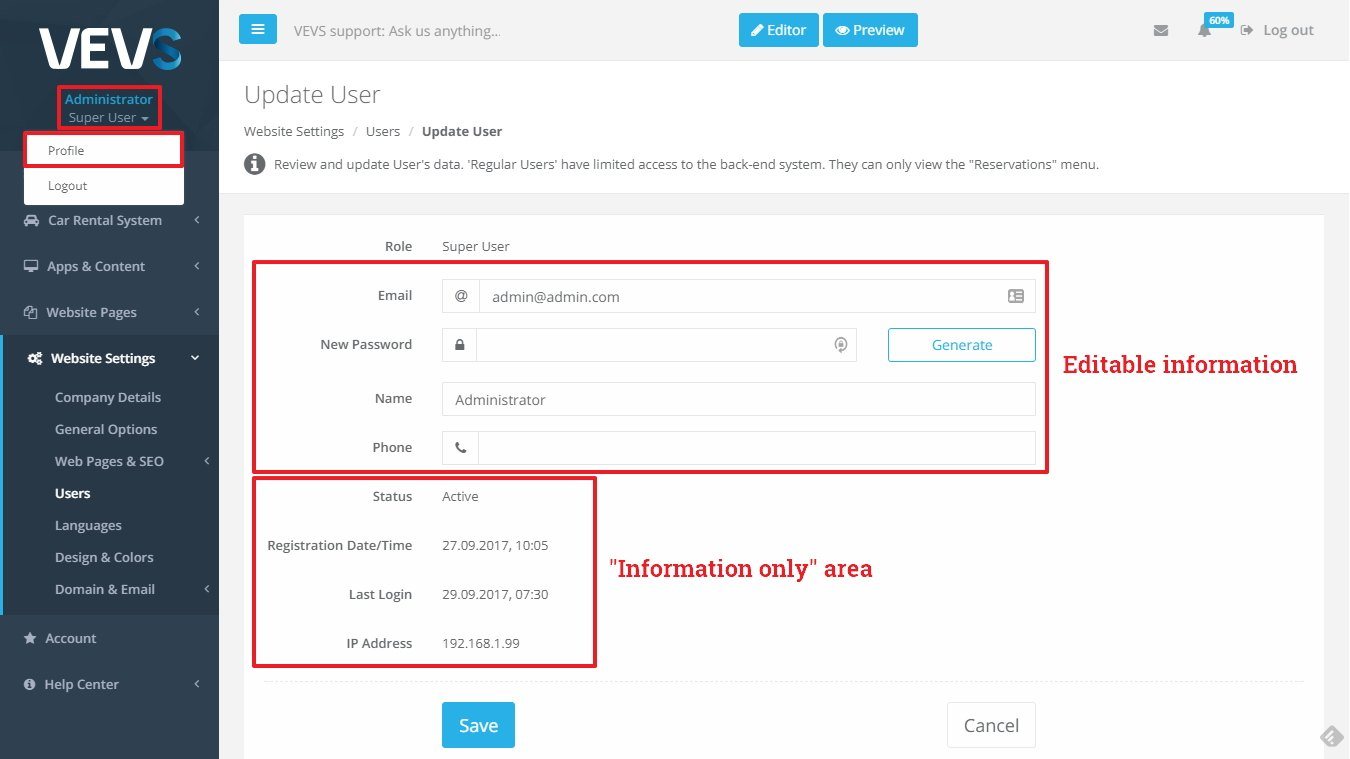 The Profile menu also offers some additional information about the User such as:
Registration Date/Time
Last Login (Date/Time)
IP Address (showing the last IP from which the User has logged into the website's CMS)
This information can be useful if you have noticed any suspicious activity for any of the User profiles.