Website Setup

Content Management

Business Software
Need any help?
If you have any questions or dificulities manging your business website, just reach out to our Customer Success Managers!
How to upload your company logo
To upload your company logo and replace the dummy VEVS website logo, you can proceed in 2 ways.
The more intuitive and simple way would be to just open the Website Editor menu and position the mouse cursor over the Logo on your Website Homepage, then you can simply click on the "Replace" button that will show up on top of the logo image (or tap with your finger on top of the logo if you use a device with touchscreen) and use the provided options to Upload a logo from your device or using one of the images you have already uploaded on your site, use URL to load a logo image directly from an online source (cloud services for example) or using the built in online stock images Gallery service.
The alternative option will be to go to the Website Settings menu / Company Details sub-menu then place the mouse cursor over the image and click Replace and the rest will be the same as the above.
Tip: Please, consider the recommended logo image size proportions. The logo image aspect ratio is 5:1 for all websites. (This means that the for best results the website logo image should have 5 times larger width than its height)
If you don't have a logo yet, try out our Free Logo Design Tool to quickly design a logo for your new VEVS website.
If you need a redesign or facelift of your current logo, contact us and we will design one according to your preferences.
We can also provide complete Brand design services.


Watch the video below to see how easy it is to upload your logo:
How to upload your favicon
The Favicon is the small image icon that appears in your browser tab when you open a website. Usually, it is a small version of your logo or another distinctive element from your company branding.


To upload your favicon, go to Website Settings menu / Company Details sub-menu and replace the dummy favicon image with your company favicon.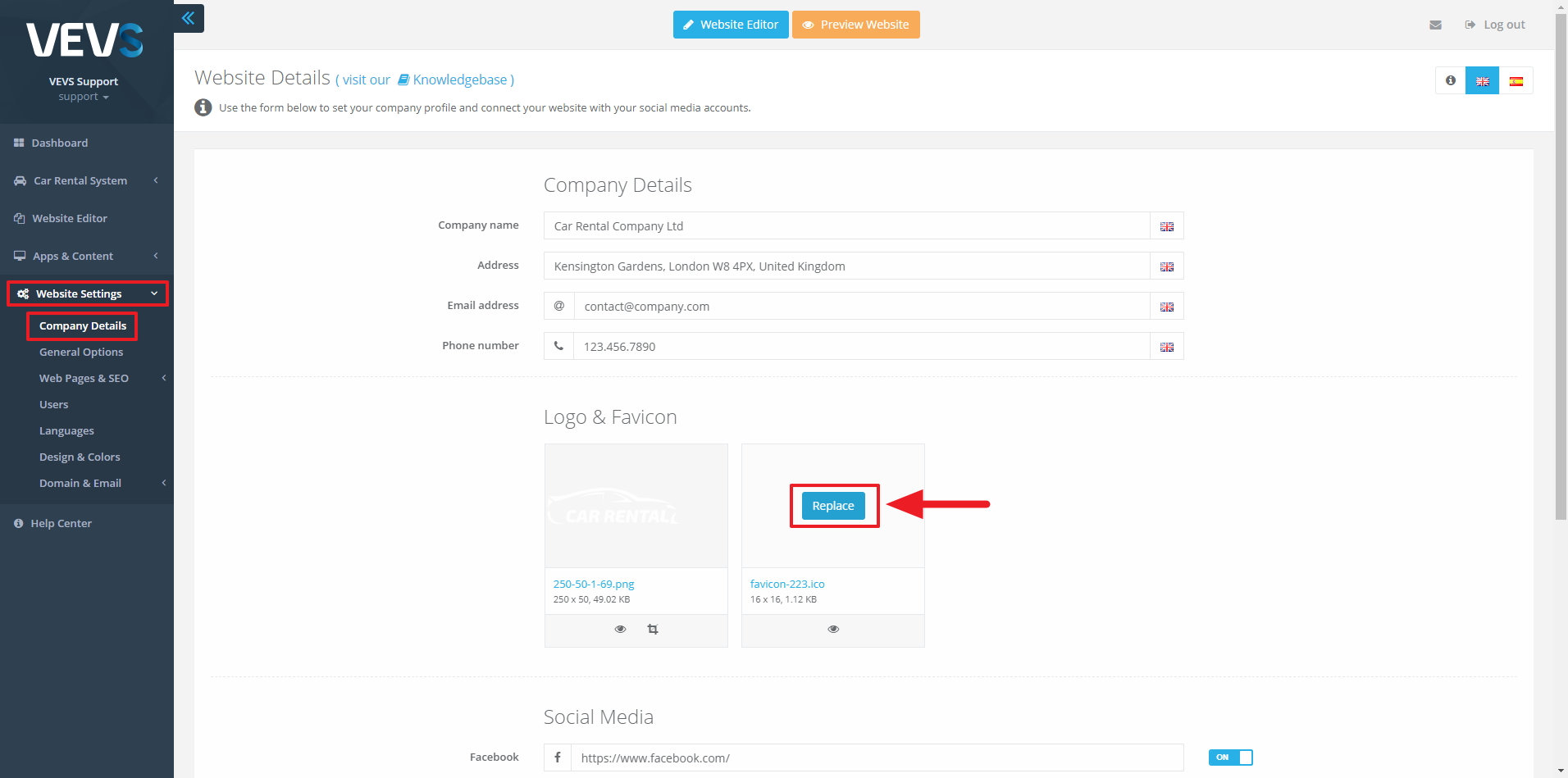 IMPORTANT NOTE:
There are some strict rules regarding the Website Favicon images you should follow to make sure that your Favicon image will show up in the browsers of your visitors in the proper quality:
The favicon must be 16x16 pixels or 32x32 pixels using either 8-bit or 24-bit colors. The favicon format must be PNG (W3C standard), GIF, or ICO.