Intro
At VEVS, we continuously improve our products to make our websites efficient and deliver solutions that align seamlessly in your business and help you grow it.
Thanks to the close relationships and contacts that we have with most of our clients, we have a good overview of what the business needs. It continues to amaze us by how unique every company is, and yet still, we have been able to outline features that could be helpful for most of you.
See what's new in the latest release of our Car Rental Website Solution, and we also invite you to create a trial and take it for a test drive yourself! For those of you who have used our earlier versions, you will be amazed to find a whole host of improvements and may be interested in taking a look at the full features list here.
Car Rental System improvements
For years we have followed the standard for a booking process in the rent-a-car industry, but at the same time, we recognise that your business has a unique approach, therefore so should your website. Our goal is to deliver these 3 things:
a comfortable booking experience that converts sales;
an easy to manage car rental system;
a variety of options to set up the booking system in a way that fits your business.
Improved Reservations Management
We have improved our Reservation Management to make your daily operations and customer service easier and straightforward. The difference that separates a good business from a great business is the systems that it puts in place. You can see a shortlist of the improvements below:
Improved Payment Records - you can generate and send additional payment links to your clients.
Manage the reservations list grid - you can customise the reservations grid to show you the data you need and manage the customer service process easier.
Attach documents or files to email notifications - to improve the communication with your client and share all the information needed for their reservations.
Internal messages board - so your team members can leave messages to the rest of the team and make sure that all information is communicated effectively and in an organised manner.
Changes log - a function to record and monitor the changes in the reservation data made by the staff during the service.
CSV export of reservations data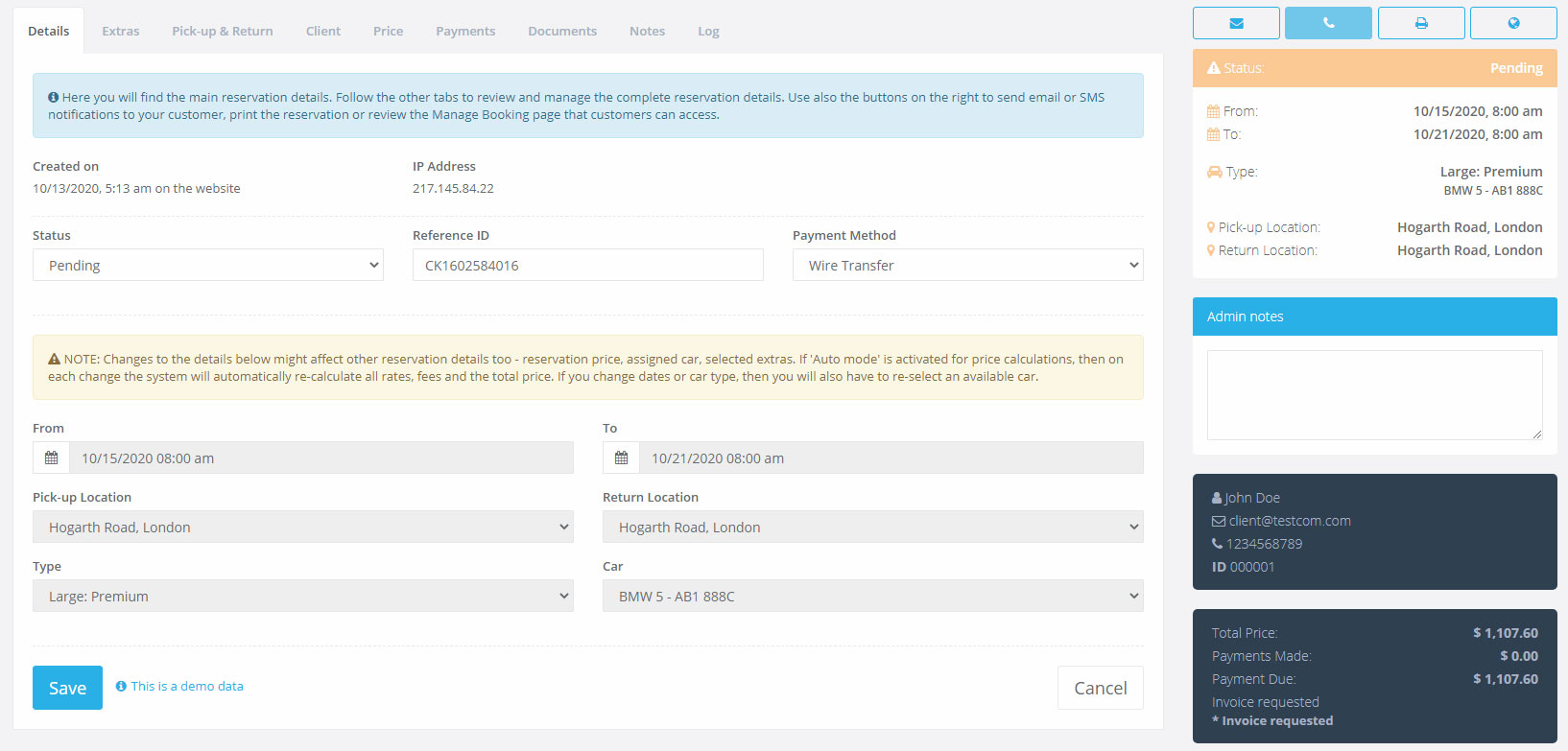 Improved Client Page With Reservation Details
A year ago, we added a page with reservation details that customers can access on the website. We find that a large majority of our clients loved it. Therefore we decided to improve the look and the information provided on that page.
You can now also use it to provide documents and payment links to your clients on that page to speed up and make the customer service more professional. This will mean that you can not only increase your chances of bookings but keep that bit more organised in the process.
Extra Settings To Make The Car Rental System A Better Fit For Your Pricing & Business Model
We understand that reservations can be lost for a number of reasons, with one of them being due to a website that is not easy to navigate and read. This is why we also decided to place a large focus on adding further improvements to the car rental system, allowing you to display more information that will assist the customer during the booking process.
Locations management options and fees - one of the most frequent requests for modifications that we received, were related to the locations and the pick-up and drop-off options your customers have. Now, you have a lot more controls to set up the system the way you need without the need of paying extra for modifications:

You can specify if a Location can be pick-up only, drop-off only or both.
You can charge fees for delivery or collecting a car from a particular location.
You can charge a fee for out-of-hours service.
You can allow customers to choose their own address for car delivery or return and charge a fee for that service.
You can entirely remove the drop-off location choice from the booking process if you always need the car returned at the same location.

Seasonal management of minimum and maximum booking length - we understand that there are different booking rules depending on whether it is low or high season, and now you have granular control over it.
VAT/GST tax management - now the system is fully compatible with the EU regulations.
Extra controls over the front-end booking process offerings
More granular control over Excess Insurance packages
Ability To Temporarily Switch The Booking Engine Off
The Covid-19 pandemic has caused a lot of interruptions for many businesses, with Car Rentals being one of them. The tough times have resulted in a lot of our clients requesting a temporary stop of the booking engine, and whilst it is not recommended to stop the entire site as it will have a negative impact on its SEO & search engine rankings, we are here to help, and have added the ability to pause the booking engine on the website front-end.
Invoices
VEVS Car Rental System was built to enable you to take online reservations and payments. This can get more and more comprehensive over time for two reasons: adopt better in your business model, giving a variety of options and integrate better in your daily operations and customer service.
Since payments are involved, we were quite often asked for invoicing functions, and we decided to take a step further into that direction to help your accounting operations.
And More Features!
On top of the features listed prior, we have added a lot more features to help with the day to day operations of your business and to make sure that your website is best set up to take on reservations and encourage bookings to be made. We have listed a few of these below:
E-sign of documents
Customers menu to export data for email campaigns
Powerful reports to monitor sales, operations and daily jobs
Vouchers and promo codes facility
Client delivery address function
CMS improvements
The Car Rental System is not the only area that we have made improvements to. We have also gone ahead and made some drastic changes to the CMS, which will upgrade the accessibility of your site and make it that much more personalised.
Add Pages & Page Content Management.
When we started VEVS, our aim was to deliver a simple to start website solution with a car rental system. Our focus was mainly on the car rental system as it drives a real value to the business and is what the reservations are made through.
We also understand that the majority of website owners do not want to be designers and build pages. It requires some skills and takes time, time of which many business owners do not have.
However, when aiming for an excellent site, we found that most of our clients needed to add more pages and have better control over the page content. Voila! You now can:
Add pages - and have complete control over the page name, URL, meta tags;
Manage the website menu and footer;
Build your custom pages.
You can now add as many sections and blocks as you need on a page, at no additional cost. In addition to text and image content, you can also add links, buttons, video and even HTML code, and also have some control over the page elements, styling and colours.
With all these tools at your disposal, you can very easily build the website content you need, without the need to worry about things like design, page layout and staff that requires some more advanced tech skills.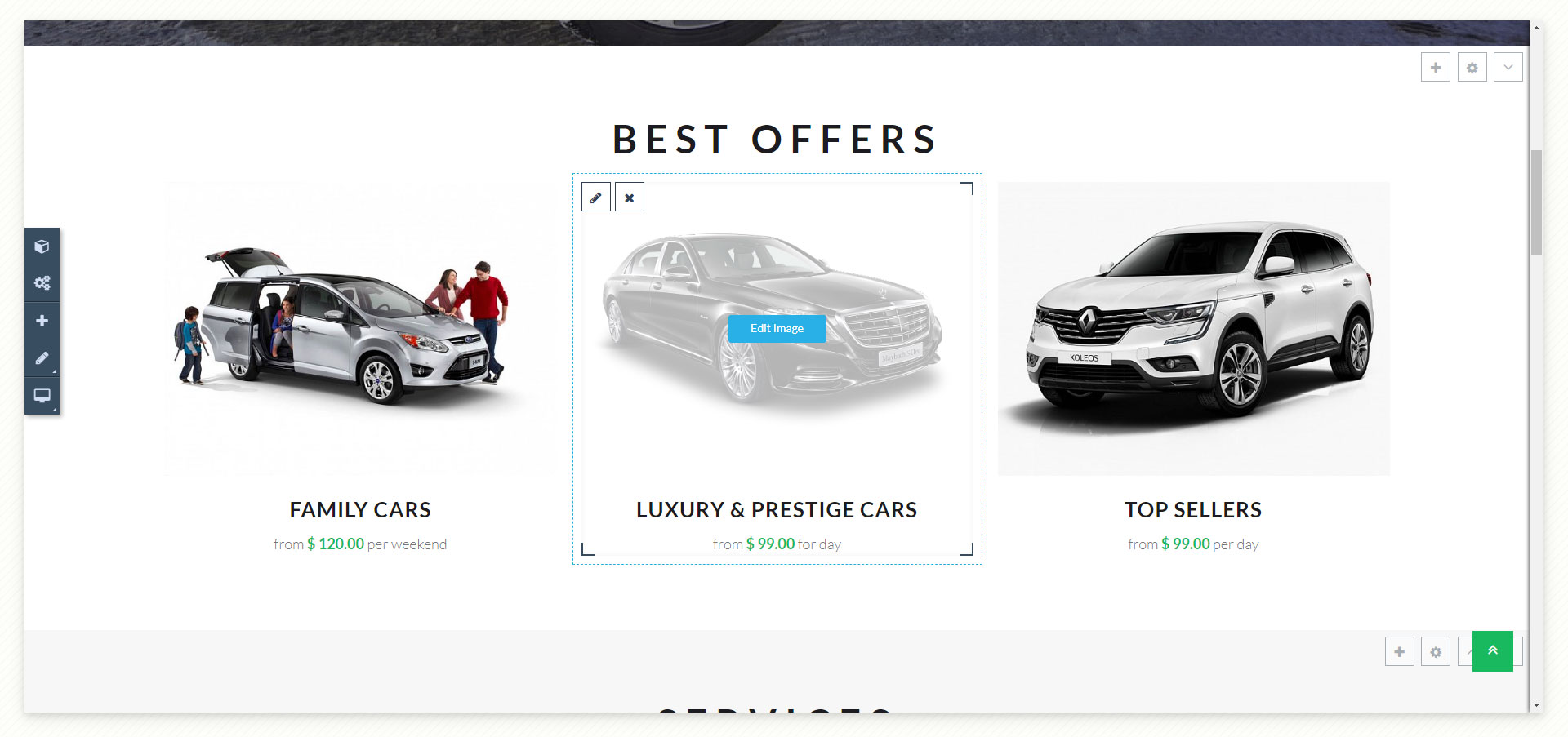 Content Apps
Of course, some of the website content needs more controls and options. Beyond the static pages management we described above, we have also added some useful content apps that you can use - Blog, Offers, FAQ, Testimonials.
They will help you build a site with excellent user experience, so you can include enough content to drive traffic and increase your conversions. If you need more content apps, as always, we are here to help.
And More Features!
In addition to the features mentioned prior, we have added some more CMS improvements, such as:
Cookie Policy - to meet GDPR and other regulations.
External code - to add you Google Analytics, Google Tags, Facebook pixel, online chat tool and other tracking or third-party services.
Google Translate - to help you translate the content faster.
Web forms tool - to build more inquiry, feedback and application forms.
CSS Editor
Mobile-friendly back-end area - to help you manage the site and the bookings on the go when you are on your Phone or Tablet.
Conclusion
With VEVS, you get a fancy, full-fledged website fitted with all e-commerce functionalities essential for your rent a car business. You can take bookings, manage reservations, process online payments, all without being an IT expert.
But, don't just hear from us, here is a testimonial from one of our existing clients:
"The Vevs Car Rental Website was our basic start for a complex rental page. The Vevs team has worked with us over the past year to bring our website to the level we felt we needed in the luxury car rental arena. They work to understand our needs and bring us solutions that match our expectations under timely deadlines. We look forward to working with them, helping us develop a fully automated system. Thanks to the whole Vevs team!"
- Anthony Marianelli
Are you ready to create your brand new Car Rental Website with VEVS? To create a trial and take it for a test drive yourself, click here. You can also find a full features list here.
For our existing clients, we would love to remind you that we also offer the following additional resources and services to aid in making sure your website is performing its best.
Even though VEVS is created to serve as a do-it-yourself (DIY) solution, we understand that for many reasons, you may need a little help while setting up your VEVS website. As always, we are ready to help!
We know how essential digital marketing can be for the success of your website and business. To help your growth, VEVS provides results-driven marketing services.
You like our business websites, but you need some things changed? We will deliver a tailor-made solution just for you!