In this digital world, it can be hard to survive without some form of digital presence. Most people nowadays look to social media and the internet when making decisions, especially when in regards to products and services. As a personal trainer, you should be aware that a website can be one of your biggest assets. This is because it opens doors of opportunities and broadens the horizons of the people you can reach and the knowledge you can spread.
In this blog post, we are going to be covering why, as a personal trainer, you need to have a website going into 2021 and also the features that a VEVS Personal Trainer Website includes. We are also going to be providing you with links to some of our other relevant blog posts that will help you set up your website and marketing for success!
Why Does A Personal Trainer Need A Website In 2021?
So, why do you need a website? Well, in addition to the hundreds of reasons that we could provide you with, a website is the starting point for any business's online presence. Think of it as a central hub, a headquarters in which people can find more about your services, get in contact with you and choose you as their trainer. A website can be a simple way of showing information about yourself or it can be an online store where you integrate e-commerce capabilities in order to sell your physical or digital products. A website can really be anything you want it to be, but one thing is for sure- you must have one!
We are soon heading into 2021, and with the current statistics showing that there are 4.39 billion internet users globally, think of how many people are going to be available to you to promote your personal training services.
One of the biggest advantages of having a website is because it allows you to reach more potential customers, and that leads us nicely into our first reason as to why you need a website in 2021.
#1 Ability To Broaden Client Base
Without a website, your audience is only as large as your immediate network. If you are a personal trainer that relies solely on word of mouth, your clientele is based completely off how much you speak to others and how much others speak about you- quite literally.
Now, of course, you can be multiple tiers deep in referrals, but you have to rely on other people to increase your client base for you, and that is often very unpredictable. It is hard to forecast growth when you do not have any control over it.
With a website, you are setting yourself up to reach absolutely anybody. Of course, you are most likely not going to reach every internet user on the planet, but you can reach a vast array of people within the specific niche you serve. In addition to people being able to find your website organically (through internet searches), you can run online advertising which will allow you to choose precise demographics and targeting.
So, if you want to promote your services to 18-30-year-old males in Los Angeles, you can do just that!
#2 Showcase Your Testimonials & Case Studies
Being a personal trainer, reviews and case studies are your best friend. A brilliant video testimonial from an existing client works wonders in the client acquisition process. It helps build trust, showcasing you as an expert in your field and a recommendation from someone who has invested in your teachings and services.
It is a good idea to place those testimonials and case studies somewhere where people can easily view them, and a website is a perfect place to do so. You can also add options for existing clients to leave reviews, allowing you to build a database of why you are the best personal trainer to choose.
Speaking of testimonials and case studies, have you visited our Success Stories? We have some brilliant articles on how we have helped our clients with their online presence and growing their business.
#3 Rank Within Search Engines
Did you know that 53% of shoppers say they always do research before they buy to ensure they are making the best possible choice? That means 1 in every 2 prospective clients you come across are searching you up online to find out more information about you.
What happens when they perform a quick google search and are unable to find any evidence of a website where they can view client testimonials and further contact you? Well, they may start to get cold feet, and this can lead to them searching elsewhere or coming across other personal trainers that do you websites that can lure them in and steal them as clients from you.
As training is different from selling physical products, you cannot sell it by just offering low prices. You need to show people you are to be trusted and that you have a proven track record in helping people achieve their fitness goals. You need to make sure that you are ranking within the search results, so when a prospective client searches your name or your business online, they can easily find you and learn more.
If you are interested in learning more about the topic of search engines and SEO, then have a look at the following blog posts:
> The Importance Of Content On SEO & Organic Traffic
> What Is Off-Page SEO? & Our 4 Best Off-Page SEO Practices
> What Is SEO & How Can It Lead To More Customers For Your Business
What Does A VEVS Personal Trainer Website Include?
With VEVS, you get a fancy, full-fledged website fitted with all e-commerce functionalities essential for your specific business niche. You can take and manage bookings, automate appointments, process online payments without being an IT expert.
We have fine-tuned our Personal Trainer Website to make sure it has all the features you need to be able to take your operations online easily. VEVS trainer sites come with a built-in appointment scheduling software and all must-have features. They can be used by Yoga, Pilates, Ski, Surf, Dance, and other personal instructors.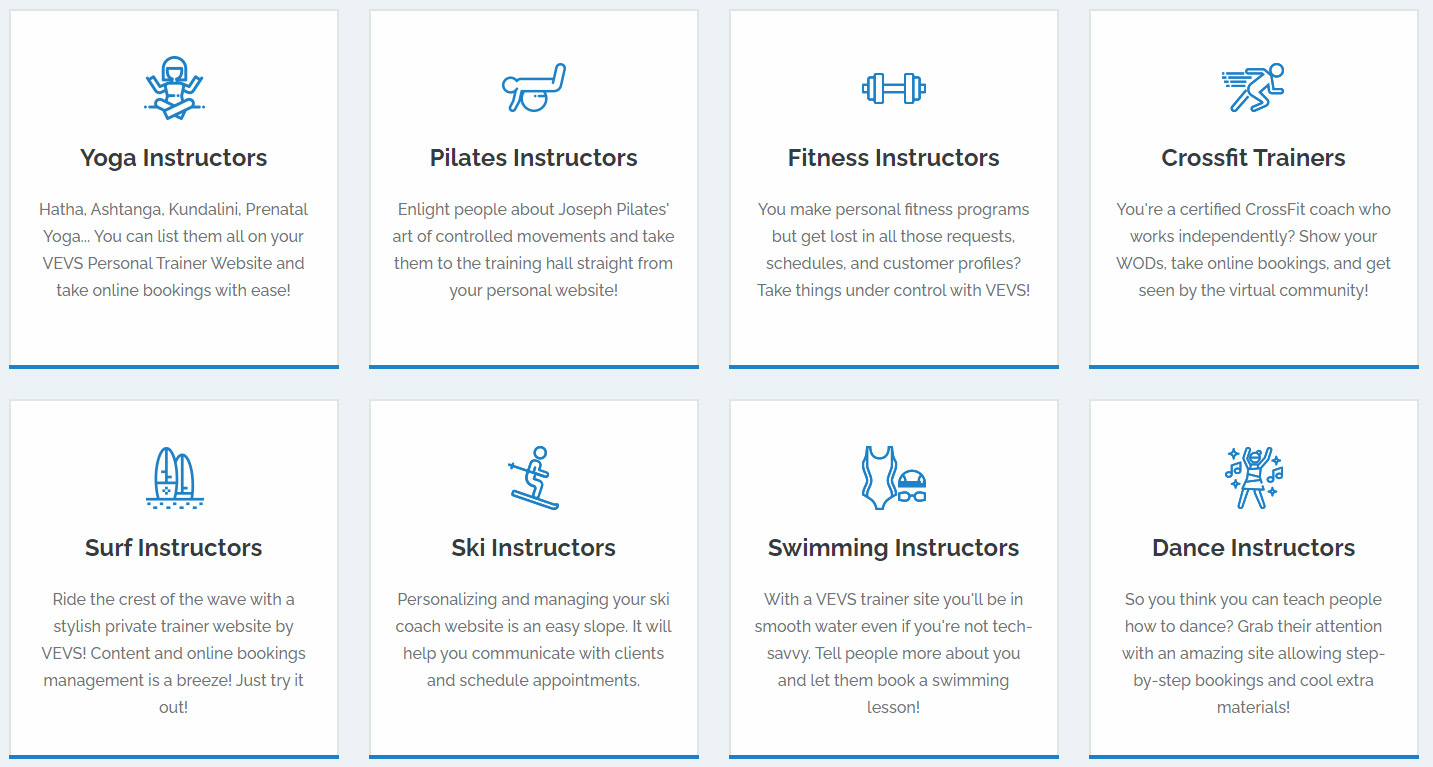 Every website includes many brilliant features such as:
24/7 Online Appointments
Various Online Payment Methods
Client Login & Chat
Individual & Group Classes
Customer Management
Price Management
& lots more!
With added benefits such as no booking fees, full setup and launch support, multiple language integration and a range of aesthetic and functionality add ons, creating your website with VEVS is a breeze!
But, don't just hear it from us, here is a testimonial from one of our existing clients:
"I'd been searching for weeks for a fancy fitness website with an already integrated appointment booking software. I needed it ASAP since I couldn't handle all private training requests and calls on my own. Luckily, I came upon VEVS Personal Trainer Website Builder and things happened very fast. I uploaded the text content myself, they helped me set up the scheduling system, and on the fourth day, I started receiving online booking notifications in my mailbox. All works fine and I can focus on my gym sessions. VEVS' got the power!" - Fred Jacobs
To find out more information, and view some of our demo websites, visit > Personal Trainer Websites
Conclusion
If you are interested in finding out how VEVS and our team of experts can help your business when it comes to marketing, please visit our digital marketing page for more information.
We have some other great blog posts for you to view:
> What Is Omni-Channel Marketing & How To Create A Strong Strategy
> What Is Facebook Advertising & How To Get Started In 2020
Are you following us on Facebook? Click here to like our page and be notified whenever we publish a new blog post!