Since the beginning of ancient civilisations, advertising has been a method used to reach the masses, and broadcast important messages and information. Egyptians used papyrus (paper-like substance) to make sales messages and wall posters. In Europe, as the towns and cities of the middle ages grew and expanded, and with the general populace unable to read, they used images associated with certain trades in order to help people identify what a shop, factory or building represented.
Fast forward to the 21st century and there have been huge advancements in the methods of advertising. Businesses have a choice between television, billboard, newspaper, display advertising, referral schemes, influencer marketing and the list goes on. Now, one of the favourite methods of advertising that businesses are using to promote their products and services is Facebook Advertising. Why? Because with an average conversion rate of 9.21% and the ability to track every single user that interacts with an advert, it's a no brainer that they should be using it!
What is Facebook Advertising?
For of those of you that are not familiar with Facebook Advertising, don't worry, here is a great description of what it is below.
Facebook Advertising is a method of advertising through social media platforms, specifically Facebook & Instagram, in order to reach potential customers and accomplish your marketing goals. The advertiser shows their specific advert to people that are likely to be interested in the product or service being advertised to them. These advertisements are often placed within the News Feed on desktop, News Feed on mobile and in the Right Column of Facebook on desktop. They can also be found during and after videos and within Facebook & Instagram stories.
The Benefits Of Advertising On Facebook
Now that you know what Facebook Advertising is, you should be aware of all the benefits that come with it. We have created a list below for you:
One of the most notable benefits of incorporating Facebook advertising into your marketing strategies is that you are able to reach your potential customers where they "hang out". Many people, of all ages, use social media to catch up with friends, browse content, shop for products, and be entertained. By knowing where your customers' attention will be, you are able to save a lot of time and money when it comes to trying to find them.
Facebook offers a vast array of targeting and retargeting options so you can show your ads to a narrowly defined audience. Your adverts can target people via their demographic, location, behaviours, age, interests and more. You can also create your own custom audiences from email lists and website traffic, and then expand this audience through the power of lookalike audiences.
Facebook also doesn't skimp on analytics and reporting for ad performance. Instead of struggling to see your conversion rate and other social metrics, you have it laid clearly out in front of you. Interested in knowing what ages resonate with your ads more? With the click of a button, you will be able to see exactly what ages are purchasing more, clicking more, even viewing your ads more. This is something you can do for a range of different metrics, helping you not only target your adverts for the right people but also monitor their effectiveness.
The average CPC (cost per click) for a Facebook Ad is $1.72. For industries such as Apparel, Retail and Travel & Hospitality, the average CPC is less than $0.70. That is almost 50% cheaper than running adverts on Google!
As you can see, there are many benefits to running Facebook Adverts, so no wonder $1.5 billion was spent on Facebook Advertising in 2019 alone.
The Structure Of A Facebook Advertising Campaign
When advertising on Facebook, it is important to understand the structure of the campaign. If not structures correctly, this can make or break your adverts, so make sure to get it right from the beginning.
There are 3 levels to a Facebook advertising campaign- Campaign, Ad Set & Ad
The Campaign is where you choose your objective. This is what you want to get out of the advert and make sure to choose wisely, and Facebook will optimise your campaign for this objective. So if you choose an engagement campaign but you actually want to generate sales, don't expect to get a lot of sales! The snippet below indicates all the different campaigns that you can choose from.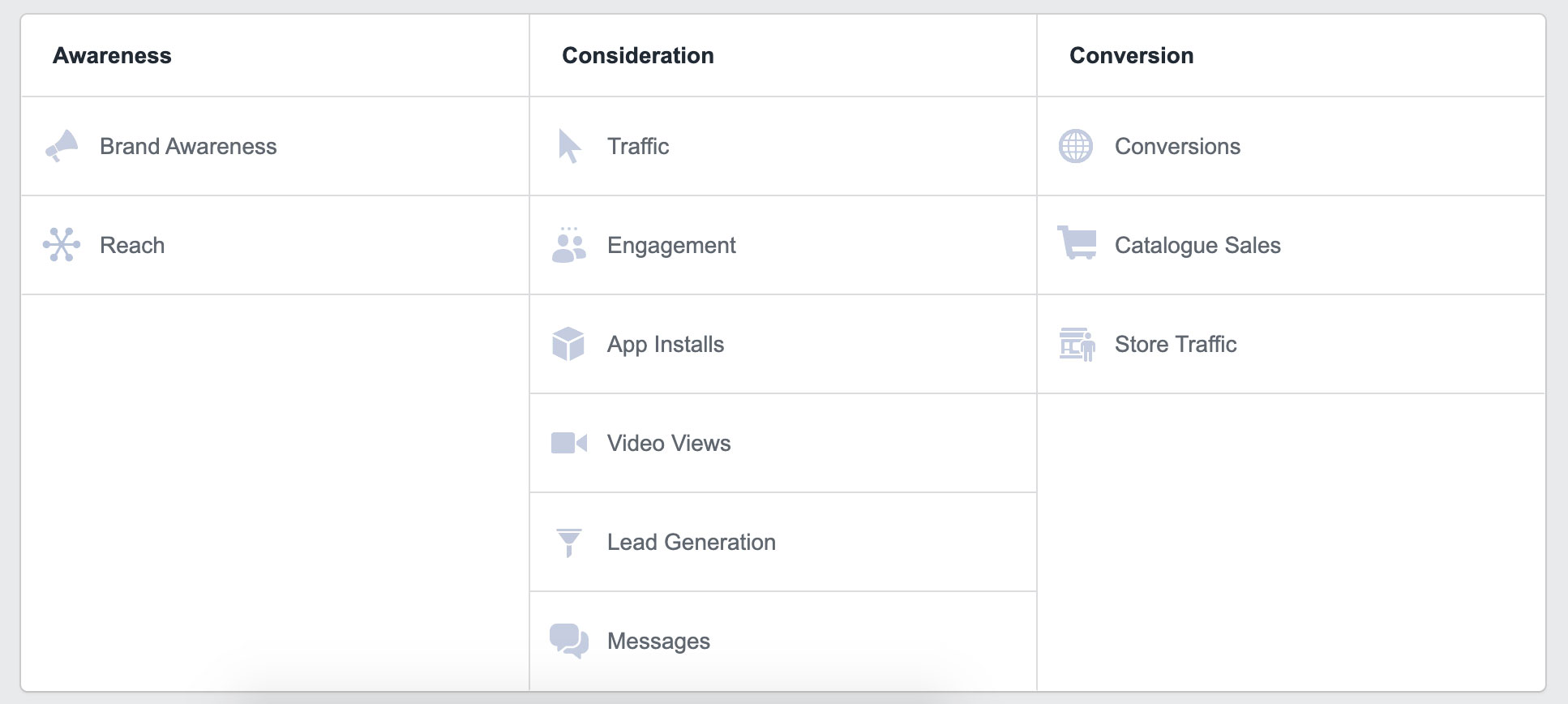 The campaign is broken down into three categories- Awareness, Consideration & Conversion.
Awareness - Used mostly for reaching as many people as possible
Consideration - Used for specific actions that are not conversion orientated
Conversion - Used specifically for tracking and optimizing for conversions on a website
The Ad Set is where you select your targeting, whereabouts on the platform you want to target people and the budget of your campaign.
The Ad is where you input the creative such as image or video, the advert description, headline and website link etc.
It is important to know how to structure your campaigns effectively and strategically. The diagram below indicates the proper campaign structure when advertising on Facebook.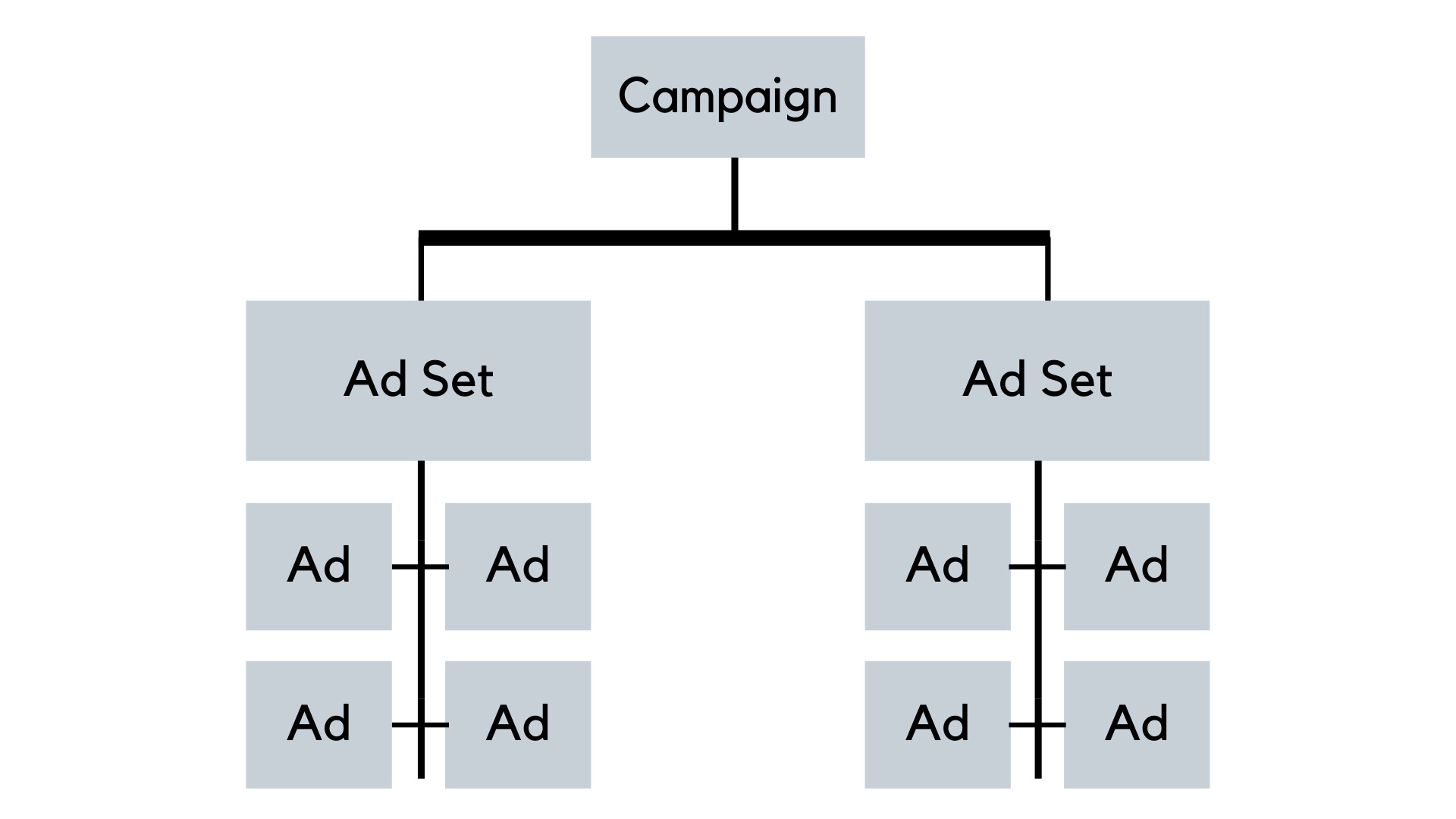 Within a Campaign, you can have as many Ad Sets as you wish and within an Ad Set, you can have as many Ads as you wish. We recommend making a variation of Ad Sets with different targeting and a variation of adverts too, as effective advertising comes down to your ability to effectively test and act on the data you receive.
Facebook Advertising Best Practices
We have created a list of some of our top Facebook advertising best practices.
Begin with a smaller budget of $5 per day. Spending large amounts of money on advertising without knowing how to generate a ROI can lead to a big loss for your business. If you do not want to run the adverts yourself, please speak with an expert or agency. We would love to help you > Contact Us.
Always read the data that you acquire. Understanding how to read the data that you gain from running Facebook adverts is crucial in their success. For example, a simple tweak in age targeting could lead to a massive increase in sales generated. Without monitoring the data and metrics, you will not know what is working and what isn't.
If your adverts are not performing well after the first 48-72 hours, turn them off and create new ones. When Facebook publishes your adverts, they show them to a select amount of people within the total audience of those that you targeted. This is the "trial phase" and Facebook will determine whether or not people are interested in your adverts and also how they respond to them. If within that trial phase, your adverts are receiving no responses from the people you are targeting, then Facebook will reduce the number of people that see it. However, if they find that people are responding well to the advert, after the trial phase, they will boost the number of people that are shown it.
Conclusion
So, are you ready to start advertising on Facebook? Remember, start with a smaller budget and scale it over time. Test as much as possible and most importantly, have fun with it!
Have you read our blog post on 19 Social Media Marketing Strategies To Increase Online Sales?
If you are interested in finding out how VEVS and our team of experts can help your business when it comes to marketing, please visit our digital marketing page for more information.