With the continuous embrace of advancements, artificial intelligence (AI) has emerged as a player in various industries, including customer service. One particular application of AI that has gained popularity for customer interactions is ChatGPT—a language model designed to engage users in conversations.
While AI brings efficiency, it is crucial to infuse like qualities into the content generated by ChatGPT to ensure a seamless user experience on your car rental website. To research this further, in this article, we delve into the approach for humanizing ChatGPT content, harnessing its capabilities to enhance customer satisfaction and streamline car rental processes.
1. How to use ChatGPT
To generate artificial intelligence (AI) content, you need first to pick an AI content generator. For the sake of this example, we are going to concentrate on the highly popular ChatGPT platform. For now, using ChatGPT is free. However, there is a paid premium version, which gives you access to the 4.0 version instead of the not so oldest GPT-3.5, which also does a fantastic job. So to use the free version, you need to create a ChatGPT account. To do this, simply type in the browser "ChatGPT". Click on the "OpenAI" result (which is the founder company of ChatGPT and many other artificial intelligence tools) and then click on the "Sign up" button to create an account. The rest is clear - pick the preferred way to create an account, and you are ready to go.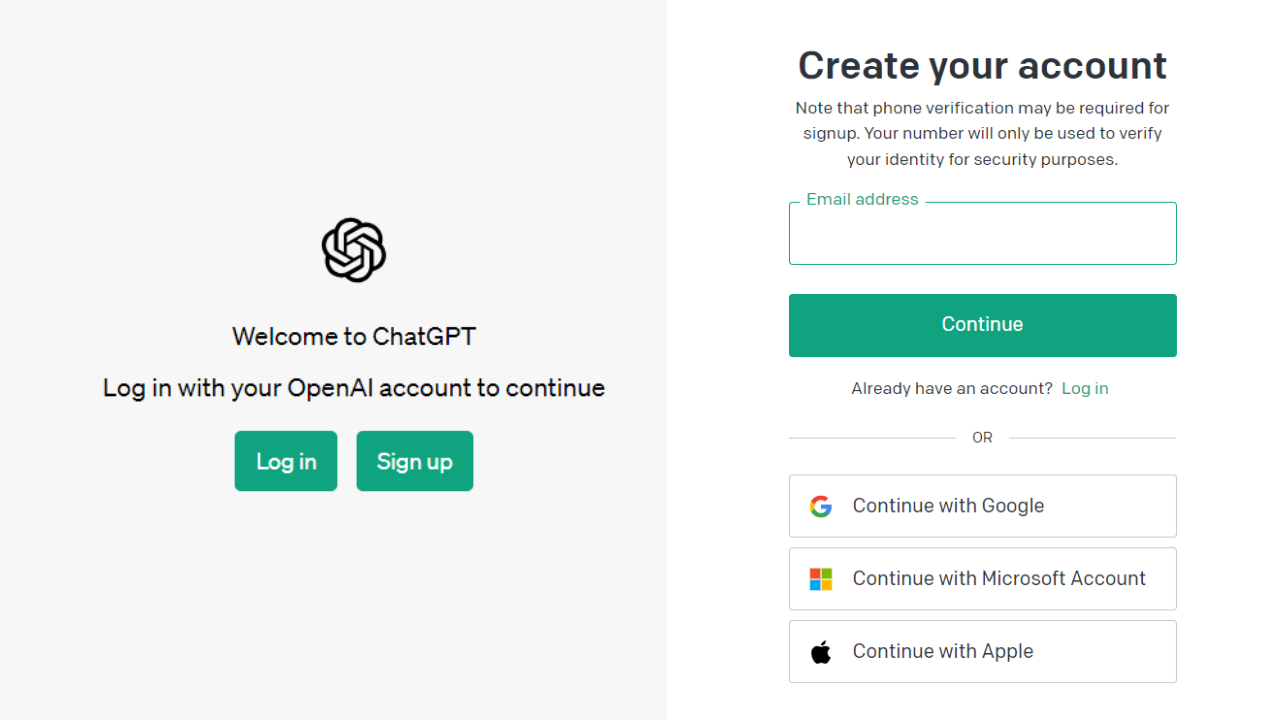 *** Note that to create an account, they will want you to type in your phone number and verify it by writing the code they send you via SMS (for whatever reason this is), so make sure to type your current phone number.
Once you create an account, you will see this window: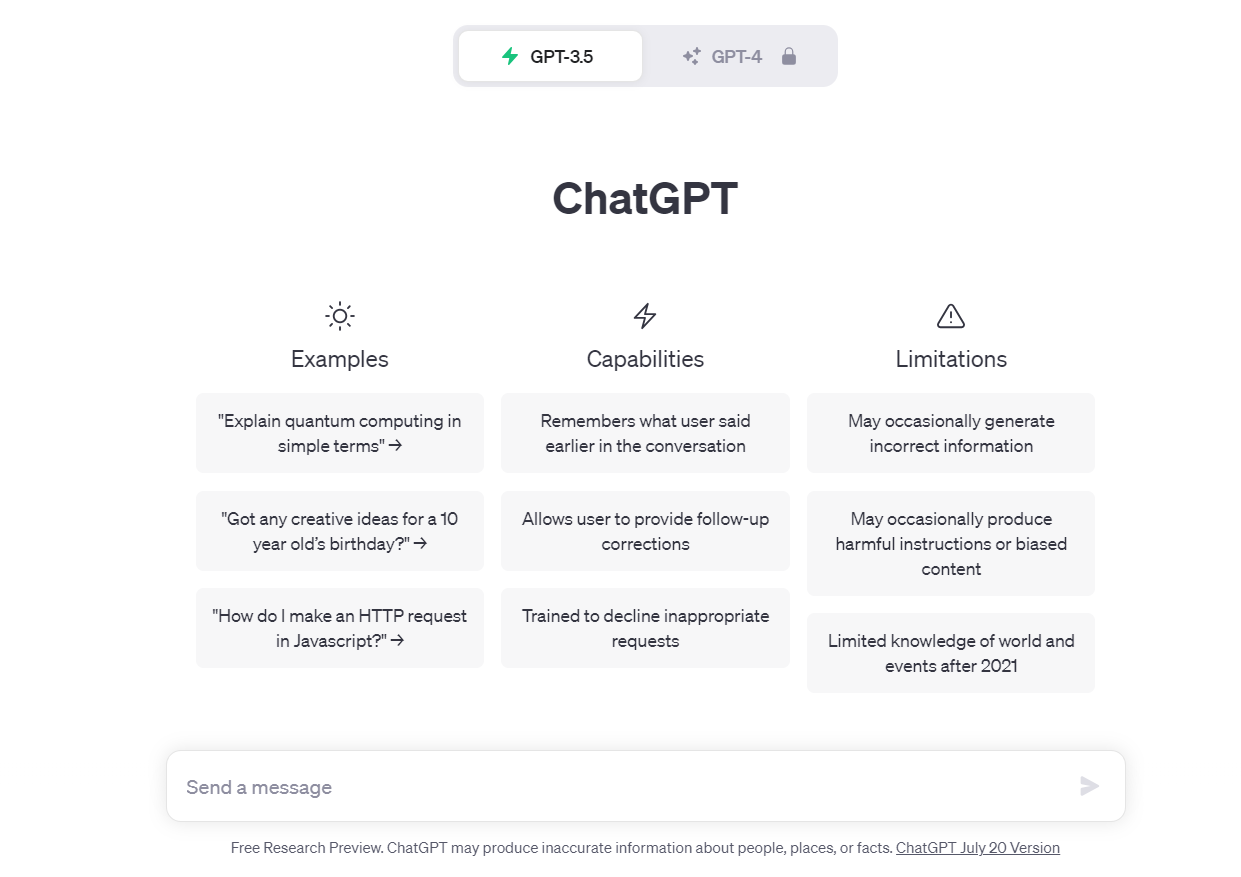 Using ChatGPT is not really hard. You just type what the AI generator should write for you, and basically, that's it. However, this is a tricky part. To get really good results, you need to provide detailed and clear guidance on what exactly you want ChatGPT to create. For instance, if you want to write a blog about what content you should include on your rent-a-car website, you will get a result similar to this one: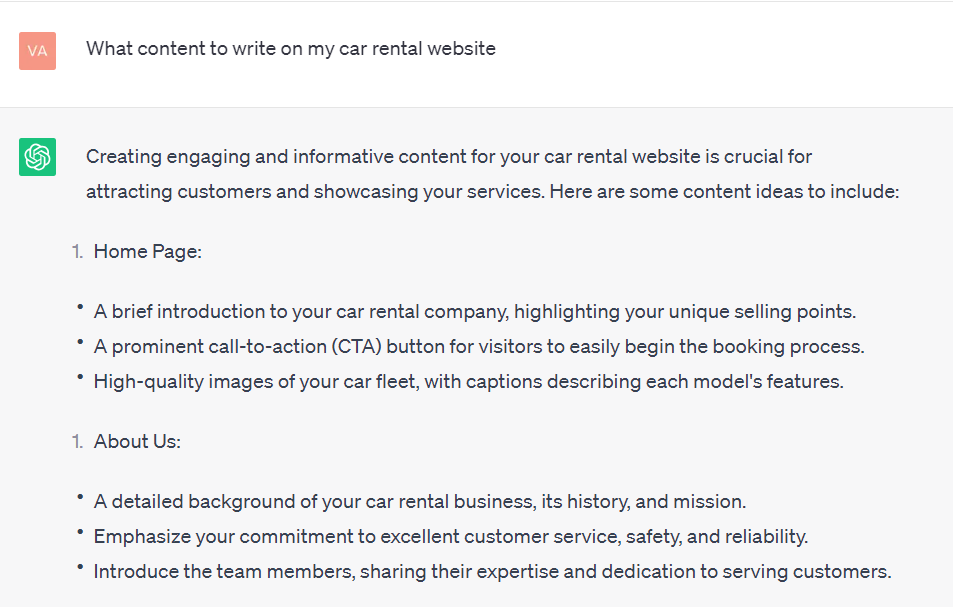 This is probably not what you are searching for, and you can not blame it for giving you such results, as your requirements for the content are not precise enough. So it's quite understandable.
Instead, try writing something more specific, like "I have a car rental company named Sunny Beach Car Rental", located in Miami, and I want to write content for my about us page on my website. Please include that we have more than 10 cars in our fleet, from small cars to premium-class vehicles, and we also have more than 5 years of experience in the car rental market. Also include some call-to-action, such as "Book now" to stimulate reservations." For these guidelines, this is the result that you will get: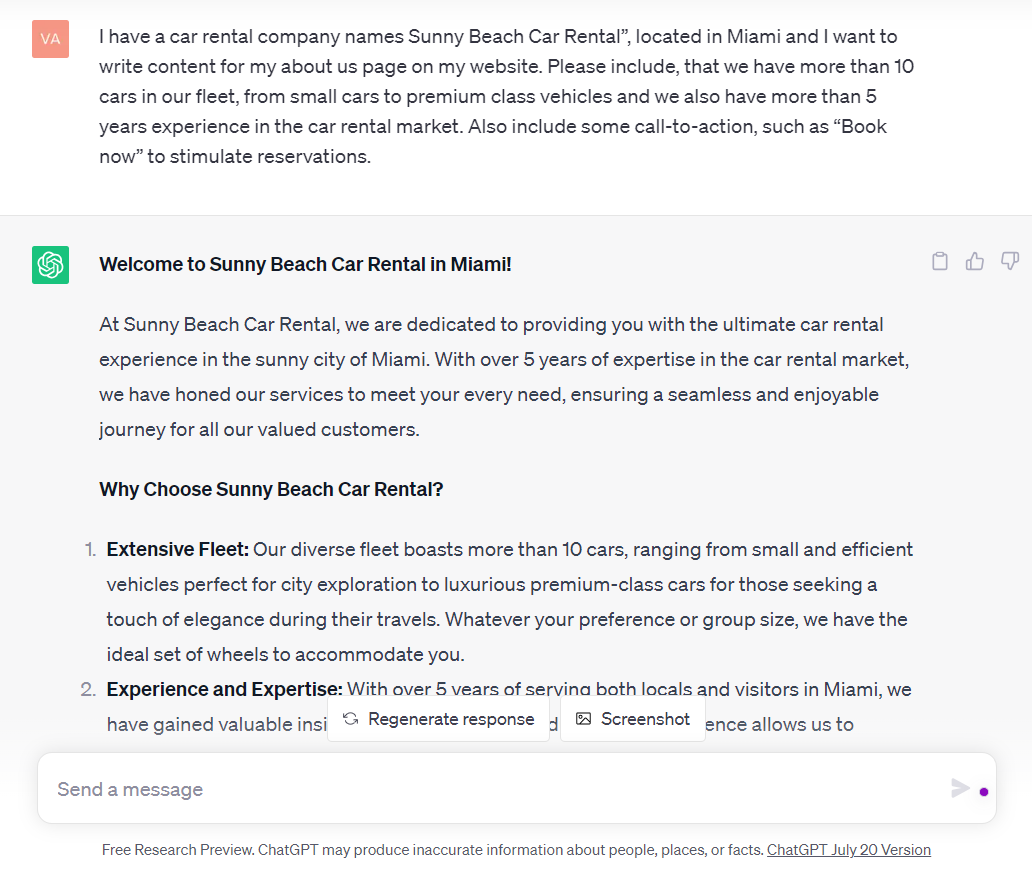 Much better, right? So this is how you basically use ChatGPT. You can use it for blog post generation, articles, website content, and many other textual content, which saves you a tremendous amount of time and, of course, money! It's almost unreal how easy it is to simply type your requirements for what the content should include, and you have almost ready-to-publish content. However, we mentioned almost. And this is an important one!
It's really important to note that you can't solely rely on what ChatGPT or any other AI content generator creates. The reason for this is that with the creation of these kinds of tools, there have also been created AI-generated content detectors, such as CopyLeaks, which can clearly distinguish AI-generated content from human-generated one. And if these tools can make it, then Google (or any other search engine) can make it too.
Now, this may sound to you a huge disappointment. But what if we tell you that you can still use ChatGPT but put a little bit more effort into humanizing the content and still pretty fast create content for your car rental website? And in the next few paragraphs, we are going to give you an example of how to do it.
Learn other ways to increase the traffic to your website here.
2. How to humanize AI-generated content (with examples)
What distinguishes humans from machines is that actions taken by humans are driven most of the time by emotions, while machines lack emotions. Even if they are programmed to act like us (humans), they still can't and probably would never have the ability to express emotions. And this, of course, directly resonates with the content generated by AI machines.
Besides adding an emotional touch to your content, here are other factors you need to consider when humanizing the AI-generated content for your rent-a-car website.
Create mistakes
As humans, it's normal to make mistakes from time to time. After all, we are constantly distracted by the surrounding area we live in, back thoughts, or we are simply tired (which is totally OK!). However, the machines never get tired. They follow strict rules and never make mistakes, especially when writing content. You can be sure that it will be 100% correctly written, without a single punctual mistake. And that is precisely what we don't want.
To humanize the content generated by ChatGPT, you need to add some mistakes in the text. Now, we are not saying that you have to write like you missed middle school. But missing a comma or typing the incorrect word two or three times in the text won't hurt at all. In fact, there is something like a trend that many content writers or customer service workers are intentionally writing some incorrect sentences from time to time, simply to ensure the person from the other side of the screen that it is, in fact, a real person that has written the textual content.
Make sure your text flows
As humans, when writing particular content, we always add a flow to it. This refers to the mental connection from one sentence to another and from one paragraph to another. And this is something that the AI content generators don't do, or it's really hard for them at this time to do. When giving ChatGPT guidelines about what to create, they are programmed to follow these rules, but they find it really hard to incorporate all of the points in one content seamlessly. Or with other words, sometimes they find it really hard to understand what's in your head, so they give you the information you need in paragraphs, like puzzle pieces, which is a big sign for Google that your content is AI-generated. In order to humanize that content, you need to read the content carefully and maybe add one or two sentences to make that transition.
Add repeated words
When writing a text, it's normal to add repeated words. After all, our dictionary is not as rich as AI content generators. And sometimes, we simply forget that we mentioned the same word in two sentences above. But ChatGPT or any other AI content generators don't forget that, and they want to make sure that your text is too perfect. Just check the "create mistakes" paragraph in this article. I have mentioned the word "mistakes" so many times. This is something that ChatGPT would never do. But you need to if you want to humanize the textual content on your car rental website!
Add jokes (if appropriate)
Making jokes is something very typical for humans because jokes are influenced by people's lives, the surrounding area, a specific event, or any other similar reason. The machines, though, are relying on facts. As we already mentioned, they follow strict rules and don't have any previous experience that they can transform into some kind of joke. If you can't think of any jokes, you may use the WordTune Editor, which based on your previous sentence, can add a joke to your text. It is paid, though, but really worth the money! So to humanize AI-generated content, you need to consider adding some jokes from time to time.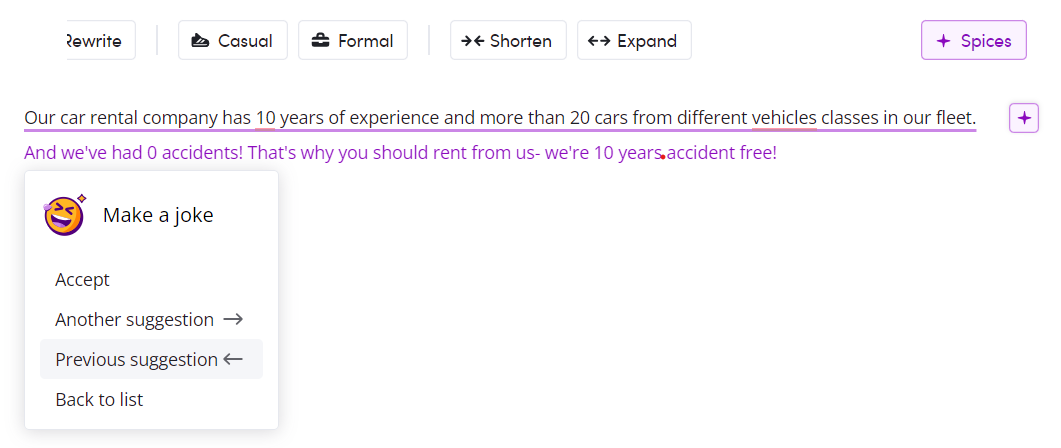 However, it's very important to know when to add a joke! It's not appropriate to add a joke to the content on your rent-a-car website. In that case, you risk giving your website visitors the impression that you are not acting professionally, and they may consider not renting a car from you. You may add a joke to a blog, for instance, as blogs are considered a more creative and artistic type of content. So if you are a car rental company located in Florida and you are writing in your blog about the wildlife, you may tell your clients, "When visiting Florida's wildlife, there are specific things you need to consider. One is making sure to bring some extra sunscreen because the alligators there love to sunbathe too!". This is something that ChatGPT can't create, so you definitely need to consider it when appropriate!
The final result:
Taking all of these points mentioned above, the result will look something like this:
This text is generated with ChatGPT. "Welcome to Florida, the Sunshine State, where pristine beaches, theme parks, and vibrant cities often steal the limelight. However, beneath the surface of these popular attractions lies an enchanting world of diverse wildlife waiting to be discovered. As a car rental company based in Florida, we are excited to present you with a unique opportunity to venture off the beaten path and explore the state's remarkable natural treasures."
We used the AI-content detector CopyLeaks to detect if it is AI-generated, and here are the results.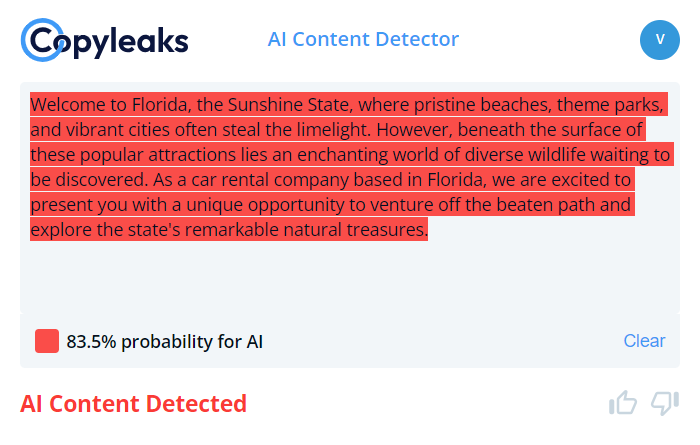 And after rewriting the text the way we mentioned above, here is how the content now look like:
"Welcome to Florida also known as the Sunshine State, where the stunning beaches and thrilling theme parks never fail to captivate visitors. However beyond these attractions lies a captivating realm of wildlife just waiting to be discovered. As a car rental company based in Florida we are excited to provide you with an opportunity to venture off the beaten path and uncover the states treasures. Just keep an eye out for those alligators. They might even consider renting a car from us!"
And that's the results: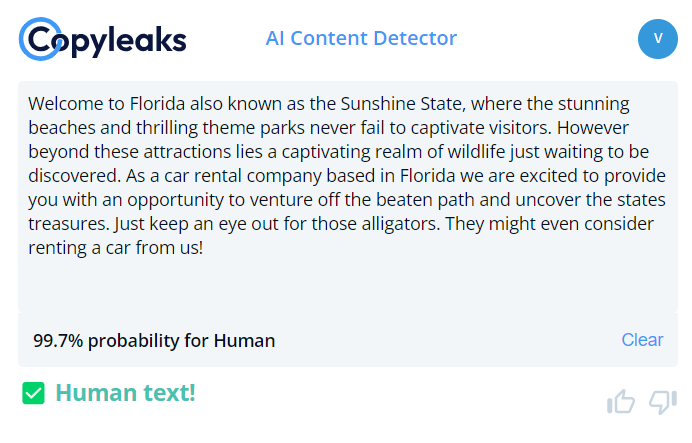 Useful, Not Dangerous!
Many people were (and still are) unsure if using ChatGPT (or any other AI machine) is a good idea for the generation of website content and if this will, at some time, reflect negatively on their SEO performance. After all, the biggest nightmare of every online business owner is waking up and seeing that they have zero traffic to their website.
What we think is that using AI-generated content is not a bad thing because it's a really great source of ideas. What we suggest, though, is that you need to definitely rewrite the content before publishing it online and add a human touch to it.
Now that we have covered how to humanize the content of your rent-a-car business, you need to consider creating a good website for publishing it online. And VEVS Car Rental Software & Rental Website Builder can provide you with that too. So feel free to create a 7-day free trial and see how easy it is to build a modern car rental website and publish your humanized AI-generated content.