Car Rental Phangan is a relatively new rent-a-car company situated on the beautiful island of Koh Phangan in Thailand. As with every newly launched company, its primary goal was to get new clients and grow brand recognition. And the owner understood that just making a website was insufficient to start a profitable car rental business. So, he also took advantage of the starting SEO Services that the VEVS Car Rental Software offers.
The VEVS Car Rental Software implemented various initial SEO strategies for Car Rental Phangan's website optimization for search engines. This involved doing thorough keyword research using advanced tools and choosing the most suitable ones, adding more keyword-rich textual content to the site, editing the meta tags, altering the image filenames and adding ALT tags, and reducing image sizes to speed up the pages. These actions, however, led to a significant effect on the website's performance and overall online presence. Below, we have added more info on how each strategy was executed to boost Car Rental Phangan's site performance.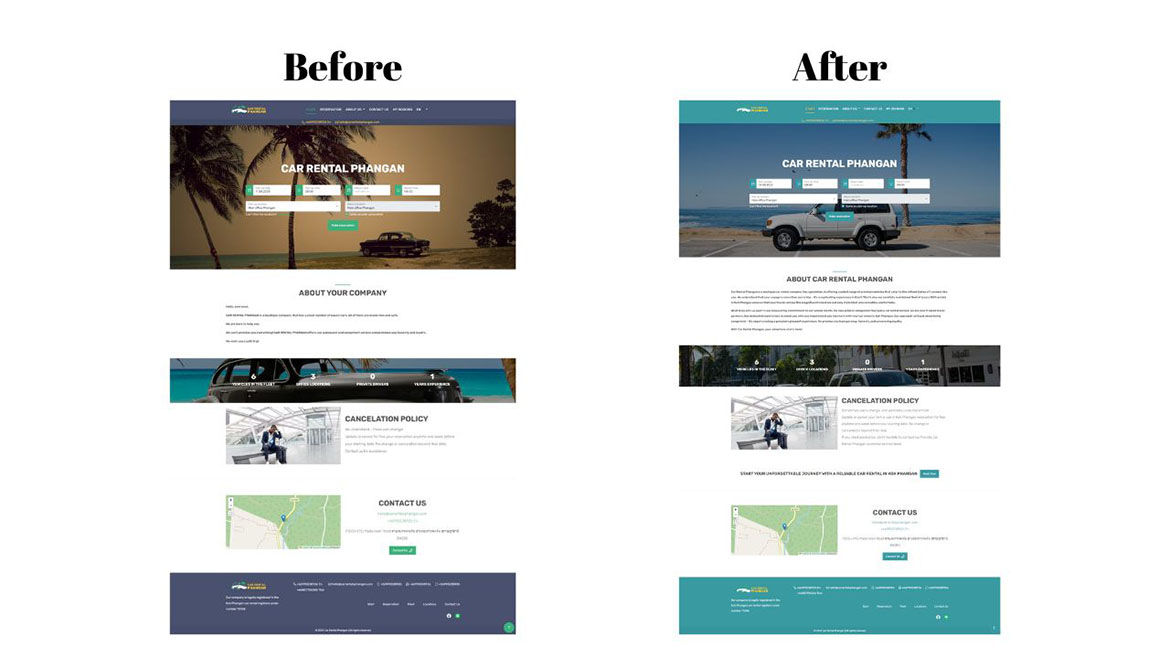 Methods Employed:
1. Thorough Keywords Research:
To ensure that Car Rental Phangan's website uses the right keywords, we conducted extensive keyword research using a number of different keyword research tools, ensuring the most accurate results. This was, however, not a simple task. But after discussing the main company activity with the owner and discovering their unique selling point, we sift through the keywords and leave only the ones that will bring the best results. As a result, we created a list of suitable long-tail keywords that were most relevant to their business and described their unique selling point the best - providing tourists with premium SUV rentals on the beautiful island of Koh Phangan. The keywords were then incorporated into the meta tags, content creation, and image ALT tags in order to better optimize the website for search engines.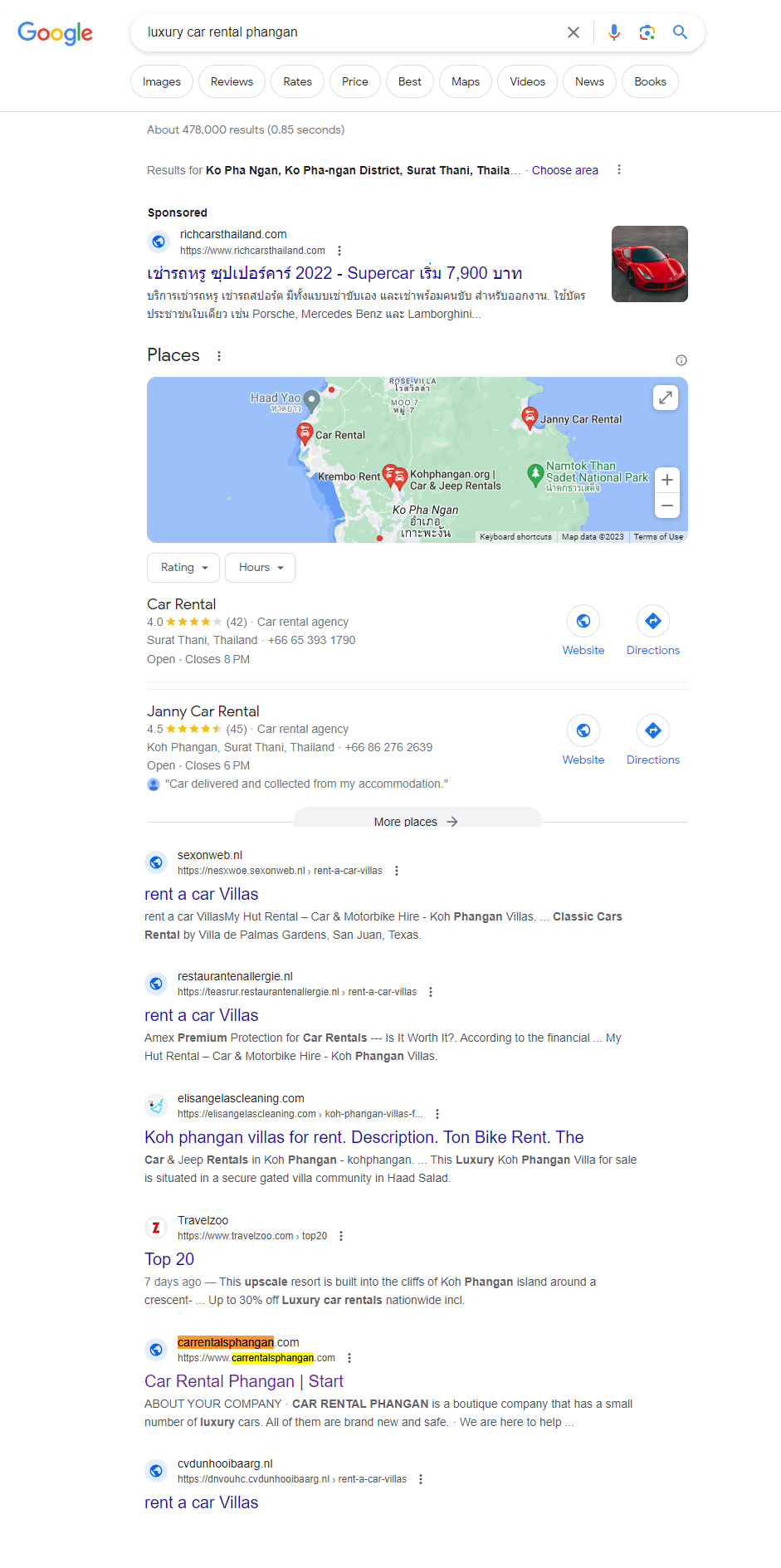 2. Creating a New Blog Section
The most effective way to add more keywords and get more pages indexed on search engines is to generate more keyword-rich textual content. To do this, we discussed the available options with the owner and finally made a decision to create a new blog section on the Car Rental Phangan's website. That way, after we made the three blogs to help them start with the content creation, they could continue generating more on their own. The blogs we created not only contain relevant keywords but also talk about things that would really interest their clients, like exploring the plant-based food options in Koh Phangan and the top 10 mist-try dishes for an unforgettable vacation. After all, our primary goal is not only to optimize the website for search engines but also to create a beautiful website that helps Car Rental Phangan establish itself as a professional in the market.
3. Meta Tags Optimization
Adding Meta tags to each webpage is crucial for optimizing the website for search engines. So to help Car Rental Phangan's web pages rank better on SERP, we reworked the meta title and meta description for every page, incorporating relevant keywords.
4. Image Optimization
Optimizing the images is also an important task that needs to be considered if you are looking for good SEO results. That is why one of the primary tasks of the VEVS SEO team was to optimize the image file names and add ALT tags to all images on the Car Rental Phangan's website. And to ensure even better indexing to the selected keywords, we also incorporated them into the file names and ALT tags. But that's not all. The website speed also plays a role in the overall SEO performance, which is why we also optimized the sizes of some images, which led to improved loading speed.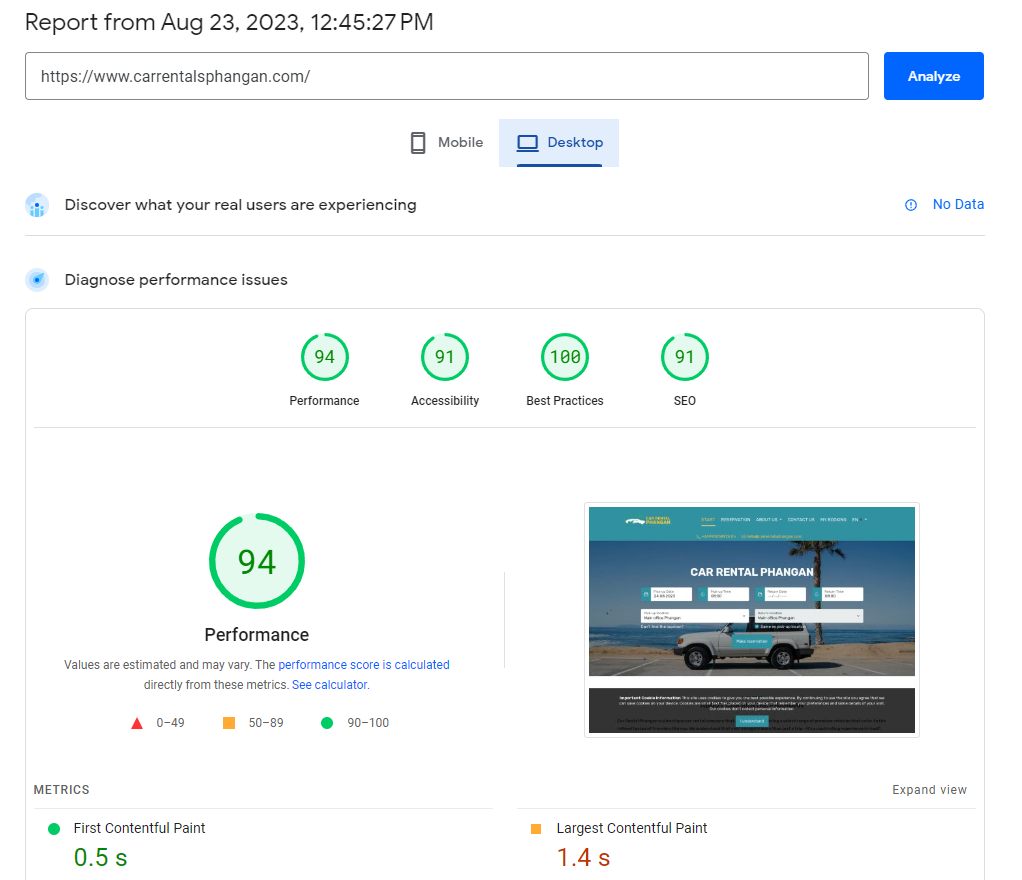 Thanks to VEVS Car Rental Software's initial SEO optimization services, Car Rental Phangan's website improved significantly. It became user-friendly, faster, and organized. Also, by adding more blog posts, the website became an engaging place for their clients where they could learn helpful information about exciting vacation spots in Koh Phangan, Thailand. Moreover, this additional content creation and the incorporation of relevant keywords helped crawlers scan more pages, enhancing the overall SEO performance.
Get your website optimized for search engines, too, by taking advantage of our initial SEO services, and let us help you launch a profitable online business.
Client Testimonial:
"I started working with VEVS long before my business launch date. I expected, as I already have some experience with such companies, that a lot of difficulties, ambiguities and adjustments would be necessary until I got what I needed. To my great surprise, the platform that VEVS provided me did not need any developer intervention. Everything is very intuitive and well structured. Each customer can adjust the settings needed for their small or larger business. The software covers all aspects of the business - the cars rental, payment methods, the documentation necessary for the activity, the condition of the vehicles, and even the service maintenance.
After playing around with the trial version for a few days, I moved on to purchase. I did not need more than 30 minutes of consultation with a specialist from the company to clarify the few topics that were unclear to me. Thank you!

To my surprise, I was one of the first to benefit from SEO optimization. And this part of work was done very professionally. Thank you again!

Thanks to the whole team!"
Dimitar Latzovski
Owner of Car Rental Phangan