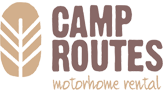 Motorhomes: 2
Locations: 4
Company Profile:
CampRoutes is a motorhome rental company created by two lovers of motorhome trips with a vast experience in traveling. The founders want their customers to enjoy the fantastic experience called motorhome trip without restrictions of comfort and convenience, as if they were in their own houses! CampRoutes strives every day to guarantee the best living and travel conditions and optimal customer satisfaction.
Custom Modifications:
"Extras" and"Routes" pages added
"Pick-up & Return" hours modifications and additional "Out of hours" fee (if the booking is outside of the predefined hours)
Extra "Pick-up & Return" fee chargeable when the Pick-up and Return are set to a non-office location.



Client Testimonial:
"When we were starting our company, we wanted a website that is user-friendly, dynamic and set up by the CampRoutes team. However, as soon as we saw the VEVS Website Builder, we said: "This is what we need!" Then we started, step by step, upgrade by upgrade, always supported by the great professionalism of VEVS team, until we reached our goal and the result in our opinion is great! We are very satisfied with our website and the feedback of our customers regarding the website usability and looks has been great. We appreciate all the work that the VEVS team has done for us. Congratulations VEVS and continue with your excellent work!"