Manage Vehicle Damages and Reduce Loss Instantly.
At VEVS, we put our clients first in all we do. We're continually working on improving the value of our services and providing new features that will swiftly push you towards your entrepreneur goals.
And, because we want you to have as many alternatives as possible to reduce loss, we are excited to announce that we've teamed up with DAMAGE iD - a well-established company that aims to help rental business owners of all vehicle types run their operations more efficiently.
Sounds interesting? Learn more about DAMAGE iD and how it can benefit your business in the following sections.
What is DAMAGE iD?
DAMAGE iD is web-based software and mobile application that helps you have an archive of before and after photos and videos of your vehicles. It can be used for car rentals, boat rentals, caravan and camper rentals, car dealerships, bike and ATV rental companies, and other vehicle kinds.
By comparing those images, you can ensure no hidden damages once the vehicle is returned and that everything is clear, as you are relying on a trustworthy source of information. As a result, your fleet management and day-to-day duties will be much easier and faultless.
Take a look at the video tutorials on how to use the app and scan your fleet efficiently.
Benefits of using DAMAGE iD
Have you ever leased a vehicle and returned to you with scratches or other flaws? But because you can't prove it, you'll have to foot the bill for all the repairs. Isn't that bad?
On the other hand, DAMAGE iD will save you not just money but also a lot of hassles. In addition, the app will make your staff work much easier and will drastically improve your customer service because you're proving your claim with facts rather than fluff. As a result, you're pleased, and your customer is pleased as well.
Take a look at the benefits in brief:
Reduce loss by not-collecting fees for damages missed by your staff or because of lack of proof.
Keep a complete and well-organised history of your vehicle's condition.
Improve the customer service by having an easily proven damages track and make customers feel comfortable that they won't be charged unreasonably.
DAMAGE iD will improve the management of the reservations and keep it simple and easy to follow by your staff.
It is also easy to train new staff and make sure you won't lose money because of hard to follow procedures or mistakes.
How DAMAGE iD works?
Assume you own a car rental company. For each of your reservations, you can make a new DAMAGE iD case, then load the app and take images of the vehicle from various angles to record the vehicle condition on car pick-up. That way, you'll have solid proof of the car's condition before leasing it.
After the car return, you can take a new set of images to check and verify if there are any differences. Finally, you can use the "damage" button to mark the photos on which the damages are visible. That way, when double-checking your vehicle, you'll be able to easily see which images you need to focus on more.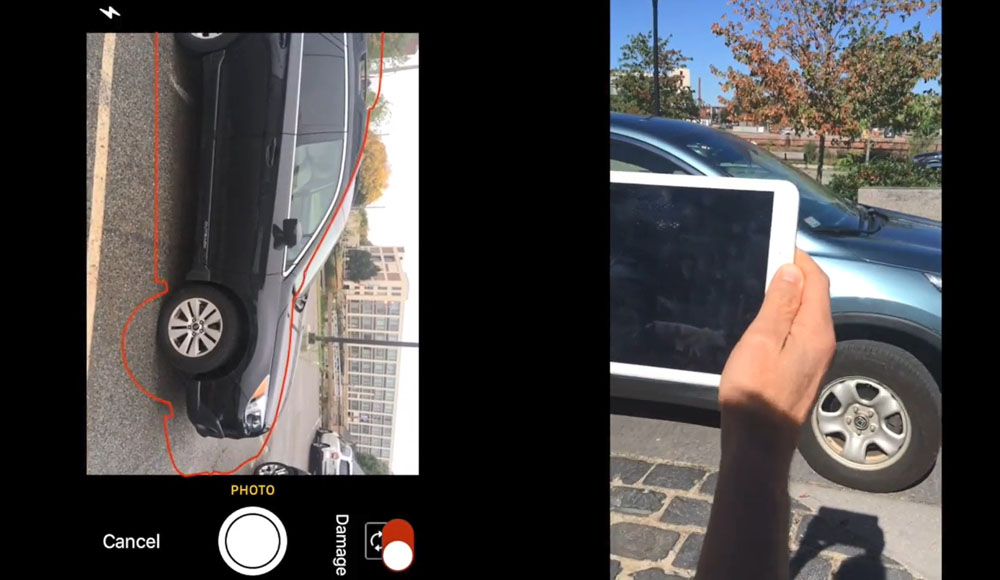 Another critical aspect is that you can make the pictures very quickly right in front of your customer just in a matter of minutes. After that, you may ask him to accept or decline the CDW (collision damage waiver). By agreeing with it, your client acknowledges that he is fully responsible in case of an accident. Then, you can sleep peacefully, knowing that everything is in order and safely archived online.
If there are damages after the return, though, with DAMAGE iD, you can prove to the client that they are new and peacefully come to an agreement together. You can also save yourself a lot of stress by avoiding paying for something that isn't your fault and knowing that your finances are in order.
DAMAGE iD may provide a great value to your company, which is why our VEVS Website Builder team can integrate it straight into your VEVS reservation software to make your business management even more straightforward.
Keep reading to find out how the integration works.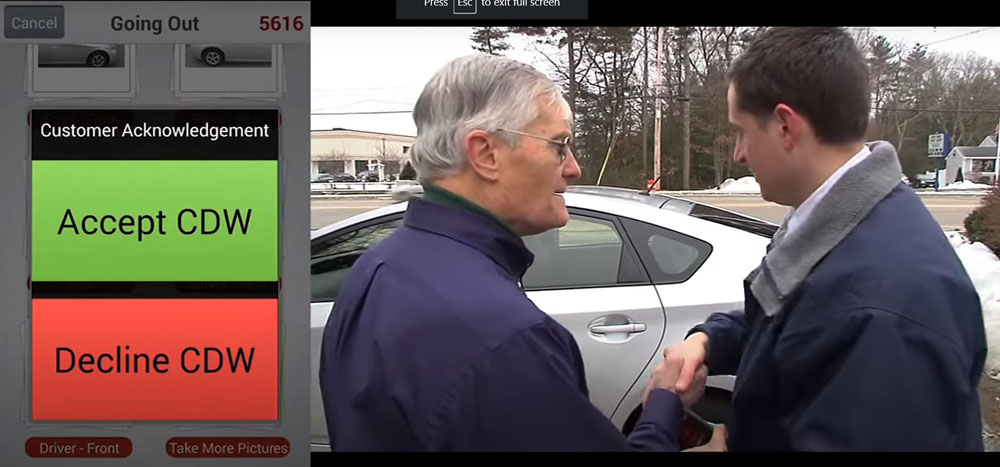 VEVS and DAMAGE iD are now integrated
You'll need to utilize the DAMAGE iD app to make the case and capture the images. We can, however, integrate them into your rental software, allowing you to have more flexibility in terms of data access and a better overview of your cases.
This is especially useful for larger businesses. Integrating DAMAGE iD into your VEVS rental software can help you manage your fleet better because everything is collected and organized in one place. In addition, you'll have more control over your vehicles this way because you'll be able to access each case directly from your VEVS website.
See all cases for a vehicle
The case includes the before and after recording for each serviced reservation. It is not necessary to have any damage at all costs to create a case. The main reason for creating it is simply to have a photo comparison of your vehicle which will give you visual proof of its before and after condition.
You may access all cases (connected to related bookings) for each vehicle from the vehicle menu. This will make running your business a lot more enjoyable. It will also assist you in having a solid timely-framed overview of the condition of your fleet over time, as well as how frequently your fleet requires a repair. And that may be exactly what you need to take your business to the next level.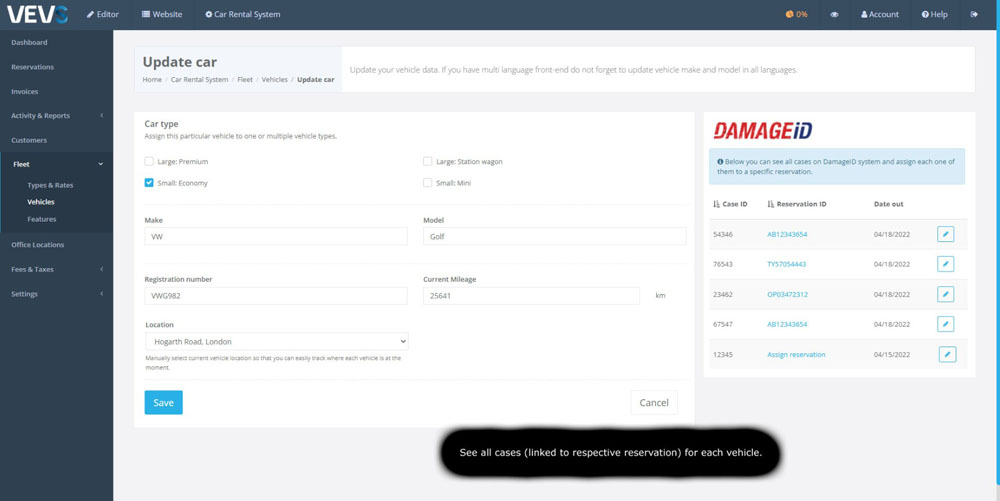 See full details about the case
You may as well find detailed information on each reservation's case, such as a case number, date out, date in, some comments, and the images.
We've made it easy for you to email the case to your team or colleagues and add different notes to make the communication even more accessible. That way, you'll always know what's going on with your fleet and won't lose sight of it, which is essential for any successful business management.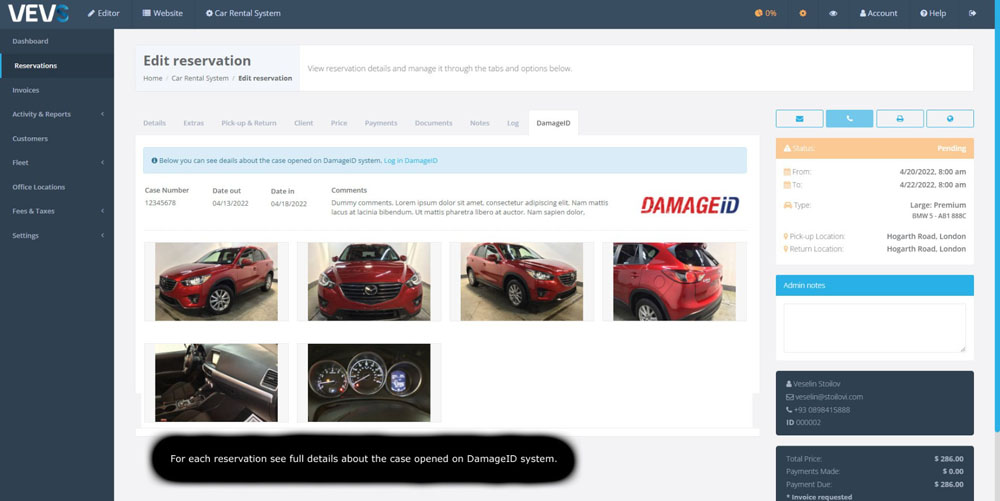 Export vehicles from the VEVS platform to DAMAGE iD
By integrating the DAMAGE iD app into your rental software, you can easily export the list of your vehicles from the VEVS platform and import them to the DAMAGE iD app and vice versa. That will save you a lot of time by not creating a new vehicle list manually on the app, as everything is automated for you and takes only a few seconds.
What's the cost and how to get it?
We can insert all of these DAMAGE iD helpful functionalities in your VEVS reservation software for a one-time price of $450. This investment will make your everyday tasks much more manageable, and you may save hundreds or even thousands of dollars.
If you want to integrate the DAMAGE iD functionalities into your VEVS website, don't hesitate to get in touch with our friendly customer service team, and we will get the work done for you!
Conclusion:
Our primary goal is for you to succeed! That is why we are always on the lookout for new, highly qualified partners who can assist you in improving the efficiency of your business management.
See what other services our partners provide by visiting our Business Software page.
If you don't already have a professional website for your rental company, take advantage of our 7-day free trial to discover what we have to offer. You will not be disappointed, I promise!
Our Facebook and Instagram feed also provide some valuable ideas for establishing a successful business, so don't forget to follow us there too.
Please don't hesitate to contact us if you have any questions or would like to share your ideas! We would love to discuss your business growth with you!