Fleet management

Improve your company's efficiency by keeping track of all of your vehicles and the expenses you charge for them online.

Office Locations

Add as many locations as you want and allow your customers to quickly locate your company.

Online Reservations

Get rid of overlapping bookings! Show your clients only the available vehicles and let them book a car online.
Secured Payments

Allow your customers to securely pay you online in advance and reduce the number of cancellations and no-shows.

Custom Rates

Never miss a reservation by offering weekend discounts, seasonal rates and rates that are based on the booking length.

Taxes & Insurance

Have complete control over how taxes and fees are calculated and added to the total reservation price.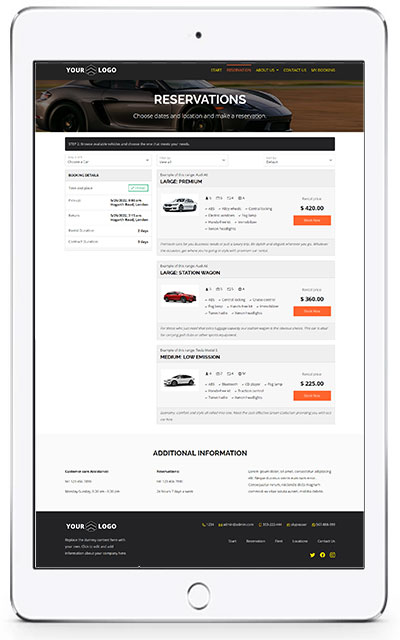 Manage your business from any device and from any location.
Make your car rental company digital. Use our state-of-the-art car rental software and powerful content management system to manage everything from anywhere with a only a few clicks.
Online bookings and payments
Boost your business with an advanced car rental system - increase your sales and website conversions!

Automate the booking process, preset your rates and reservation rules, and urge your customers to book easy, online and more!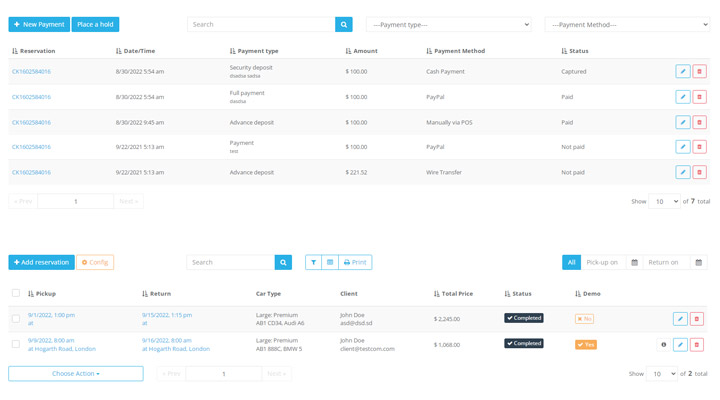 Reservations management
Avoid the hassle of having the same car booked twice simultaneously, as the powerful VEVS Car Rental Software will verify the vehicle's availability before the reservation.

Easily change any booking detail, including pick-up and return dates, fleet type, extras, insurance, payments, and documents.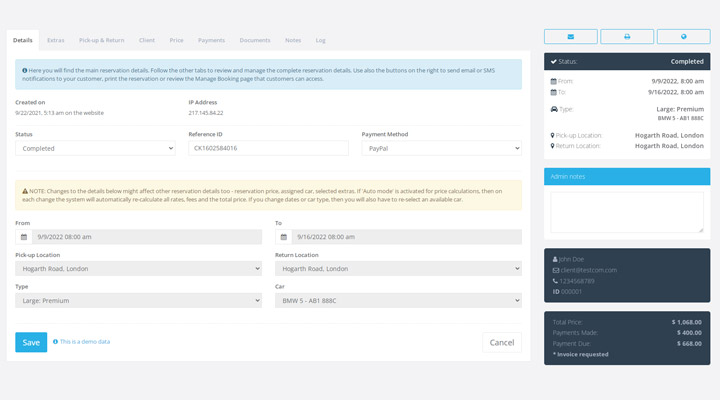 Fleet management
Manage all of your fleet online efficiently, from a few to hundreds of vehicles. Provide various vehicle types to your clients, such as family cars, luxury cars, SUVs, and others.

Add detailed information for each vehicle type and display it on a separate Fleet page on your website. View a weekly or monthly calendar that includes all reservations and fleet availability and always stay up-to-date.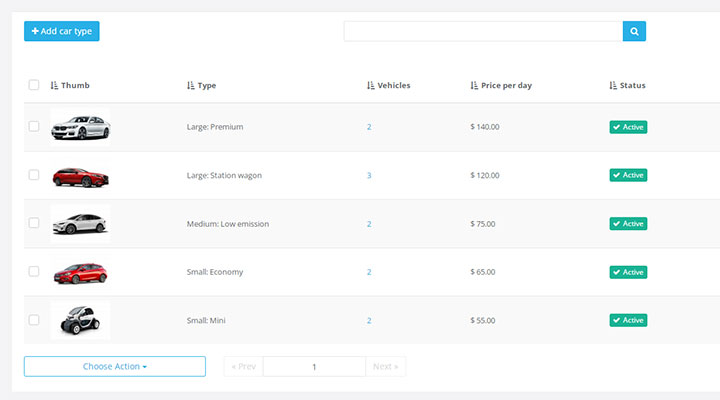 One-of-a-kind configurable solution that perfectly meets all of your needs.
We will make your ideal car rental website a reality by implementing various custom modifications. For instance, modification to the business software, custom page sections, new business software features, payment gateway connection of your choice, third-party API and software integrations, and many more.
Vehicle Expenses
With the powerful VEVS Car Rental Software you will never get lost in the maintenance of your fleet! You can add detailed information about all of your vehicle's expenses, such as date, category, expense type, cost, and status type - whether it's planned, cancelled, or already completed.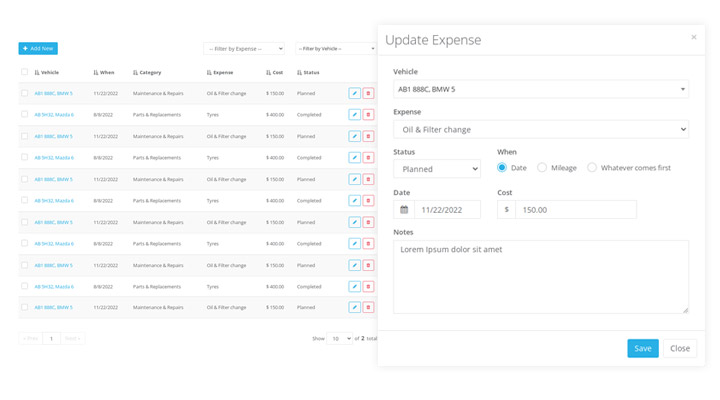 Damages
Easily keep track of all vehicle damages in one place - directly from your website. Make a case, mark the damages on the interactive car, upload photos and provide a detailed description by including the reservation number, vehicle, date and time, driver name, and more.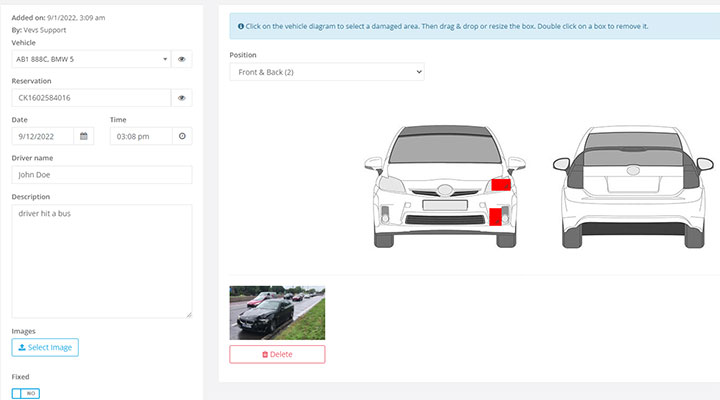 Office locations
Whether you operate in one or multiple locations, the cutting-edge VEVS Car Rental Software allows you to configure your website to serve any number of locations.

Your customers can select pick-up and return locations, view their working hours, and see the exact addresses on a map. You can even charge extra for after-hours pick-up and drop-off services!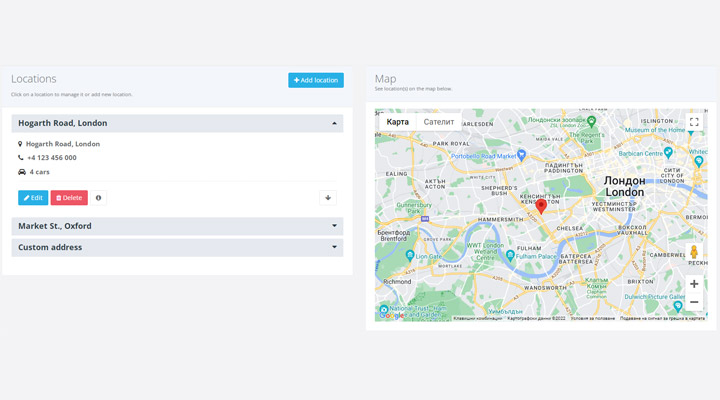 Flexible pricing options
Take complete control over your finances, by setting flexible pricing options such as seasonal, weekend or prices set up based on the pick-up weekday to each of your vehicle separately.

You can as well set up rates based on the rental length and offer them as packages to your clients.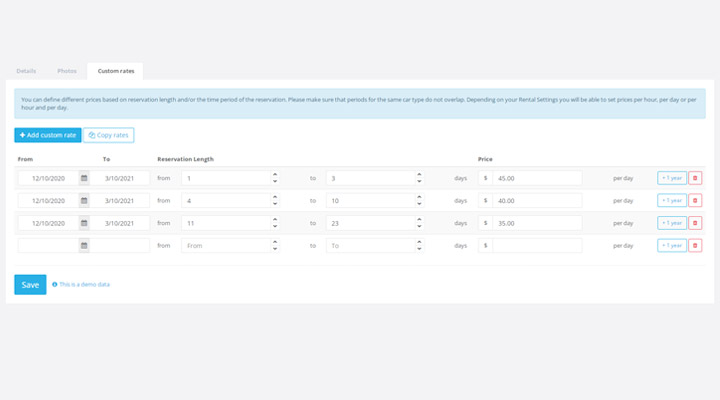 Payments
Start accepting payments online using some of the most popular payment processing companies! VEVS Car Rental Website will not charge any fee for the reservation that you receive.

Besides the monthly fee to have your website up and running with us, we will charge no other fees! If a client pays you 100, you get 100.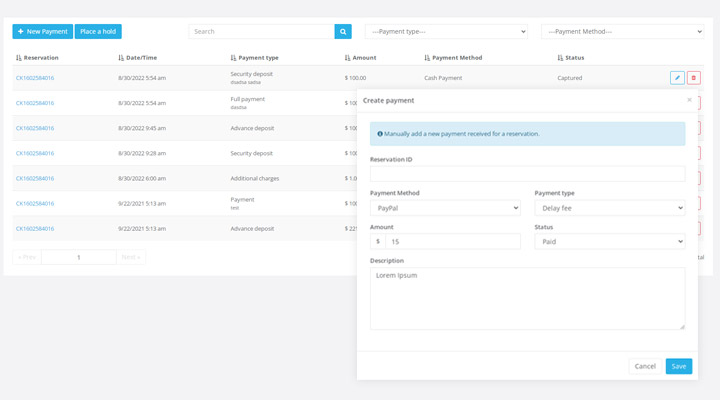 Rental Agreements & Documents
Can't you seem to find the proper documentation to send to your client? No worries! All documents and rental agreements required to provide your clients with and manage your business efficiently are available in the VEVS Website Builder. And it's all completely free!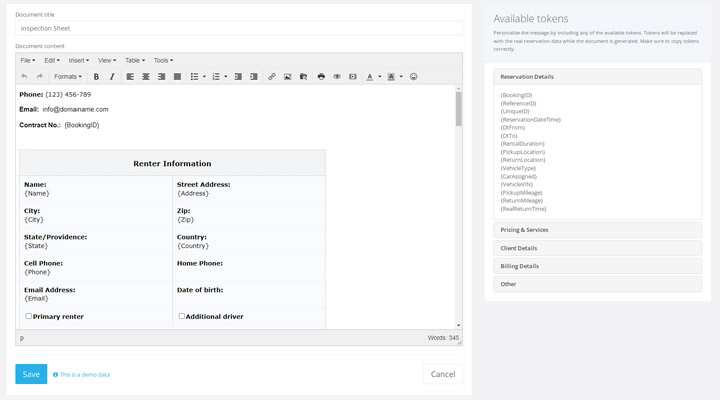 Fees & Taxes
With the VEVS car rental system, you can pre-set different kinds of fees that clients need to pay with each reservation - deposit fee, security deposit fee, VAT or any other legal tax that applies to your location. You have complete control over how taxes and fees are calculated and added to the total reservation price!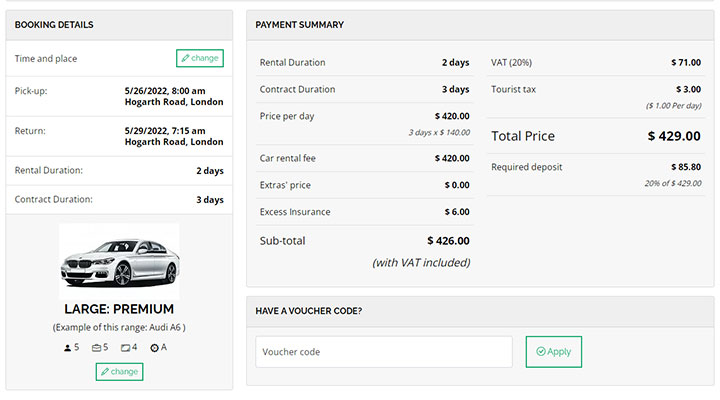 Increase your organic customer base easily with our intuitive SEO features!
Achieve top search engine ranking without even being an SEO expert! Take advantage of the robots.txt, sitemap, and other essential SEO features we provide you with and skyrocket your car rental business.
Email notifications
Make the communication with your clients online even easier by customizing and creating your own email form and sending your clients automatic email notifications for each step of the reservation process.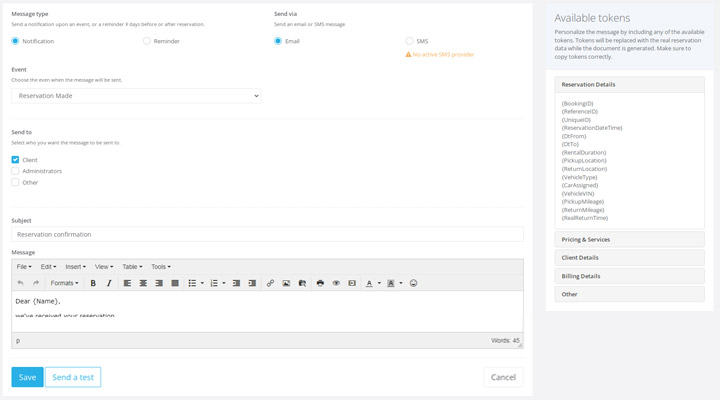 Extras
With the powerful VEVS Car Rental Software, you can increase profits with minimal effort. When making a reservation, you can add an unlimited number of different extras, such as GPS, a child seat, and a bike rack. Alternatively, offer special discounts to your customers. Sell more, earn more!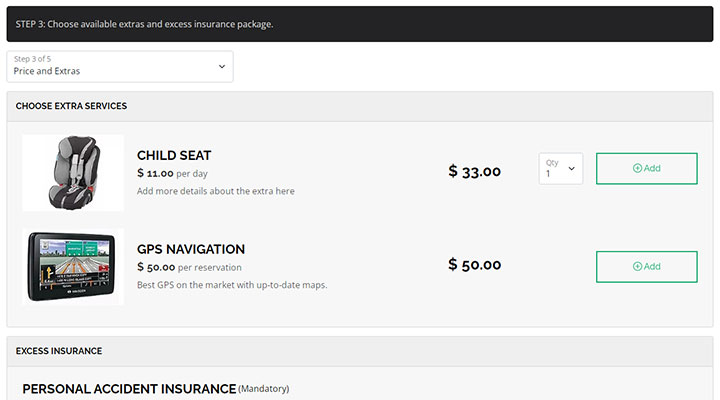 Reports
Increase accountability and always keep track of how your car rental business is doing by getting access to various activity and reports, such as daily reports, sales reports, live fleet availability, vehicle reports, and more, and analysing them directly from your website.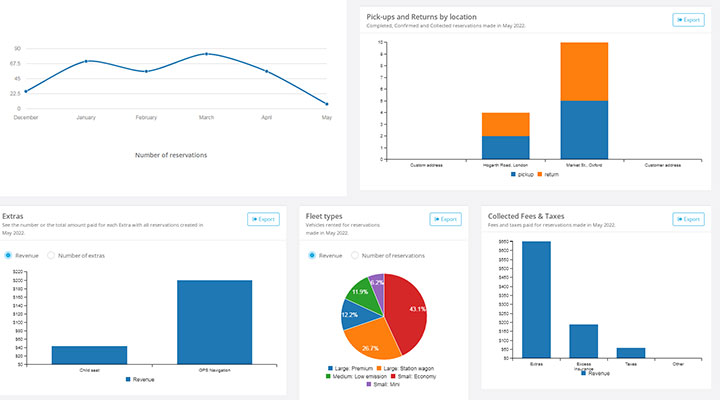 Need help with the website setup? We'are always here for you!
If you are having difficulty creating the ideal car rental website for your company, our dedicated customer care team can assist you with almost any aspect of your website setup. Simply contact us, and we will respond as soon as possible!
Rental settings
The most configurable car rental system on the market! Set different pricing models - hourly, daily; collect deposit and security payments; set reservation minimum and maximum booking length; custom address delivery and location fees; driver age and young drivers extra charge, and so much more!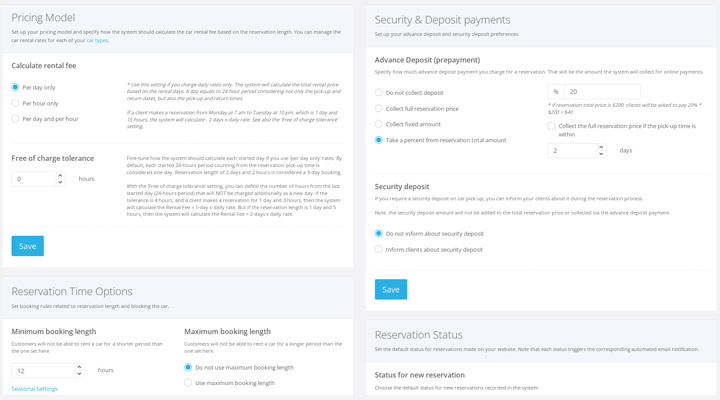 API & Export
Use the built-in Export and API functions to access all the data from your rental software easily. Create different API tokens and export reservation details in multiple different formats - iCAL, CSV, JSON, XML. Use API calls to check availability, prices, office details and anything else you need access to!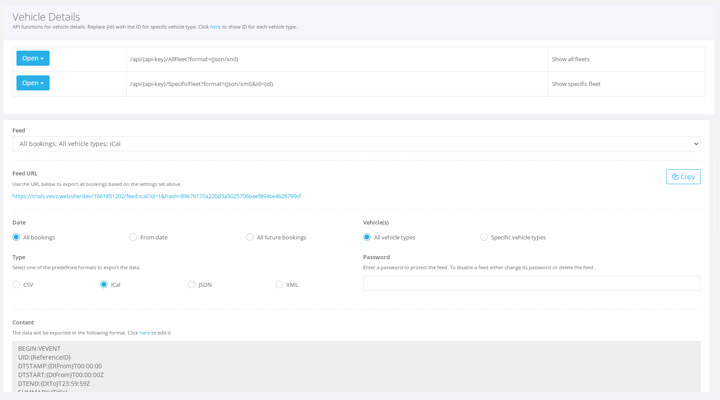 Payment Gateways
Choose from some of the most popular and widely used payment processing gateways, which the VEVS Website Builder has integrated, and allow your customers to book directly from your website. If you use another payment gateway, simply send us a request, and we will get the work for you!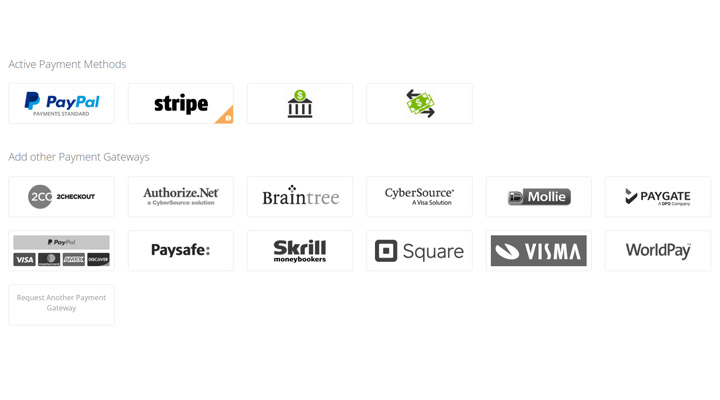 With VEVS, website editing is so easy! Everything is automated for you.
Edit your website like a true professional without any IT knowledge or experience. Create a website that best represents your business, launch it swiftly and start growing online.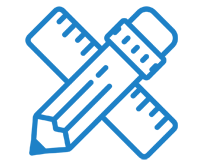 Design
Use our unique ready-made website designs and build a website that fully reflects your company's branding. See more details.
Site Editor (CMS)
Add as many pages, elements and sections as you want, upload stunning images and videos and many more. See more details.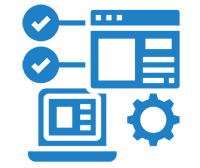 Website Management
Create a website that runs like your real business, allow your clients to quickly find the information they need and stand out from the crowd! See more details.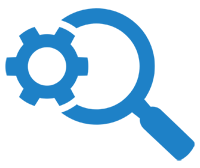 SEO
Drive an excellent website performance with the easy-to-use SEO features available on the VEVS Website Builder. See more details.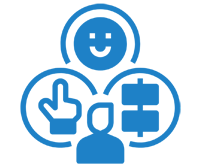 User experience
Deliver a great user experience on your unique website and extract maximum profit with minimal effort! See more details.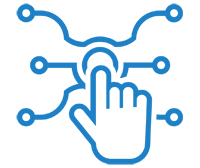 Advanced technology
Create a website using the VEVS's cutting-edge technology to digitize your car rental business. See more details.