It is a well-known statement, that in the real estate industry, the ability to become successful is determined largely by 'who you know' and how you carry yourself or your firm. When asked about the most important trait to look for in an agent, prospective home sellers chose "professional reputation" most often.
Did you know that on average, the third most viewed page on a real estate agent website is the "About Us" page? If you think about it, it makes complete sense. With so many options for buyers, sellers and renters to choose from, what separates you from the next person or firm? Well, one thing can be your website. A professional, well formulated website can work wonders when it comes to building trust, report and reputation with potential clients.
In this blog post, we want to discuss why you should choose the VEVS Real Estate Website Builder for your real estate business and the benefits it entails.
Who We Are & What We Do?
We created VEVS to help small and medium-sized companies to get online quickly and painlessly and start serving their clients right after launch.
The web abounds with great looking website templates, but very few of them come with the key functionalities necessary to manage particular industry niches and their daily operations. That's why we decided to focus on what a property website can do. Of course, we offer a variety of layout designs. Still, we want VEVS to stand for simplicity and enhanced usability.
Our decade-long experience in developing comprehensive online business solutions and web tools has taught us how to identify and respond to diverse customers' needs. We pride ourselves on a great team of experts who perfectly complement each other and work together towards one unified goal - delivering high-value products and excellent customer services.
Today, 35,000+ people and companies of all sizes and industries rely on us to empower their websites and make their lives easier.
VEVS Website Solution For Your Real Estate Business
VEVS Real Estates Websites come with all essential features and functionalities. Upon request, we can make any custom modification to fit your specific business needs.
Some of the top features that are found within all of our Real Estate Websites are:
Real Estate Software
In your role as VEVS property website administrator, you can add and manage countless properties, set prices, update their status, show/hide broker details, etc.
Detailed Property Profiles
Each property goes with a detailed description, community and property features, location, price, video and a great image gallery. You can also feature properties.
Broker Details
Trust is a big part of the property industry, which is why we have provided you with the option to include broker details. Include quick contact details as well as immediate online requests, so your prospects can easily have their questions answered.
For Sale & For Rent
You can create two categories - for sale and for rent, and assign realties accordingly. Depending on your business and current needs, you can disable one of them.
Advanced Property Search
Saving time to your potential buyers is crucial. If you have a lot of properties to show, the search facility will make your visitors experience efficient and assist them in finding their perfect property. Your real estate website's visitors can easily filter their searches by type, location, price, and other predefined and custom criteria. Results are well displayed on mobile, too.
Interactive Maps Integration
All your properties will be pinned on an interactive map so that your customers can easily navigate to them. You have a choice of 4 online map providers in our real estate software - Google Maps, MapBox, MapQuest and OpenStreet. Choose the one that suits you most, add properties' addresses and they will show automatically.
4 Good Benefits As To Why You Should Choose VEVS For Your Real Estate Website
Setup & Launch Support
Our friendly Customer Success Managers will help you get your property website up and running quickly and effortlessly.
Easy Content Management
Adding and editing text and visual content and personalizing your property website is very intuitive via our Site Editor. No coding skills needed!
Multiple Languages
You can set one default language and enable as many language versions of your real estate agent website as you wish. The translation is a breeze!
Customizations & Add-ons
Depending on your business and functionality needs, we can make any custom tweaks and embed various add-ons into your real estate agency website.
We Offer A Range Of Digital Marketing Services
We know how essential digital marketing can be for the success of your website and business. To help your growth, VEVS provides results-driven marketing services. Our team of experts can handle all your business's key digital marketing needs, from Social Media to SEO to Content Writing for your website.
Should you wish to have assistance with your Digital Marketing efforts, you can find more information here.
Browse Our Clients Car Rental Websites
We know that the proof is in the pudding, which is why we encourage you to have a look at some examples of our clients Real Estate Websites here.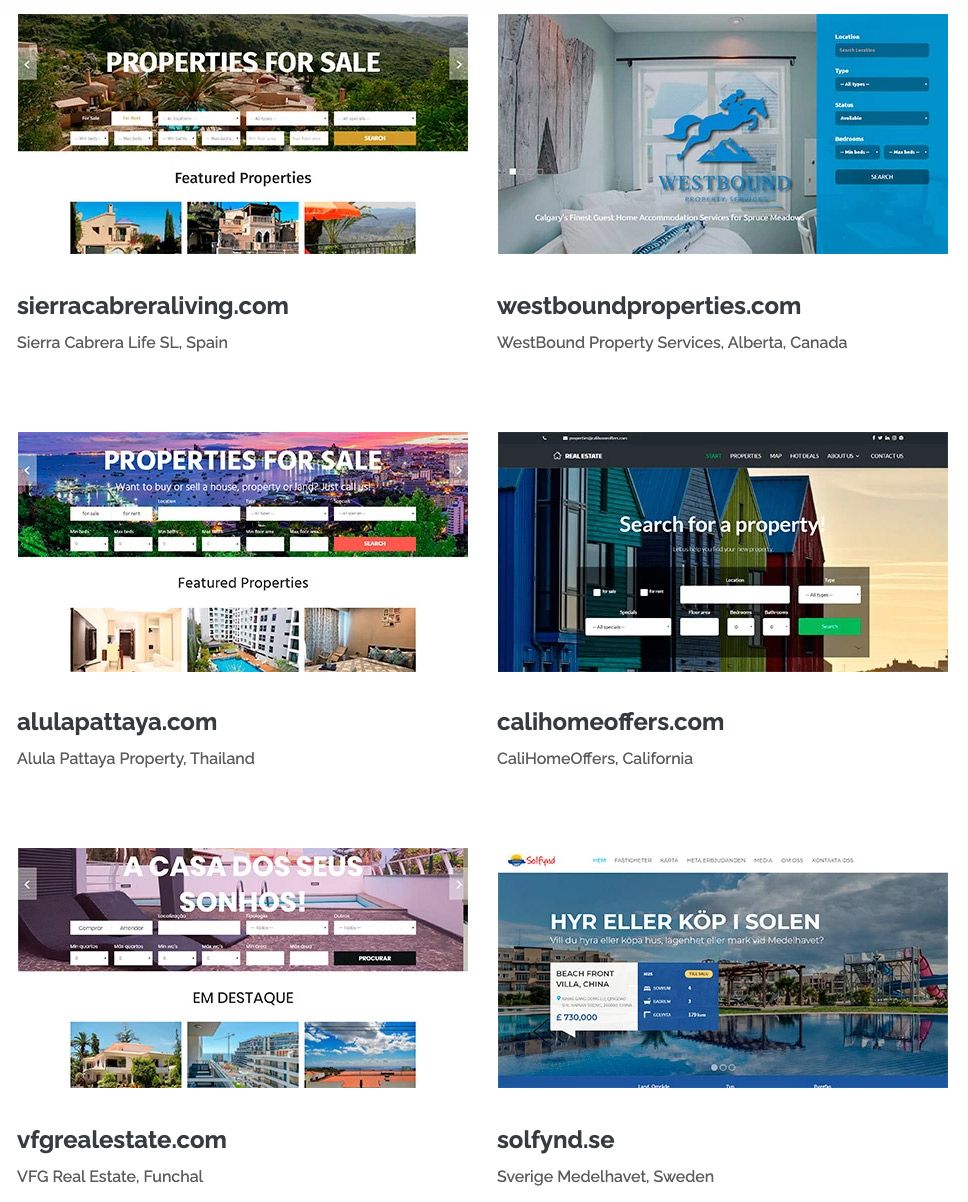 Conclusion
If you are interested in finding out how VEVS and our team of experts can help your real estate business when it comes to marketing, please visit our digital marketing page for more information.
We have some other great blog posts for you to view:
> How To Boost ROI For Your E-commerce With Buy Now Buttons
> 7 Critical Features Your Website Homepage Should Include
Are you following us on Facebook? Click here to like our page and be notified whenever we publish a new blog post!