Properties

Add countless properties into your VEVS real estate listing software and manage your entire business online.

Brokers

Integrate your brokers into your VEVS real estate listing management software and keep track of their performance.

Notifications

Increase efficiency by sending automated alerts to clients and brokers.
For sale & rent

Make your real estate listings stand out to the right audience by categorizing the properties into two categories: for sale & for rent.

Price alerts

Alert your clients when prices drop and encourage them to get the deal done.

Types & Amenities

Use the predefined property types & amenities, or manually add the ones that best describe your properties.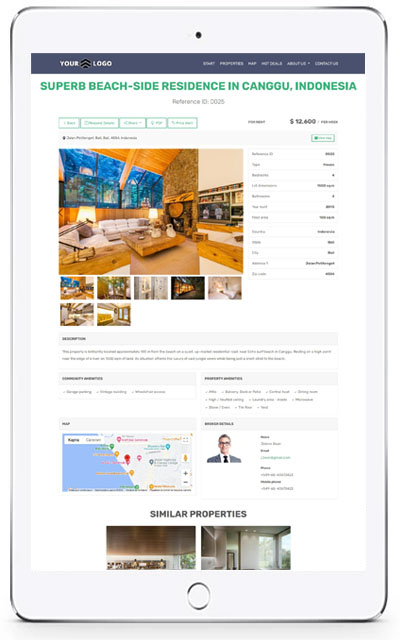 Make your real estate agency digital. Use our state-of-the-art real estate listing software and powerful CMS (content management system) to manage everything from anywhere with only a few clicks.
List properties
Increase the efficiency of your business management via our powerful real estate agency software.

Add endless properties, pick a broker, add comprehensive descriptions and addresses, add or use premade amenities to the interactive map and more via the technically advanced VEVS Real Estate Website Builder.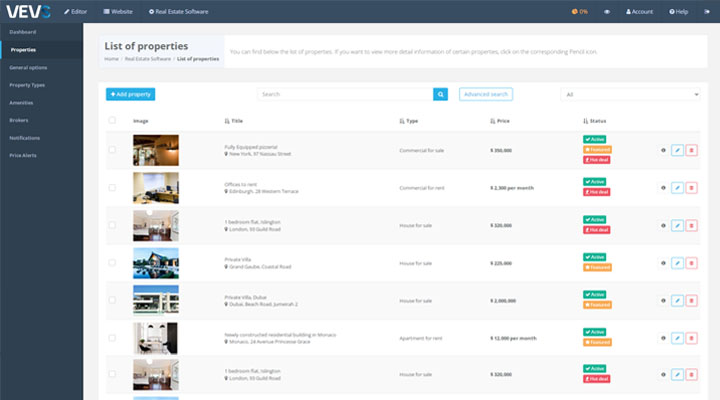 Properties for sale or rent
Improve your customer experience by displaying different categories of properties on your website.

Make it easier for clients to navigate your website by listing properties for rent and sale separately. This will help them quickly find the property that meets their needs and will speed up the booking process.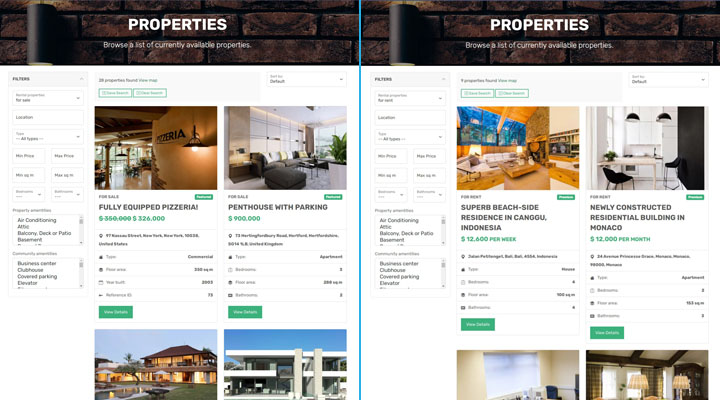 Featured & hot deals
Show your clients the price drop and highlight hot deals to grab their attention and urge them to schedule an appointment.

Define featured properties, show them at the top of the search results, make sure that they are the first thing that your visitors see and entice them to contact you for more information.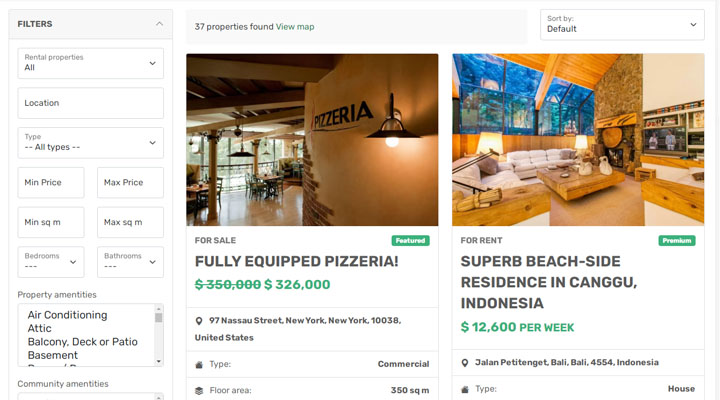 Our Real Estate Listing Software is developed with your business in mind, however, if you would like it to be even more tailored to your business model, we can implement customizations such as - modification to the real estate agency software, custom page sections, new real estate listing software features, payment gateway connection of your choice, third-party API and software integrations, and many more.
Advanced search
Make it easier for your prospective customers to find their ideal property on your real estate website by utilising the advanced search feature.

Using your website, they would be able to find a property in a matter of seconds. You could also use those search queries for marketing campaigns and promoting your products online.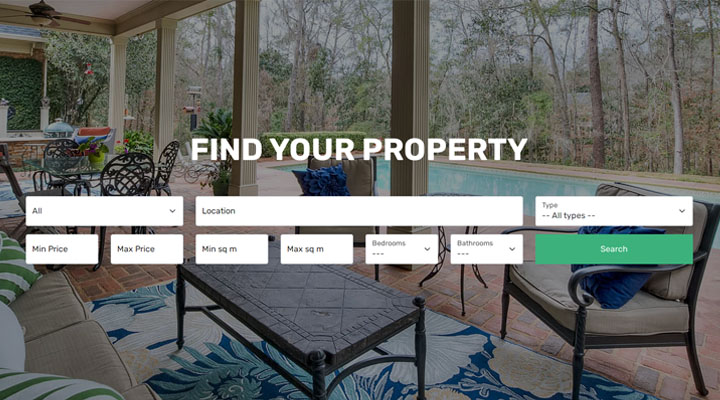 Save search results
The search results on your website can be saved in bookmarks, sent to an email or copied by your clients.

This saves them a lot of time and makes it much easier for them to perform another search on your website using the same search result.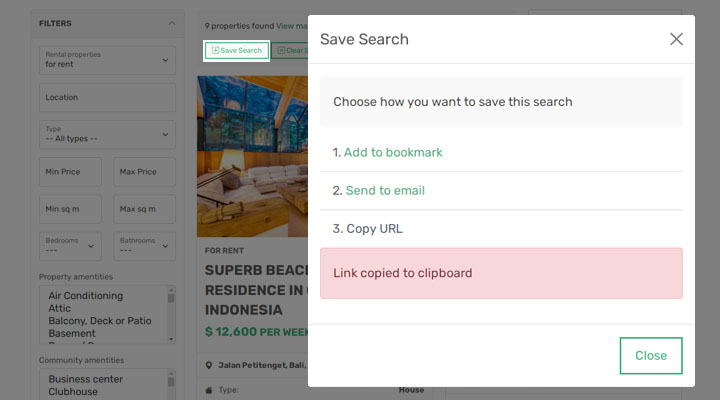 PDF brochure
A PDF brochure can be downloaded for each of your properties, which is convenient for your customers and brokers.

It would be easy for your clients to download detailed information about the properties they like, and your brokers would have access to automatically generated marketing material.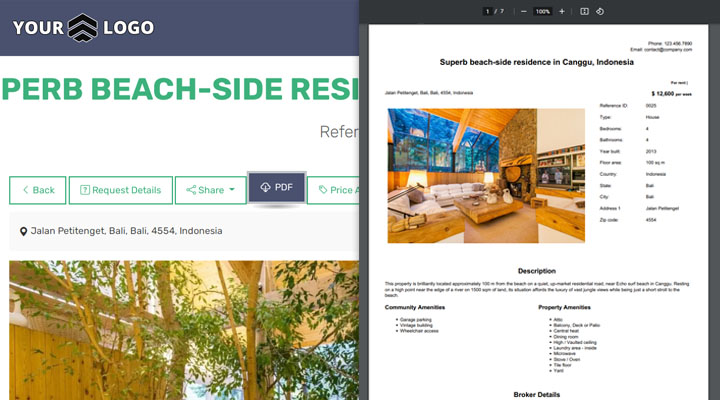 Price alerts
Give your customers a choice to turn on price alerts for each property so that you may alert them anytime there is a price drop.

When the selected property becomes cheaper, your clients will receive an instant notification, and you can use that to encourage them to make the deal and increase sales instantly.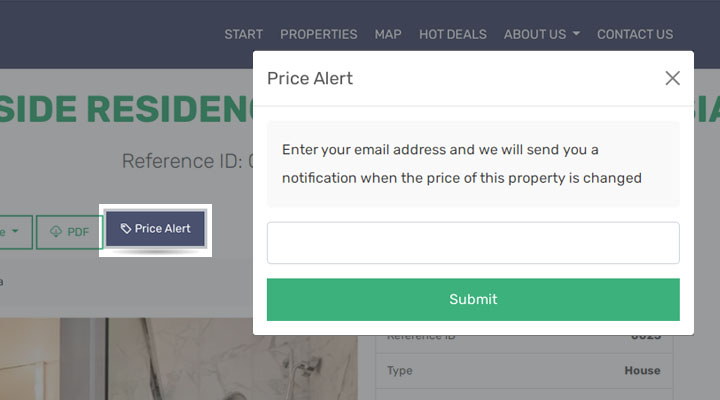 Interactive map
Present an interactive map of all the properties you have to offer to your clients and easily attract their attention.

This is an excellent way for your clients to browse your properties more conveniently, as they can see photos, prices, descriptions, and others when they click on the property on the map.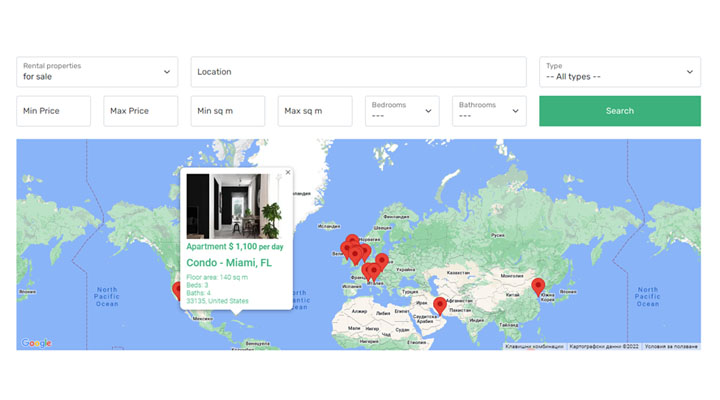 Similar properties
Display similar properties on each property page so your customers can compare and choose from various options.

That way, you will not only increase the time visitors spend on your website, but you may also boost your SEO score and attract more potential clients from the search engine.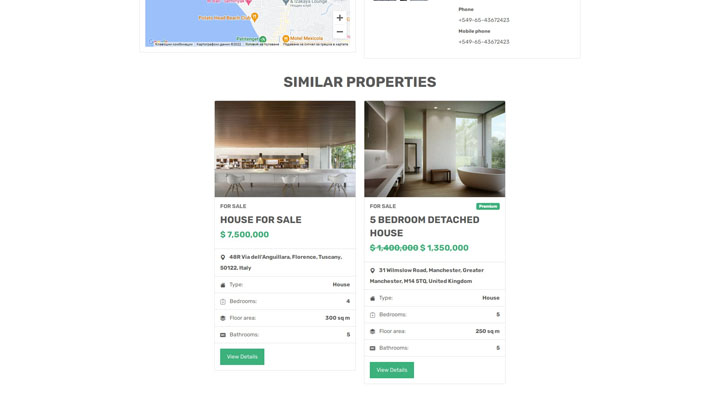 Hi-res imagery
Upload countless high-resolution images and videos of your rental properties and attract your visitors' attention with ease.

Utilize the VEVS ready-made real estate website templates to build a modern website quickly, showcase your properties to your clients and get them to contact you right away.
Achieve top search engine ranking without even being an SEO expert. Grow your real estate business with ease using the robots.txt, sitemap, and other essential SEO features provided by our powerful VEVS Real Estate Listing Software.
Brokers
Allow brokers to manage everything in the sales process by assigning them properties from the real estate listing management software.

Save time and increase the efficiency of your business operations by allowing your brokers to receive all the requests directly and making their work efficient.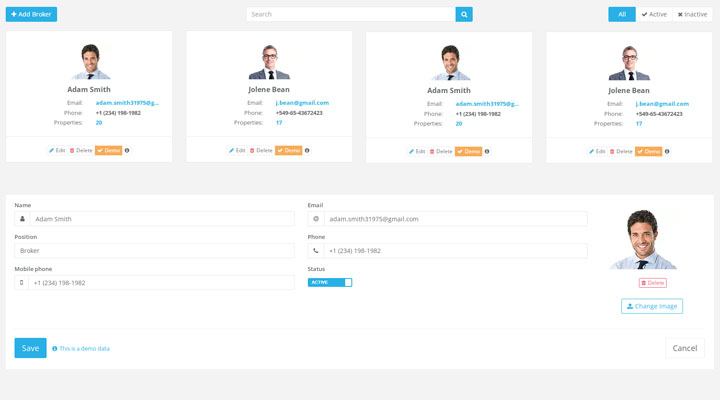 Inquiry form
Give your clients the option of contacting you with just one click of their mouse instead of losing time searching for your contact information.

Your client's notification will also be sent directly to the assigned broker so they can schedule an appointment as soon as possible after receiving it.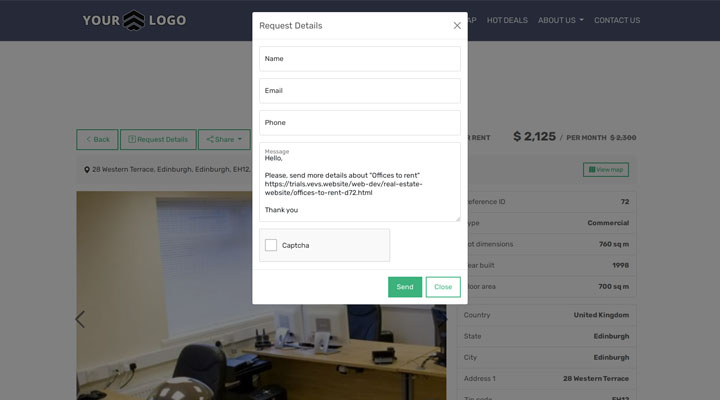 SEO management
Our robust VEVS Real Estate Website Builder helps you reach more potential clients online, even if you have no experience in SEO.

Besides automatically optimizing your website for search engines, you have access to all the features you need to optimize your website's content, such as meta tags, alt tags, canonical tags, sitemap, robots.txt and more.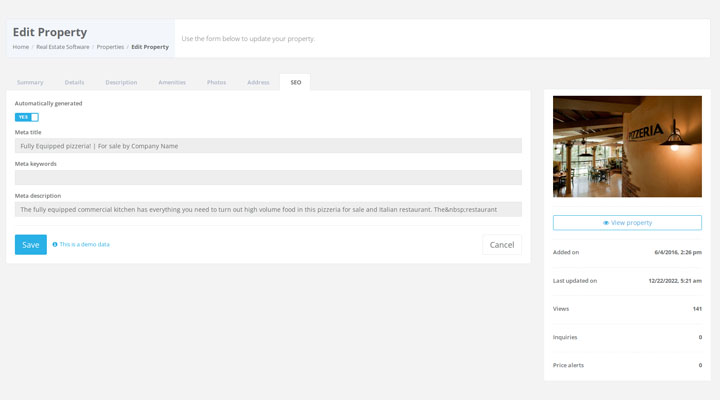 Create your Real Estate Website Builder trial account. Start