In May of 2020, Google announced that they will be releasing an update focused on Page Experience, and in November 2020, it was officially given a launch date. The Google Page Experience update shall be launching in May 2021, which gives us just under 6 months to prepare.
What Does The Update Include?
In Google's announcement, they said:
"This past May, we announced that page experience signals would be included in Google Search ranking. These signals measure how users perceive the experience of interacting with a web page and contribute to our ongoing work to ensure people get the most helpful and enjoyable experiences from the web. In the past several months, we've seen a median 70% increase in the number of users engaging with Lighthouse and PageSpeed Insights, and many site owners using Search Console's Core Web Vitals report to identify opportunities for improvement."
The new update for page experience signals will combine Core Web Vitals with the already existing search signals, which include mobile-friendliness, safe-browsing, HTTPS-security, and intrusive interstitial guidelines. Refer to the image below for a visual representation of this. You can learn all about Care Web Vitals here.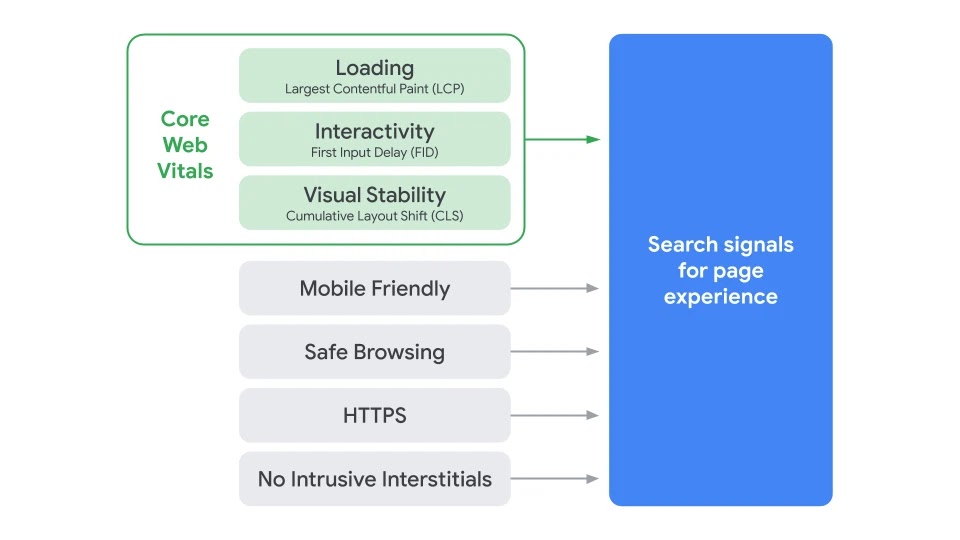 Introducing A New Way Of Highlighting Great Page Experiences Within The Search Engine Results
Google's primary focus is and always has been the user. They are constantly looking for new and exciting ways to make browsing the web more effortless, efficient and informative for their users. With that being said, the page experience update shall take that a step further!
In Google's announcement, they said the following:
"We believe that providing information about the quality of a web page's experience can be helpful to users in choosing the search result that they want to visit. On results, the snippet or image preview helps provide topical context for users to know what information a page can provide. Visual indicators on the results are another way to do the same, and we are working on one that identifies pages that have met all of the page experience criteria. We plan to test this soon and if the testing is successful, it will launch in May 2021 and we'll share more details on the progress of this in the coming months."
Now, what does this mean for websites? Well, first of all, there are still no excuses for not making sure your website's page experience is as good as it can be. Since users will be shown indications of search results with great page experiences, having bad page experience may reflect poorly on your rankings and could result in your site losing positions if click-through rate becomes affected. Google has been using said signals for a while now in regards to ranking factors, but this update will further increase their importance.
However, do not worry just yet, as it is hard to say just how long these indications will last. Since Google has not begun testing yet, they may choose to not implement it based on the feedback they receive. We still recommend though that in preparation for this potentially being a permanent change, that you make sure all your web pages are optimized for the signals shown in the image above.
How To Make Sure That Your Website Is Prepared For This Update
First off, we recommend testing the site with the following tools:
Use Google's Pagespeed Insights tool to check the performance of your website. The goal is to optimize your site as best you can so it is running at its highest speed and best performance.
Use Google Search Console and its Core Web Vitals report to get a good reflection of how your site is performing in these areas.
Regardless of the efforts you input so far in website SEO and technical optimization, in 2021 it is also important to make sure that the recently introduced website core web vitals are healthy - Loading (LCP), Interactivity (FID) and Visual Stability (CLS)
We are constantly stressing the importance of loading times and speeds when it comes to optimizing your site. Now you need to go step further and check out what is the render time of the largest image or text block within the user's visible area of a web page. Of course, you need to optimize it or even consider a layout change to reduce the size of the 'largest content'. The things you are looking to optimize or reconsider include sliders, large file size imagery, videos etc. As part of our On-Page SEO service, we can do this for you.
To improve your website's interactivity (FID), you will need a more in-depth knowledge of web development. The best thing to do is to check your website report (using the tools above) and then contact your web developer if there is room for improvement or any issues that need resolving.
Layout shifts can often be interpreted as complex (and yes they do have complexities to them) but in simple terms, in order to improve your websites CLS, you want to make sure that your pages do not include any elements that load in a way that causes movement of elements that have already loaded. As with improving FID, you should also contact your web developer for further help with this.
If you are interested in learning more about how you can optimize your website from an SEO standpoint, then check out our other articles:
> What Is Off-Page SEO? & Our 4 Best Off-Page SEO Practices
> What does on-page SEO mean? 6 Ways To Optimise A Web Page
> What is important for Search Engines
Conclusion
If you are interested in finding out how VEVS and our team of experts can help your business when it comes to marketing, please visit our digital marketing page for more information.
We have some other great blog posts for you to view:
> How To Pick A Domain For Your Businesses Website
> What Content Should You Add To Your Website?
Are you following us on Facebook? Click here to like our page and be notified whenever we publish a new blog post!