The hotel industry is worth over $570 billion and there are over 700,000 hotels and resorts worldwide. You may also be surprised to know that 83% of US adults now prefer to book their travel online, meaning a website is crucial in making sure you can achieve as near enough to a 100% occupancy rate as possible. Gone are the days where people turned up to their location and searched for the nearest hotel. Now, guests want to see pictures, price lists, room descriptions and so on. By having a website for your hotel, you will not only be able to increase your bookings but also make the booking process easier and streamlined for yourself and your guests.
In this blog post, we want to discuss why you should choose the VEVS Hotel Website solution for your hotel and the benefits it entails.
Why Own A Website?
For hotels, most of their online reservations come from online travel agencies and travel portals. There are typically 2 reasons for this:
a) Online travel agencies hold high rankings in search engines and, therefore, often show up first in search results when looking for places to stay for a particular location.
b) People are simply used to booking through online travel agencies and travel portals.
With that being said, a lot of people booking hotels online will want to view more about the hotel before they consider booking. They will want to see more images of the hotel rooms, the complete list of amenities, and potentially if it is cheaper to book directly through the hotel website, for example, if they have a promotion.
That is where it is essential to have a website for your hotel. By showing potential guests everything they need to know before making their booking, you are going to reduce the chances of them booking with someone else, thus increasing your bookings and sales.
In addition to that, whilst on your website, if people decide to book directly with you, that will save you the big online travel agency commissions- another good reason to have a booking system on your own website!
Who We Are & What We Do?
At VEVS, we offer expert website solutions across a wide range of industries. We focus on what a website can do rather than how it looks and we have over a decade worth of experience in developing comprehensive online business solutions and web tools. This means we know exactly how to identify and respond to diverse customers' needs.
There are many website builders and templates available online, however, we have found that they often lack the functionalities, features and elements that are needed for particular businesses to conduct their daily operations. By continuously conducting extensive research and analysis, we can identify exactly what our customers are looking for so we can provide the highest quality products and services.
With VEVS, you get all you need in one place! We will help you start or streamline your business quickly, affordably, and effortlessly and guide you on your way to success!
VEVS Website Solution For Your Hotel Business
VEVS Hotel Websites come with all the essential VEVS features and functionalities. The latest VEVS Website Builder comes with a great deal of customization and the ability to control almost every aspect of your website, making it easy to implement most changes yourself. However, should you need further assistance, upon request, we can make any custom modification to fit your specific business needs. You can find more information on our CMS improvements further on in this blog post.
VEVS hotel booking websites are easy to navigate, intuitive, and optimized for all mobile devices. By combining the latest web technologies, we can provide fast loading and reliable web pages, so you can rest assured your website will be quick to load, which will help reduce your sites bounce rate.
You can choose from our turnkey hotel website designs, switch the color themes of each template or request a custom design.
Some of the top features that are found within all of our Hotel Websites are:
Hotel Booking System
Managing rooms and reservations is a breeze with VEVS! You can organize your daily operations more efficiently and easily keep track of arriving and leaving guests.
Price Management
You have a complete set of pricing management options at your hand. You can specify standard (reception) room rates for particular periods, as well as seasonal prices and prices based on the number of guests. The hotel reservation system also allows adding special promo packages, 'free night' offers and discounts with promo codes.
Splendid Room Profiles
Each room type (e.g. single, double, studio, apartment) goes with a descriptive title, a gallery of HQ pictures, and a detailed description of all features and facilities.
Flexible Payments
VEVS hotel booking system is integrated with nine of the most popular payment gateways, and your guests can pay online during the reservation process. We can also add others. The classic payment methods (cash, wire transfers, CC) are also in.
Instant Notifications
Our hotel reservation system will trigger automated email notifications to your guests and you in certain cases like new booking, new payment or cancellation. You have granular control over the email messages in use. You can also activate SMS notifications service for a reasonable fee.
Interactive Map Integration
Your hotel address will be automatically pinned on the built-in online map located on your Contact page. Thus, your guests will be able to find you more quickly.
Easy-to-use CMS (content management system)
With the all new and improved VEVS CMS, you have more control than ever before over the layout and elements of your website!
Add & Manage Pages
We found that most of our clients needed to add more pages and have better control over the page content, therefore that is precisely what we added. You can now:
Add pages - and have complete control over the page name, URL, meta tags;
Manage the website menu and footer;
Build your custom pages.
In addition to adding more pages to your site, you can choose from a variety of page sections to further customize and build your web pages. With all these tools at your disposal, you can very easily build the website content you need, without the need to worry about things like design, page layout and staff that requires some more advanced tech skills.
Multilingual Capabilities
We know the crucial importance of our customers being able to communicate with clients in their native tongue. Hotels can have guests coming from all over the world, so allowing them to book their stay easily and effortlessly is a must when delivering exceptional customer service and experience.
You can change, update and translate all texts and titles both on your website and admin page. Simply log into VEVS CMS, look for the language settings, and follow the instructions.
We have also added Google Translator service in the VEVS Website Builder. You can use it to speed up the website translation into the languages you want to have. Of course, we highly recommend reviewing and amend the translations to make them clear, appealing and correct.
Content Apps
We have also added some highly useful content apps that you can use - Blog, Offers, FAQ, Testimonials. These are core aspects of all websites so by adding them to your site, you are going to improve the user experience and add more depth to your existing content.
Even More Features!
In addition to the features mentioned prior, you can also manage the following with the VEVS Website Builder:
Cookie Policy - to meet GDPR and other regulations.
External code - to add you Google Analytics, Google Tags, Facebook pixel, online chat tool and other tracking or third-party services.
Web forms tool - to build more inquiry, feedback and application forms.
CSS Editor
Mobile-friendly back-end area - to help you manage the site and the bookings on the go when you are on your Phone or Tablet.
4 Good Benefits As To Why You Should Choose VEVS For Your Hotel Website
No Booking Fees
We will not charge you for hotel room bookings made through our websites. All applicable fees and limits are clearly listed on our Pricing page.
Simple Booking Process
It takes a few steps and a couple of minutes to make a room reservation using our hotel booking websites. No sign-up is necessary to make an online booking.
Setup & Launch Support
Our tech-savvy and attentive Customer Service team will help you get your hotel website up and running quickly and effortlessly.
Custom Modifications
Based on the online functionality needs of your hotel business, we can make any custom tweaks and offer you a wide range of extra services.
Hosting Add-Ons
We strive to meet the needs of all our customers, hence we offer a wide range of on-demand hosting related services.
You can use your domain name or buy a new one from us. Mailbox service is included in VEVS subscription plans. Check the Hotel Website pricing page for more details!
For more information on hosting add-ons, click here.
Free Demo & Sign Up
Try our demo hotel booking website solution and create a FREE one-week trial to get a real feel for the VEVS Hotel Website Builder!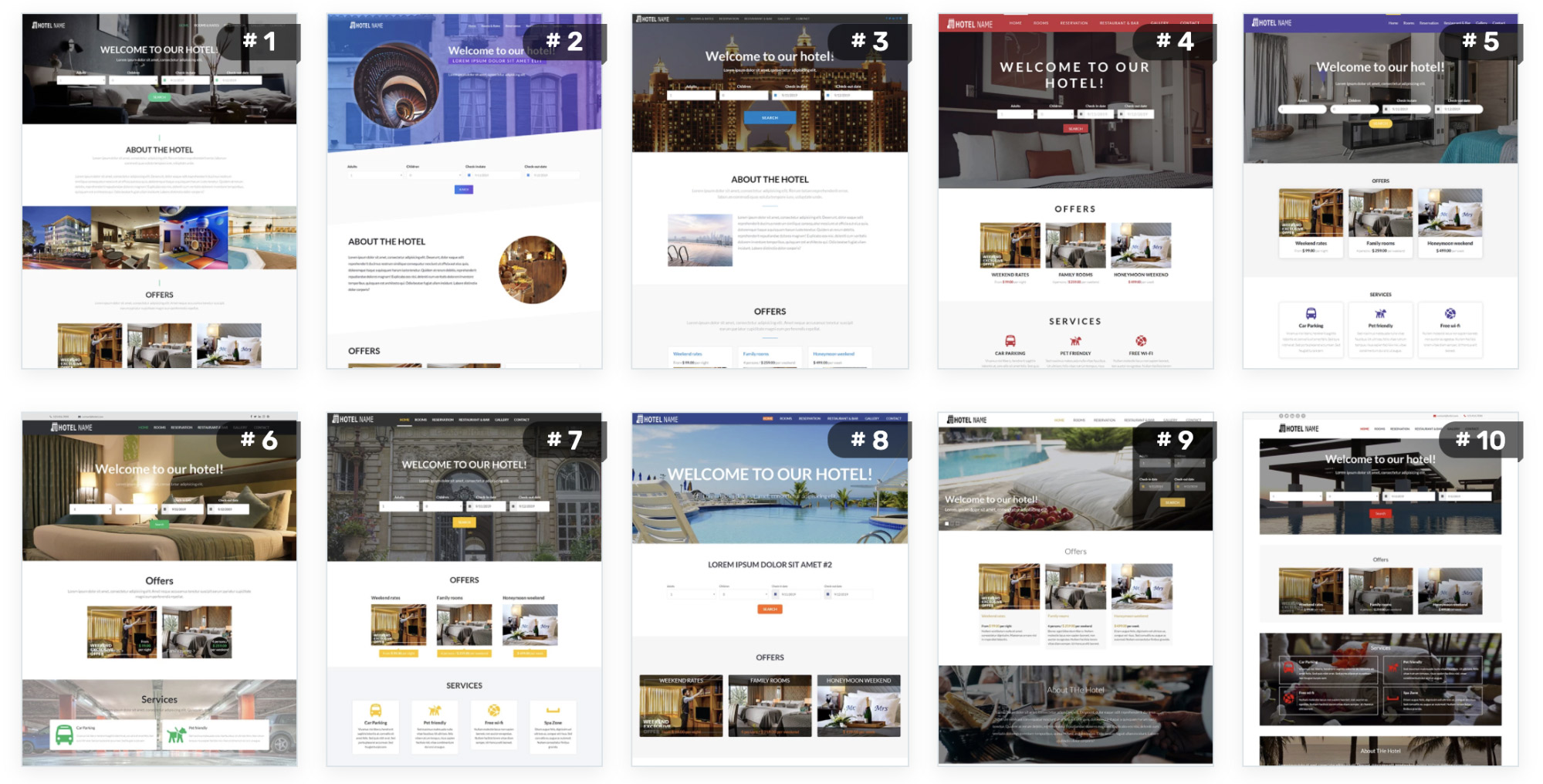 Conclusion
If you are interested in learning more about the VEVS hotel booking website and our services you are welcome to contact our team of experts.
Are you following us on Facebook? Click here to like our page and be notified whenever we publish a new blog post!