Online reservations

Save time minimizing calls and emails. Оptimizе efficiency and seamlessly accept reservations directly through your VEVS hotel website.

Synchronisation

Connect other booking engines or OTA accounts seamlessly with VEVS Hotel Booking Software by leveraging its Import, Export, and API functions.

Discounts & Promos

Smoothly convert leads into clients and increase sales by offering tailored discount codes, including free night bonuses and promo codes.
Online Payments

Boost sales and increase your profits by simplifying the booking process and enabling guests to make secure online advance payments for their reservations.

Manage Rooms

Streamline daily operations and monitor guest check-ins and check-outs for a more efficient and organized hotel management experience.

Availability Management

Improve your room availability management and avoid overlapping reservations with the built-in automated room availability monitoring and the manual controls you have.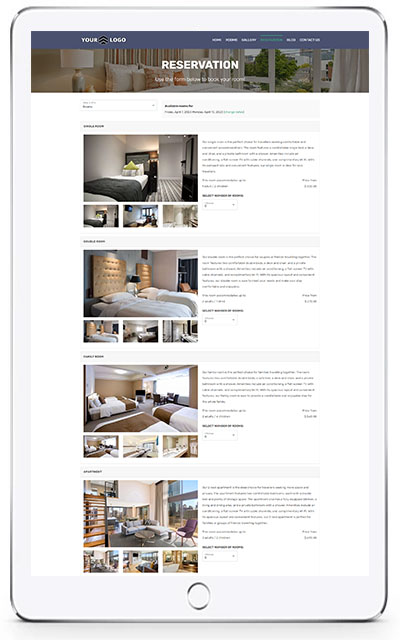 Drive your business growth online with a seamless 24/7 booking experience, automated operations and enhanced automated communication with your guests and staff.
Online reservations
Enhance the booking process for both you and your guests and streamline business operations with the VEVS online hotel booking software.

Enable your clients to make bookings online 24/7, directly from your website. Reduce the work of your reception in taking reservations over the phone and email and eliminate the mistakes. Save from commissions you pay to OTAs.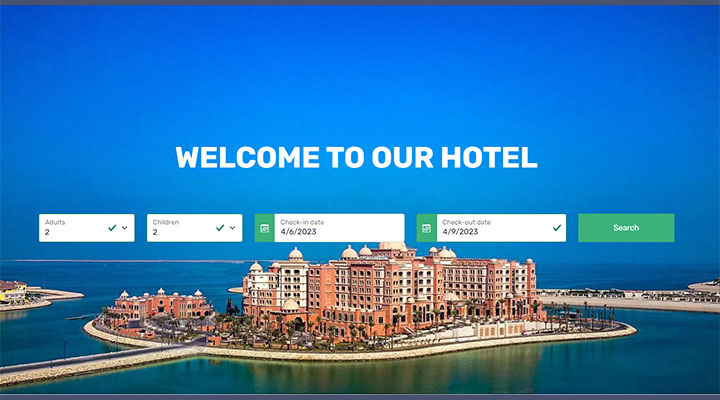 Online payments
Simplify payment workflows by adding secure online payments to your website. Give your guest a hassle-free method to book a room online and minimise the risk of no-shows.

You can select any of the 14+ added payment gateways in the VEVS hotel reservation software or contact us to add a payment processor you work with.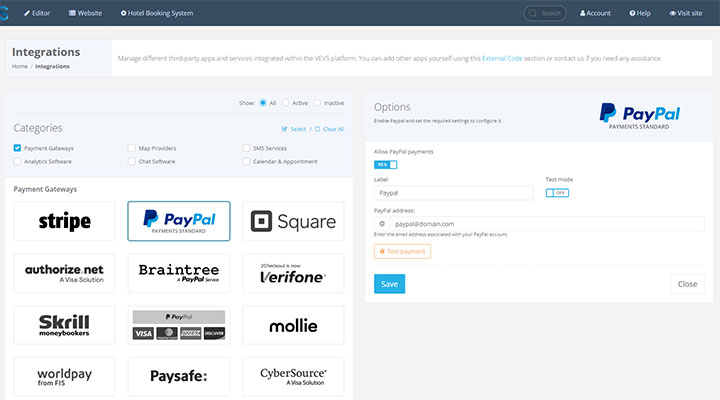 Synchronization via API
Once you make the initial setup, you can then easily connect your reservations with other OTAs and seamlessly synchronize them in real-time to streamline your bookings management processes.

You can also retrieve and update information about your room details, availability, and reservations through VEVS's API functions. This allows you to integrate your software with other applications, ensuring secure and controlled data sharing.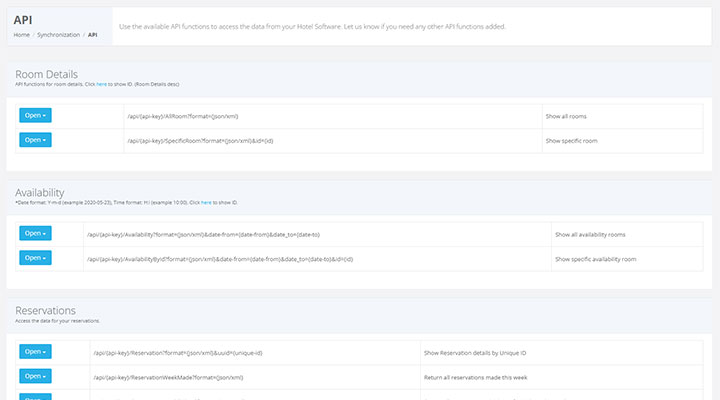 Synchronization via Import/Export
Easily import your rooms' availability from your OTAs accounts by providing one or multiple feed URLs in various formats. You can import your data in CSV, iCal, JSON, and XML formats.

You can also export your reservations to a URL in a variety of ways. This exported information will automatically update and can be used to sync your reservations on other platforms. You can also protect your data by adding a password to the URL.
The VEVS Hotel Website Builder has been thoughtfully developed to cater to the unique needs of your hotel business. Equipped with tailored features and capabilities, our hotel booking software will optimize your operations and streamline your workflow.
Flexible pricing
Maximize revenue during low and high seasons with VEVS Hotel Booking Software's flexible pricing option.

Create a tailored experience that boosts sales by setting child and adult combinations, enabling varying pricing for different days of the week, and more.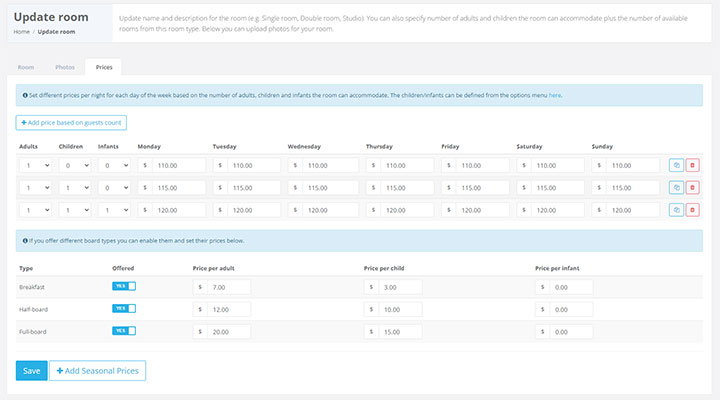 Room types & details
Captivate your website visitors by uploading professional images and writing compelling details for your rooms' presentations. Provide your guests with all the information they need to book their dream stay confidently.

Additionally, VEVS hotel reservation software helps you streamline your room booking processes by specifying the number of rooms of each room type, setting its standard and seasonal pricing, defining booking and pricing options for adults with children, and more.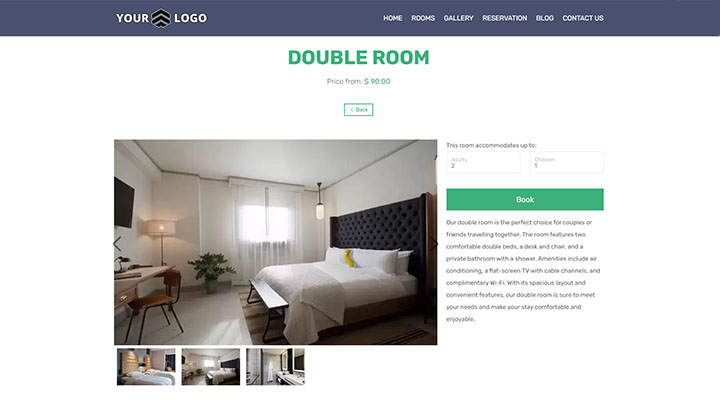 Availability Management
The VEVS online hotel booking software monitors room availability in real-time to prevent overlapping reservations.

Once you connect our software with your other OTAs accounts, our software will automatically synchronize your rooms' availability, allowing you to manage your rooms even more effectively.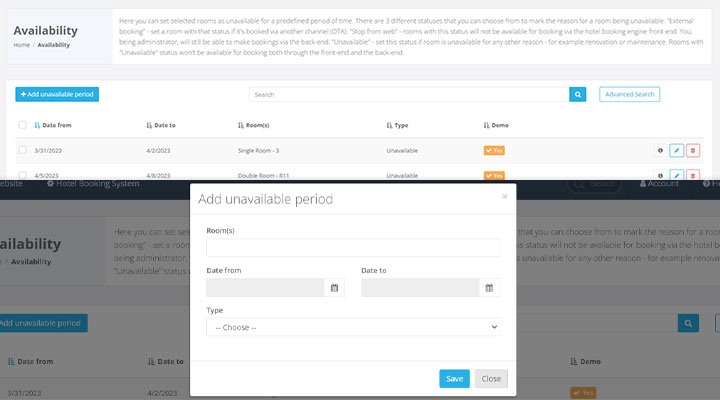 Discounts & Promotions
Boost hotel bookings by creating promotional codes for various room types during specific times of the year.

Take advantage of fixed amounts or percentage discounts as promotional options to eager potential guests to select your services among the other hotels in your area.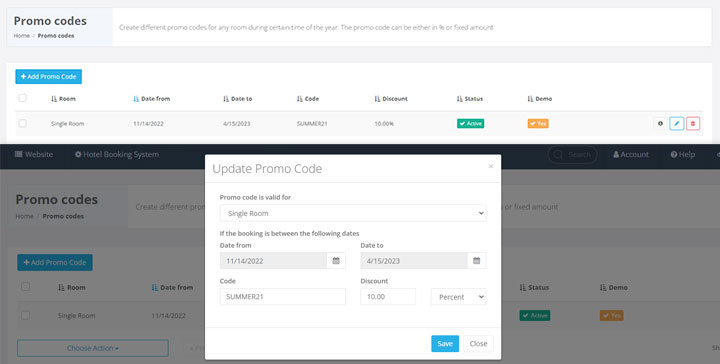 Always stay informed about the performance of your hotel business and maintain complete control 24/7 by accessing your VEVS Hotel Website Builder admin area from any device and location.
Packages
Offer customized packages and pricing to clients for a more convenient experience.

Create a fixed-rate "Double room" package for weekends during peak season. Discover other options that will allow you to tailor the VEVS Hotel Website Builder to your business model.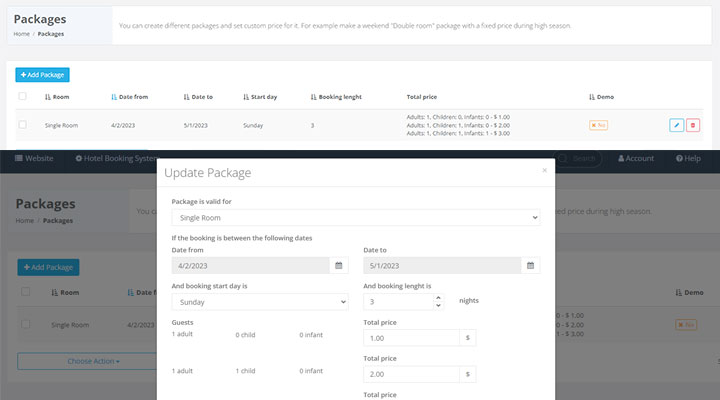 Free night bonus
Increase customer satisfaction and loyalty by offering a free night bonus for bookings made during a specific period and duration.

This promotional feature can help you convert customers into returning guests, making it a powerful tool for driving revenue growth.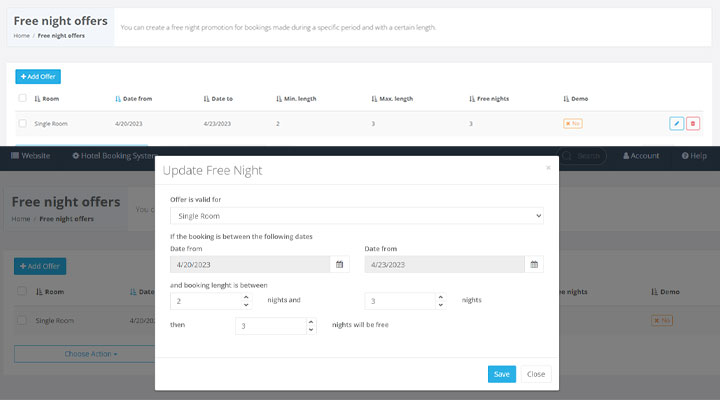 Reservation Conditions
Elevate your revenue with greater pricing management flexibility and custom reservation rules using our intuitive hotel booking software.

Tailor your booking rules with ease, such as setting a minimum 2-night stay during the weekends or offering romantic packages for 3 days to increase demand and maximize occupancy. With a wide range of customizable options available, you can optimize your reservations to best suit your unique business needs.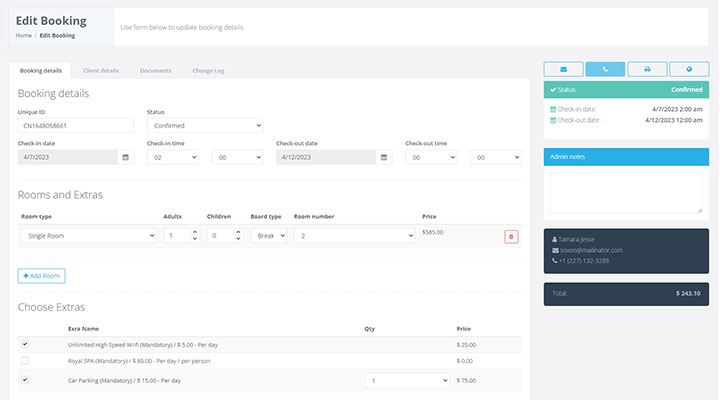 Extras
Streamline upselling by easily adding extra services to reservations and effortlessly increasing revenue.

Offer additional services such as breakfast, airport pickup, parking, and insurance to each reservation, delivering a comprehensive and tailored service to clients.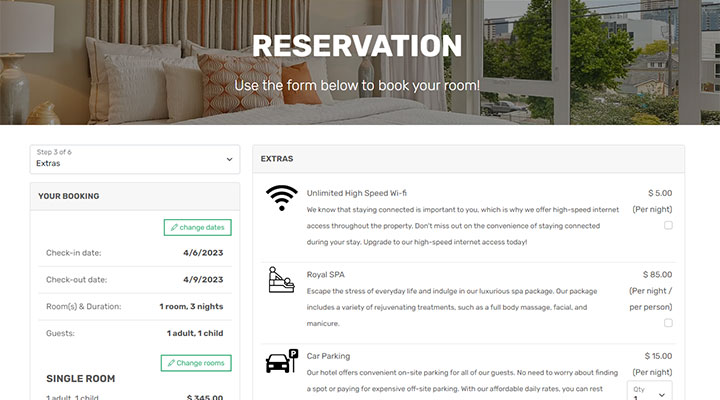 If you require a fully-tailored solution that adapts to your business needs, you can request customizations and add-ons to fit your unique requirements. Adjust as your business evolves and grows, ensuring ongoing optimization for success.
Customizable booking form
Customize your booking form to perfectly fit your business needs by selecting the specific fields you want to appear.

This will ensure that you capture all the necessary information for each booking, streamlining your management processes.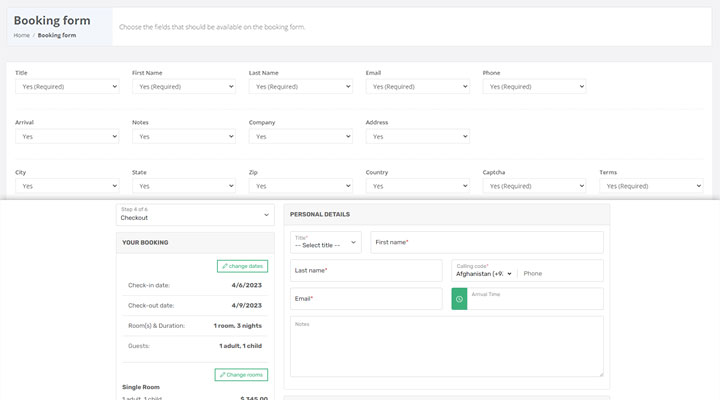 Email notifications
Save time and improve customer communication by enabling automatic email notifications for each stage of the booking process.

This will eliminate the need to write individual emails for every reservation, as customers will receive a confirmation email for each status update.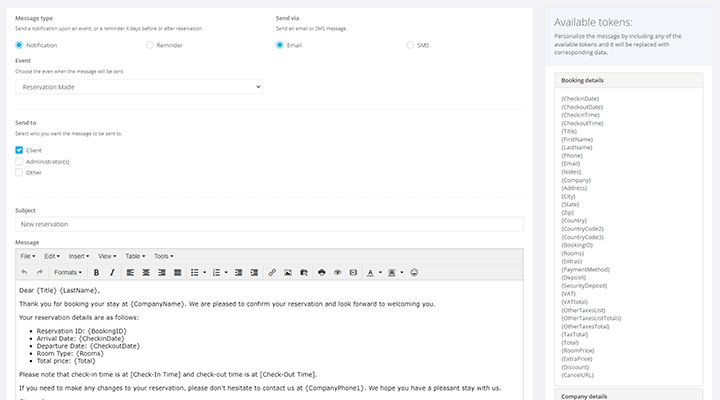 Documents
Improve client service efficiency by creating and managing a set of documents right from your VEVS hotel reservation software.

Set up auto-generated documents, create templates, and offer digital signature options for a streamlined process. These features will ensure that your clients receive the documentation they need promptly and accurately.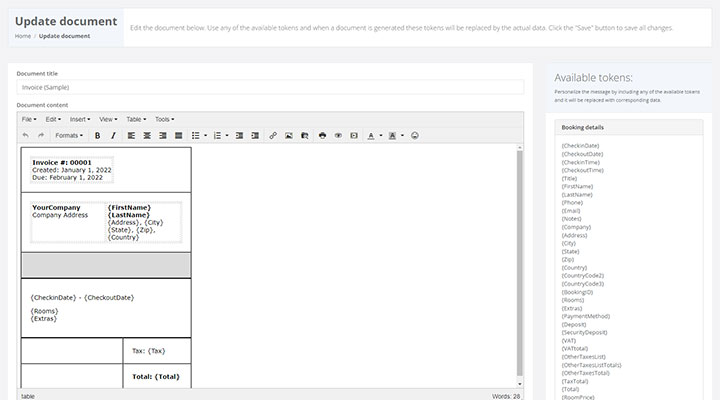 Reports
Stay informed about the state of your hotel business and select an effective strategy for growth by analyzing reports accessible through the VEVS Hotel Booking Software.

These reports can provide valuable insights and assist you in making informed decisions to expand your hotel business quickly and efficiently.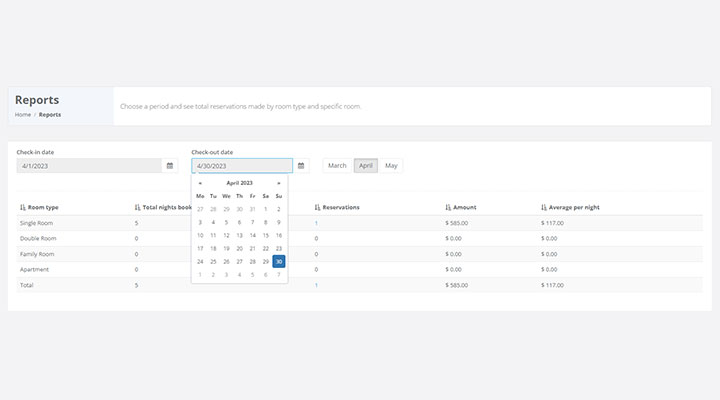 Create your Hotel Website Builder trial account. Start