After all this time of listening and helping our clients, our VEVS team created a new website solution with rental companies in the RV and motorhome industries in mind.
We aimed to provide business owners in that vertical market with all of the key requirements they need to start their web presence and easily hit their goals.
So now we're thrilled to introduce you to the VEVS Caravan & Camper Rental Website Builder.
Do you want to learn more about our new website solution? Continue reading!
Why is the VEVS Caravan and Camper Rental Website Builder a perfect fit for your business model?
When starting a caravan and camper rental business online, you'll want to consider some key elements that your business must have:
A stunning website to showcase your offerings in the clearest way and to demonstrate to your customers why they should select you over other camper rental companies.
A modern, user-friendly Camper Rental Software that is simple to use
Doesn't it seem like there's a lot to do? So, there's excellent news!
On the VEVS Website Builder, you have everything you need to build a stunning website that inspires your visitors and manage your bookings effectively through our built-in RV and camper rental software directly from your website.
Everything is integrated for you in the VEVS Caravan & Camper Website Builder!
Having a website and the rental software in one place will not only save you time (and money) but will also show you that launching an online business does not have to be difficult or expensive.
Continue reading to learn more about some of the most crucial components.
A next-generation RV rental software
Efficient reservation management system
When it comes to growing a rental business online, the Camper Rental Software is your best friend. It will allow you to accept payments, manage your reservations, send promo codes, and much more directly on your website, without even being an IT expert. Everything is automated for you.
Provide a remarkable customer experience by sending emails to your customers using automated notifications settings. Save the paperwork and facilitate your staff by having an archive of all the reservations and communication directly on your website.
With the VEVS Camper Rental Software, you will avoid the headaches of overlapping bookings as well and be able to serve your clients efficiently.

Flexible & seasonal pricing
We know that having seasonal prices is a must in the RV rental industry. Here's why in order for you to manage your business effectively, we've included the seasonal pricing setting in the VEVS Camper Rental Software. Other price choices, such as "weekend prices", can also be set up.
Increase your customer base by sending vouchers and coupons with special weekend discounts. Give them an offer they can't resist and transform the buyers into loyal customers.
We provide you with all the settings needed, but you have complete control over the creation of the website that best suits your business needs.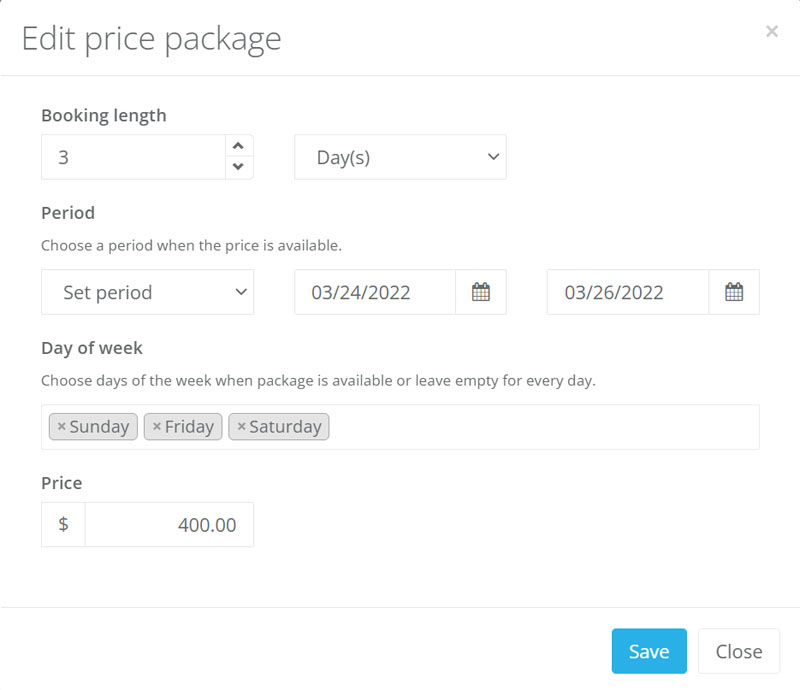 Set extras and add-ons to your products and reservations:
We've already mentioned how to present your campers to potential buyers in an efficient and straightforward approach, as well as how to expand your rental business online.
But we've got something else waiting for you, as well!
We've made it possible for you to boost your cross-sales by offering various add-ons to each vehicle, such as additional kitchen equipment, portable barbeque, linens, etc.
We want you to have as many options as possible to increase sales and provide an excellent customer experience on your VEVS Caravan and Camper Website.
Furthermore, you can put on special extras to be added to the whole reservation, such as: no booking or credit card required for the reservation, additional drivers, late return option, transfer, etc.
Offering those options on your caravan and camper website can simplify the purchasing process while also increasing client satisfaction by giving them exactly what they want during their purchasing journey.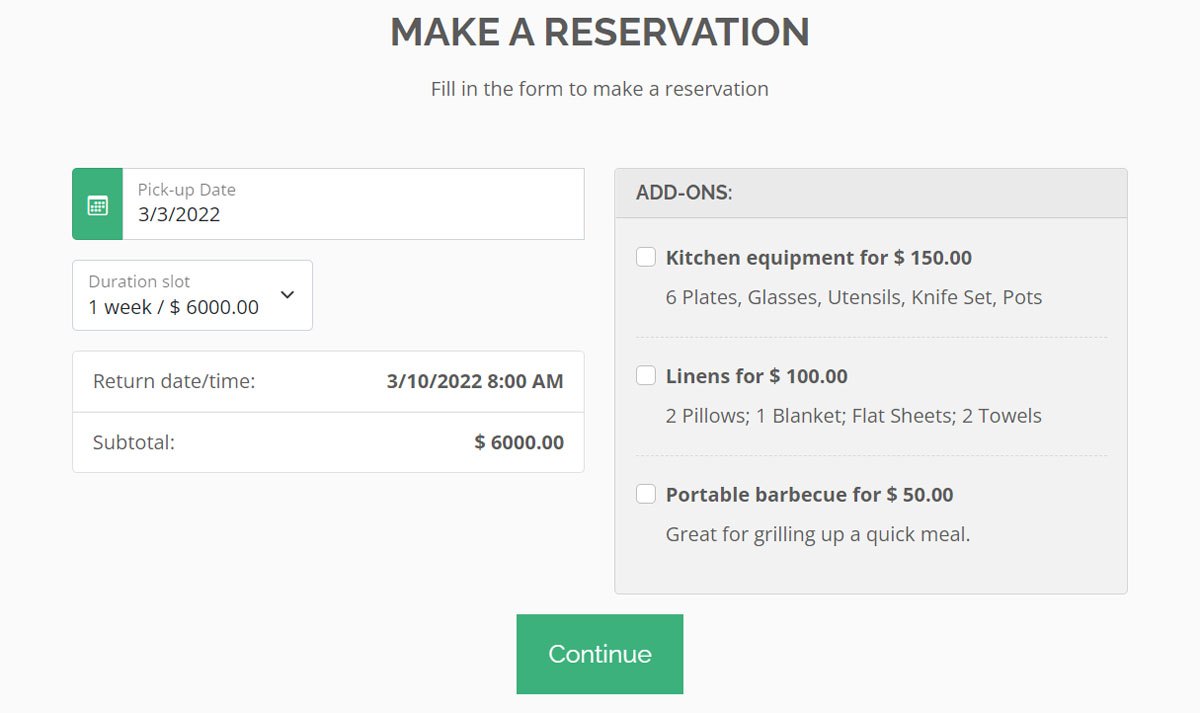 Create different categories
If you have a larger RV and motorhomes range, you can make well organised product categories. Thus your VEVS Caravan and Camper Website will be easy to navigate and you'll capture your client's attention instantly.
You can, for example, sort the RVs, motorhomes and trailers in different categories. So, if a customer is looking for a compact camper for the weekend only, he can quickly filter the appropriate category and select the product that best matches his requirements.
Don't worry! You don't have to be an IT expert to categorise the website the way that best suits your business. In VEVS Website Builder everything is automated for you!
Availability calendar
You can show an availability calendar for each of your products, or you can choose to display a general calendar for all of your items, a different calendar for each, or both ways.
For instance, a client wants to rent a motorhome right away and does not have time to send emails or wait for a response. That availability calendar will not only deliver all of the information your clients require to promptly proceed with the reservation, but will also save you time responding to emails.
Just by adding that feature to your website you'll drastically increase the chances that the customer will select you over another camper rental business. Isn't that great?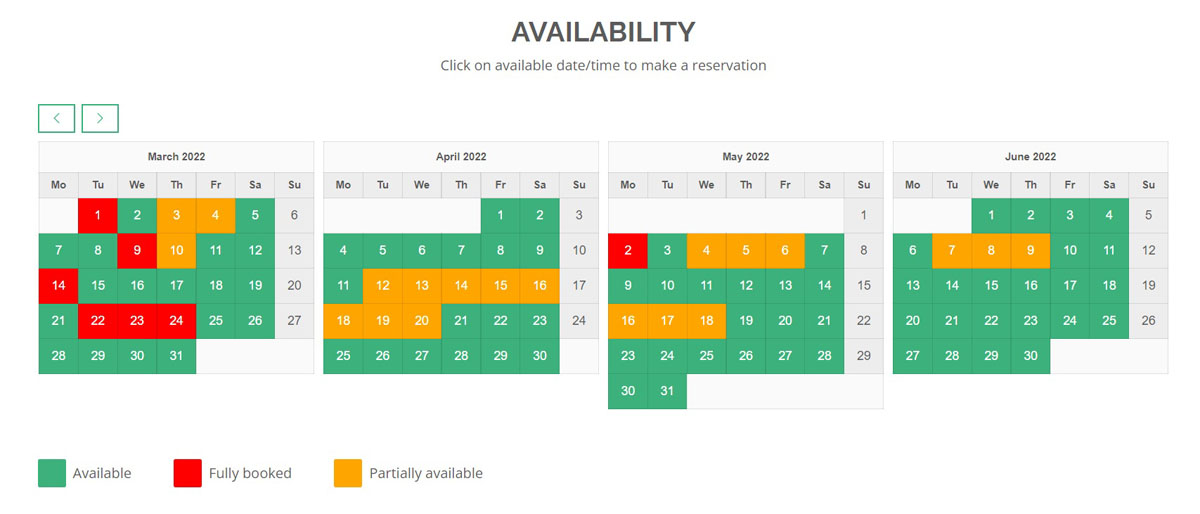 Create a stunning website for your stellar online business
As previously said, a successful online business in the rental industry necessitates industry-specific software and an easy-to-navigate website.
Now that we've gone over the technical aspects of the Camper Rental Software, we'll get across the options we provide you with to make your content more engaging and attractive to your clients.
Because we want you to be able to construct a rental website that amazes your visitors and represents your products the best way possible, we've included all of the features you'll need to get started right away. Take a look at them below.
Presentation & gallery
Pique the interest of your buyers and get them excited about what you're offering, by adding professional images, detailed descriptions and features to your caravans and campers.
Build compelling product pages by uploading high-quality videos of their real-time usage. That way you will provide your clients with all the information needed to proceed with the purchase instantly and increase conversions.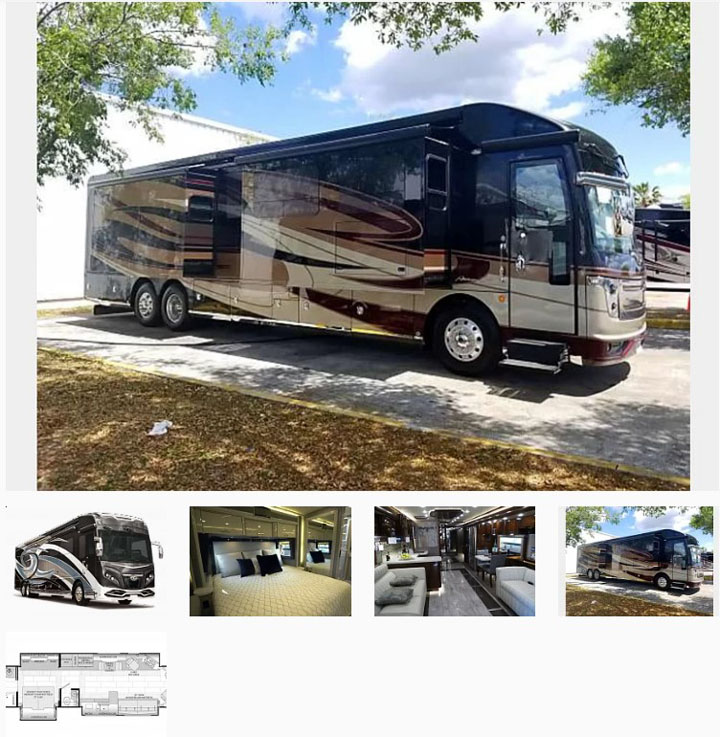 Every product, we believe, requires a unique presentation. This is why you have eight pre-defined options for how to showcase each of your items
For instance, you may add a title with a longer description and features to your larger Campers to provide your clients with the most thorough information possible. You can also choose a layout with just the description and images for your smaller caravans.
We give you the alternatives, now it's up to you to figure out how to make it work best for your company.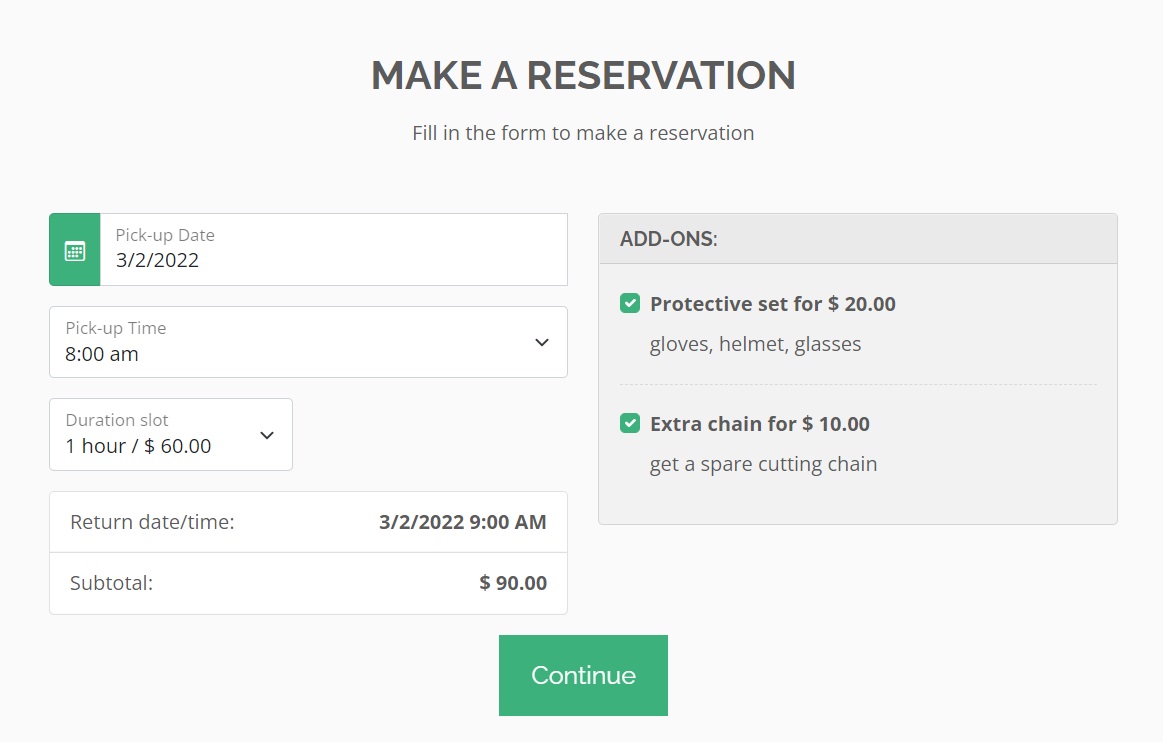 Add similar offerings:
To make sure that you never miss a deal, with VEVS Website Builder you can showcase similar offers at the bottom of each product detail page.
For instance if a buyer clicks on your RV but it doesn't fulfil his expectations because he's looking for something different, he might find it in the related products you decided to show him below.
This increases the likelihood that the buyer will find other options to consider and possibly purchase. You're improving your SEO as well by increasing the amount of time the buyer spends on your website. That way you will be quickly found on the search engines.
You can automate the related product function and have our software suggest alternatives which will save you time and simplify the product management. Or you can manually choose similar products. Feel free to choose the option that best fits your company model:
Random from all products
Random from the same category
Choose manually
Show Featured products
Don't show related products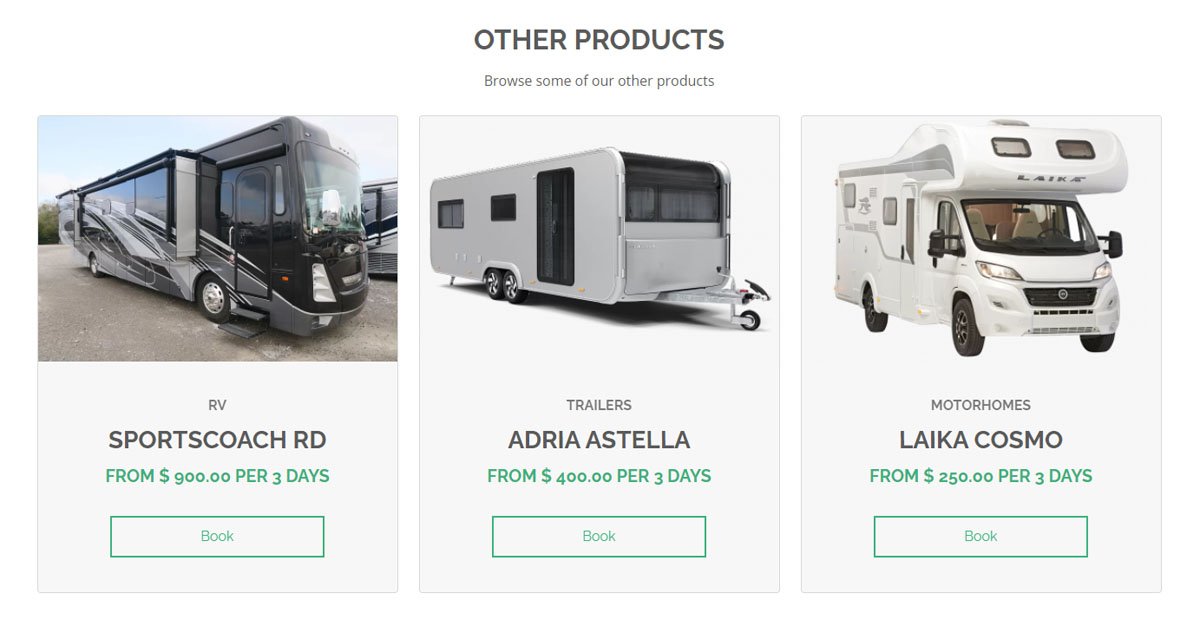 Take advantage of the multilingual module
65 % of internet purchasers prefer content in their native language, according to Alexika's Blog
By translating the website into various languages, you'll deliver an outstanding customer experience and increase your sales.
Here's why with VEVS Website Builder you can translate your company's website into as many languages as you want. We've made it flexible enough for you to expand your company online.
Create a website suitable for any device
In order to make it possible for you to never miss a reservation, we've made sure that all of our website templates are suitable for mobile devices. You don't have to be chained for the desk to manage your business effectively. Take complete control over everything on your website from anywhere.
Build a stunning VEVS Caravan and Camper Rental Website utilising our cutting-edge technology. Provide clear information about your products and represent your business in an excellent way.
Take advantage of our straightforward CMS
Our new VEVS Caravan and Camper Rental Website Builder comes not only with an innovative camper rental software, but also with our straightforward CMS (Content Management System). See below some of the features that make the website performance better.
Design
To make it even easier for you to build a website that amazes your clients, each VEVS website includes a collection of pre-designed layouts and colour schemes.
With just a few clicks, you can choose a style and colours that suit your brand, add and remove pages and sections, edit images, and much more.
Content
We recognised that our clients want to have more control over their website pages' layouts, and be able to build pages and arrange the content in a way they like. Having that in mind, with the VEVS Website Builder you can now build pages with the layout and the content that you need.
There is also a list of basic content blocks, including headers, text, images, video, spaces and more, which you can combine into sections in whatever layout you wish.
SEO
With the VEVS Website Builder you have full control over the onsite SEO for the website you create.
You can straightforwardly manage meta and canonical tags, edit page menu titles, set the H tags, edit robots.txt file, manage canonical links, easily add external tracking codes, such as Google Analytics, Facebook pixel, and much more.
That way you will always stay up to date with how your online business performs. You will also have valuable information for managing successful marketing campaigns.
If you're wondering what more you can do using our innovative CMS, you can read our New Release of VEVS CMS blog for more information.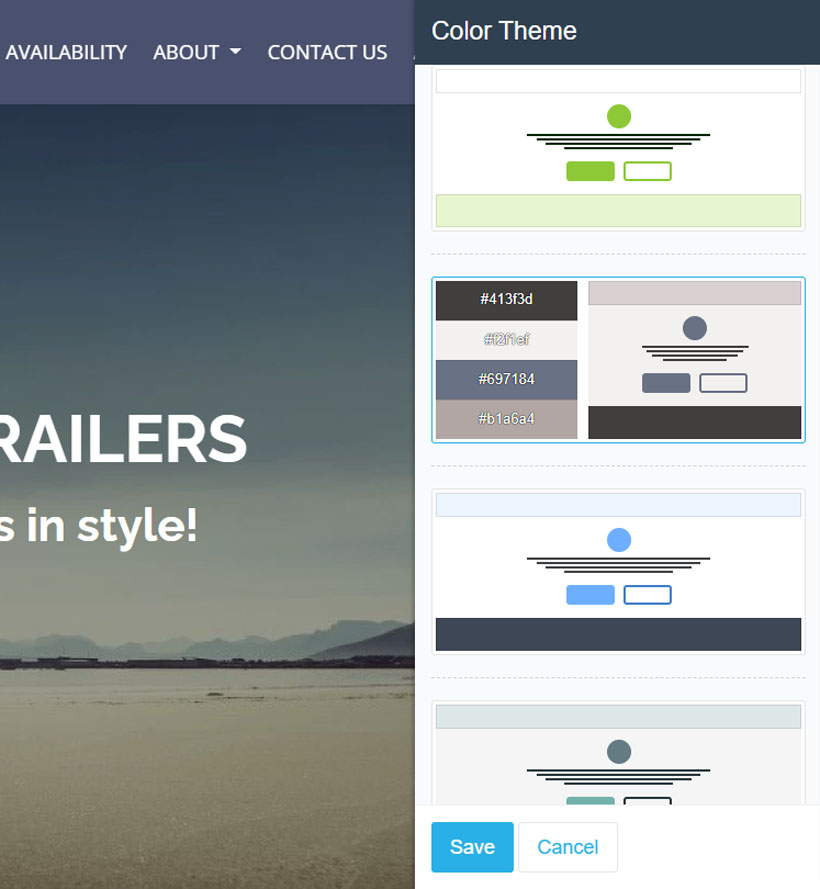 Conclusion:
With VEVS Caravan and Camper Rental Website Builder you have complete control over your business online. Create an entirely unique professional website in no time, launch it in less than 24 hours and start growing your rental business.
So now you know! Put these features to test by trying our 7-days free trial and creating your brand new VEVS Caravan and Camper Website.
Our Facebook and Instagram feed also provides some valuable ideas for establishing a successful business, so don't forget to follow us there too.
Please don't hesitate to contact us if you have any questions or would like to share your ideas! We would love to discuss your business growth with you!