Inventory management

Manage and keep track of all of your rental inventory online - caravans, campers, RVs, motorhomes, or others and improve your company's efficiency.

Secured payments

Choose from our 12+ predefined payment gateways, allow your clients to pay you in advance, reduce no-shows and increase your sales instantly.

Availability calendar

Improve the management of your business operations by monitoring the real-time availability of your RVs & caravans. You can also display it to your clients.
Online reservations

Digitise your RV rental business, allow your clients to book an RV, camper or other vehicles from your website 24/7 and start every new day with a list full of reservations.

Flexible price packages

Take complete control over your RV rental business by setting up multiple rental price packages depending on the reservation length for each of your caravans.

Automated notifications

Save time and improve the communication between your staff and your clients with automated SMS and email notifications.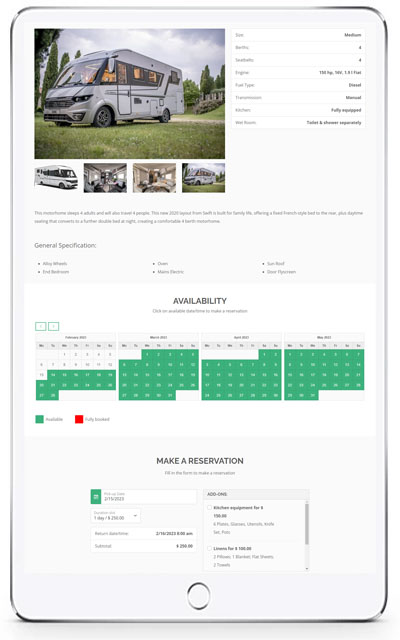 Get all the features you need to run and grow your business online, no matter what type of recreational vehicle you rent, whether it is an RV, camper, caravan, van, motorhome, trailer, or other vehicle types.
Show your inventory
Build compelling product pages, upload professional images and videos, personalize the features for each vehicle, show an availability calendar and more via the versatile caravan booking software.

Make your customers dream of renting your camper inventory. The comfortable online booking process will increase your sales quickly.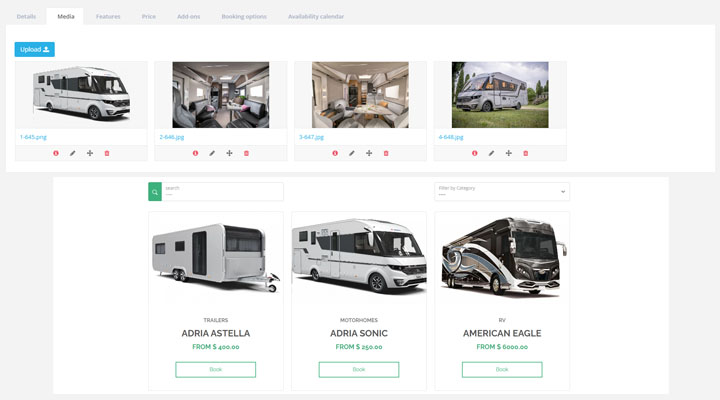 Organize by categories
Make your website easier to navigate and let your visitors quickly find the vehicle they are looking for by organising your recreational vehicles in different categories.

You can, for example, sort the RVs, motorhomes and trailers in different categories, so if a customer is looking for a compact camper, he can quickly filter the appropriate category and select the product that best matches his requirements.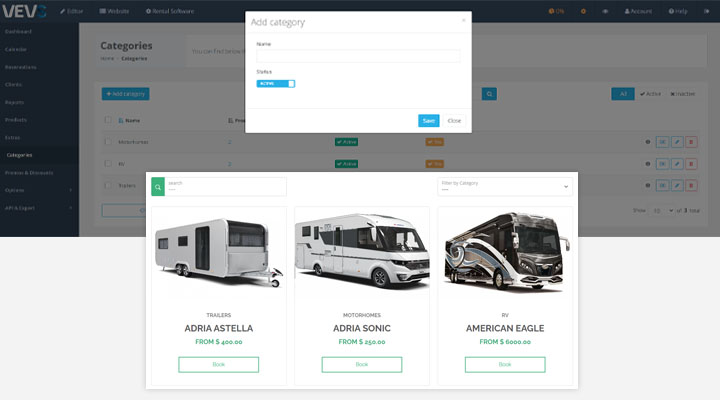 Show availability calendar
Show your clients only the available RVs on your website, provide them with a more convenient booking experience and speed up the reservation process.

The powerful VEVS RV rental booking software will also verify the caravans' availability before the reservation is made, so you don't have to worry about overlapping bookings anymore.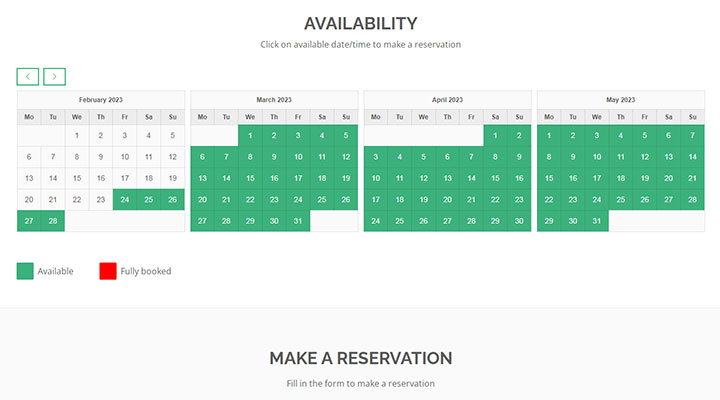 Access your rental business anywhere and anytime from any device. Take charge of your RV rental business 24/7 with our state-of-the-art rv booking software and manage it from any device and anywhere.
Add-ons and extras
Make your services complete by offering specific add-ons for each of your vehicles, such as kitchen equipment, linens, or whatever else fits your business needs.

Additionally, you can provide your clients with a more convenient booking experience and improve your business' profitability by offering them extra services with each reservation, such as cancellation services, delivery, or others.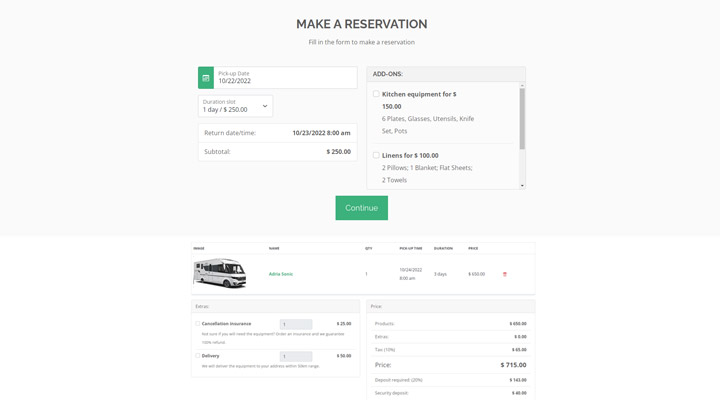 Clients' accounts
Make it easy for your customers to access and manage their reservations, book faster and make payments through your website by allowing them to create an account.

Additionally, you can access their profiles through the RV rental software, see their booking history, review documents, and send them custom promo codes or create successful email marketing campaigns based on their information.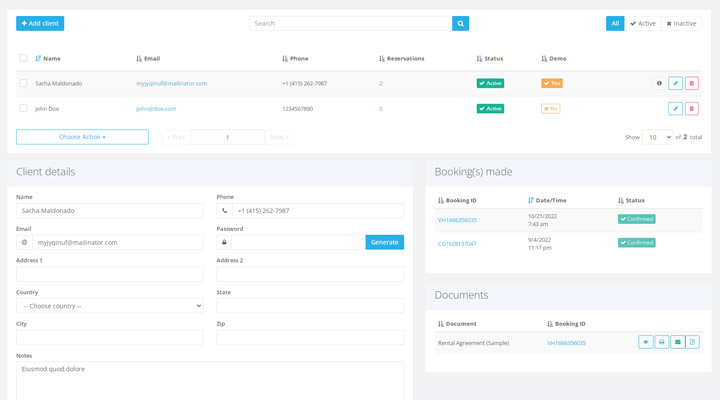 Online bookings and payments
Reduce cancellations and no-shows by allowing your clients to pay you online in advance for the RVs, caravans or other recreational vehicles via the robust VEVS RV rental booking software.

Make booking easier for your customers by automating the booking process, defining rates, offering extras and add-ons and setting reservation rules.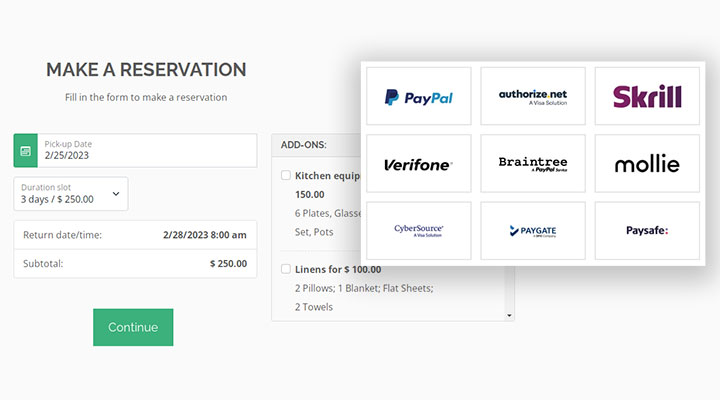 Reservations management
Utilize a single RV reservation system to manage all of your bookings online and simplify your business operations.

Change any booking details, including pick-up and return dates, add any extras, insurance, change payment methods, add essential documents, etc. You can even manually add reservations, keeping all your bookings in one place.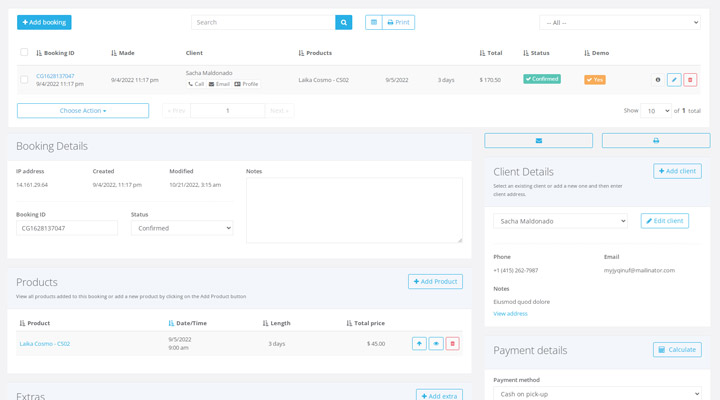 An entirely customizable software and website solutions that are tailored to your specific business needs.
Create 7-days Free Trial
VEVS has many key settings that your specific business needs, but we can also adjust the caravan rental software upon request to suit your business needs perfectly based on your preferences.
Promo codes & discounts
Boost your sales by offering your clients a personalised promo code. Choose the products the voucher is valid for, set minimum order values, and much more.

Furthermore, you can create discounts and automatically apply them for reservations that meet specific criteria, such as booking period, starting date, and more, to increase revenue.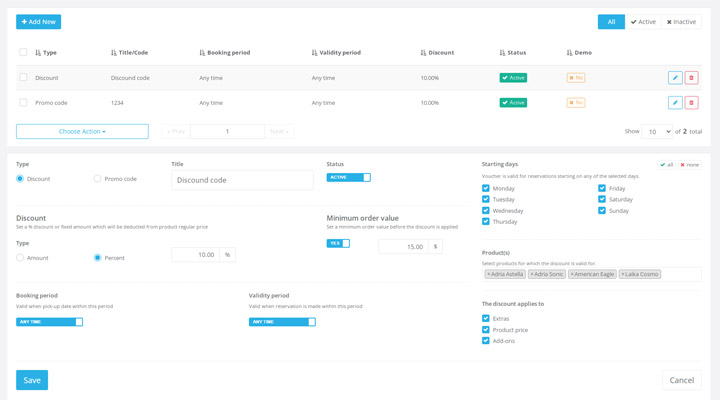 Similar offerings
Don't let your customers leave because they can't find what they are looking for at first glance.

Display similar products at the bottom of each product detail page via the caravan booking software and increase the likelihood that the buyer will find other options to consider and possibly book.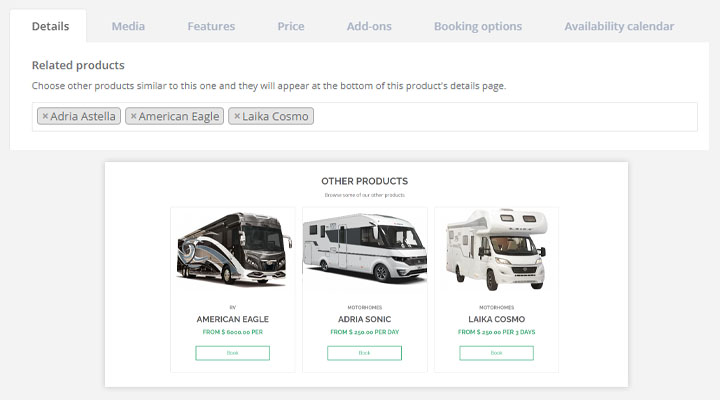 Flexible & seasonal pricing
Your business can benefit from seasonal or flexible pricing options, such as weekend pricing, that will increase sales and help you manage your finances better.

The price of the packages can be adjusted based on the length of time clients can rent for. You can add multiple different periods, select specific days of the week when the package is available and much more.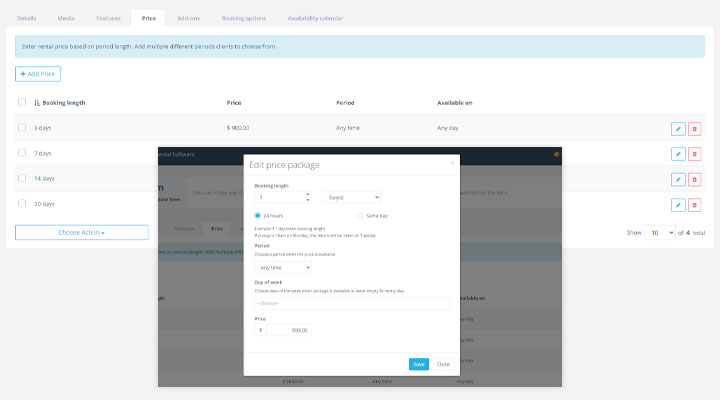 Allow your clients to book online 24/7, automate your business operations, provide a more convenient booking experience, improve communication with your clients and staff and grow your business online.
Track real-time availability
The caravan rental software allows you to track the real-time availability of vehicles and always know what is available and what is being rented for which period.

You can view all of your products' availability in a 7-day or 30-day calendar view, filter by product, track all confirmed, pending, and unavailable reservations, and make vehicles unavailable for specific periods.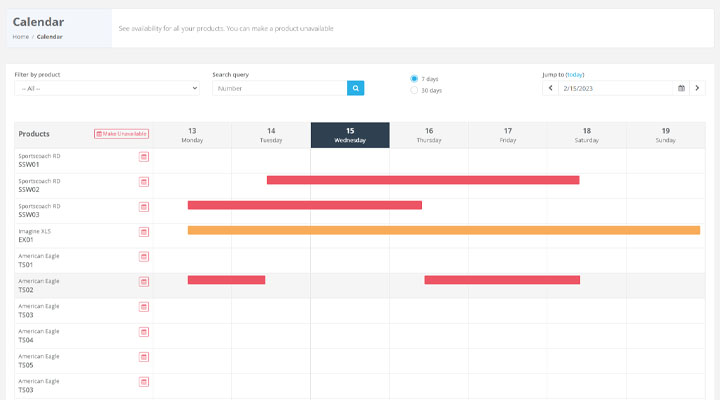 Inventory management
Set booking lengths and prices, define booking options, manage different availability calendars, and more for every type of recreational vehicle you rent - RVs, caravans, campers, motorhomes, vans, tents, and anything else.

Also, you can add high-resolution photos, link YouTube videos, and describe all their specific features to appeal to your clients and encourage them to book.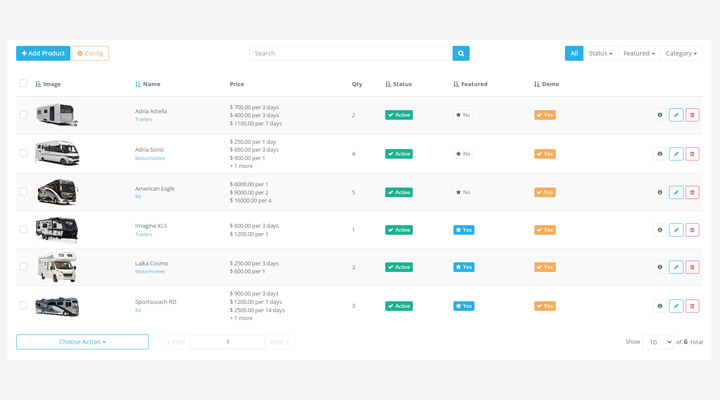 Contracts and documents
Automate client service documents in your RV reservation system, access them anywhere and anytime, and manage your business more efficiently.

Depending on your needs, you can customize the document templates, generate them automatically for each reservation, print, send and view them, or manually edit them.
Create your Caravan & RV Rental Software trial account. Start now
Automate notifications
Make managing your caravan rental business and interacting with your clients and staff online more efficient with our caravan booking software.

Keep clients updated throughout the reservation process and afterwards with personalized and automated emails and SMS messages. Send automated notifications to your staff to keep them informed about each event.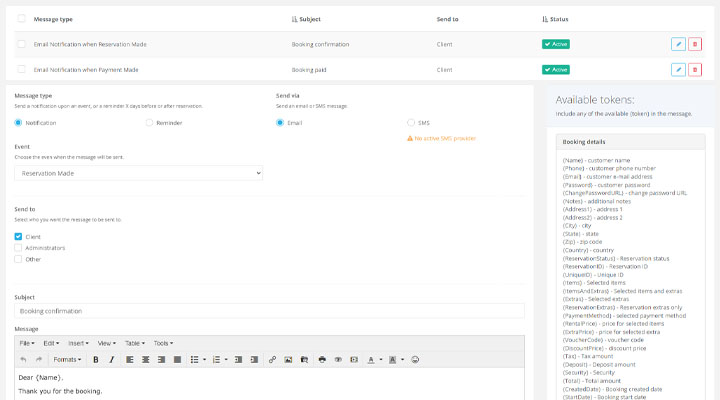 Analyze sales & performance
Increase accountability and always keep track of how your RV rental business is doing by getting access to various activities and reports.

You can analyze daily reports, sales reports, live fleet availability, vehicle reports, and more. You can also choose to analyse them directly at the RV reservation system or export them as an Excel file.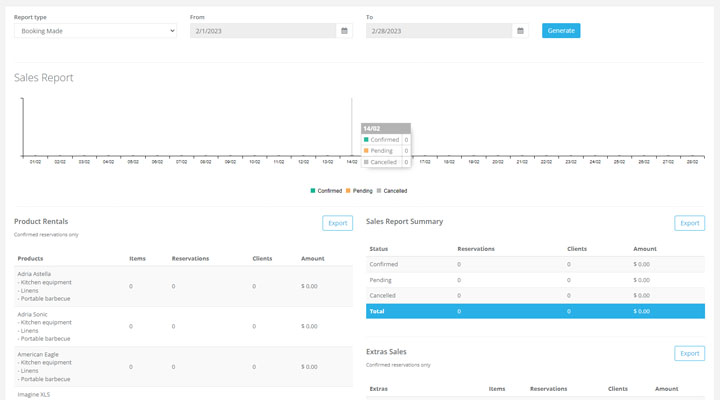 API & Export
Using the built-in Export and API functions, you have full access to all the data from your RV Rental Software.

Manage different API tokens and export all the data in multiple different formats - iCAL, CSV, JSON, XML. Use API calls to check product details, availability, discounts, reservations and anything else you need access to.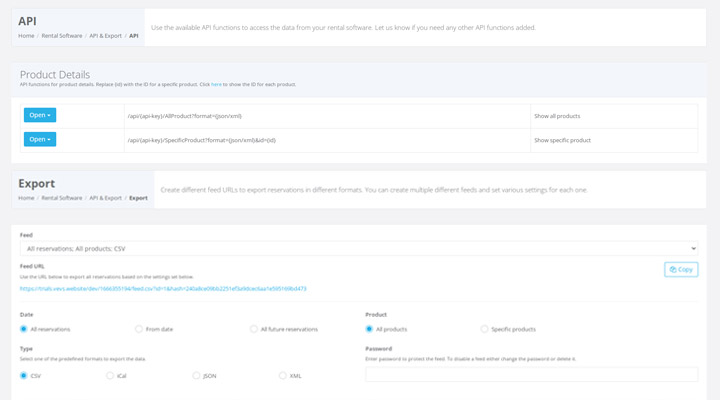 Create your Caravan & RV Rental Software trial account. Start