We created VEVS Business Software & Website to help small and medium-sized companies to get online quickly and painlessly and start serving their clients right after launch.
Our decade-long experience in developing comprehensive online business solutions and web tools has taught us how to identify and respond to diverse customers' needs. Thanks to the close relationships and contacts that we have with most of our clients, we have a good overview of what our clients need. We have taken in all the feedback we have received for our Job Portal Website and implemented some vast improvements.
See what's new in our fully-featured Job Portal Website solution and how you can use our job board software to drastically improve your business.
Job Board Software Improvements
We would like to start off with the new job classifieds system improvements. We recognise that your business has a unique approach, therefore so should your website. The purpose of these improvements is to help you set up your job board website in a way that fits your business model and marketing strategy.
Subscription Payments
Along with one-off payments for your services, you can now charge subscription payments for using your services. Employers will be able to settle an automated recurring subscription payment via the payment gateway activated by you.
The subscription service model will help you in creating predictable income and a long-lasting relationship with your clients. It will also open the door for more upselling and cross-selling opportunities. Since you can now have continuous contact with your customers, you will be able to further develop a strong bond of trust and this will give you more time for customer relationship building.
Flexible Business Model
With the updated job board software, you can choose from various revenue streams when you set up your business model. You can create packages and charge for the following:
Charge companies for publishing job ads.
Charge employers to get a job offer featured on the site.
Charge employers for reviewing the complete profiles data of their applicants.
Charge companies for access to the profiles and resumes of all registered candidates in the system.
Charge candidates for viewing job details and apply.
The packages for employers can be subscription, pay-as-you-go or both, and of course, you can create various combinations of the charges allowed in the system, giving you great control to set up your unique business model.
Advanced Settings of Candidate Functions
The newly added settings give you a granular control over the functionalities and capabilities that candidates have on your website. You can now manage the following:
Allow or forbid job applications.
Enable or disable candidate accounts function.
Allow application without an account.
Charge for viewing complete job details and apply for a job.
These new improvements alone will give you the ability to have full control over the application processes and introduce a new avenue for collecting revenue, should you wish to opt for the 'Charge for viewing complete job details and apply for a job' feature.
By having more control over the candidate function settings, you will be able to provide a better quality of service, a more refined vetting process for applicants and even broaden the amount of applicants a job listing can receive, if you opt to turn on 'allow application without an account'.
Candidate accounts function will allow job seekers to register and manage their contact details and profile. Accounts speed up the application process and keep details about all job applications sent. Also, you have the options to restrict visitors and allow only registered candidates to apply for a job. On other hands, you can increase your revenue by allowing companies to search your candidates database for a fee.
More Controls Over Listings
With this new release, we made sure to focus on allowing as much customisation and control as possible over the job classifieds system.
Choose the listings order options.
Show similar listings.
Featured listings management.
We understand that little changes can have big effects, and with your website being one of the biggest exposure avenues for your business, it should be optimized for success. By incorporating features such as showing similar listings, it will lead to more time spent on your website and also a higher chance of applications being submitted. Now, if your business model focuses on charging for viewing job details and applications, you can expect to take advantage of increased revenue because of this.
Other Improvements
If you thought that was it, here are some more improvements we have made to our Job Portal Website:
UI improvement on the job ads, Employer and Candidate accounts
Youtube video embed allowed on the Candidate profile
Improved Candidate search facility
Job Alerts function for candidates
Improved SEO controls
Improvements To The CMS- Content Management System
In addition to the whole host of improvements we have made to our job board software, we have also implemented huge changes to the CMS. A great content management system allows for brilliant functionality, accessibility and personalization, which is exactly what you can expect from our latest CMS.
Add Pages & Page Content Management
Research done by The Alternative Board found that most business owners work an average of 50 hours per week, with 68 percent of that time tackling daily problems and tasks and just 31 percent on strategically growing their business.
By those statistics, the majority of businesses owners do not have the time to be designers and build pages. But, with the VEVS Business Software & Website, we have made it incredibly easy for you to manage your own website, and not need to spend hours trying to edit your site, only to end up feeling frustrated. With our latest release, you can easily:
Add pages - and have complete control over the page content, name, URL, meta tags;
Manage the website menu and footer;
Build your custom pages.
With the click of a button and a drag of the mouse, you can add as many sections and blocks as you need to on a page. Not only can you add text and image content, but you can add links, buttons, video and even HTML code.
The user experience is just as important as the user interface, which is why you also have control over the page elements, styling and colors.
The best part is, all this comes at no additional cost!
Content Apps
Every website should have its core pages, and we feel that not only should we offer that to our clients, but that we should give them full functionality and control over the web page content.
In addition to adding new pages and page content management, we have also added some useful content apps that you can use - Blog, FAQ, Testimonials.
They will help you build a site with excellent user experience, so you can include enough content to drive traffic and increase your conversions. If you need more content apps, as always, we are here to help.
The new content apps will not only help increase the user experience of your job board website, but also lead to better search engine optimization, due to increased web pages and content within your site.
Should you need help with adding content to your website, improving your SEO or blog posting, you can view more information on our digital marketing services here. So not only can you have a brilliant website, you can also benefit from brilliant marketing to help increase your site's exposure and reach your target audiences.
And Even More Features!
That's not all! We have added some more CMS improvements, such as:
Cookie Policy - to meet GDPR and other regulations.
External code - to add you Google Analytics, Google Tags, Facebook pixel, online chat tool and other tracking or third-party services.
Google Translate - to help you translate the content faster.
Web forms tool - to build more inquiry, feedback and application forms.
CSS Editor
Mobile-friendly back-end area - to help you manage the site and the bookings on the go when you are on your Phone or Tablet.
Brand New Pricing Packages
We believe every business deserves a stunning website that is fully optimised and will aid their business in its continued growth, which is why we have updated our pricing packages to make it more affordable for startups or small HR agencies.
The new pricing packages are based on either the number of jobs in the system or you can opt for our Unlimited Jobs Package.
We found the previous packages to have some limitations such as the Starter plan only allowing for 1 employer and there being no charges for job ads. But, with the new release of our Job Portal Website Solution, those limitations are no more.
Our pricing packages start at only $29 per month. When paid yearly, you can benefit from 2 months free. To find more information on pricing packages, click here.
Our Clients
We know that the proof is in the pudding, which is why we encourage you to have a look at some examples of our clients Job Portal Websites here.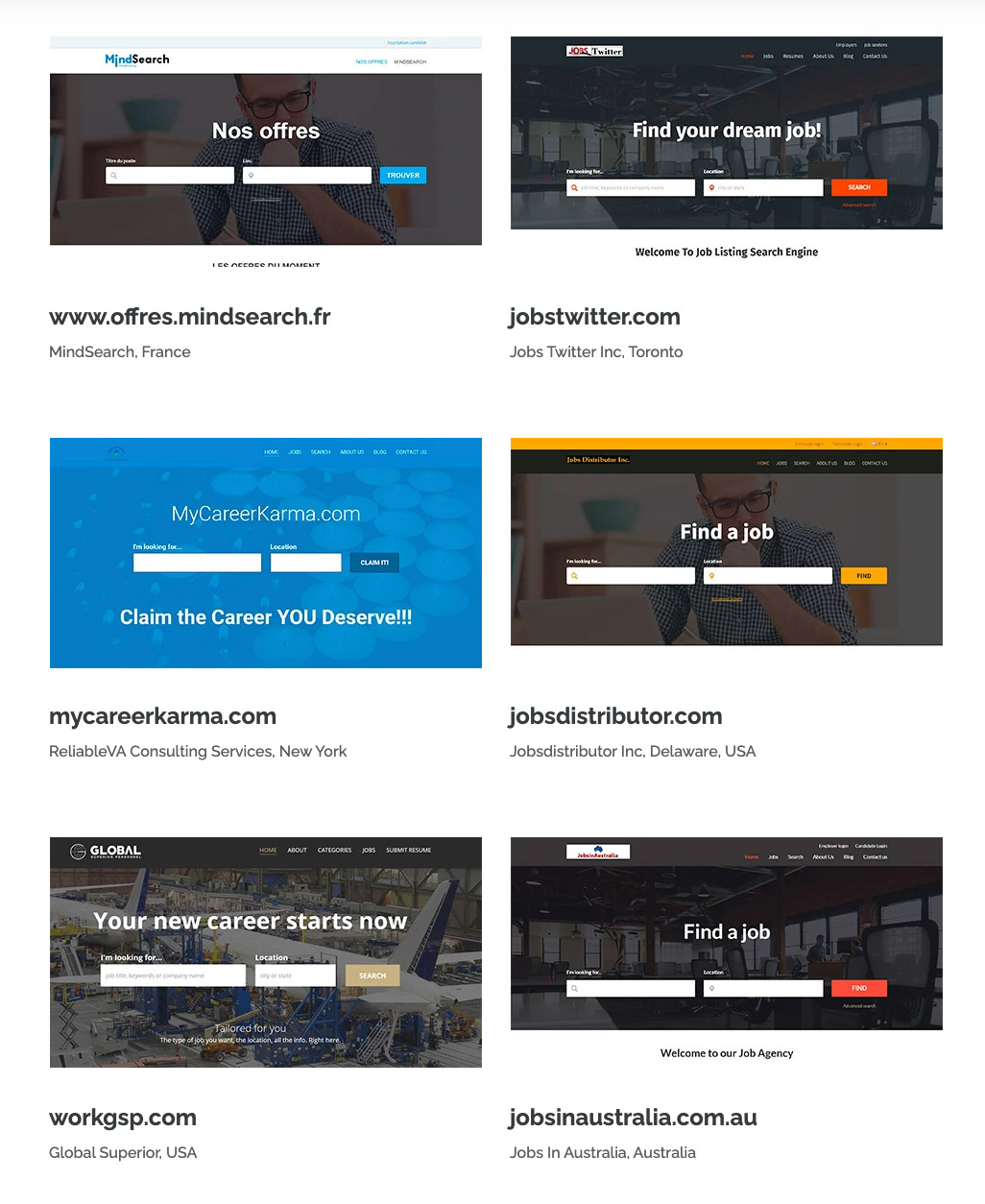 Conclusion
Our primary goal while developing and improving the VEVS products is providing efficient website solutions that are easy-to-use and manage at the same time. Though like any website building platform, VEVS Business Software & Website is a do-it-yourself solution, we understand that for many reasons you may need a little assistance while setting up your Job Portal Website. You can find out more on how we can help by clicking here.
We know how essential digital marketing can be for the success of your job board website and business. To help your growth, VEVS provides results-driven marketing services. If you are interested in finding out how VEVS and our team of experts can help your business when it comes to marketing, please visit our digital marketing page for more information.
We have some other great blog posts for you to view:
> 5 Fundamental Ways To Improve Your SEO In 2021
> How To Increase Your Facebook Page Likes & Get More Exposure For Your Business
Are you following us on Facebook? Click here to like our page and be notified whenever we publish a new blog post!