Website Editor
Learn how to use the website editor and design your website.
Need any help?
If you have any questions or dificulities manging your business website, just reach out to our Customer Success Managers!
Definition
We define the Locations as the physical location/s of your parking lot/s. Please have in mind that you cannot create a Parking Space if you don't have any created locations.
Single vs Multiple Car Parking Locations
To manage Locations go to Car Parking Engine / Locations menu. You will see a list of all Locations, whether they have a Parking Space assigned to them and if they are Active or not. Our reservation system allows you to choose whether to use one or multiple locations. By default, the Multi Locations option is automatically enabled.
TIP: If you manage a single location, merely click on the Multi Locations button. Once set to off it will show you only one location as per what you needed.

It's important to choose the number of locations in use. The different number of locations determines what the Car Parking Website will show to the clients. Here is the front-end result, which the clients will see :
Single Location


Multiple Locations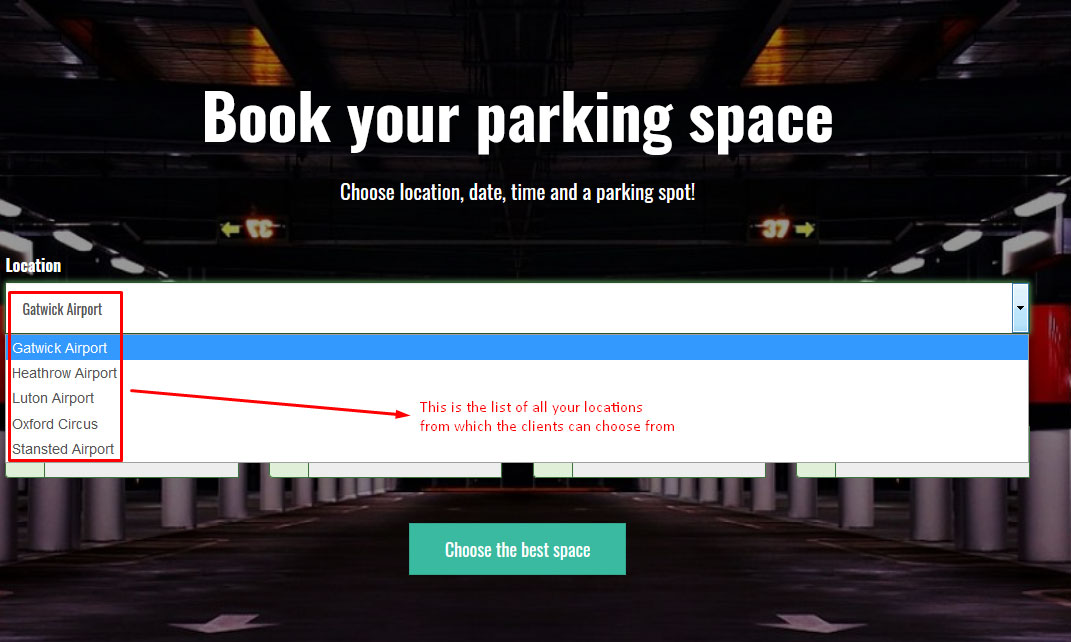 Location info on the website front-end
The reservation software generates a Locations page at the front end of the website. The clients here can easily find the contact information of the parking and easily see where is it is located on the map. On the Locations page of your website, all locations are listed and shown on Google Maps. There is a Book now button, which sends the clients directly to the reservations page.
Note that the opening hours are an info text just for a reference. It does not play a role in the car parking booking engine process.
Troubleshooting - Your Map is not working
When you switch from a trial version to a subscription plan your Google Map service will stop working. You will have to insert your valid API Key for your business. Check how to set your map by clicking on the following link - VEVS Knowledge base: Google Map
Tips for setting useful info for your locations
Do's
Put a precise location of your parking
Use a good thumbnail photo
Use the autocomplete feature when you are writing the address of the location
Put the correct location name of the property
Don'ts
Pick the neighbour's address
Write the wrong phone number
Use multiple locations if you manage only one parking lot
Don't fool around with the Google Pin