We are happy to announce the launch of our fifth in a row business website for the automotive industry, namely VEVS Bus Website! Our bus ticketing websites are suitable for all travel companies providing domestic and international transportation services. They are highly intuitive both on the admin's and customer's side and will help you cut overhead costs and increase ticket sales in shortest terms. If you are looking for a full-fledged business website solution that will enable your clients to book and pay bus tickets online, you are in the right place! Let us show you all key features at a glance so you can convince yourself!


Simple Online Bus Ticket Bookings
The built-in bus ticket reservation software allows customers to book a one-way ride or a roundtrip conveniently from their mobile phone or home computer instead of queueing up at the bus station for ages. It takes only 4 steps and less than 10 minutes to complete the reservation - no registration necessary! You just need to select your preferred date(s), start point and destination, and then choose from the schedule the departure time that fits you best. By default, customers can book adult and children tickets. Depending on your business model, you can offer other types of tickets (student, pensioner discounts, etc.) as well. Customers can also pick their seats on an interactive bus seating chart.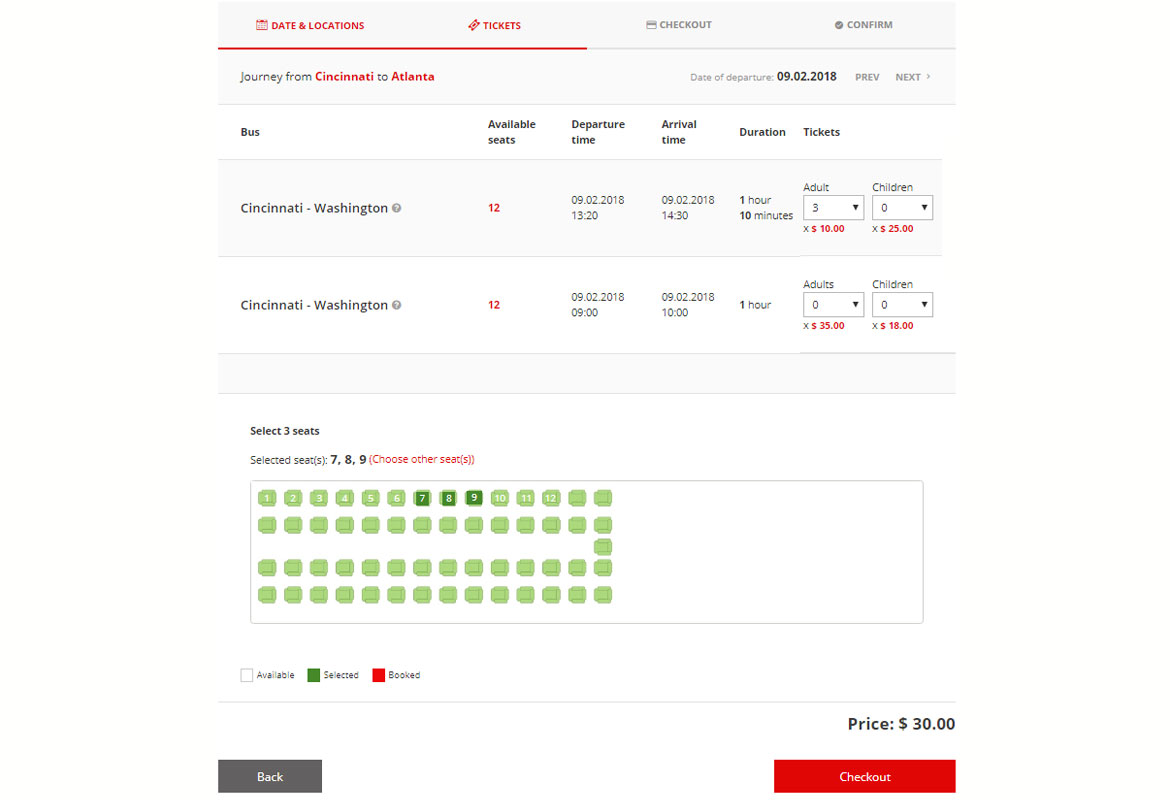 Flexible and Secure Online Payments
With VEVS Bus Website Builder, you can give your clients a broad choice of payment methods and make it even sweeter! When you create your demo, log into VEVS CMS and go to the Payment Settings, you will see two sections - Active and Optional Payment Methods. Activating each of them and adding your company payment details is a breeze. You can make changes anytime, with no external help. Read more about our new, more flexible payments if you would like to dive into more technical details. Rest assured that VEVS Bus Website Builder won't charge you any reservation fees, in contrast to other similar web solutions.
Manage Bus Ticket Reservations
One of the most useful assets of our bus reservation websites is that they enable you to keep track of all ticket bookings in real time and automate their approval with a simple setting. The booking status generally depends on the payment status. You can specify booking pending time and cancel the booking if the customer doesn't pay within this predefined "grace" period. Authorized admins can make any changes to the booking and customer details, if necessary, and also add reservations manually (for example, if you accept phone bookings). The Dashboard you will land on right after you log into the CMS, presents a helpful snapshot of the latest ticket bookings and also shows important stats (latest bookings, today's buses, total bookings per month, total monthly revenue, etc.) which you can regularly use to keep finger on your business' pulse.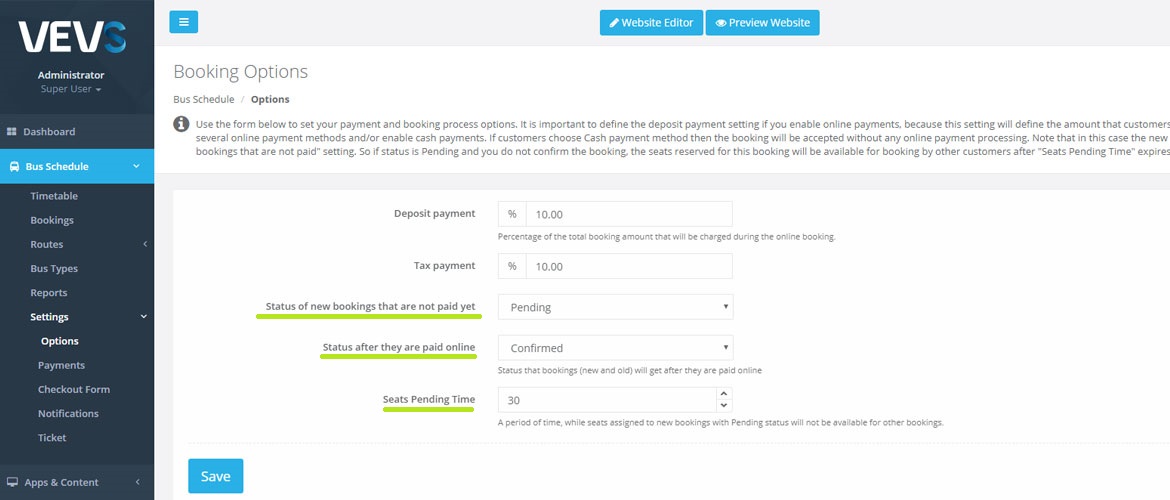 Add Multiple Buses & Bus Routes
One of the first things you should do when you start setting up your bus website is creating a short profile for each of the buses that serve your routes. Give your bus a name, upload a seat map, and specify the total number of available seats. Then you can assign each bus to the routes you are going to add in the next step. As we have mentioned in the very beginning, our bus ticketing websites can be utilized equally well by bus companies providing transport services:
a) between multiple locations within a single city
b) between multiple cities
c) between cities situated in different countries


The cities or locations you serve are neatly displayed in the designated Destinations section on the home page of VEVS Bus Websites so that customers can quickly review them. To customize your itineraries, just go to the Routes menu on the back-end (VEVS CMS) and add all Bus Stops (respectively Locations) - each going along with a short description, illustrative image, and coordinates so it can be pinned on the built-in Google Map. These details are required since they will appear in the Description section, Routes page, and the Reservation form. So don't forget to add them and make sure they look and sound as good as possible!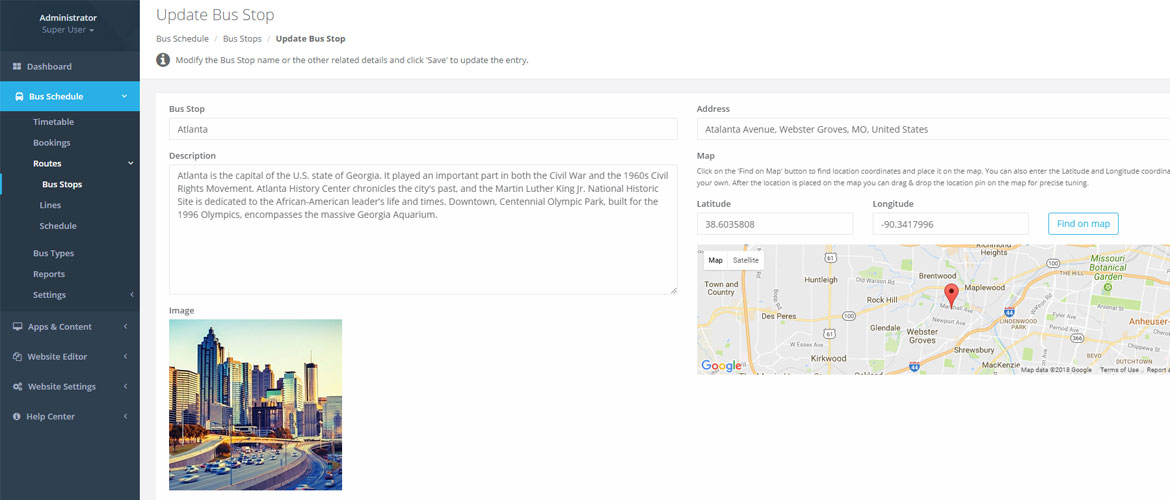 Once you have added your Bus Stops, you are all set to create your Lines as well. You can have a start and end station or multiple stops depending on your transport business. All Lines served by your buses will be listed on a separate Routes page on the bus ticketing website. If the customer clicks on the Show details link, he/she will see a separate page showing all scheduled buses for the respective day and route and can proceed to booking. This is also a convenient shortcut to the reservation form.
Manage Weekly Schedule for Each Route
To create the timeplan for a selected bus (line) you just need to add the arrival and departure times for each bus stop (e.g. location, city). If the schedule is fixed and the same for working days or all days of the week, you can make it recurring. You can also add Out of Service days due to holidays, bad weather conditions, road construction works, and other technical reasons. To complete your schedule, set the timeplan for all bus lines you operate.
Add Custom Ticket Types & Ticket Prices
For each bus you have added into the system you can create and assign different types of tickets: Adults, Children, Students, Pensioners, etc., and then set the ticket price for each of them depending on the start and end point of the selected trip. You also have the option to add a discount percentage for return (round trip) tickets. Using the built-in HTML editor and a helpful set of predefined tokens, you can compose and design your e-ticket layout in line with your company branding. Customers who have booked their seats online can easily print out their electronic tickets or save them on their mobile phones.
Other Cool Features
For the sake of convenience and enhanced coordination between drivers and management, you can print or share Route Schedules, Passenger Lists, and Seating Charts and distribute them to the responsible staff. To get a quick overview on your business, you can generate detailed reports about the monthly/weekly performance of each bus or route you operate. You can print and archive these reports as well.

Currently, we offer three bus reservation website designs and a set of predefined color themes you can choose from. If you need any visual adjustments or functionality tweaks, just describe them and we will make them for you. The minor changes will be free of charge, whereas more substantial customizations will be discussed additionally.

Create your free Bus Website demo now!

Feel free to share this review with your friends using the social buttons below and don't hold back to make improvement suggestions in the Comments section below!