Four months after the official start of VEVS website builder, we've decided to kick off an Affiliate Program. It's simple, flexible and open to a wide spectrum of audiences. Web developers, designers, agencies, freelancers, publishers - anyone can join for free and start monetizing referral subscriptions on VEVS.com.
Place banner ads on your website and social media, mention VEVS in blog posts and relevant forum comments, launch email campaigns. The more active you are, the more money you will earn. You set your own speed and limits!
VEVS Affiliate Program makes it easy for associates to spread the word to prospects using unique links and cookies to track new referrals. This is how monthly commission payments are accumulated and calculated. Affiliates can keep a close eye on all subscriptions and transactions from their personal accounts.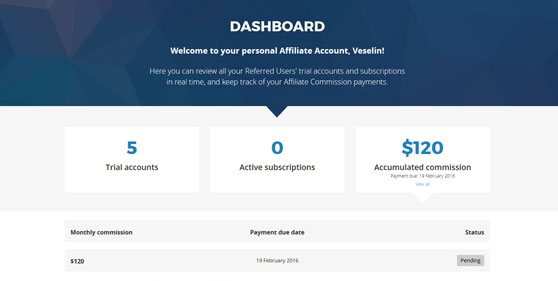 KEY FEATURES:




FREE participation and automatic application approval;
No monthly/annual minimum achievement requirement;
$8 flat-rate commission fee per website per month;
$96 yearly payout per user subscription, life-long;
Affiliate account with easy access to profile details, banners, user subscriptions and payments;
Ready-made promotional materials and URLs including affiliate tracking codes;
Payment transactions via PayPal, Western Union and wire transfer.
Learn more about VEVS Affiliate Program and sign up. You can also read Frequently Asked Questions, if you want to dig deeper.
We are looking forward to establishing long-term and mutually beneficial relationships with all VEVS Affiliates! If you would like to ask or discuss anything about our Affiliate Program, feel free to contact us anytime!