Vacations are usually associated with a long-awaited relaxation and getaway from the crowds. One can finally take some rest and outsource most of the tedious daily duties to hotel staff. Still, finding the right hotel and booking your accommodation can be a quite confusing and time-consuming task.
More and more people nowadays prefer to organize their trips and vacations on their own. This ensures them more freedom, flexibility, and last but not least - helps them avoid paying commissions to travel agencies. If a potential client happens to come upon your hotel website, you should be able to grab their attention, make an impression, and wow them with a smooth and simple online experience. In the end, everyone likes beautiful escapades and most of all - things done with ease!
The chances are that people will find your hotel through some of the major online travel agency (OTA) portals (like booking.com, expedia.com, etc.) or other local listings. It is really hard - even for big hotel chains, to compete with OTAs in terms of organic search and paid advertising. Besides, everyone trusts them and is used to browsing them. Even if people have first seen your hotel on an OTA portal, they will most probably jump over to your website for more first-hand information about prices, rooms, and facilities. Of course, they will look for guest reviews and comments about your hotel property. Along with the price differences, one of the main reasons people would use OTA websites instead of hotel websites is that the second often lack an online reservation system and payment functionality. If you offer this alleviation to your potential guests, they won't stray but stay! VEVS Hotel Website Builder can help you with this!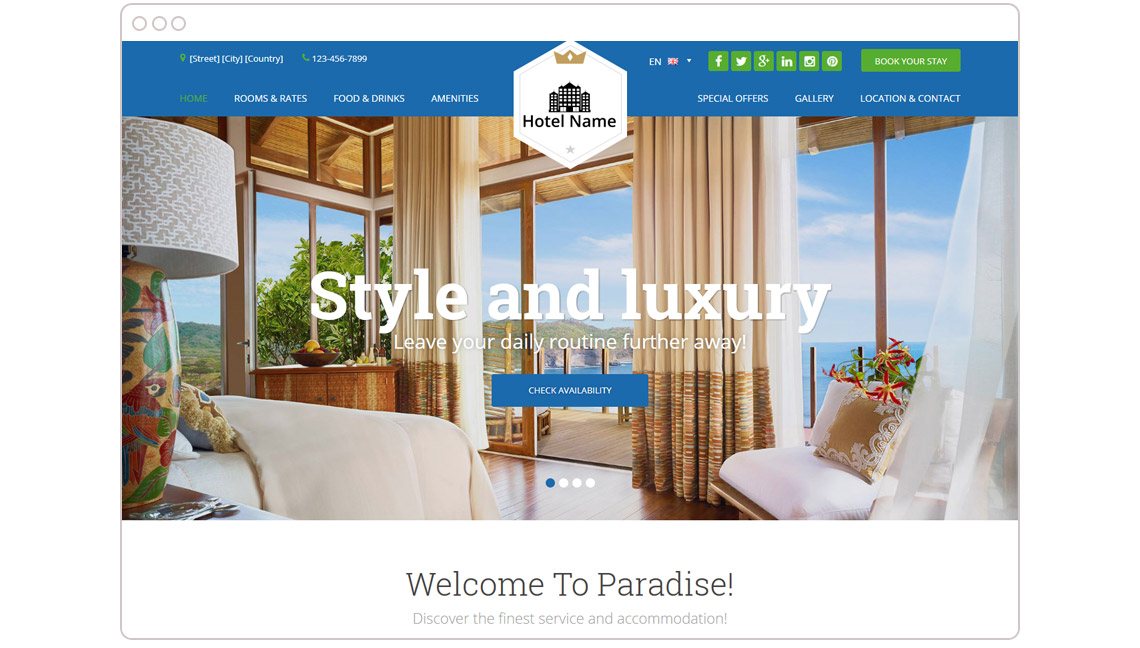 If you are managing a small- or medium-sized hotel, villa or guesthouse, and are looking for an affordable-still-stylish hotel website solution, VEVS Website Builder will give you all the trumps in one hand. Our hotel booking websites are fully-fitted with all necessary features to launch your online business quickly and efficiently. What's more - VEVS makes it easy both for hotel seekers and owners! Let's see how a hotel booking website can convert visitors into guests!
What people look for on a hotel website?

Sweeping images and design
Just like with people, the way your hotel website looks creates the first impression. Showing beautiful, high-resolution pictures of your hotel, rooms, amenities, and nearby sights is something you should definitely focus on. All VEVS Hotel Website designs are neatly styled so that you can present your hotel property in the most impressive way and make visitors crave to see it in real.
Fast-loading pages
It goes without saying - speed is crucial for your hotel website! Otherwise, hotel seekers will lose patience and switch over to another option. Thanks to the clean code and the latest web technologies we apply, our websites serve visitors swiftly and smoothly.
Multiple languages
Depending on your target market, you can add as many language versions as you wish. It would be a nice gesture to your potential guests if you pay tribute to their native tongue. English is set by default for our hotel booking websites, but you can change the standard language according to your business needs.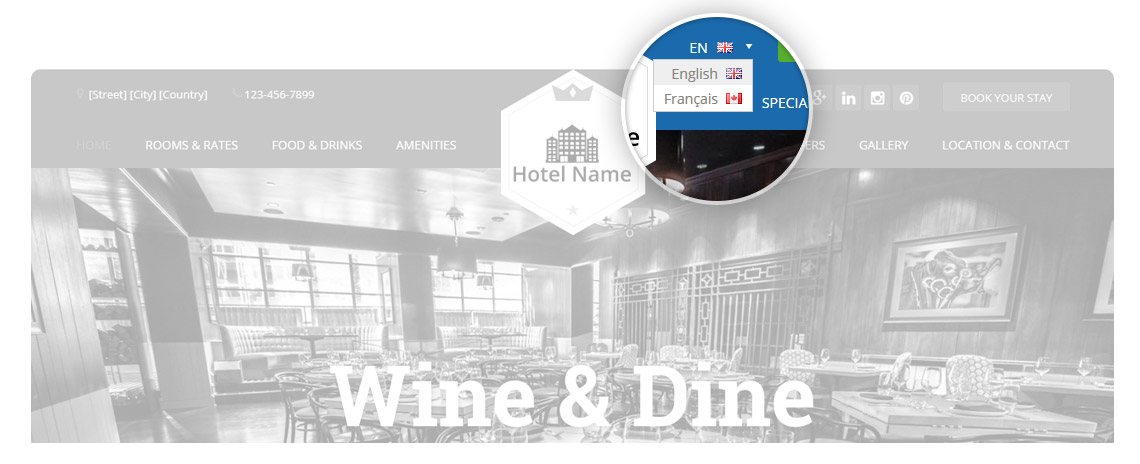 Online bookings
Websites allowing online hotel reservations enable customers to book a hotel 24/7 - it can be during the weekend, at 02:00 am, regardless of the time zone differences. Guests don't need to wait for a receptionist or hotel administrator to answer their call or email. If you have an intelligent hotel booking system (like ours) on your side, it will approve and process bookings automatically.
Accessible via mobile
Browsing, shopping, and booking services (including hotel accommodation) on the web has become something natural. All hotel website designs from VEVS portfolio are mobile-friendly and automatically adapt to each screen size. Your customers will be able to review and reserve rooms from their smartphone or tablet wherever they are.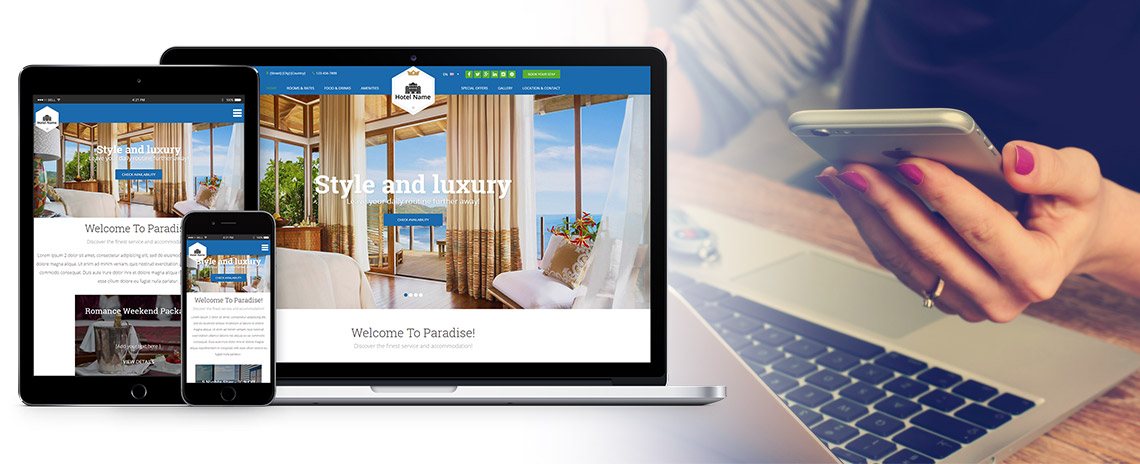 "Money talks"
Having the choice to make various kinds of online and offline payments is something clients would appreciate. Some clients prefer the more traditional bank transfers and even cash payments, whereas others would rather pay online and spare themselves the dreadful bank queues. VEVS hotel booking system can offer you secure payments and an endless list of payment processing providers we can integrate upon request.
"Anybody there?"
Some people may find autoresponder Email and SMS messages a bit annoying, but when it comes to hotel bookings (and money in specific), a personalized feedback will speak positively about your business and attitude towards customers. Our hotel reservation system enables you to customize your messages to clients and notify them that their booking, payment or cancellation was successful. This will make them feel attended and up-to-date.
"Are we there yet?"
Navigating your guests to your hotel property is one of the most important things you should do well on your website. Most people use their cell phones to track their location and search for their destination. Good news is our hotel booking sites' contact pages have Google Maps integration and will help your guests find their way!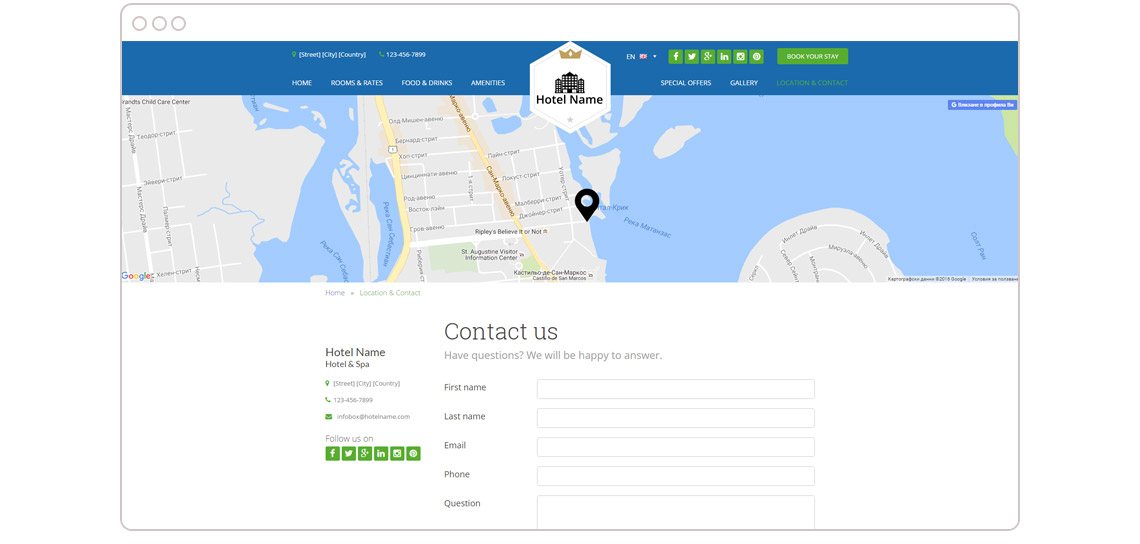 What hotel managers usually expect from their website?

Fancy and responsive design
In a broad sense, responsiveness is the ability of a person to react quickly. Related to the web space, it means the technical ability of your website to respond to its environment and look good on all devices (desktops, tablets, and phones). This is what makes your website mobile-friendly. VEVS Hotel Websitesare optimized for all screen sizes and will allow customers to get in touch with you anytime anywhere. What's more - you can choose from 5 website templates and 10 color themes. Custom colors are possible, too.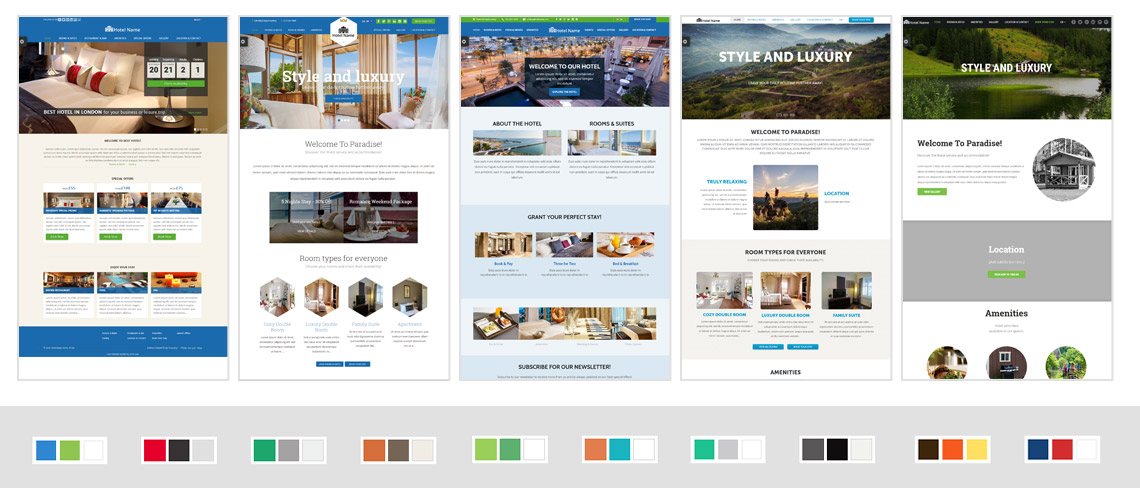 Simple administration
Managing your hotel website should not be "rocket science". You have to be able to adjust your website settings on your own and not call over a sysadmin every time to help you out of the matrix. That's why we have created a simple content management system packed with easy-to-use on-site editing tools and a convenient dashboard. It's a breeze to update your website content, add or replace images, change prices, etc.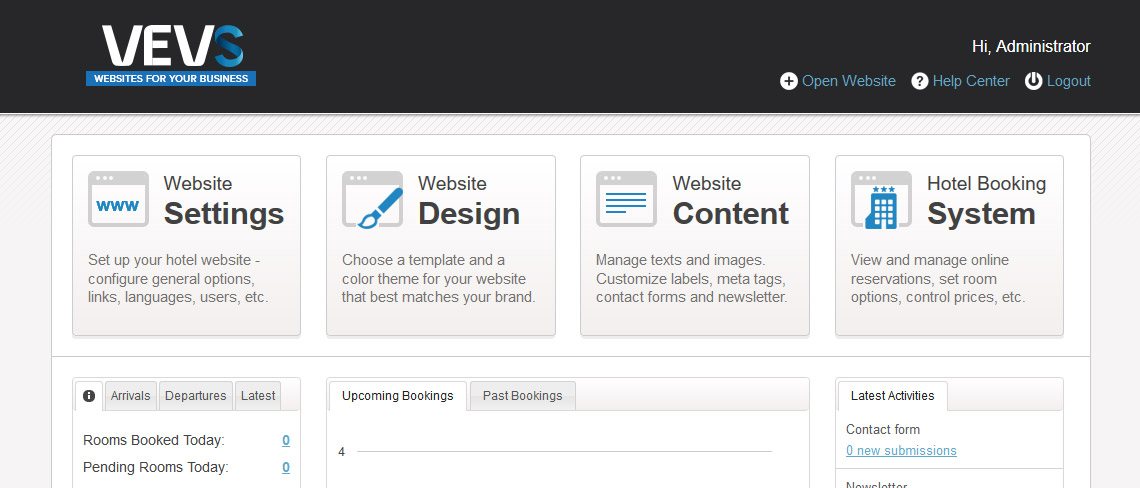 Hotel booking system
This is what distinguishes VEVS from most website builders and ready-to-go solutions. All VEVS Hotel Websites are equipped with a real-time, user-friendly hotel reservation system. Now you are all set to start running your hotel business online and converting leads into guests! It is so straightforward and intuitive that both you and your website visitors are going to love it!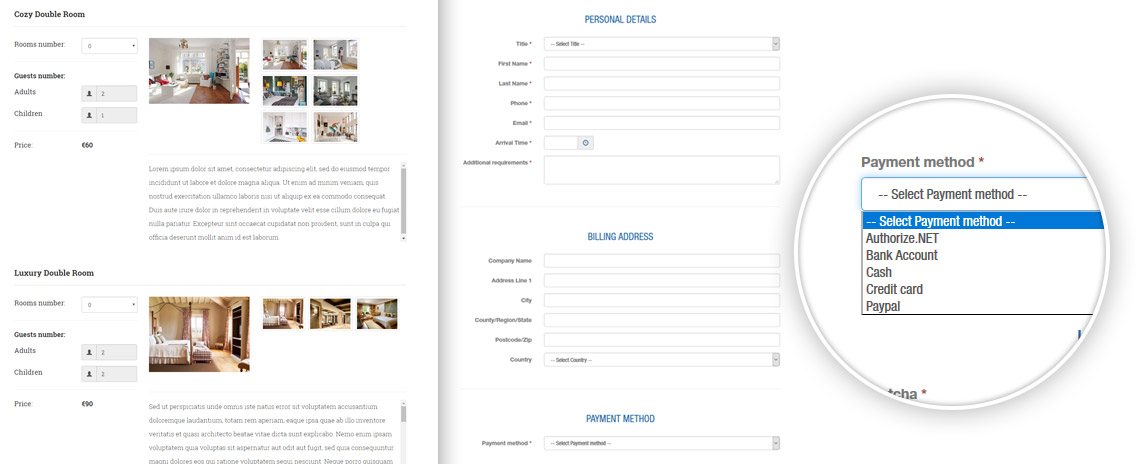 Customizations and add-ons
Each customer's business needs and tastes are different. No matter how many standard features and design tools a website solution can offer, there will always be modification requests. That's why we provide all kinds of custom changes and fine-tunings, as well as extra services and appswhich can further boost your website performance and customer satisfaction.
Flexible pricing plans
Most ready-made websites are subscription-based. VEVS Hotel Website Builder offers one FREE solution and two pricing tiers for the paid versions - monthly and yearly. The choice is yours!
Full-service package
If you do a quick research on Google, you will find a myriad of mind-blowing website templates. Still, not many of the web studios behind them can provide a reliable, time-unlimited after-sales support and the customizations you may eventually need. With VEVS you will not only have a great hotel website, but a complete service starting with the domain registration, setup and content upload, up until the post-launch tech support, custom changes, and maintenance.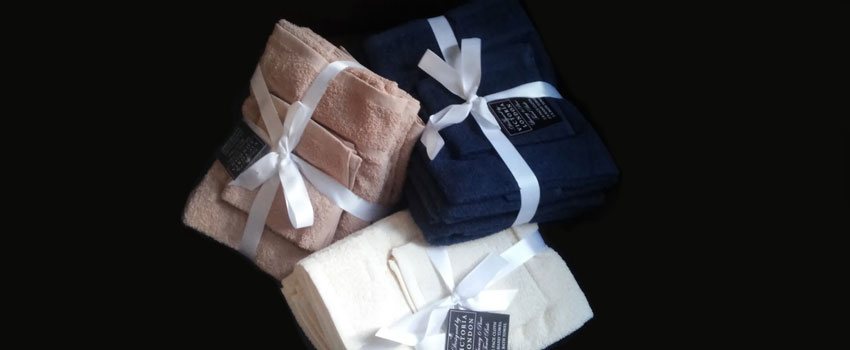 Search engine optimization tools
Even though the heavy competition with OTAs makes the task in this industry extremely difficult, our websites are SEO optimized so that they can achieve better SERP (search engine results page) positions by the hotel name (for returning guests) and by destination or reasonably selected popular searches (e.g. "fishing at Victoria Lake"). VEVS Website Builder has provided for an easy, self-service SEO optimization which will enable you to add meta titles and image ALT tags even if you are not a pro. Of course, you should make a research and mind the keywords when writing the website content. You don't need to have a full-time digital marketing expert at your side. An initial consultation, however, will pay off for sure!
News update
Since almost everyone - even grandparents! - is on Facebook and all sorts of social media, having quick links to your social profiles placed on visible places on your hotel website is a good thing. (If you don't have any, you'd better catch up with Facebook at least!) Sharing hot offers on your news feed is a fast, convenient, and zero-cost option to keep your target audience up to date. As an alternative, you can also send them your e-newsletter.
Try before you buy
With VEVS you will also have the chance to make a free tour in our hotel booking website and back-end system. You just need to sign up to take advantage of your 1-week FREE trial!
---
If you are reading the final lines, you most probably need a hotel website as soon as possible. Feel free to contact us for more information about our Hotel Website solution. Managers of multiple accommodation properties or camps may also check our Vacation Rental Websites. Those of you who operate a single vacation property, villa or apartment might find the Holiday Property Website solution more suitable.
Thank you for keeping up and sharing with others!