What you should know about SEO if you choose to create your new site with a website builder
SEO (search engine optimization) is a hot topic since long ago. Now everyone knows that it is important for the online presence, most people know why it is important, but still not so many know how to achieve it.
The good news is that thousands of good articles can guide you, and there are a lot of experts that are ready to help and take your money (for a good reason, of course).
But still many people ask, when should I start thinking about my website SEO? The simple answer is - the minute you start thinking about creating a new website. The more your website and your business will rely on search engine traffic, the more important is to plan the onsite SEO along with the website planning.
If you have chosen to use a website builder for your new website, then you do not have much control over the onsite SEO, besides choosing the right target keywords and writing an appealing content using them. But this is not always enough for good SEO results and top rankings on search result pages.
What you can do, is to take a close look and investigate the SEO quality that the website builders can deliver. Here is what you should look for.
What's important for an excellent onsite SEO?
Content
The content is one of the most important factors for search engines. Google advises that it should be relevant, quality, enough, helpful and meaningful for your website visitors. Of course, people search for web pages through keywords. So it is essential to use the right keywords that your target audience uses on your web pages and website. Still, do not flood your content with keywords, but try to deliver quality content.
Few tags (HTML elements) mark content and are ranking factors.
ALT tags
SE (search engine) bots cannot 'read' images. But they can read their alternative description (the alt tag). This way they know what stands for an image. And it is good if you can control it.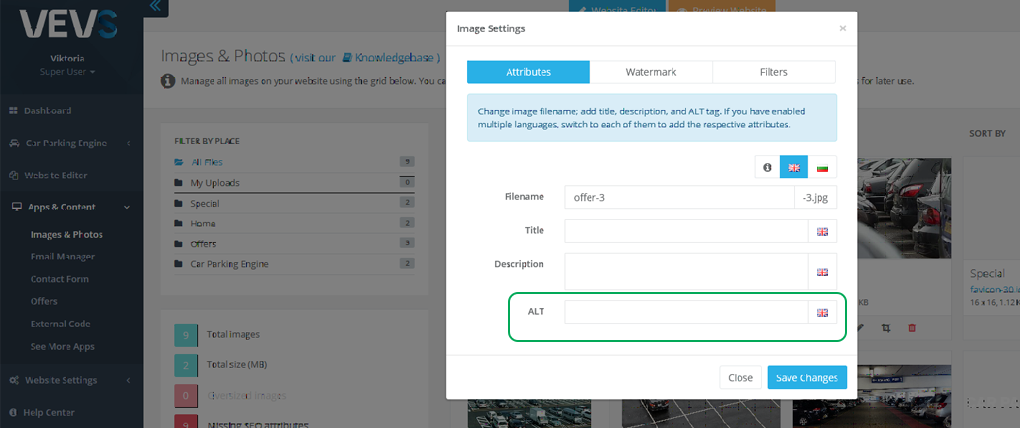 H tags
H tag stands for 'heading' tag. You normally have headings / titles on your web pages. A proper HTML page structure will mark these titles as 'H tag', so SEs know that these are headings. They have a bit more weight than the ordinary text on the page. A good SEO practice is to use your most relevant keywords on H tags, if possible.
It is also best if you have only one H1 tag, and if your headings follow a consistent structure like: H1, H2, H3, etc. tags.
Valid HTML code
SE bots 'read' page source code. That is why it is important for pages to have clear HTML code and structure. It is also advisable the HTML source is validated, which means to meet the industry standards. You can use HTML validator like W3C https://validator.w3.org/
But a quick look at the page source can also help even if you have no knowledge of HTML.
A view of VEVS website HTML code: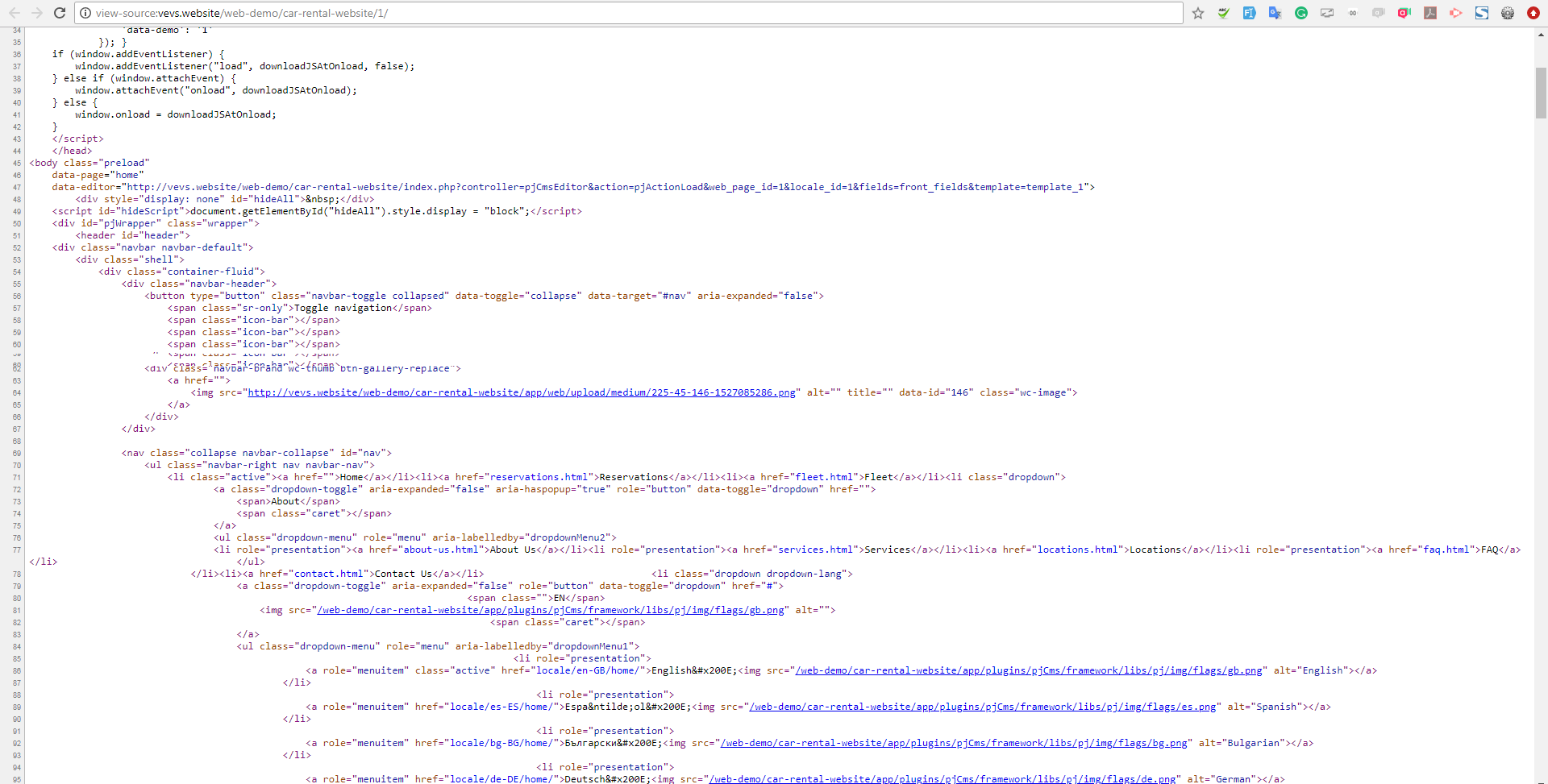 Views of other website builders HTML code:
SEO friendly URLs
SE bots can read URLs. If you are selling Lamborghini, then the bots can easily read the following URL:
www.usedcars.com/2008-lamborgini-avendator-lp-700-4-great-price.html
But they won't read the following URL quite well:
www.usedcars.com/1254865438%20%15%12456
And even if they do, they will still give the first URL some advantage for two reasons:
- Users can quickly read it too (in SERP results for example).
- It contains a keyword phrase - the car, the model, the year.
Meta tags
Page Title tag, Meta Description tag, and Meta Keywords tag are HTML elements that are important for users experience and hence for your SEO.
The Page Title is visible in the browser tab row, and it's giving an idea of browser users what they will find on this page.

Both, Page Title and Meta Description are often used on the snippet that is shown on the SERP. So they are important for two reasons:
This is your ad message to people who search, and it helps them take their decision whether to open your website or not.
Their content should be related to the primary keywords you target because the snippets are always relevant to the search conducted. (For this reason, Google may not show the Page Title and Meta Description tags, but other parts of your page content related to the search).
Meta Keywords tag has lost its importance for Google a long ago, and Google bot does not 'read' it (see more here). The Keywords tag also has little value for other search engines and should be used with caution as it may have negative than a positive impact on your website.
The best SEO practices are to write unique and meaningful Page Title and Meta Description tags content that is related to the page content - title of the page and a short description what's on the page, having your most important keywords for this page on them.
It is best if you can control these tags and embed your content on your own. Another standard practice is that the website builder generated these tags automatically using your page content.
Page speed
The page load speed is an important ranking factor. Fast loading pages give users much better experience, and for this reason, page speed counts. Page load time depends on many things, and probably the only one that you have control over it are the images size.
Even the biggest images on your web page might be less than 250KB keeping good quality. Keep in mind that pages with many photos will need extra attention.
What you need to assure when choosing a website builder is that it delivers:
- Tools to optimize the images you upload or they are optimizing images automatically (while keeping their good quality).
- Reliable hosting account and server response time
Responsive website design
Google announced that since April 21, 2015, a mobile-friendliness is a ranking signal for searches that are performed on mobile devices. It seems natural when someone is searching the web on their phones they would like to visit a site that loads fine on the phone.
For both reasons, excellent user experience for people visiting your website through their mobiles, and for SEO, it is best if your site is mobile optimized. Make sure the website builder you are using can deliver a mobile-friendly website.