Rentals Management

Keep track of your inventory rentals - boats, ski jets, catamarans, kayaks, or others and improve your company's efficiency online.

Secured payments

Choose from our 14+ predefined payment gateways, allow your clients to pay you in advance and increase your sales instantly.

Availability Calendar

Provide your clients with an availability calendar on your website that shows your boats' availability in real-time.
Online reservations

Digitise your boat rental business, allow your clients to book a boat from your website 24/7 and wake up with a list full of reservations.

Flexible price packages

Create multiple pricing packages based on the rental length of each boat and make them a perfect fit for your pricing model.

Automated notifications

Improve the communication between your staff and your clients with automated SMS and email notifications.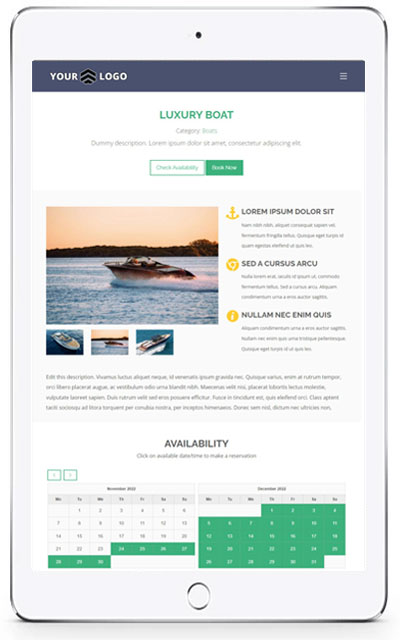 With VEVS Boat Rental Software, you can manage all your boat types at once, whether they are boats, ski jets, catamarans, kayaks, or any other vessel type you need.
Accept online bookings
Make your workflow much easier to manage by accepting online bookings and payments on your boat rental booking software.

This not only makes it easier for you to manage your boat rental business but also provides a more convenient experience for your clients.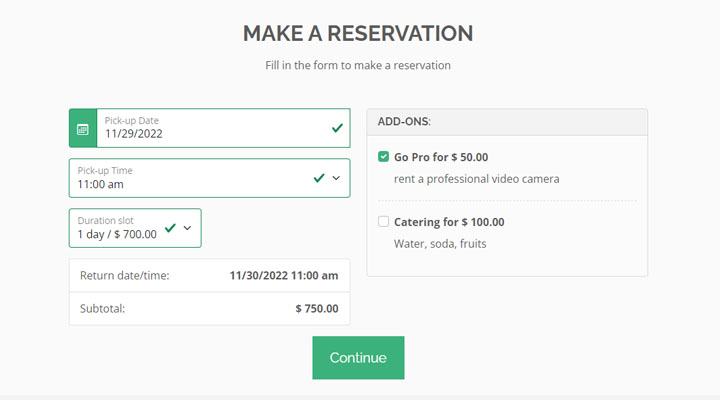 Accept online payments
Make your business operations more efficient and simplify the rental process by letting your clients pay you quickly online.

Accept secured payments from your clients 24/7 directly on your boat booking software by using one of our 14+ predefined payment gateways. If you don't see the one you want to work with, let us know, and we'll add it for you.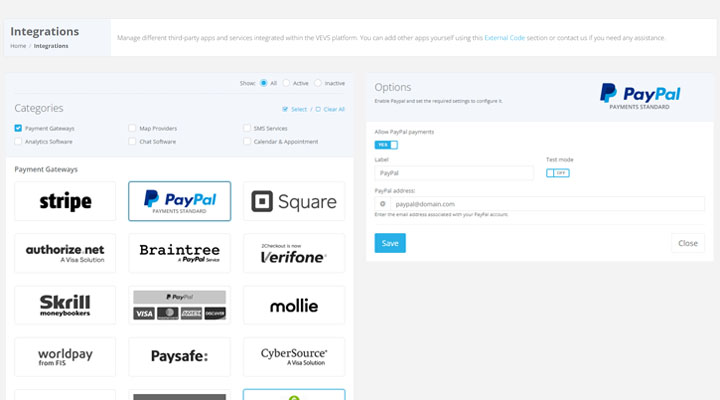 Manage reservations easily
Have all of your reservations in one place and access them 24/7 from any place and on any device via the powerful VEVS online boat reservation system.

With just a few clicks, you can change any booking details, including pick-up and return dates, add extras, change payment methods, generate documents, resent email confirmations, and much more.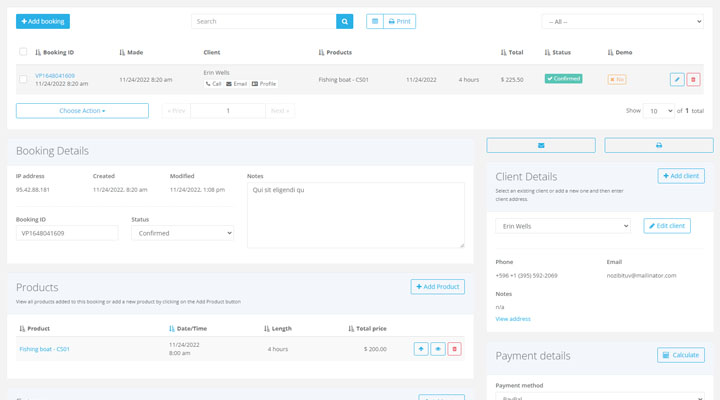 Your Boat Rental Software will be set up according to your business model and requirements by our customer care team. In addition to the multiple settings, the VEVS software provides, our development team will be able to deliver any custom modification to make the boat rental scheduling software a perfect fit for your business.
Display your inventory
Provide full details about your boats, upload high-res photos, link YouTube videos, and set all the specific features about each of your boats to easily attract your clients' attention and urge them to rent from you.

It is also possible to create different categories for your boat rentals, display them on your website separately, and provide different information and features about each boat.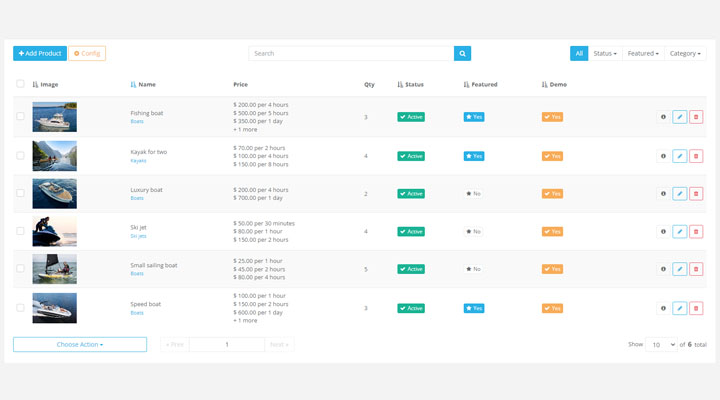 Have a calendar of availability
Show your clients only the available boats on your website and save yourself the time of replying to multiple emails.

The powerful VEVS Boat Rental Software will verify the inventory availability before making the reservation, so you don't have to worry about overlapping bookings anymore.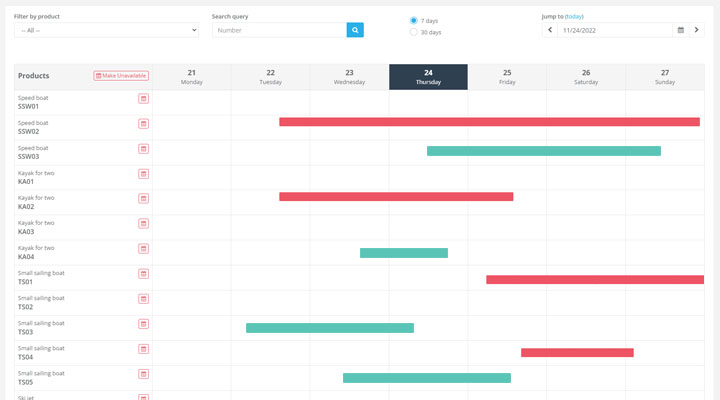 Provide add-ons and extras
Provide exceptional customer service by offering extra add-ons to each of your boats, such as catering or fish sonar.

You can also increase the profitability of your business by offering extra services to each reservation, such as additional equipment, catering, cancellation insurance or others.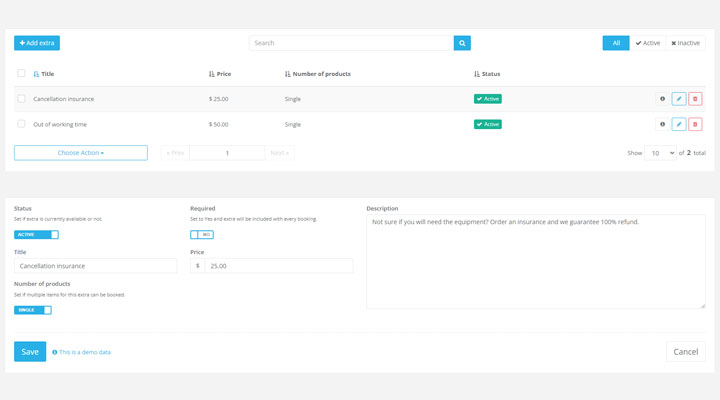 Generate promo codes
Using the boat rental scheduling software, you can create personalized promo codes to turn your one-time buyers into regular clients and leads into customers.

You can either send the promo codes to specific clients only or display them on your website so that everyone can benefit from the offer.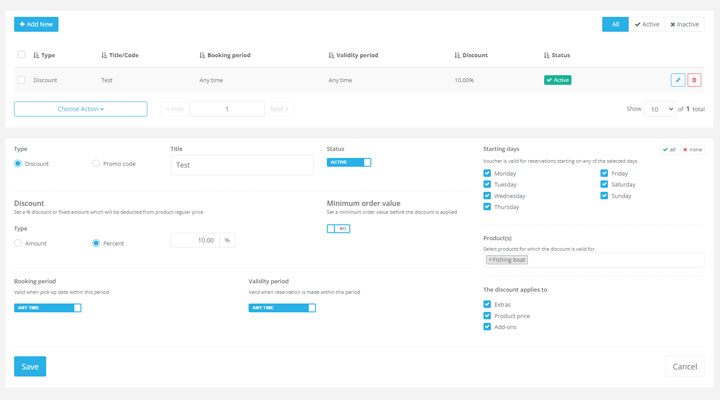 Streamline your operations with Boat Rental Software. Try it free
Create discounts
With the boat reservation software, you can also create discounts for specific boats and periods. Deals will help you increase online conversions and optimize inventory rentals and revenue.

These discounts will be applied automatically while your clients make their reservations online.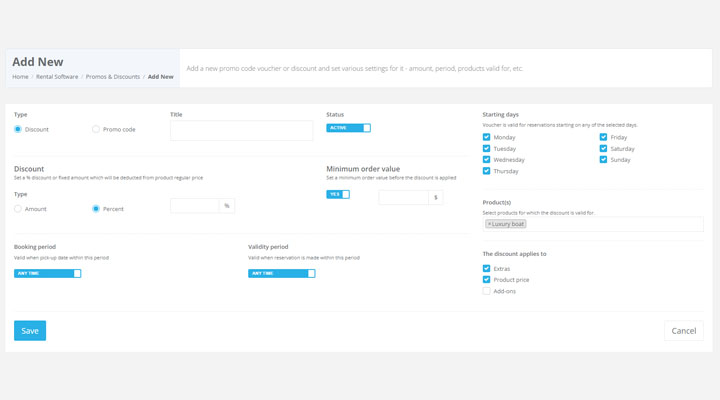 Analyze reports
Always stay up to date with how is your boat rental business running by accessing, exporting and analysing different reports in your boat rental software.

They will help you with making successful business strategies and improving your business operations.
Set up contracts and documents
Organize all of your documents in one place with a robust online boat reservation system.

Set up auto-generated documentation for each reservation and save valuable time that can be invested in your business management instead.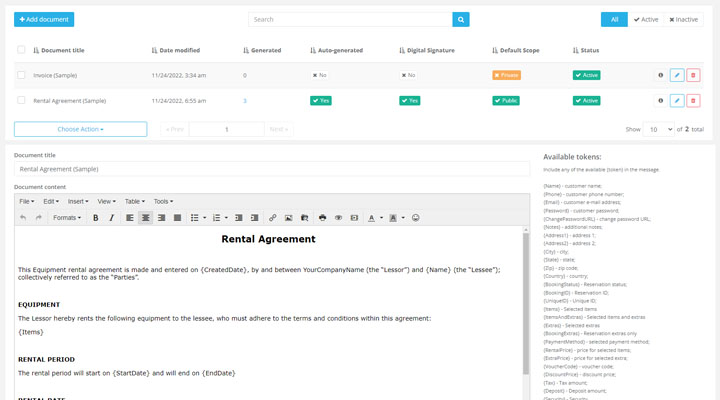 If you need assistance setting up a boat booking system or website, our in-house technical support team can assist you. Whenever you need us, please don't hesitate to contact us.
Connect API & export
Using the built-in Export and API functions, you have full access to all the data from your boat reservation software.

Manage different API tokens and export all the data in multiple different formats - iCAL, CSV, JSON, XML. Use API calls to check product details, availability, discounts, reservations and anything else you need access to.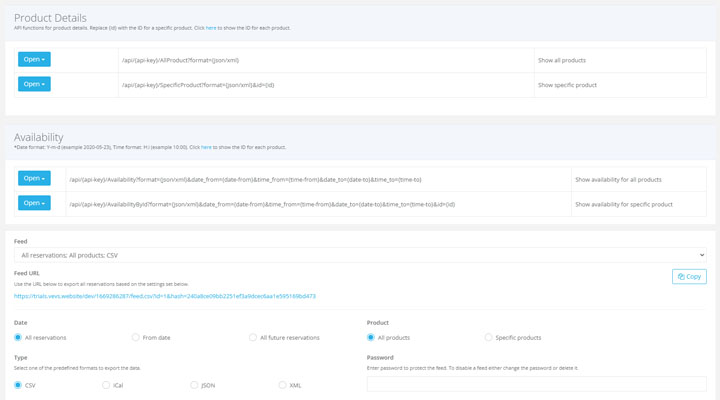 Create your Boat Rental Software trial account. Start