Managing online channels is an overwhelming but unskippable task for every property owner or property management company.
We know how vital online travel agencies (OTAs) for your sales are. And a proper channel manager can significantly suffocate your daily tasks. But it will help you avoid overlapping bookings as well.
Having your own website brings a lot of advantages for your business too. For instance, you're not paying any commission, and you can send an offer to your previous clients and convert them into returning guests.
However, if not connected to your channel manager, your website might be useless or brings back the nightmare of managing availability and pricing in multiple accounts and software.
Here's why we're happy to announce that we've teamed up with one of the most reliable channel managers in the market - Rentals United.
Our VEVS Vacation Rental Website and Rentals United integrated solution perfectly solves property management difficulties and gives a straightforward solution to your business needs.
Rentals United
Rentals United is one of the best channel managers with more than 60 channel partners, helping you connect with your guests right where they search and book.
It is an advanced distribution platform for professional short-term rental property managers looking to advertise on worldwide booking channels.
Rentals United is a powerful solution for property rental companies because it allows you to completely synchronise your availability and pricing to the other online travel agencies (OTAs) and gives you advanced distribution to global and niche listing sites.
And the best part is that everything is automated! Rentals United saves you so much time that you can focus on growing your business instead of constantly keeping track of each OTA's availability.
It also allows you to manage all of your properties using a single dashboard. This will give you a clear look at how your business runs, which is significant for successful property management.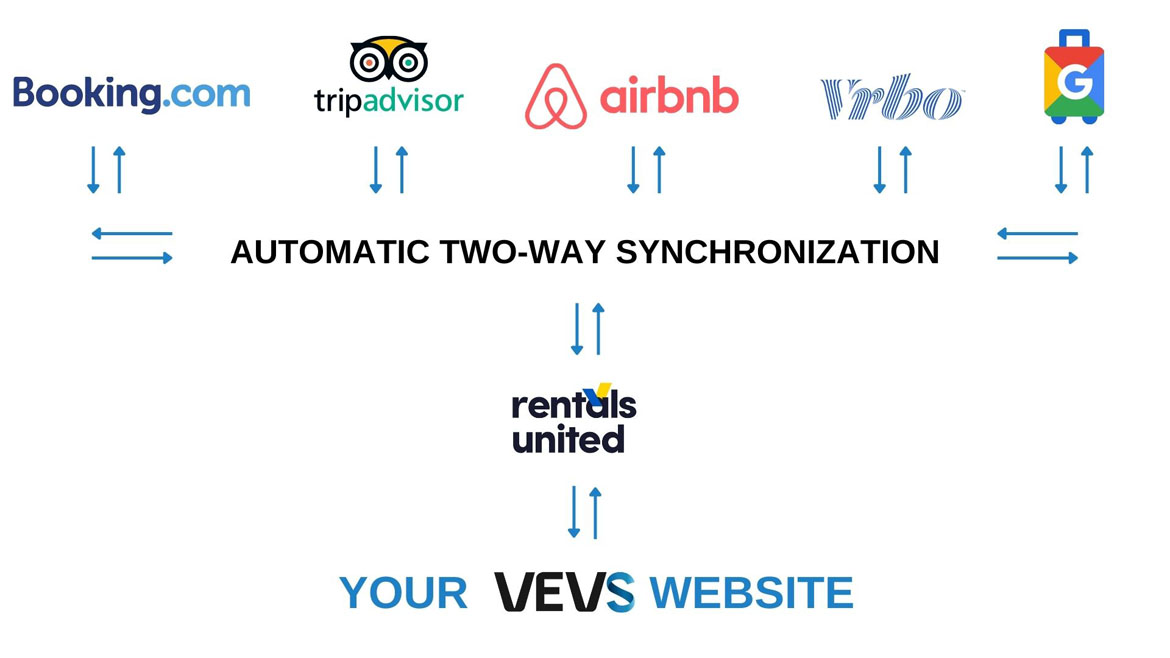 How does it work?
Rentals United's primary goal is to make your property management as easy as possible. And they're true masters of it!
Your VEVS Website takes information about your properties, pricing and availability directly from your Rentals United account. When you list or edit your properties in your Rentals United account, the listing information is automatically synchronized and updated on your VEVS website.
On the other hand, when receiving a reservation on your VEVS website, the pricing and availability are automatically synchronized with your Rentals United account. Then the reservation is recorded in your Rentals United account, so you don't have to worry about anything.
But that's not all. The VEVS Website Builder also takes care of your website's ultimate performance so that your online business runs all the time smoothly.
Advantages of having a synchronized VEVS & Rentals United website
A unique two-way synchronization is one of the main benefits we want to provide our clients with. Yet, there are several other important ones that we've mentioned below.
It's well known that when you're listing a property into your Rentals United account, you're paying a commission whenever a client makes a reservation from a particular OTA. But you're not paying a commission at all when having your own website.
According to our research, 31.6% of clients considering booking a room or property via online travel agencies (OTAs) are also searching for the hotel/property website. Furthermore, 76% of them would book on the hotel/property website if they found a better deal.
So having a website is a huge advantage that will save you a lot of money and increase your profits significantly. You can even calculate how much money you could save when having a VEVS website on the https://www.vevs.com/rentalsunited.php.
The other significant benefits of having your own website synchronized to Rentals United are:
Reach more clients directly on search engines.
Create online and offline ads for your properties.
Convert your previous clients into returning guests.
As a result, you will pay less to receive more when having your own website. Moreover, you can also give your clients more personal attention by directly interacting with them, which many clients pay even more attention to nowadays. And who doesn't want to have happy clients?
How to start?
Rental property management has never been as easy as now, thanks to our partnership with Rentals United. So we're thrilled to say that together, we've managed to provide all the property rental businesses with an ultimate solution for their day-to-day tasks management.
So if you're excited about how our partnership with Rentals United could benefit you, feel free to try it out with the 7-day free trial.
And if you have a question or simply want to share your thought with us, don't hesitate to contact our dedicated customer service team.