Being visible online is a key success factor for each business. In today's frantic, digitalized world, more than 70% of people look up a company in Google before buying something or using a specific service. We all do. That's why having a website and showing your products and services on the world wide web is not a luxury. It is far more a necessity. The website creates your virtual image, fosters credibility, and - administered wisely, can become your irreplaceable online front-office assistant.
Since they are inextricably bound up with client servicing, beauty salons and spa studios can enhance customer experience by offering quick and simple online bookings and regular updates on featured products and services. Thus, business owners can win new clients, retain repeat visitors, and manage reservations more efficiently. For this purpose they need a stylish, easy-to-manage website with the most essential functionalities. You can have all this in one place with VEVS. Just try our Hair & Beauty Salon Websites for one week, completely free of charge! They are suitable for various hair, beauty, SPA & Wellness, and barber shops.



What You Will Get With VEVS

VEVS is a customer-centric business website platform enabling entrepreneurs from all domains to bring their business online in shortest terms and at a reasonable cost. We know very well that you have no extra time to deal with creative web agencies, domain registrars, and hosting providers. That's why we have taken over all these tasks and left the nice part for you. Opting for VEVS salon websites, you will have:

- a stunning, mobile-optimized Hair & Beauty Salon Website ⇒ MORE CLIENTS
- fitted with a built-in online appointment booking software ⇒ BETTER CUSTOMER EXPERIENCE
- professional pre- and after-sales support and assistance ⇒ ONGOING HELP
- complete service pack, customizations, and add-ons ⇒ A-Z CUSTOMER SERVICE
Why Choose VEVS Hair & Beauty Salon Websites

FREE 1-week Trial & Customizations
One of the main advantages of VEVS website builder compared to other similar solutions or the custom-made websites built from scratch by web agencies, is that you can see and try the beauty salon website in advance. This gives you the chance to calmly explore all its features - both from the customer's and user's perspective, and find out what could make it even closer to your needs. Though our Hair & Beauty Salon Websites come with all must-have pages and functionalities, you can request other extra features, fine-tunings, and add-ons.
Hassle-free Launch & Content Management
In order to start and administrate your beauty salon website, you don't need to have profound IT or coding skills. To get it up and running, you just have to add your company details, text content, and high-quality images. The intuitive online content editor will become your best friend and make updating your website an enjoyable task. If this is still too fiddly for you or too much to handle, our Customer Success Managers will gladly help you out!




Flexible Subscription Plans
After the trial period is over, you can keep your demo salon website installation by upgrading either to the FREE version or one of our subscription plans (monthly / yearly). It depends on the size of your business and the budget you can allocate for online marketing. The FREE beauty salon website is intended for newly started beauty shops, whereas the paid plans are better suited for salon owners who want to bring their business to the next level.
Cut Administrative Costs
Having a modern beauty salon website with a thoughtfully integrated appointment booking software will enable your customers to schedule an appointment online at any time of the day. This will spare you or your team the effort of picking up the phone and keeping a paper day planner. All appointments will be neatly organized in the user-friendly admin panel which will be accessible by the authorized team staff. Thus, you will not need a designated and extra-paid assistant to keep your schedule.
Dress to Impress!
We have intentionally started with the practical arguments, so we can save the best for last. Design matters! Especially when your business is so inherently connected with beauty, well-being, and fashion trends. For starters, we have prepared three stylish beauty studio website templates in vibrant color themes you can choose from. You can add high-resolution images to present your salon and team members, advertise your products and services with flashy co-branded banners, etc. We have included all must-have pages and website sections but you can request any other fine-tunings.




What Can You Do With VEVS Salon Website?

Present Services, Offers & Staff
Using our salon websites, you will have all necessary instruments to showcase your services attractively to customers - add illustrative pictures to each service, specify service price and duration, etc. You can easily keep your regular clients up to date about Hot Offers by promoting them on your homepage by means of attention-grabbing banners. Let customers meet your team in advance by creating lively personal cards for each team member. Another positive effect is that this will make your employees or colleagues feel appreciated.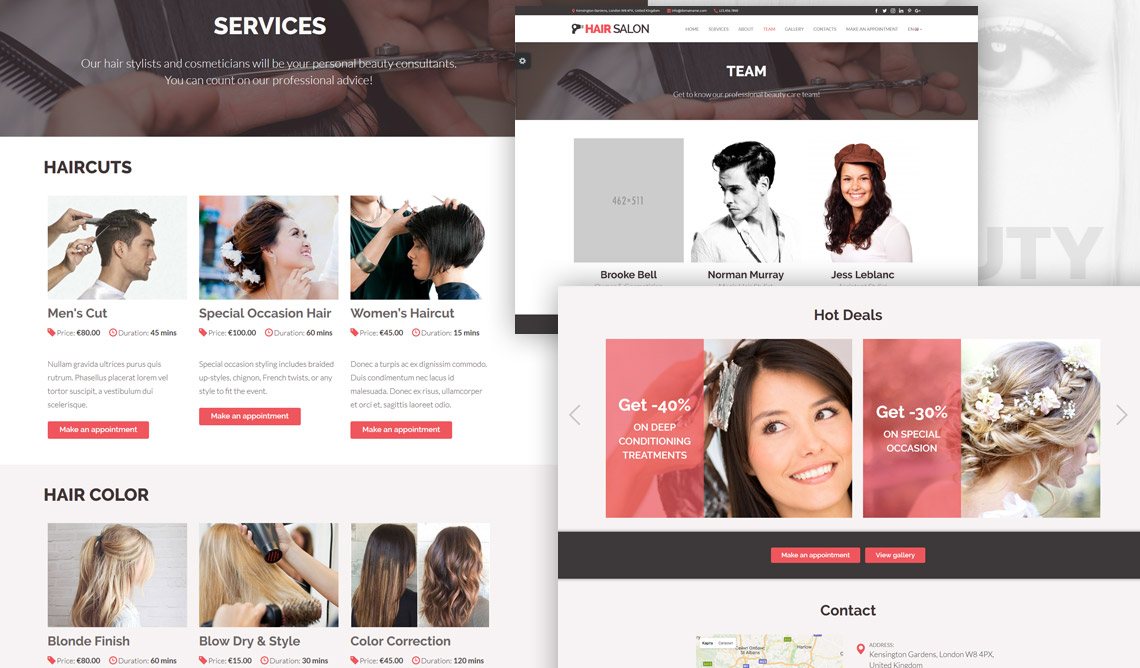 Simple Appointment Bookings & Management
Making an appointment on our salon websites is child's play. We have dispersed call-to-action buttons on all suitable places on the web pages (Home, Team, Services) so as to shorten the customer's way to your studio. You can enable or disable online payments, customize the booking form, add your booking terms, etc. After logging into the intuitive admin area you will be able to review all reservations, see customer's details, change booking statuses, and even issue invoices upon request.




Connect To Social Media Profiles
If you already have business pages in some of the popular social networks such as Facebook, Google+, Instagram, etc., you can easily redirect your clients from or to your beauty salon website. Along with your studio address, email, and phone, the header ribbon contains quick social media icons. In order to connect your website with your social accounts, you just need to add the respective links in your Company profile settings. Thus, you can attract more people to your new website and diversify your online marketing channels.

Boost Your Exposure on Google
VEVS Hair & Beauty Salon Websites are optimized for search engines - they have a clean HTML code, SEO-friendly URLs (i.e. web page addresses), and editable meta titles, meta descriptions, and page alt tags. You shouldn't feel unease if these terms say nothing to you. Metadata is all the information about a website or specific web page that you send to search engines that isn't visible to your visitors.

The meta title is a synonym for page title. It appears in the title bar of the browser.

The meta description is a ~160 character snippet (usually 1-2 sentences) summarizing each web page content. Its main purpose is to get visitors from Google search results page to click your link. In other words, meta descriptions are there to generate clickthroughs from search engines.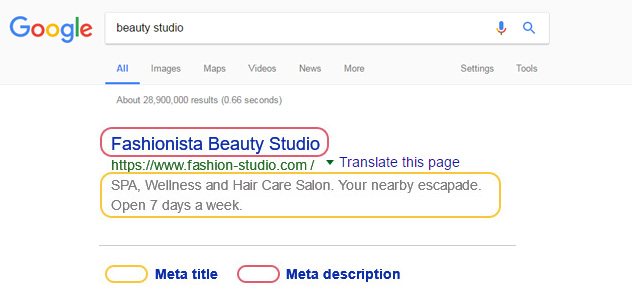 The alt tag (attribute) is used by screen readers - browsers used by blind and visually impaired people, to tell them what is on an image. If a keyword would be useful for finding something that is on the image, include it in the alt tag.

You don't have to be an SEO expert to optimize your beauty salon website. There is a lot of information on the internet on how to make your site Google-friendly, but we can also give you some useful tips. For example, listing your business on Google My Business. It is essential for all types of businesses that deliver services on-site. And what's more - it's totally free!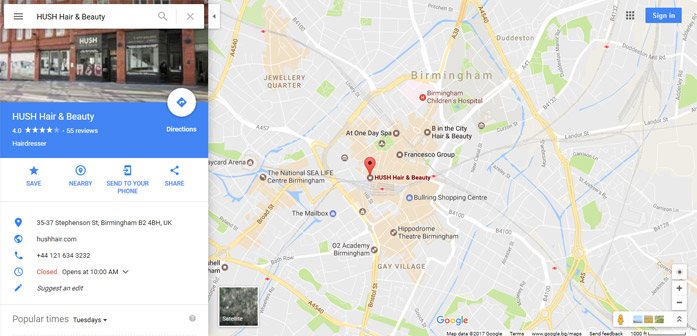 Creating your Google My Business profile will connect you directly with customers, regardless if they are looking for you on Search, Maps or Google+. Your profile will include your business name, website URL, photos, a map, reviews, contact details, and working hours. This will not only give visitors more information about your salon, but will also assure them on the reputability of your services. Listing your business in Google My Business will have a direct impact on your local search rankings and will help people find you more easily.


In summary, VEVS is a lot more than just a website builder! Opting for VEVS will not only equip you with a stylish Hair & Beauty Salon Website allowing simple online appointment bookings and a great presentation of your beauty and wellness services. You can also count on our professional and customer-focused assistance and consultancy along the way. In the end, making your beauty business successful is our mission, too! Shall we start right away?

Check VEVS Hair & Beauty Salon Website demo!
Create your FREE 1-week trial!

If you have any questions, don't hold back to contact us!