After delivering multiple Car Dealer Websites and custom projects to our clients and analyzing their helpful feedback, we decided to address the most significant and repetitive improvement requests. All VEVS teams - customer support, web development, marketing, rolled up their sleeves and joined forces to produce a better and smarter version of our auto dealership websites. The key tweaks and fine adjustments can be categorized into four main groups:
1) New pricing tiers, including a lifelong FREE subscription plan;
2) A very useful and mindful set of new features and functionalities;
3) 5 new trendy website templates, each available in 10 color themes;
4) Total makeover of VEVS content management system (CMS).
All these enhancements will enable you to manage your auto dealer website more conveniently and to provide customers with a more intuitive user experience and value-added services. The improved SEO settings and online presentation of your car inventory will give you all the trumps to attract more leads and pump up conversion rates.
Let's go into more details and review VEVS Car Dealer Websites version 1.2!

FREE, Small business & Enterprise plans


Previously, we had one solution for all car dealers and two payment plans - monthly and yearly subscription. Now, you can choose from three options depending on the scale and strategic goals of your auto dealership business. Startups which usually dispose of a minor budget and just a few cars for sale can come aboard VEVS Website Builder for FREE. They simply need to add their company details, upload their car listings and visuals, and set up the auto classified software to get their website up and running. The free version goes with a limited support service package and requires a relatively independent website administration.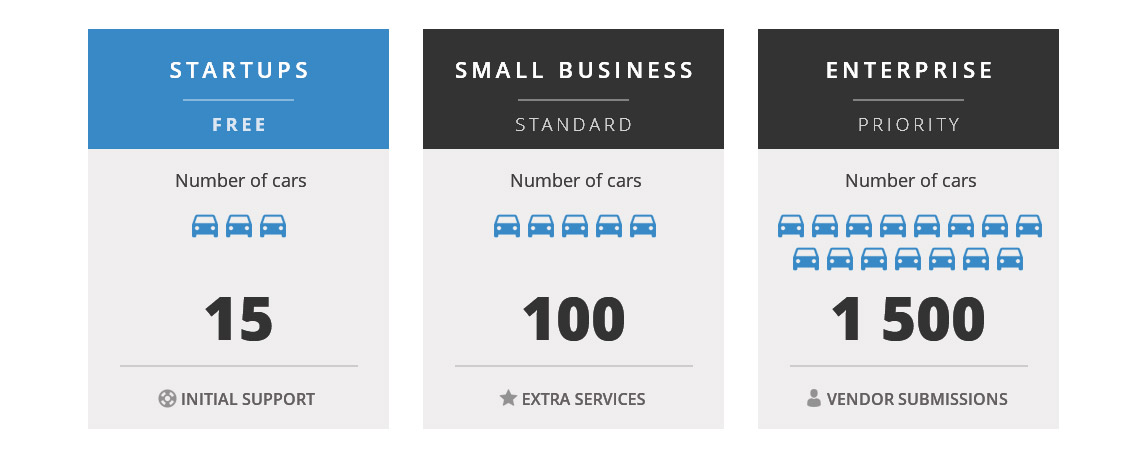 Car dealers with up to 100 vehicles for sale and an already established business, would rather opt for the Small business pricing plan. They will get a reliable customer and webmaster support, as well as other extra services with the yearly subscription plan.
The Enterprise plan is mainly intended for those of you who would like to start a web-based business with an online auto trader portal by allowing other auto dealers and vendors to list car ads on their website. They get the full-service package and can realize significant savings with the annual subscription.


Better online presentation of your car listings


Show car seekers your best offers straight on your home page and grab their attention on the spot! Now there are two page sections - one for Featured cars and one for Hot Deals. Cars marked as Featured or Hot Deal will appear with the respective label in the search results. We have also added all Hot Deals on a separate page so that people can review all offers at a glance and keep track of new postings.
There is yet another new section on VEVS Car Dealer Websites which allows visitors to browse cars by make and type. We have enriched the list of predefined makes (along with the corresponding models) to 150 to facilitate your operations as much as possible. If we have skipped some brand by chance, you can quickly add the missing make and model from the admin system.

Cars available for lease can be listed on your website both with the total price and the monthly installment, as well as a standard and decreased price - if you wish to speed up the sale. You can also configure the currency abbreviation position by putting it before (USD 2,500) or after the amount (2,500 USD).
You can upload a bunch of high-quality images on each car details page and embed a YouTube video link so that interested buyers can get a more realistic impression of the vehicle. (Please, note that you cannot upload video files, but use URLs only.) If you would like to disclose the dealer identity and contacts, you can now add a company logo or broker image, too.


Improved sharing options and SEO


Connecting your Car Dealer Website with your company social media profiles is not just trendy and "cool" but rather essential for your online presence and reach. That is why we have added quick social share buttons on each car listing page enabling you and your site visitors to post the respective car classified ad straight on your/their feed. The more direct shares your cars have, the better for your SEO rankings. If you don't have social pages yet, you'd better catch up and start at least with Facebook and Google+. We can also help you with it!
Another useful alternative is sending car ads via email. Your website visitors can share a link to a selected car details page with their friends and all people who might be interested. By default, the email subject contains the vehicle make and model, but you can also change it.

All these smart sharing features will help you boost sales since your hot offers will reach a broader audience more easily. Your website visitors will in a way become your advertising agents - the best possible advertisement is word of mouth. It fosters credibility and adds a human touch to your ads.
The URL structure of your website pages can also impact SEO positively. Version 1.2 of our website builder allows you to include a language abbreviation in the page links if your site is multilingual. It is an enhancement from SEO perspective since Google will index the URLs for all language versions.
For your default language version, you have the option to choose if the URLs contain the language abbreviation or not.
http://www.cardealersite.com
http://www.cardealersite.com/en-GB/

Customize and manage your car dealer site


Our clients can now choose from 5 website layouts each available in 10 different color themes. They can be easily changed both from the front-end and back-end CMS as many times as you wish. This will allow you to attune the design of your new car dealer website to your brand identity. Using the improved content editor you can also edit buttons, along with all other titles, fields, and links.



The new dashboard which will welcome you when you log into the content management system now has a horizontal menu with four main tabs: Website Settings, Website Design, Website Content, and Car Listings. You can easily keep track and access the latest cars added, see the total quantity of cars by category, and add a new car with a single click. Follow our helpful tips in the Startup guide area to make the best use of your auto dealer website!


Get leads straight from your website


Most of our customers from the auto dealership business offer leasing services. That is why we have added a separate Finance page on our Car Dealer Websites which loads a handy, customizable Finance application form. Car seekers can also apply for finance from each vehicle's details page. This way site visitors can quickly and easily check whether they will be approved for a leasing. This value-added service can shorten the way to purchase and thus increase conversion rates.



Besides, potential buyers can use our brand-new Loan Calculator available on each car listing's page to calculate their monthly and total loan payments. Admins are free to enable / disable and customize the Loan Calculator tool from the backend by defining the interest rate and adding multiple loan periods.

Turn your website into an online car portal


If you would like to monetize your auto dealership site, you can enable other car owners and brokers to post their classified ads on your online marketplace. Note that this functionality is available only with our Enterprise subscription plan. Third-party car listings (submissions) can be either free or paid. In the previous version of VEVS Car Dealer Website Builder, vendors were only able to publish one car at a time, whereas now they can buy a package and use it to list multiple cars at different times.
We have made this possible by introducing a smart credit system allowing you to create three types of car listing packages with separate pricing options and settings: Standard Listings, Featured Listings and Hot Deals.


You have all the freedom to set up and administrate different car ad packages and offer vendors the chance to select the most suitable for them. Just define the period (days), credits, and price (if applicable) to add a new package. Registered owners can easily extend the particular listing period, keep track of payment history and manage credits from their Vendor profile. Upon login, they will only access their accounts and car classified ads.
The people and companies that would like to list cars on your website can now use various online and offline payment methods and are not limited to PayPal like before. Upon request, we can integrate all other payment gateways that you may need into the VEVS auto classifieds software.
To see the bigger picture, check all features of VEVS Car Dealer Website 1.2 and create your FREE 1-week trial! Just select your preferred website template and sign up!
If you have any comments, ideas or improvement suggestions, feel free to share them with us! We will highly appreciate your feedback and will use it for further fine-tunings to our Car Dealer Website Builder!