Inventory management

Manage your car inventory and make your car classified ads stand out with professional images, videos, extras, features and equipment.

Sales managers

Add all your sales managers to your car dealer software to help you manage your online car dealership business more effectively.

Inquiries

Make it easy for your customers to contact you with just a single click by including a vehicle inquiry form on each car page.
New & used vehicles

Allow your clients to quickly find the car they are looking for by categorizing your cars into two categories - new and used and speed up the booking process.

Price alerts

You can make sure your customers don't miss a deal by sending them an automatic email notification when prices change.

PDF brochures

Provide your customers with an auto-generated PDF brochure that contains complete details on each vehicle you sell.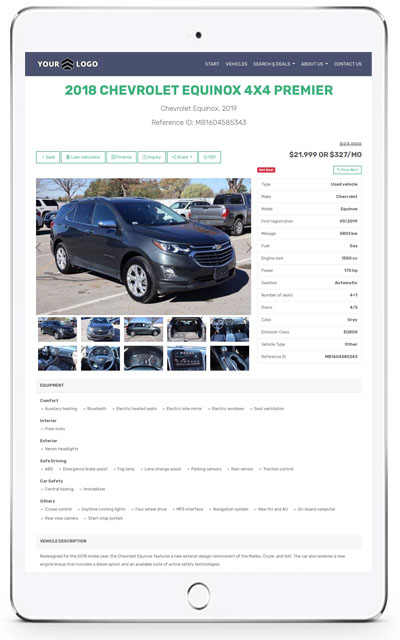 Apart from the numerous options available in the VEVS car dealer website software, our development team is also able to provide any custom modifications to make sure your website reflects the needs of your business.
Vehicle details
Manage each of your cars separately and present it in the best way possible to your customers on your car dealer website to establish yourself as a professional.

Write an attractive description, upload high-quality photos and video of the real-time usage of each car, add detailed information about the features & equipment and more.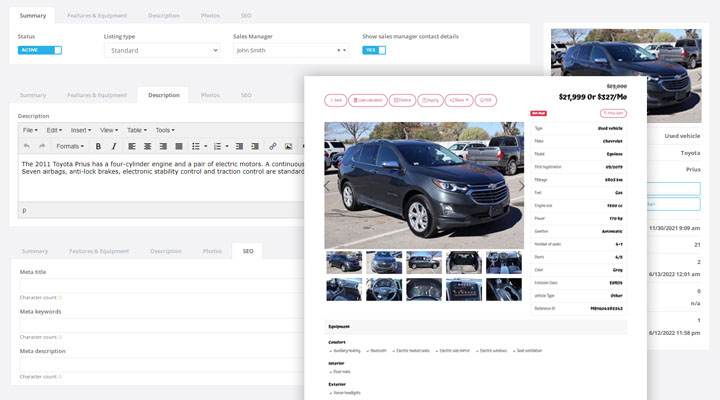 Images & video
Draw the customers' attention to your car dealer business and your offers and turn your visitors into clients by including professional images and videos of your cars via the robust VEVS Car Dealer Website Builder.

Including high-quality photographs and videos of your vehicles will make your dealership company look professional and credible and help you easily increase sales.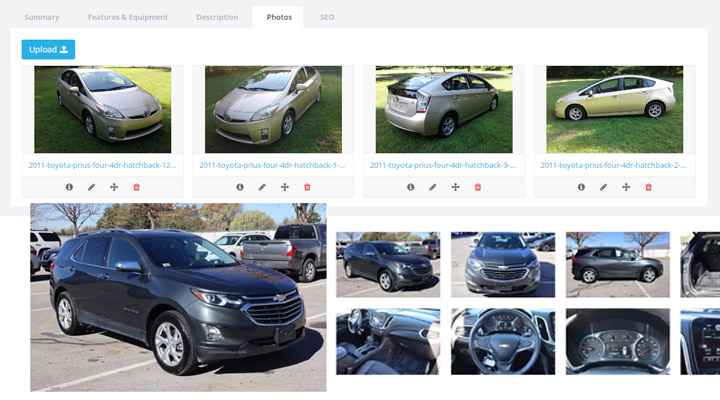 Featured cars & hot deals
Introduce a new vehicle faster and ensure every potential customer will see it by making specific car offers as featured ads.

You can also add a "hot deal" mark to some of your cars by reducing the price and creating a quick burst of sales during slow times.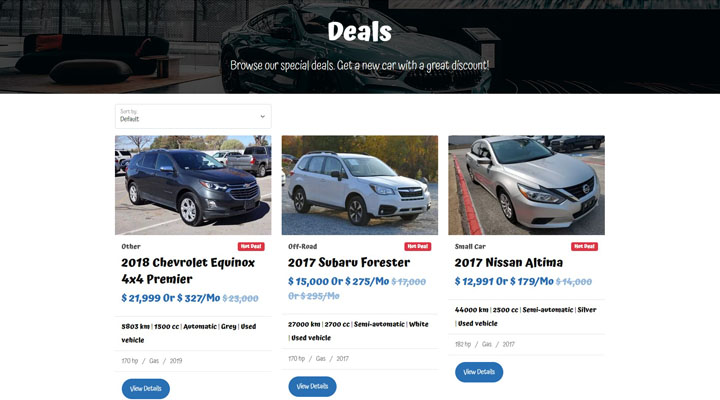 Choose from the ready-made car dealer website designs and make your car dealer business stand out.
Create 7-days Free Trial
Invest in a powerful and technologically advanced Car Dealer Website Builder, build a modern car dealer website, and allow your clients to browse your cars 24/7 and get found on search engines by potential clients.
Makes & models
VEVS car dealer software comes pre-loaded with various makes and vehicle models to ease the process of starting your online business.

However, if the ones in your fleet aren't available, you can add them manually via the Makes & Models menu and customise the VEVS Car Dealer Website Builder to suit your business needs.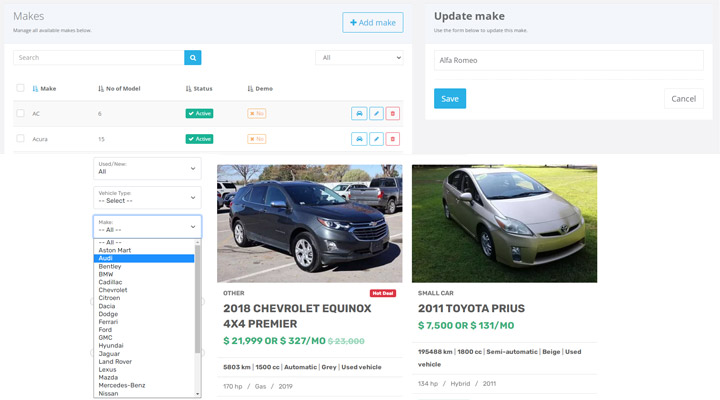 Features & equipment
Add comprehensive information about the features & equipment of each of your vehicles and provide as many details to prospective customers as possible to create an interest in them.

You can use the pre-loaded options or add new ones that you prefer working with that best fit your business model.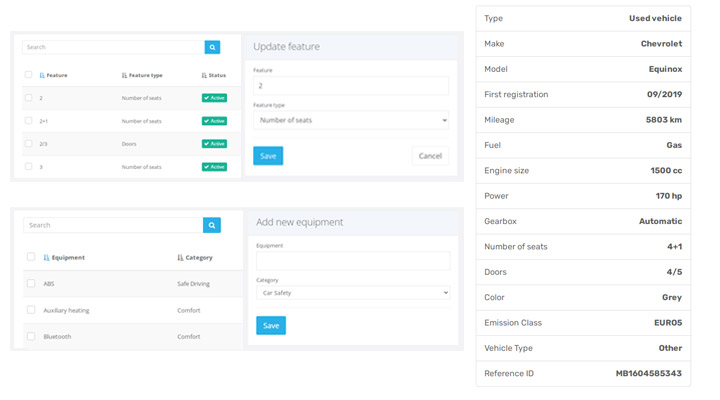 Loan calculator
Enable a loan calculator on your website to provide your clients with all the information they need before closing the deal. The annual interest rate, loan period, minimum initial deposit amount, and maximum balloon payment can be edited.

By doing so, you can let your clients directly receive information regarding the total payable amount and eliminate countless phone calls and emails.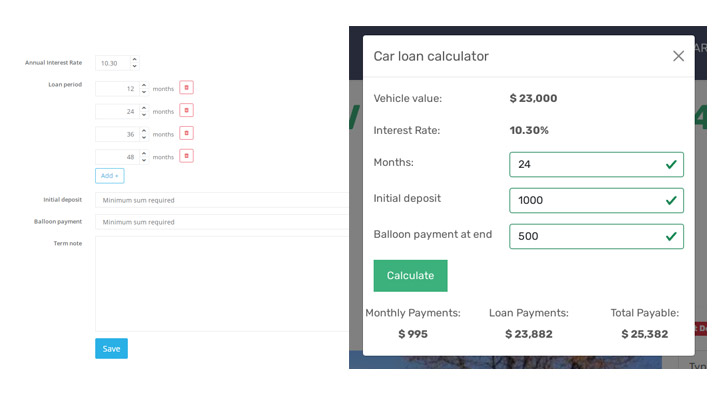 Sales managers
Add sales managers to your car dealer website to help you run your online car dealership company more effectively.

Assign them to each vehicle you would like them to work on, update their details to keep them up-to-date and make them visible on your website for clients to see.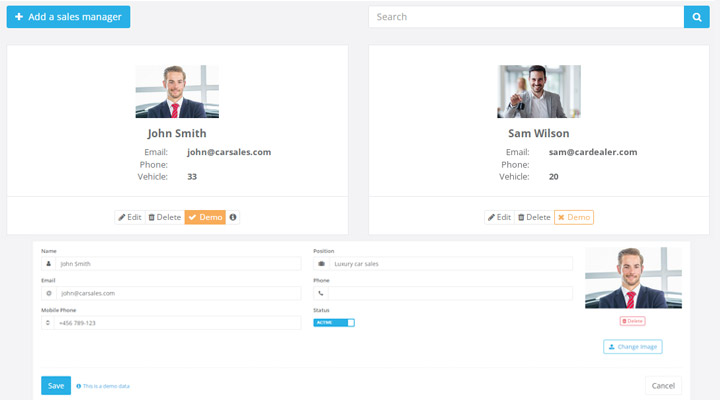 Try the VEVS Car Dealer Website Builder for free. Start now
PDF brochures
Automatically generate a professionally looking PDF brochure including complete details for each vehicle you sell and print or send it to your clients.

This will save you a lot of time and money, as the VEVS car dealer website software will automatically create the advertising materials you need to show to your customers.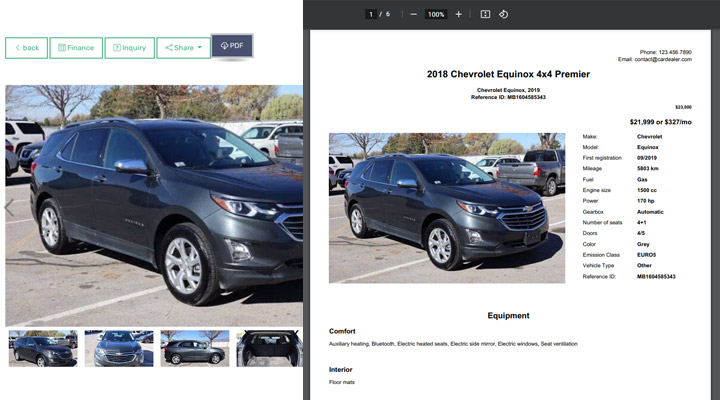 Window stickers
Vehicle window information stickers can be used to communicate prices clearly, details about the warranty of a vehicle, features & equipment, and much more.

The VEVS car dealer website software will automatically generate a unique window sticker for each of your vehicles, which will save you a lot of valuable time. You can then print it with a single click and place it on your car.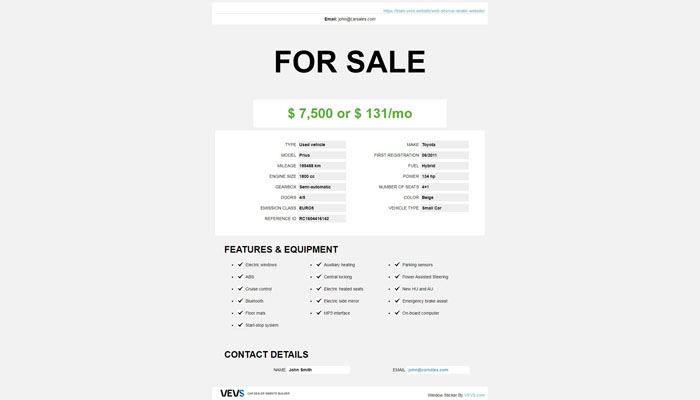 Vehicle requests
There is no need to worry about losing customers due to the lack of vehicles on offer.

Enable a vehicle request feature and let your clients request the vehicles they want by filling in a vehicle request form with all their preferences.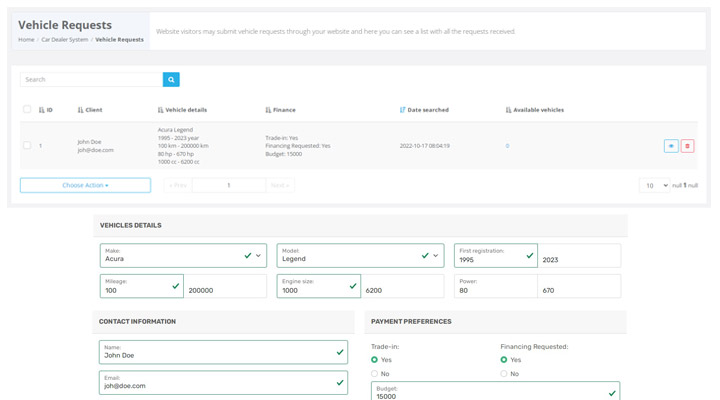 Take your car dealer company to the next level. Use our state-of-the-art VEVS Car Dealer Website Builder to access and manage your entire business from anywhere, at any time and on any device.
Price alerts
Provide your customers with email updates whenever the price of the vehicles they subscribe to changes.

By doing so, you will be able to easily maintain contact with your leads, bringing them back to your website and converting them into clients.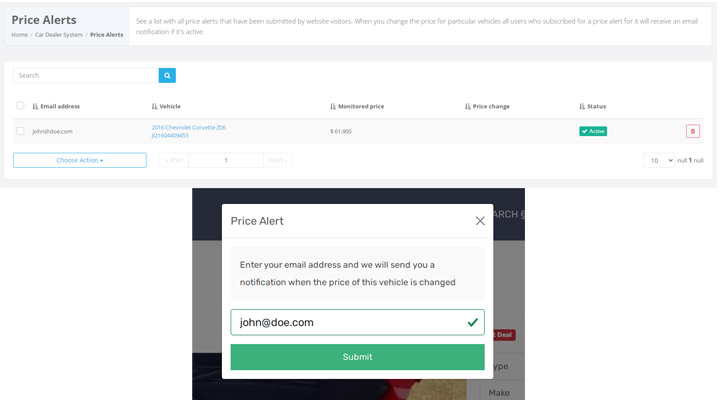 Automated notifications
Utilize the VEVS Car Dealer Website Builder to automate your business operations and boost efficiency for your online car dealership.

Customise the messages for each event and each recipient and enable automatic notifications to your clients, sales managers and administrators with just a few clicks.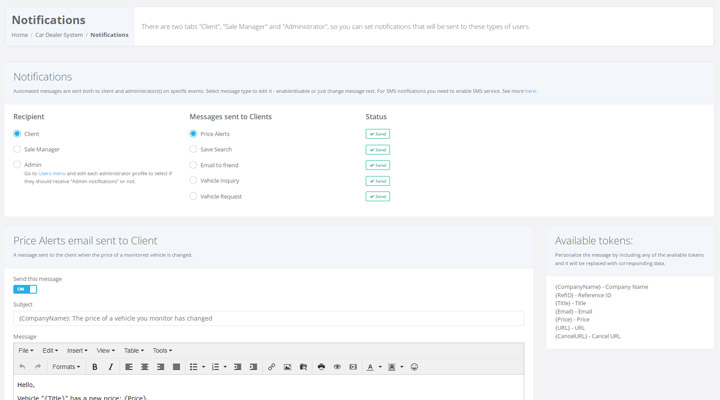 Data feed
If you need to export vehicle reports and send them to someone, your VEVS Car Dealer Software allows you to do so with a few clicks.

You can choose whether to export all vehicles or just specific ones, and the XML file will be ready in less than a minute.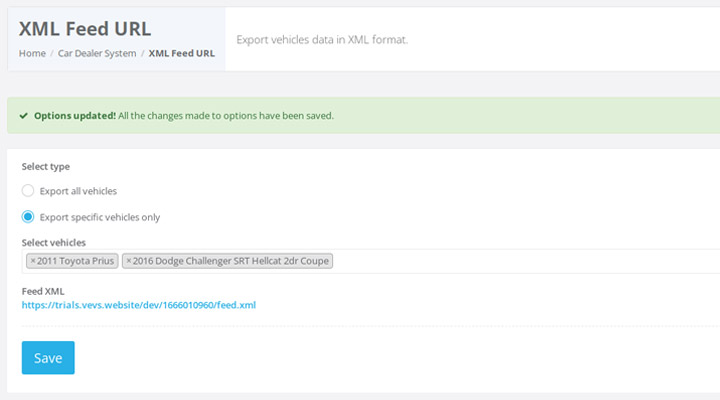 Create your Car Dealer Website Builder trial account. Start