Inventory management

Keep track of all of your bike, ATV, motorbike or other inventory rentals, enhance your business productivity and increase profitability.

Secured payments

Value your customers' time and offer them the option of paying you securely online for their reservations. That way you can also reduce cancellations and no-shows.

Availability calendar

Manage your business more effectively by monitoring the real-time availability of your bikes, ATVs or other vehicle rentals. You can also display it on your website.
Online reservations

Give your clients the ability to book bikes, ATVs, and other vehicles 24/7 and manage your reservations using a single scooter rental software.

Flexible price packages

The VEVS online bike rental software offers an extensive range of flexible and options-rich rates management that suits your pricing structure perfectly.

Automated notifications

Save time by sending automated SMS and email notifications for each step of the booking process and improve communication with your staff and clients.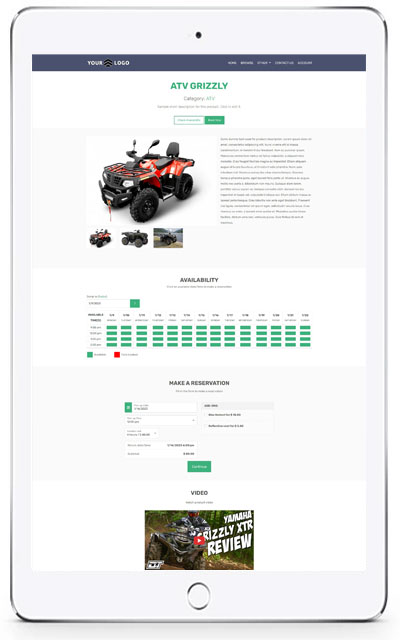 Enhance your online business management and utilize all the features you need to operate and grow your business online whether you rent bikes, ATVs, motorbikes, bicycles, or any type of vehicle.
Show your bikes
The powerful ATV rental software allows you to create appealing product pages, add professional images and videos, customize features for each bike, and show availability.

As you expand your product range, you can create well-organized categories for your bikes, ATVs or other vehicle rentals, making your website easier to navigate and speeding up the booking process.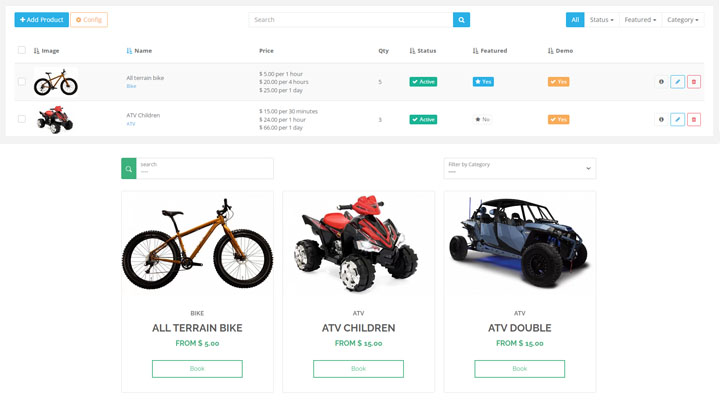 Create categories
Organize your bikes, ATVs, or other vehicle rentals in different categories on your website to make it easier for your visitors to find the vehicle they are looking for.

The motorbikes, for example, can be sorted into different categories, so a customer looking for that product can quickly filter the appropriate category and choose the one that suits him.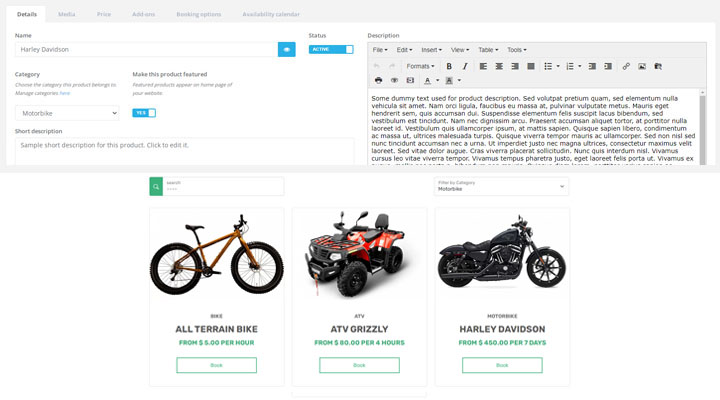 Show availability calendar
You can save your visitors time and facilitate their booking process by showing them an availability calendar, which lets them see only the vehicles that are currently available.

In addition, VEVS' powerful online bike rental software will ensure bikes are available before booking, so you won't have to worry about overlapping reservations.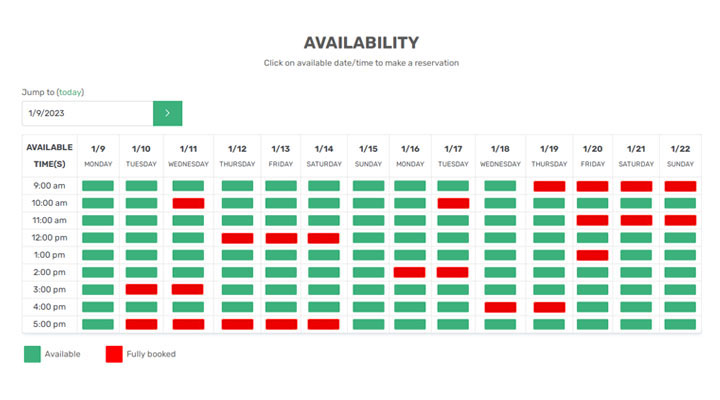 Whether you are on the go or in your office, you can manage your rental business effectively with our robust bike rental software anytime, anywhere and from any device.
Add-ons and extras
Adding specific add-ons to your vehicles, such as bicycle helmets and reflective vests, will make your services more complete and allow you to stand out from the competitors.

Furthermore, you can enhance your business' profitability by offering your clients extra services, such as cancellation services, delivery, etc., with each reservation.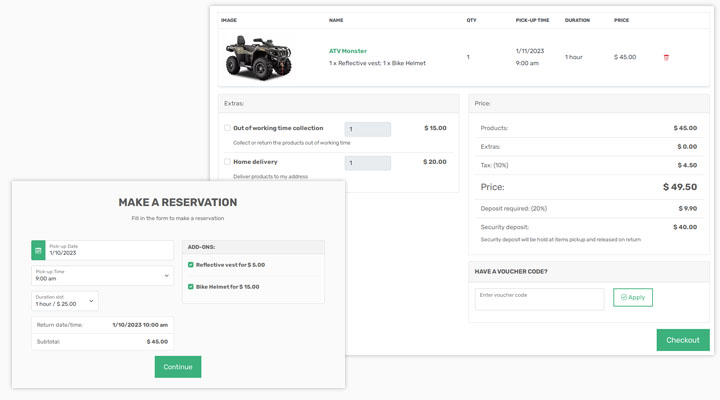 Clients' accounts
Provide your customers with the ability to create an account on your website to manage their reservations effectively, book faster, and make payments online.

The bike rental reservation software allows you to access their profiles, review their booking history, and send them personalised promo codes to increase sales effortlessly.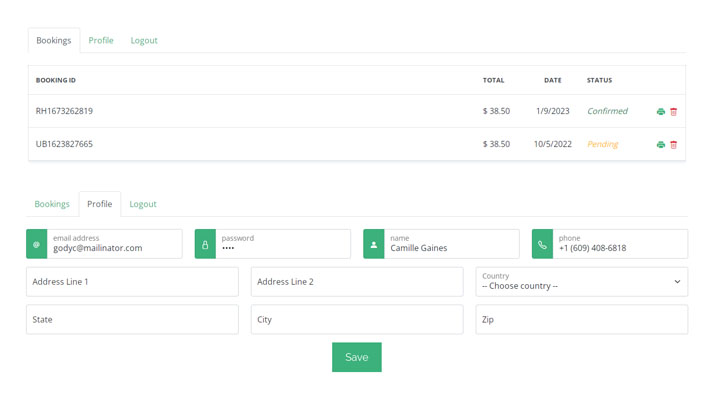 Automate notifications
The powerful VEVS bike rental business software will help you stay organised, manage your business more effectively and efficiently interact with your customers and staff.

Provide your clients and staff personalized and automated emails and SMS messages concerning each event during and after the reservation process.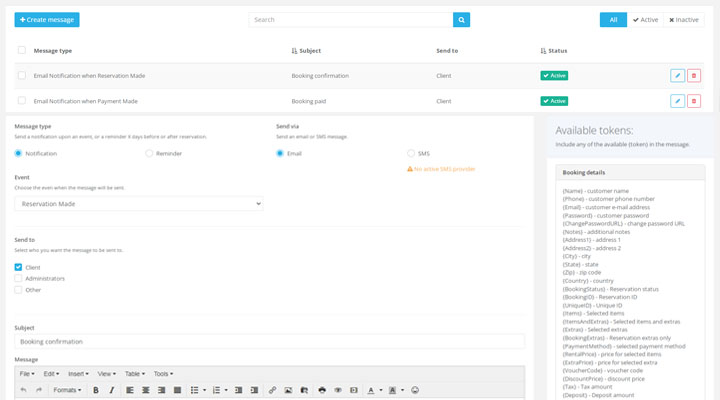 Online bookings & payments
The powerful bicycle rental software reduces cancellations and no-shows by letting your clients pay online in advance for the bikes, ATVs, or other vehicles they rent.

You can also simplify the booking process and increase sales by defining rates, offering extras and add-ons, and setting reservation rules for your customers.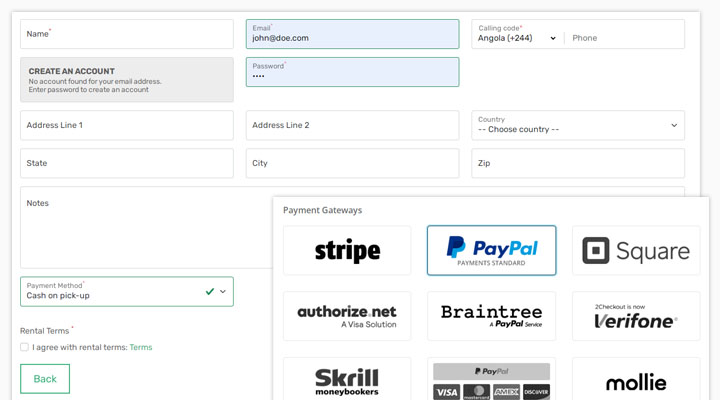 Bike rental software that is fully customizable. Try it free
Collect deposit payments
You can run the risk of not being paid by collecting deposits for selected categories of products and establishing yourself as a professional who values your business.

Your options include taking a percent from the total amount, taking a fixed amount, or even taking a total reservation price if the booking is made within a certain period of time.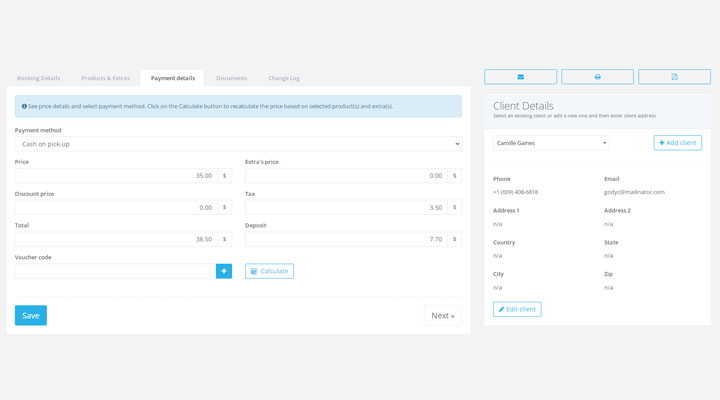 Manage reservations
Make it easier to manage your business operations with online bike rental software that lets you manage all of your bookings at once.

Add extras, insurance, change payment methods, add essential documents, and more - you can change any booking detail. You can even manually add reservations, keeping your business more organised.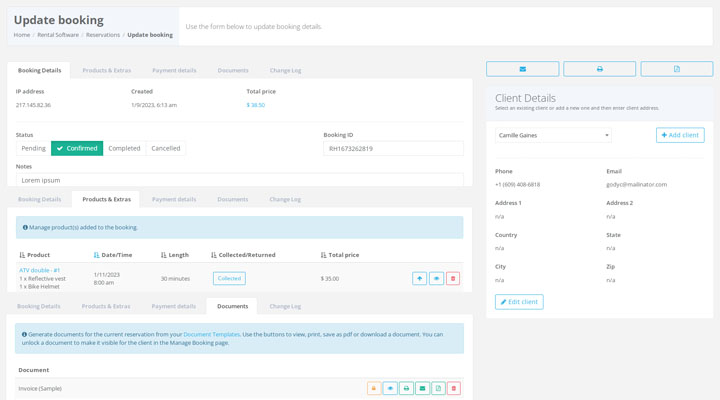 Promo codes & discounts
Providing promo codes to customers helps your business generate more revenue and increase client satisfaction as your customers get the products they need at a lower price.

Additionally, you can apply discounts to reservations that match specific criteria, such as booking period, starting date, etc., to increase reservations and boost sales.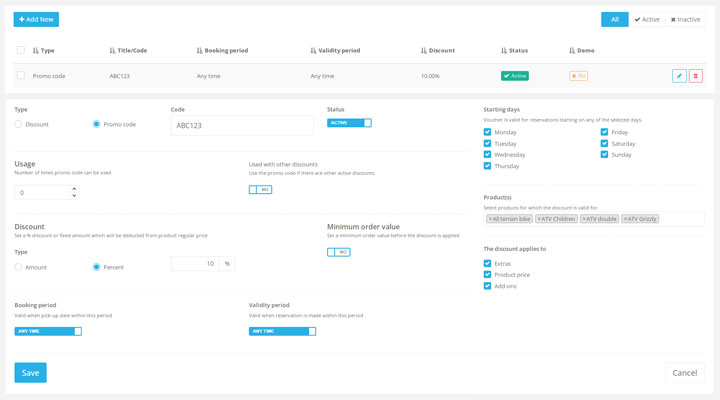 Make it easier for your clients to book online 24/7, automate your business operations, provide a more convenient booking experience, strengthen communication with your clients and staff, and grow your online business.
Similar offerings
Make sure you do not lose your customers because they have not been able to find what they are looking for on your website right away.

Use the ATV rental software to display similar products at the bottom of each product detail page and increase the buyer's likelihood of finding other attractive options.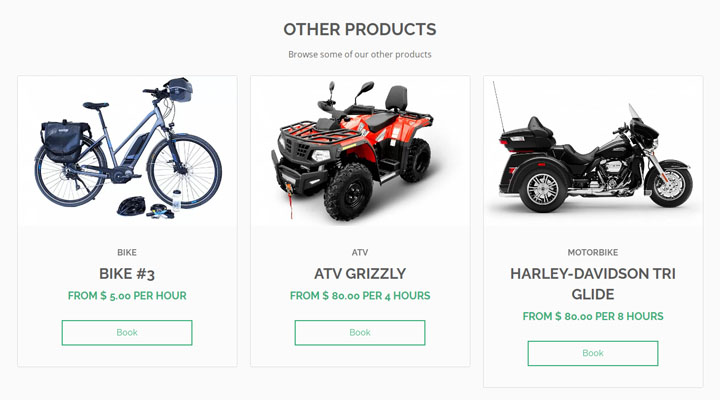 Flexible & seasonal pricing
It can be beneficial for your business to offer seasonal or flexible pricing options, such as weekend pricing, to help you increase sales and better manage your finances.

Our bike rental reservation software provides many features available to customize the prices of the packages. You can add multiple periods, select specific days of the week when the package is available and much more.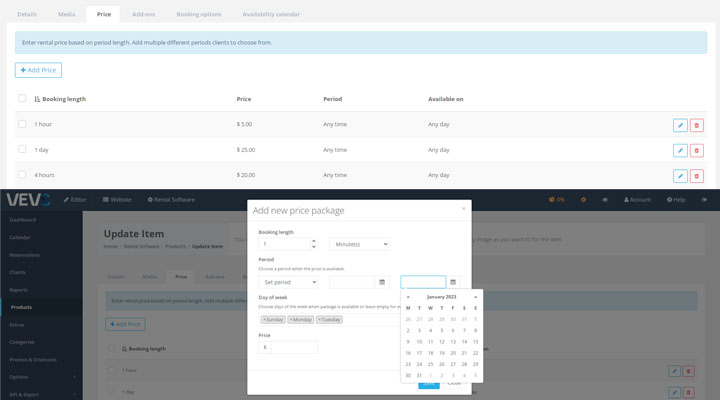 Track real-time availability
The motorcycle rental software keeps you informed of the status of your bikes, ATVs, and other vehicles, so you are always up-to-date on what is available and which ones are being rented.

You can view all of your products' availability in a 7-day or 30-day calendar view, filter the view by products, track all confirmed, pending, and unavailable reservations, and make vehicles unavailable for specific periods.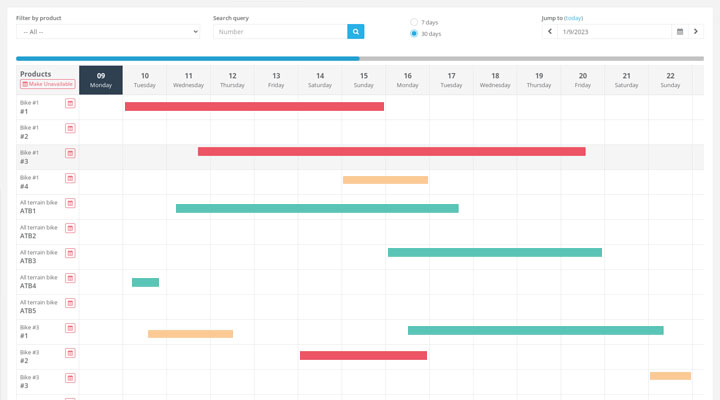 Create your Bike Rental Software trial account. Start now
Inventory management
With the VEVS bike rental business software, you can rent all your inventory - ATVs, bikes, scooters, motorbikes and others, tailor it to your client's needs and increase customer retention and engagement.

You can set up individual booking conditions, inventory numbers and unlimited items for each of your product rentals, track availability, and manage flexible pricing.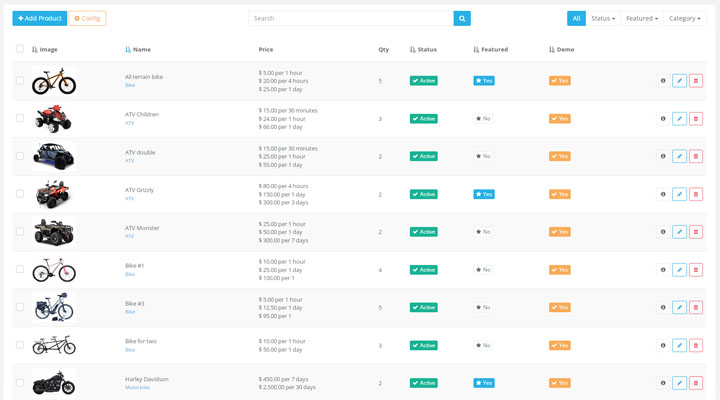 Contracts and documents
The ATV rental software allows you to create and manage a list of documents that you can use for serving your clients and even include the option for digital signature.

Depending on your needs, you can customize the document templates, generate them automatically for each reservation, print, send and view them, or manually edit them.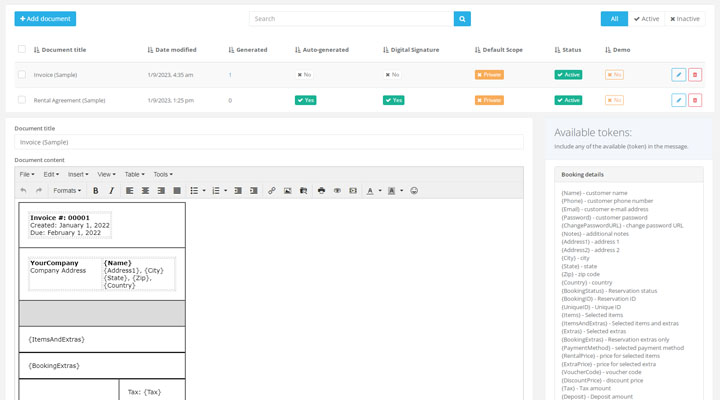 Analyze sales & performance
Improve the decision-making processes, scale operations and always keep track of how your bike rental business is doing by getting access to various activities and reports.

Besides daily reports and product availability, you can also access sales reports, extras sales reports, and more directly from the scooter rental software or export them as Excel files.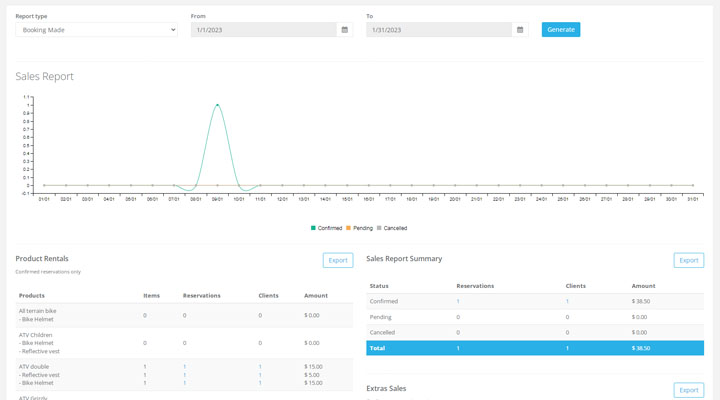 API & Export
Using the built-in Export and API functions, you have full access to all the data from your online bike rental software.

Manage different API tokens and export all the data in multiple different formats - iCAL, CSV, JSON, XML. Use API calls to check product details, availability, discounts, reservations and anything else you need access to.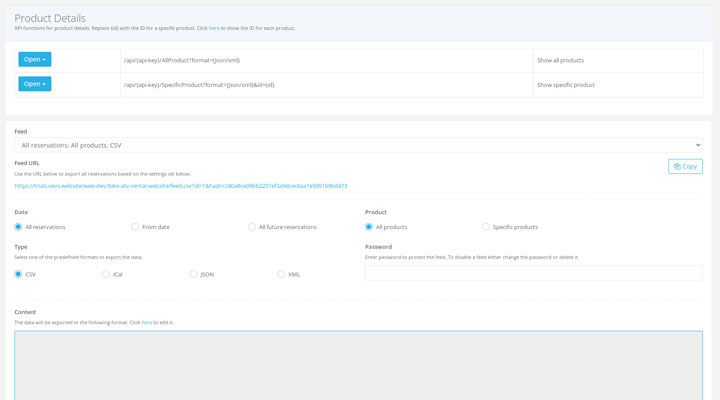 Create your ATV & Bike Rental Website trial account. Start