Yacht details

Display a comprehensive and attractive presentation of your yachts to easily attract more potential clients online.

Interactive Proposals

Increase conversions by sending interactive and personalised proposals to all your leads.

Documents & Contracts

Have all of your documentation perfectly organised and accessible 24/7 via the yacht management software.
Reservation management

Automate your business operations and manage all of your reservations online with just a few clicks.

Owners & Agents

Manage yacht owners' and booking agents' profiles to help you streamline your online yacht chartering business.

Availability Calendar

Display only available yachts on your website via the advanced availability calendar.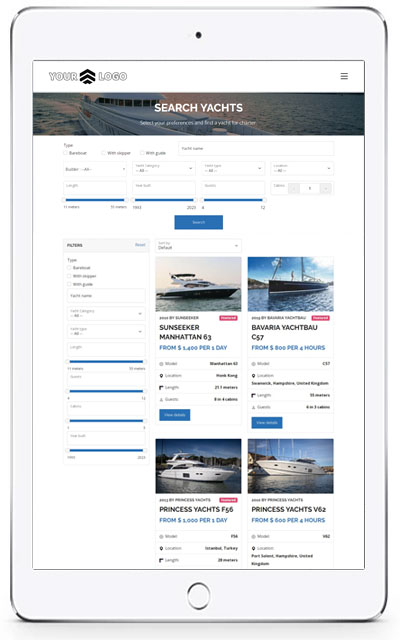 Invest in a powerful and technologically advanced yacht charter software that will scale with your success. Start your 24/7 online sales office, automate client communication, empower your staff and manage your day-to-day operations from a single platform.
Accept online reservations
Accept online reservations, reduce overlapping bookings and simplify the management of your yacht charter business.

The yacht charter booking system also allows you to manually add reservations so that you have access to all of your bookings at your fingertips.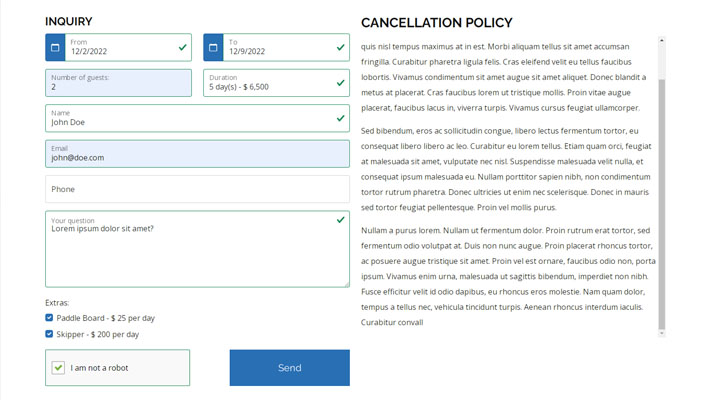 Manage reservations
Automate your rental operations by having access to each of your reservations directly from your yacht charter software and managing them from a single platform.

You can add documents, assign crew members, change the price and reservation duration, and many other things.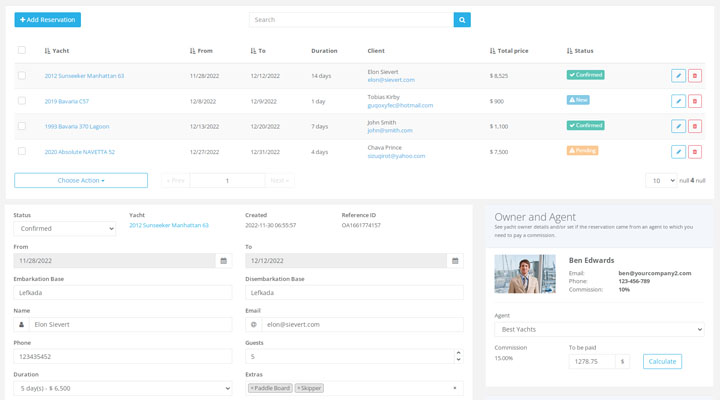 We will assist you in setting up your yacht charter software in a way that suits your business model and needs. As well as the multiple settings VEVS software provides, our development team can customize the yacht management software to suit your specific business needs.
Present your yachts
Display a list of all of your yacht charters on your website, including key information about each yacht, such as name, price, and specifications.

You can also organise them in different yacht categories to make it straightforward for your clients when browsing your fleet.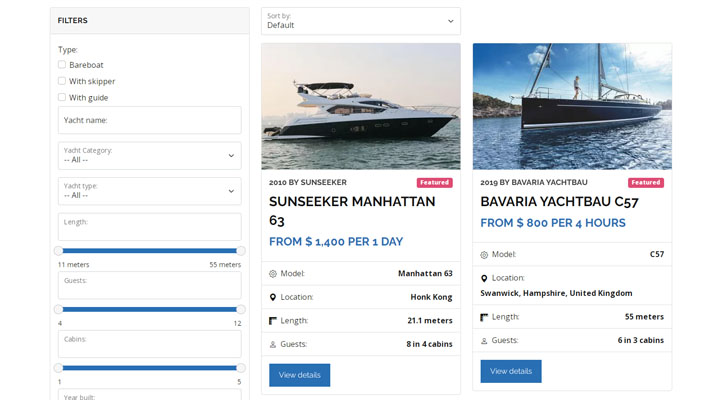 Availability calendar
Save your clients time by displaying an availability calendar for each of your yachts, so they don't have to send you inquiries for periods of availability.

As a result, your clients will have a clear understanding of when each yacht is available for a specific period and can make an informed decision when booking.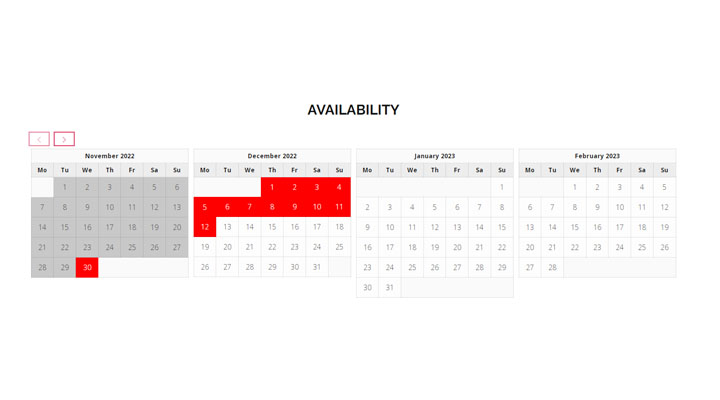 Send interactive proposals
Send personalised interactive proposals and offers to your clients to give them more personal attention and increase their satisfaction.

Several yacht charters can be included in the proposal, along with a route map, a special price, requirements, and terms to make it more customized for your customers.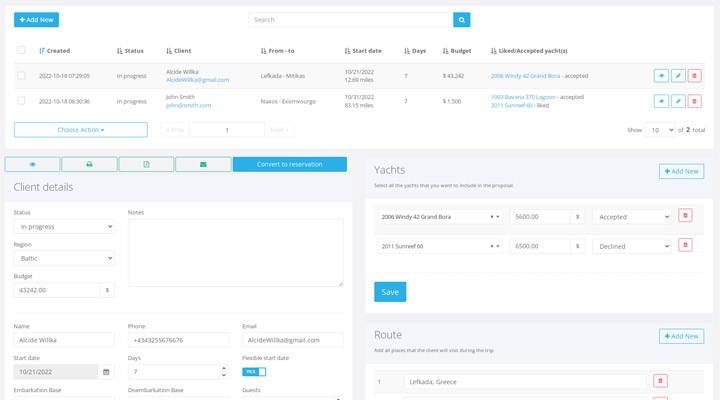 Offer extras
Make your business more profitable with minimal effort by including extras for equipment or service via the yacht charter booking software.

There are several criteria that can be used to determine the prices that you can charge.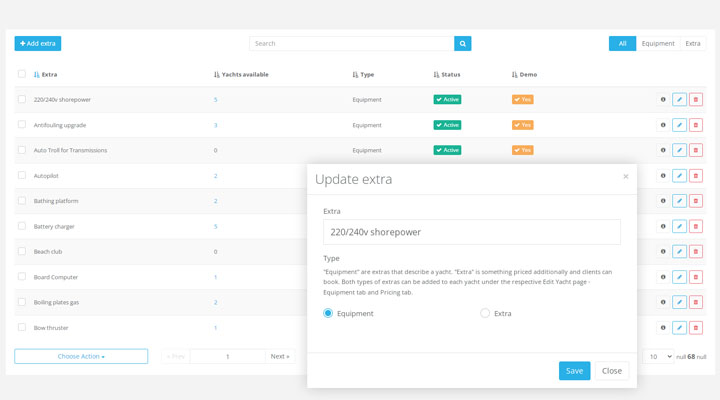 Streamline your operations with Yacht Charter Software. Try it free
Owner profiles
Create profiles for all the yacht owners that you work with in the yacht charter software.

Keep track of the yachts each owner operates and the commission you get paid for each reservation. Automatically send email notifications to them when a reservation for their yacht is received.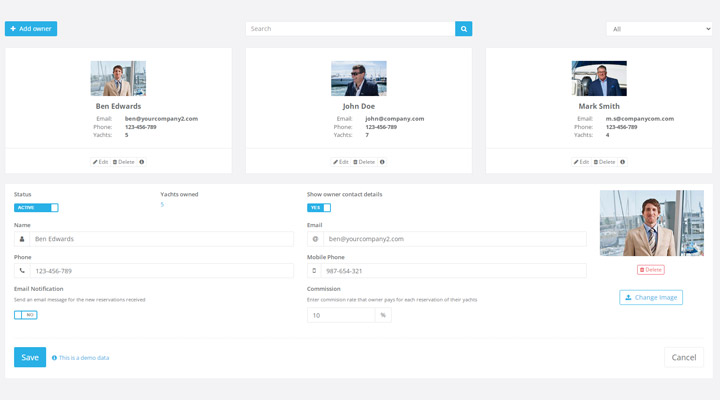 Agents
Each booking agent that you work with can have their own profile on your yacht charter booking software.

Any reservation received from an agent will be automatically assigned to them, and you can keep track of their value and commissions paid.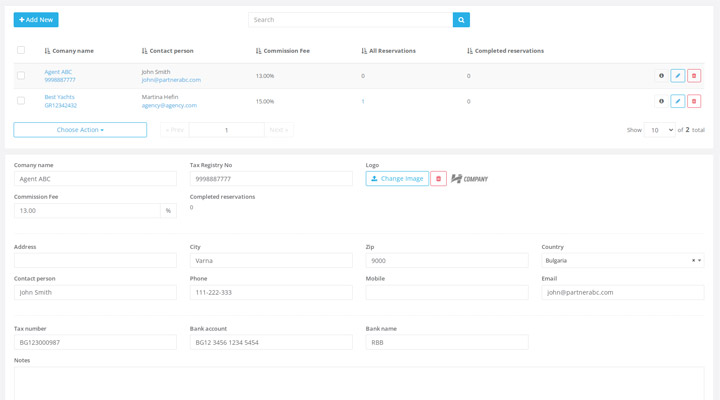 Manage your crew
Improve your chartering business operations by creating profiles for your crew members and assigning them to the reservations from your yacht booking software.

You also have access to all of their information, reservations and documents.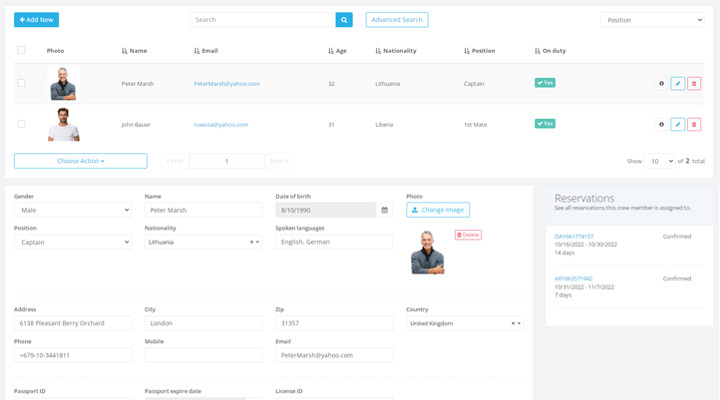 Streamline your business processes by managing everything with only a few clicks using our yacht charter software and powerful content management system.
View yachts' availability
View all of your yachts' availability in an availability calendar and manage your yacht charter business more effectively.

That way, you will know what new reservations have been made, which ones have been confirmed, and which yachts are booked.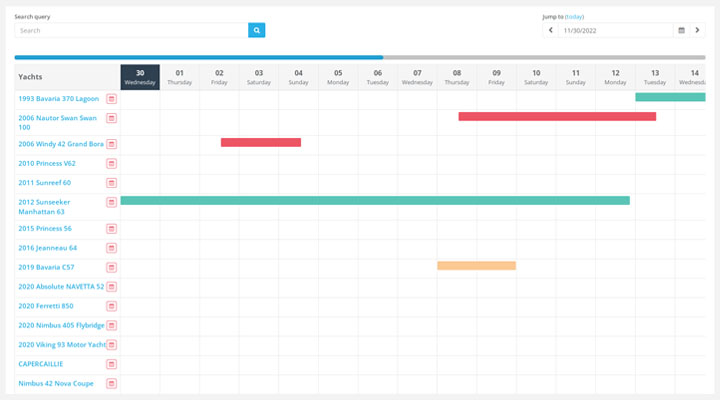 Automate notifications
Improve communication with your clients and your staff by customizing automated email and SMS notifications for each step of the booking process.

You will also receive an instant email message whenever a new yacht charter inquiry is received, which will significantly reduce the service time.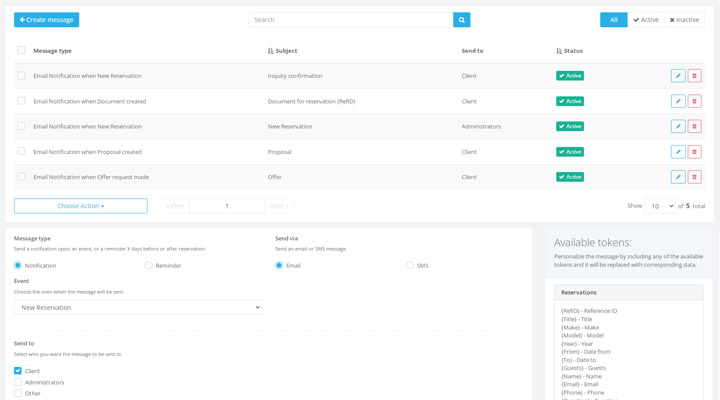 Documents & contracts
Have all of your essential documents and contracts perfectly organized and accessible 24/7 directly on your charter boat booking software.

Every reservation's documents will be automatically generated, saving you valuable time. However, you can still create a new document manually if needed.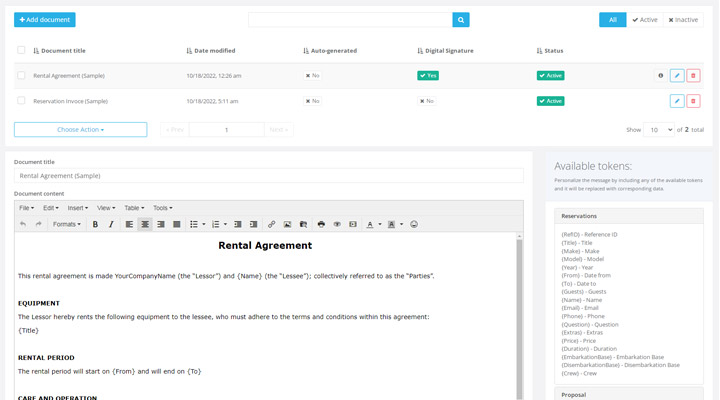 Enhance your business profitability with Yacht Charter Software.
Analyze reports
Always keep track of how your yacht rental business is doing by analyzing various reports that are easily accessible directly from your yacht charter booking system.

This will assist you in creating effective marketing strategies and campaigns as your chartering business grows.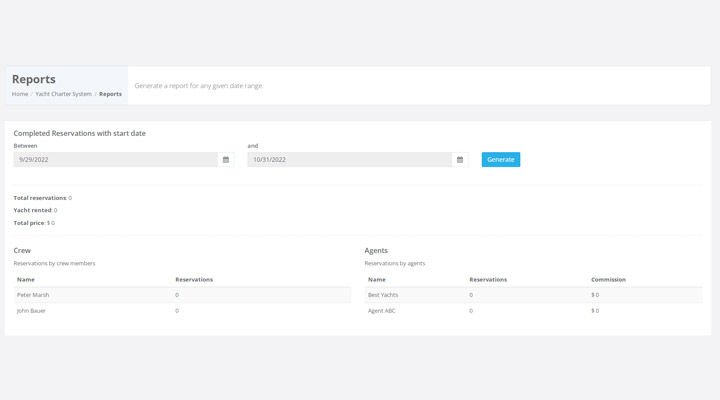 API & Exports
Use the built-in Export and API functions to access all the data from your yacht booking software easily.

Create different API keys and export reservation details in multiple different formats - iCAL, CSV, JSON, XML. Use API calls to check yacht details, availability, reservations and anything else you need access to.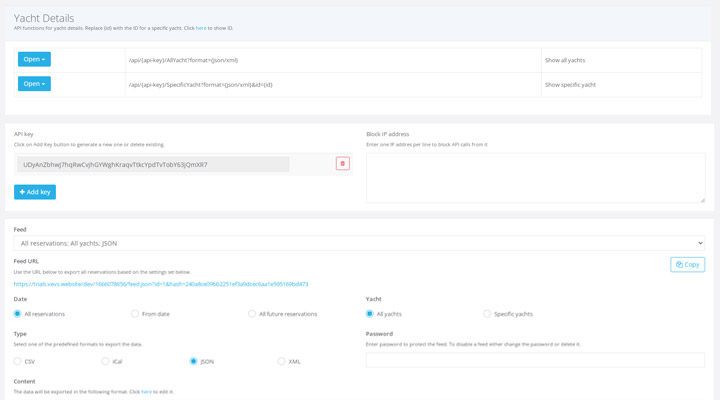 Create your Yacht Charter Software trial account. Start