Display Properties

Reach out to new potential guests by displaying your properties online with stunning images and high-quality videos on your own website.

Online Payments

Provide a seamless payment experience for your clients by allowing them to pay you directly on your website for the property they book.

Sync with OTAs

Synchronize your VEVS website with OTAs and PMS in real-time to avoid overlapping reservations and streamline your booking management workflows.
Get Reservations

Make your vacation rental business more efficient by allowing clients to make reservations online on your own property rental website.

Save Commissions

Save money and avoid paying a commission to third-party software vendors by allowing customers to pay you directly for the properties they book.

Automated Emails

Improve your business operations by automatically notifying your clients, owners, or administrators via email or SMS notifications.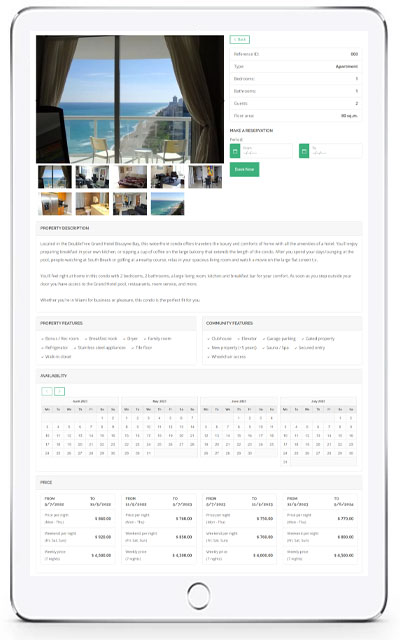 We have developed our property rental software to meet the distinctive requirements of property management businesses perfectly. VEVS Vacation Rental Software has customised features and functionalities to enhance operations and simplify workflow.
List your Properties
Appealingly present your properties on your property rental website with professional imagery, availability calendars and other features to attract visitors' attention and drive direct bookings to your business.

Additionally, having your website can incentivise guests who view your property on other OTA platforms to book without commissions directly on your website, making it highly possible that you will get all potential sales.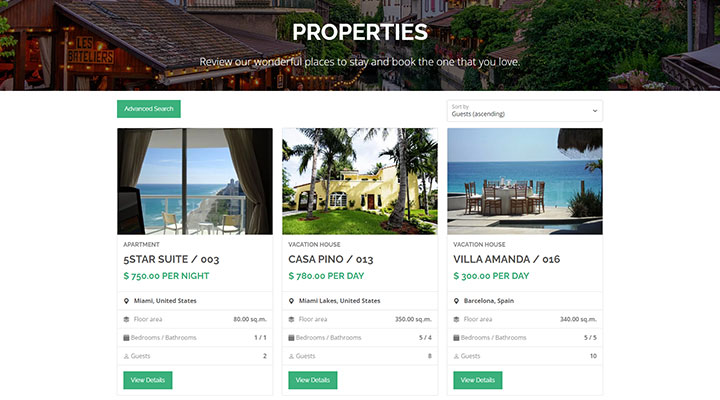 Images & Video
Imagery is a crucial instrument when turning website visitors into customers. Here's why VEVS Vacation Rental Software enables you to amaze potential visitors with stunning pictures and high-quality videos of your vacation rental properties without slowing your website down.

You are free to add as many pictures as you like to offer your clients a sense of your unique vacation rentals.

Online Reservations
Let your clients book directly from your website and communicate individually with the property owner or manager, leading to a more personalised and tailored experience.

You can also offer the best rates and deals on the market if you accept direct bookings on your website since you will no longer need to pay additional fees or commissions to third-party booking sites—a win-win situation for your guests and you.

Channel Management made easy with VEVS & Rentals United
Learn More
VEVS has integrated with Rentals United channel management software to provide you with greater control over your business operations and accurate, up-to-date property information across all channels
Online Payments
Provide your guests with a quick and easy way to secure their reservations. Offer them a hassle-free way to reserve a property online from anywhere and anytime.

You can choose from our selection of 14+ predefined payment gateways added to our vacation rental reservation software. If you can't find the one that you prefer working with, please contact us, and we'll add it for you.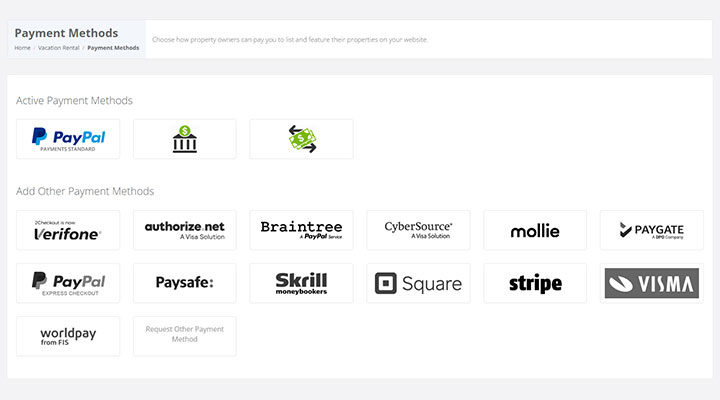 Property Owners
As a property manager, you can administer and handle the day-to-day task of other owners' properties and manage their listings, bookings, and guest communications on their behalf.

Alternatively, you can allow owners to manage their listings and reservations independently by allowing them to create an account and granting them access to your property rental software and website.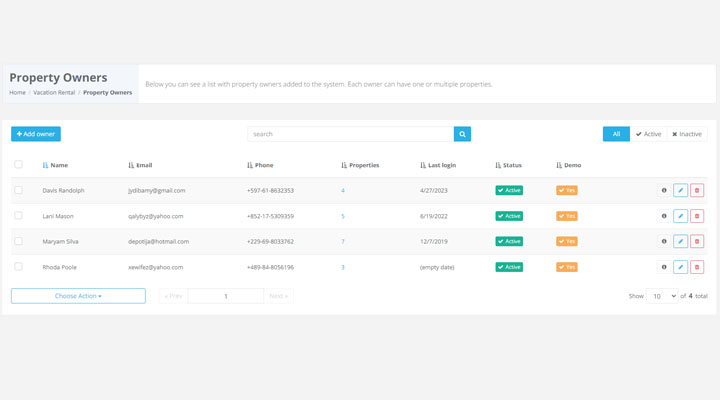 Charge for Listings
Make your website a top online marketplace for property rentals by letting owners list their rental properties on your website and charge them for the listings they made.

You can offer various packages for owners to publish and feature their properties on your site and set a different duration and price for each period. Alternatively, you can turn off this feature and don't charge for listings if you don't want to.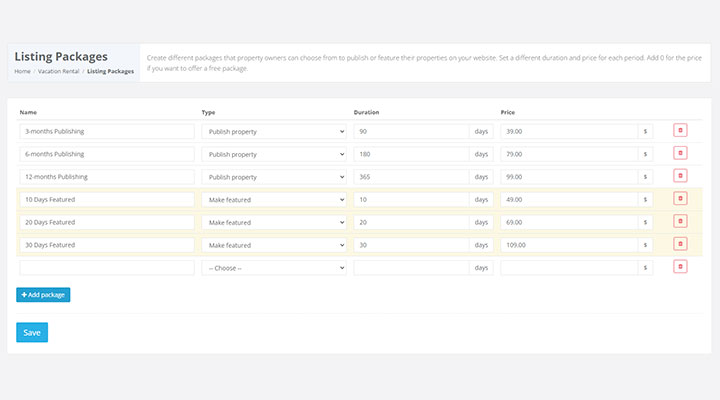 Synchronisation with OTAs
Link your VEVS rental software with the Online Travel Agencies (OTAs) or property management software (PMS) you use to synchronise them in real time and avoid overlapping reservations. That will facilitate your booking management workflows.

Our platform allows you to import the reservation feed for each property from other third-party websites, such as Airbnb, Booking.com, etc., into the VEVS property rental software. You can also create different feed URLs to export reservations in different formats and link them to the other OTAs for complete synchronisation.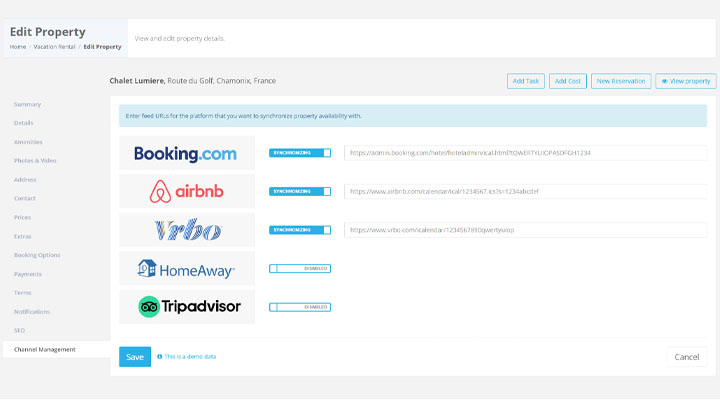 Drive your business growth online with a seamless 24/7 booking experience, automated operations and enhanced automated communication with your guests, owners and staff.
API
Utilise the dynamic API capabilities within the VEVS Vacation Rental Software to merge your system with other programs and guarantee safe data exchange and complete business management.

Our platform provides you with already available API keys for property details, availability, reservations and task, but if you need any other API functions added, just let us know.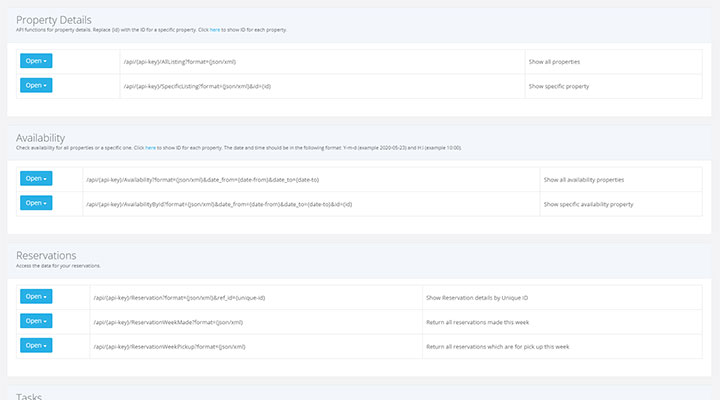 Channel Management via Rentals United
If you are still not using channel manager or already working with Rental United, take advantage of the VEVS + RU solution. Rentals United is a channel manager which will help you synchronise your property listings and availability across multiple platforms.

VEVS & RU integrated solution will automate your property listings and reservations management between the channel manager and your website. This will save you valuable time and effort.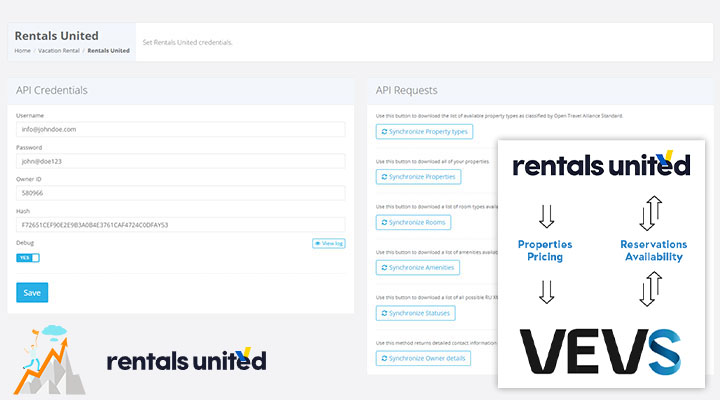 Advanced Search
Improve the usability of your website by enabling your potential visitors to easily find their ideal property using the advanced search on your VEVS website.

They can filter the results using several criteria, like location, type, number of beds and bathrooms, date range, etc.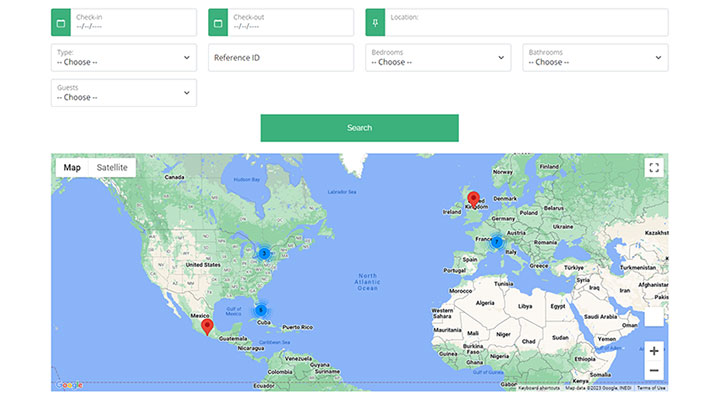 Say goodbye to the stress and hassle of property management and hello to a more efficient and effective way of running your business. Create a website and enjoy our vacation rental management software advanced features for streamlined operations.
Location Map
Ensure your guests can easily find your properties and significantly increase customer satisfaction by displaying an interactive location map on your vacation rental website.

Also, you can give your guests an overview of the surrounding area so they can better understand what to expect during their stay. This can help you establish your brand as a trustworthy and reliable source for vacation rentals.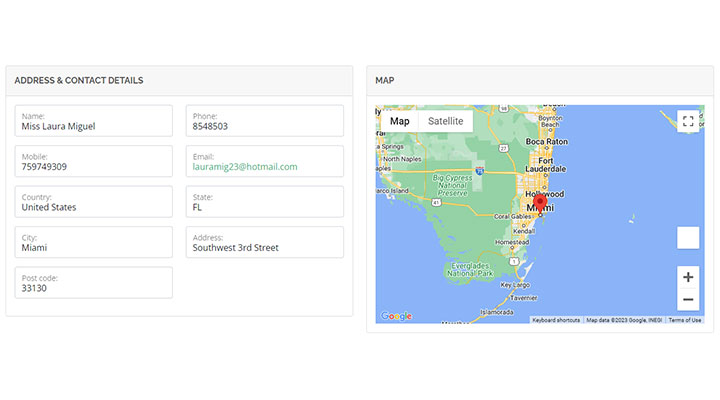 Extras
Increase your revenue with the least effort by offering guests various extras when they reserve their vacation.

For instance, you can add extra cleaning, airport transfers, and other things appropriate for your business.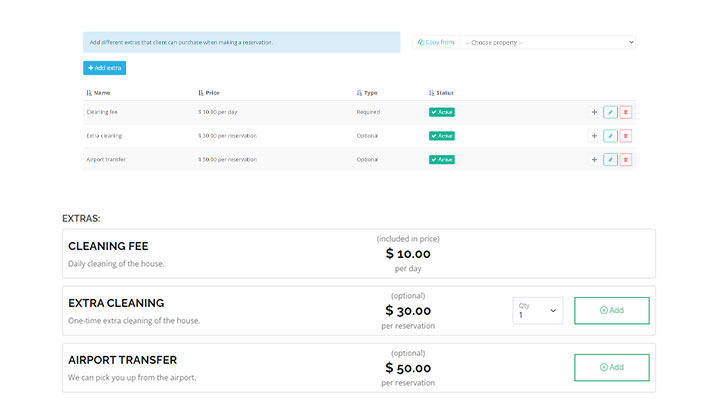 Featured Properties
Encourage your website visitors, to browse longer what you have to offer by showing featured or selected properties to your clients on each property rental page.

By giving customers more choices, you can also boost the chances that visitors will locate the listing they are looking for and make the reservation rather than leave.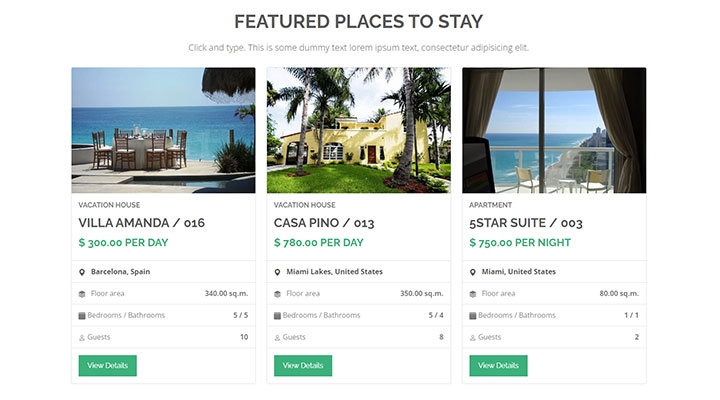 Maintain complete control of your property management business by accessing your VEVS Vacation Rental Software admin area from any device or location at any time.
Pricing Management
Set different prices for each property and completely control your pricing management with VEVS's powerful rental property software.

Make your rates different during weekdays and weekends; create weekly packages, and specify the rental period for which the rate is valid. That way, you can effortlessly maximise your profits during peak seasons and special occasions.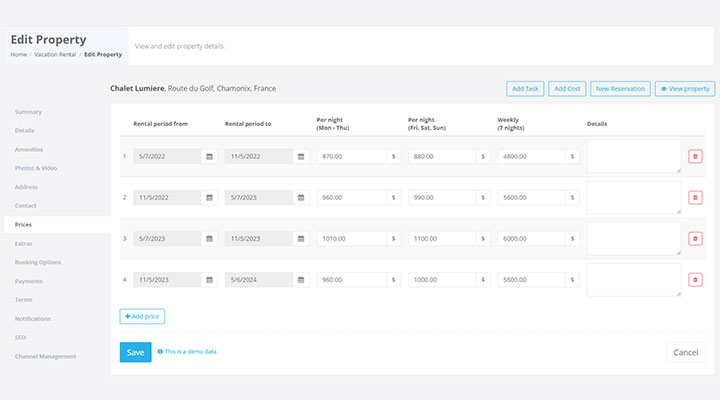 Properties Management
With the VEVS Vacation Rental Software, you can efficiently manage your properties by handling payments, deposits, SEO, documents, and even emails on a property level.

You can also create detailed vacation property profiles, manage booking conditions per property, add stunning image galleries, include a location map, manage property listings, specify property types and extra services, set flexible prices and booking options for each property, and more.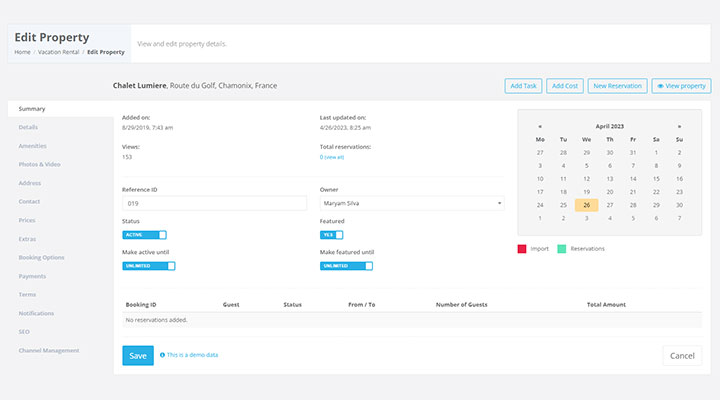 Availability Calendar
VEVS' vacation rental reservation software lets you easily manage an availability calendar for each property and display it on the property details page on your website.

The availability calendar management feature allows property managers to streamline their operations, minimise errors, and help them gain a better insight into the properties' availability.
Property Maintenance
Efficiently manage all maintenance tasks and service providers for each of your properties with a comprehensive calendar on the VEVS vacation rental management software.

You can send each service provider a notification for each stage of the task, track all services and expenses for each property, generate documents and manage your operations and finances more effectively.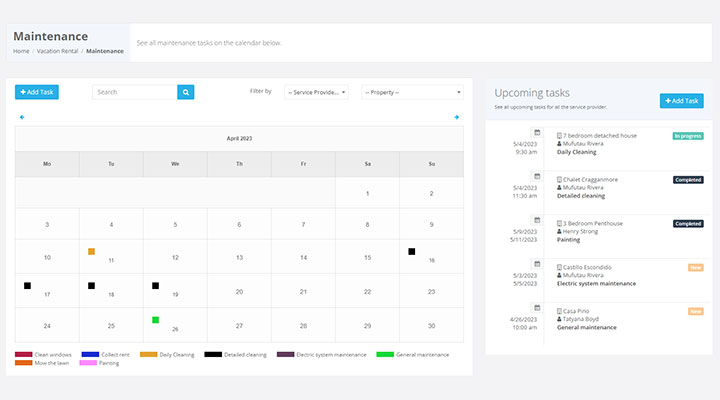 Automated Notifications
With VEVS vacation rental booking software, you can improve and automate communication with your guests, property owners, and property maintenance staff or providers. Our software will save you valuable time since you will no longer need to send multiple emails manually.

With the automated notification feature, you can tailor messages to suit the unique requirements of each recipient, guarantee prompt and dependable delivery, and streamline your business operations.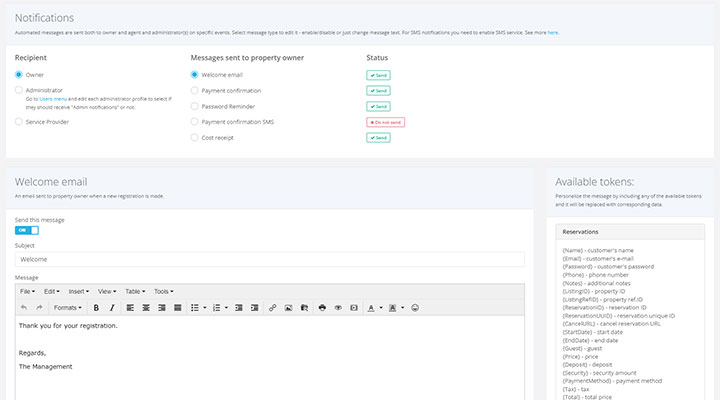 SEO
VEVS Vacation Rental Software offers an array of essential tools to optimise your property rental website for search engines and improve online visibility.

In addition to optimising your website, the software provides various SEO tools, including meta tags, ALT tags, canonicals, robots.txt, and sitemaps, that enable you to optimise your content for search engines.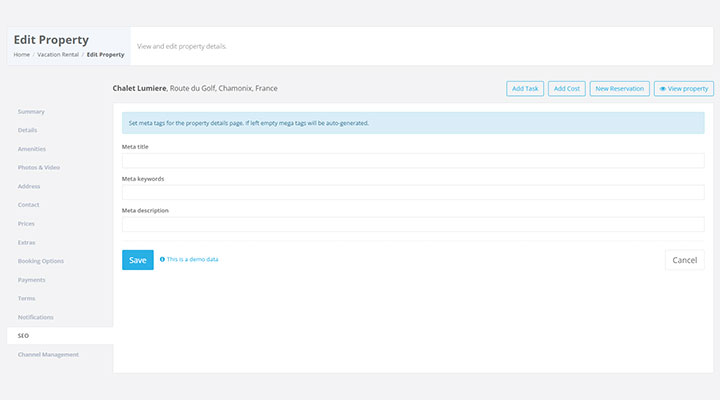 Documents
Have all your documentation precisely organised and always available within your VEVS property rental software. You can also effortlessly add a new document by clicking a single button.

The document can also have a digital signature added to it, and you can turn on the automatic notification option.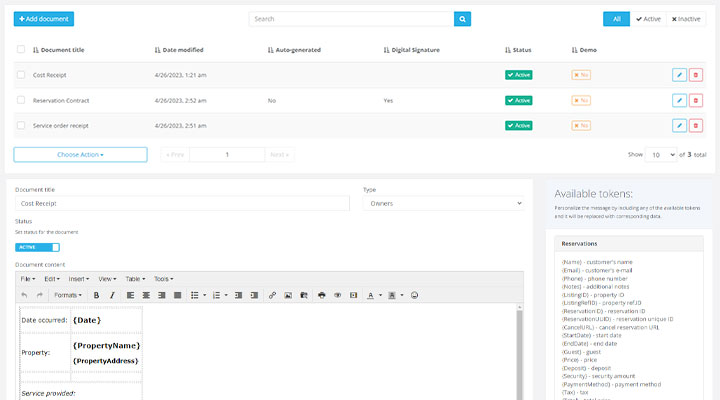 Create your Vacation Rental Software trial account. Start