Stunning gallery

Upload a stunning gallery of your property and attract potential guests with beautiful and enticing images to increase bookings and revenue for your business.

Direct reservations

Appreciate your guests' time by allowing them to directly book a property from your website 24/7 from any device, place, and anytime.

Flexible pricing

Increase your holiday property rental revenue with standard and seasonal rates. Adjust rates according to demand, seasons, and special events to maximize profits.
Availability booking calendar

Speed up the booking process and increase the occupancy rates by displaying a property booking calendar on your website.

Online payments

Boost your holiday property rental business with online payments. Accepting payments online is fast, secure, and convenient for both you and your guests.

Extras

Offer your guests extras like breakfast, parking, and Wi-Fi to increase revenue, enhance customer experience, and improve occupancy rates.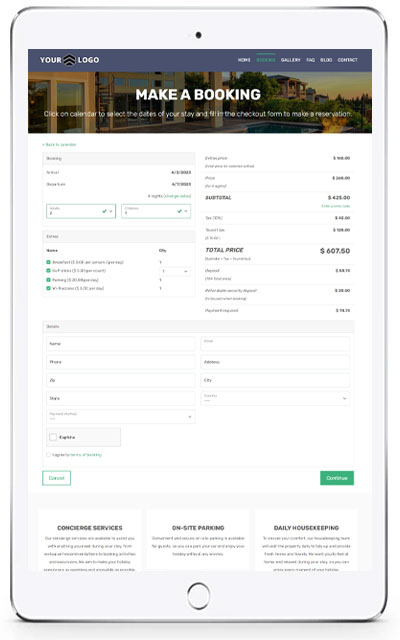 Automate your business processes with VEVS holiday property rental software to save time and reduce human error
Create 7-days Free Trial
Maximize your business growth online by providing your clients with a convenient 24/7 online booking experience, automating business operations, and improving communication with both clients and staff.
Accept direct reservations
Accepting direct reservations allows you to create a seamless booking process for your guests, enabling them to book your holiday property 24/7 online and saving them time and effort.

It's also possible to add manual reservations, which simplifies business management and helps you stay more organized since you'll have all your bookings in one place.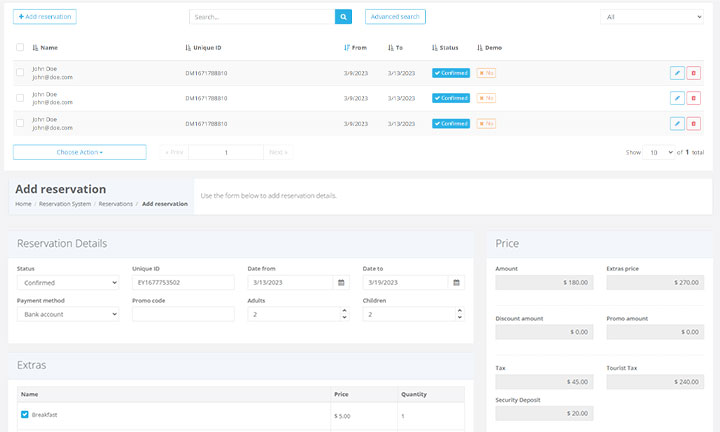 Receive online payments
With online payments, you can avoid commission fees charged by third-party booking platforms and keep 100% of the revenue. In this way, you can substantially increase profits and reinvest in your business.

With VEVS Rental Property Website Builder, you can select from more than 14 already integrated payment gateways. If you cannot find the one you are using, we can add it for you upon request.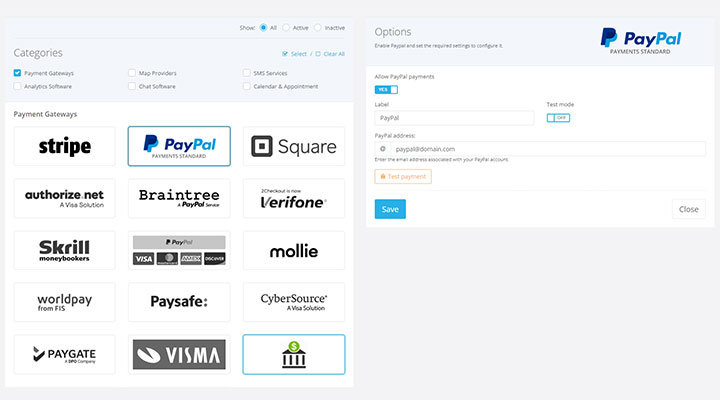 Availability Booking Calendar
Show your property's availability in real-time to your guests so that they can quickly see when a property is available and proceed with the reservation right away.

As a result, you will spend less time on back-and-forth communication and can concentrate on other aspects of your business management.
Customize your software and website solutions to perfectly fit your business needs with our fully-tailored and adaptable solutions.
Create 7-days Free Trial
At VEVS, we offer many essential settings for your holiday property rental software, and we also provide the option to adjust it based on your preferences. Let us know your specific business needs, and we will tailor the software to suit them perfectly.
Standard & seasonal rates
The VEVS Rental Property Website Builder allows you to set a default price for each day/night of the week, but it also allows you to set seasonal rates and define different seasonal prices during certain times of the year.

Therefore, you can charge higher rates during peak season when demand is high, resulting in significantly increased revenue and profits.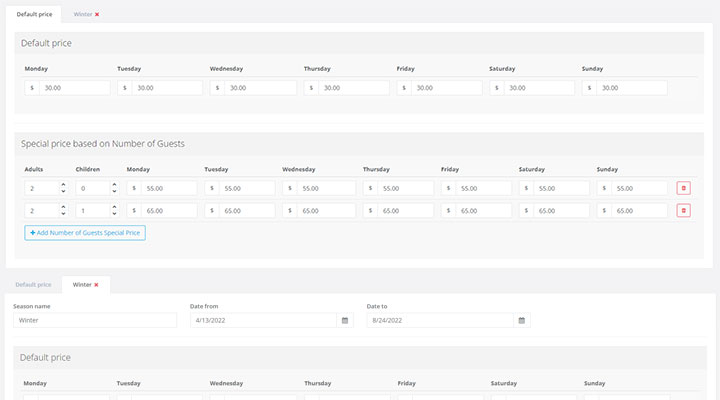 Booking conditions
Optimize your rental income and manage your business in seasonal duration by setting custom booking conditions and enforcing minimum stay requirements during peak season when demand is high.

You can allow/disallow check-in and set specific rules, such as minimum or maximum nights per reservation or reservation starting from a certain day of the week.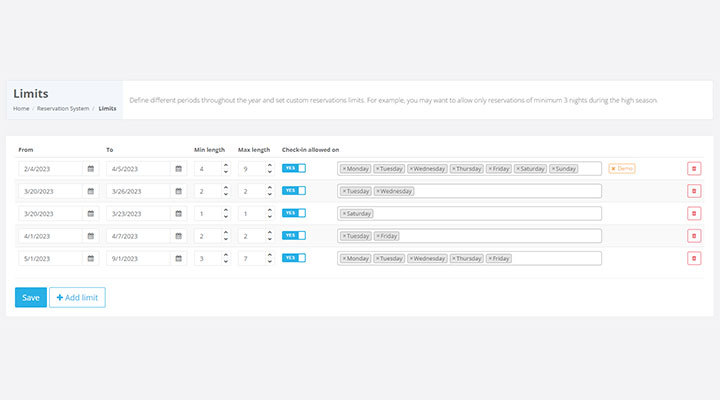 Extras
Offering extras to your properties, such as breakfast, wi-fi access, parking, etc., helps you to easily generate additional revenue, enhance the guest experience, and increase occupancy rates.

You can add as many extras as you want, make them required, allow multi quantities and decide whether the extra will be valid per day, per person, per count, or as a one-time fee.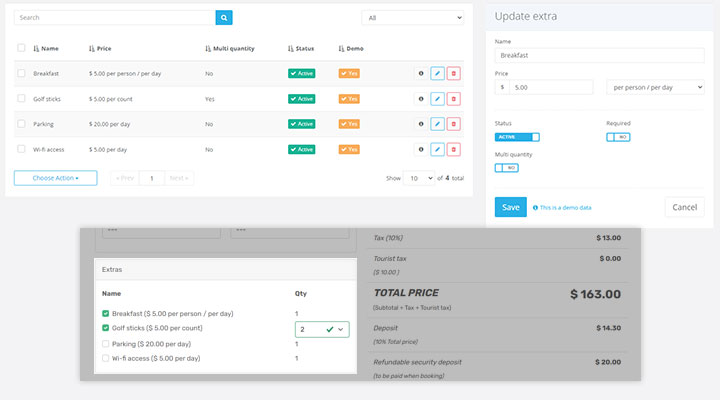 Coupons & Discounts
Attract more bookings, increase guest loyalty and gain a competitive advantage over other similar properties in the area by offering discounts or coupons to your guests.

Choose from various settings to customize the promotion. It is possible to create a discount applicable to specific reservation rules, such as the booking period, and create a coupon that is applied to the room price, extras price, or both.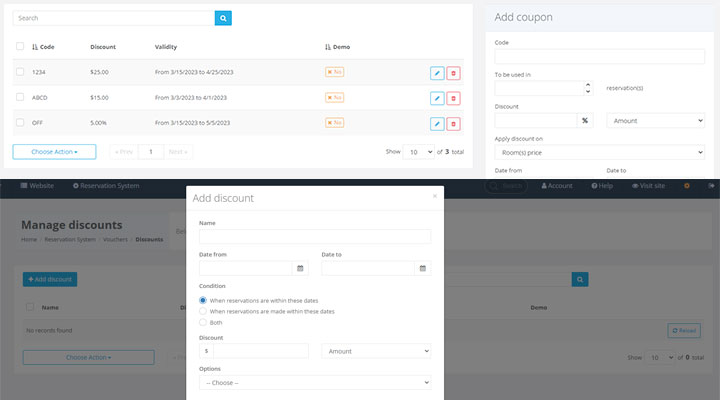 Take complete control of your holiday property rental business 24/7 by accessing your website and the VEVS Rental Property Website Builder back-end from any device, at any time and from anywhere.
Documents
With the VEVS holiday property rental software, you can generate and send customers electronic invoices per email with only a few clicks.

You can easily add your company and billing details, upload your logo, and customize the invoice template to fit your business perfectly.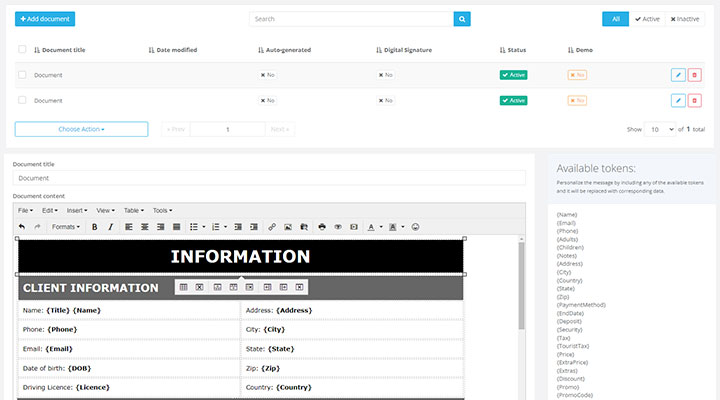 Automated notifications
Build a loyal customer base by sending automated messages to your clients and providing them with timely and relevant information.

You can also send automatic notifications to your administrators for each stage of the booking process to streamline the business processes and avoid the risk of a message going missing or undelivered.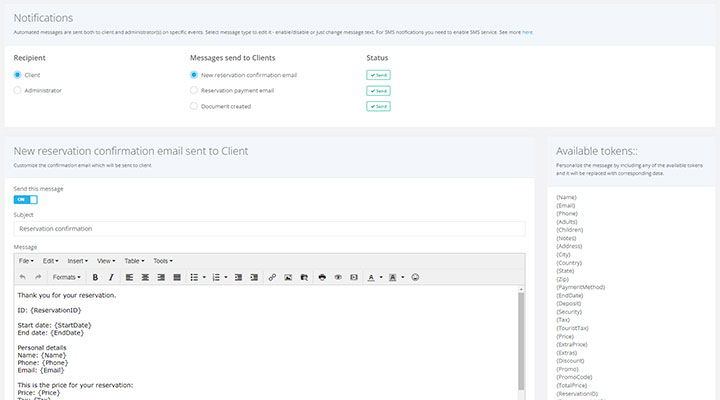 Advanced settings
Using the Rental Property Website Builder by VEVS, you can manage your business more effectively with various advanced booking and payment settings.

Moreover, the available settings allow you to tailor the software platform to suit your business workflow perfectly, increasing your company's efficiency.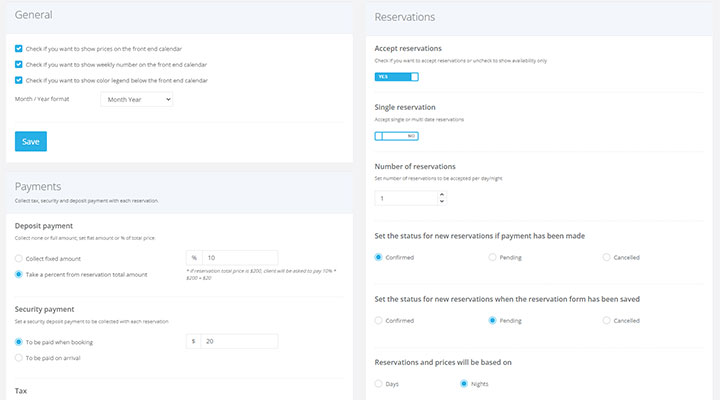 Create your Rental Property Website Builder trial account. Start