Inventory Management

Streamline your business operations by having a list of all of your equipment rentals in one place, adding specific booking options for each one, and many more.

Secured payments

Choose from our 12+ predefined payment gateways, allow your clients to pay you in advance and increase your sales instantly.

Availability calendar

Monitor the real-time availability of your equipment rentals and display it to your clients on your website.
Online reservations

Digitalize your equipment rental business, allow your clients to book equipment from your website 24/7 and effortlessly increase sales.

Flexible price packages

The VEVS equipment rental business software provides flexible and options-rich rates management to fit your pricing model.

Automated notifications

Improve the communication between your staff and your clients with automated SMS and email notifications.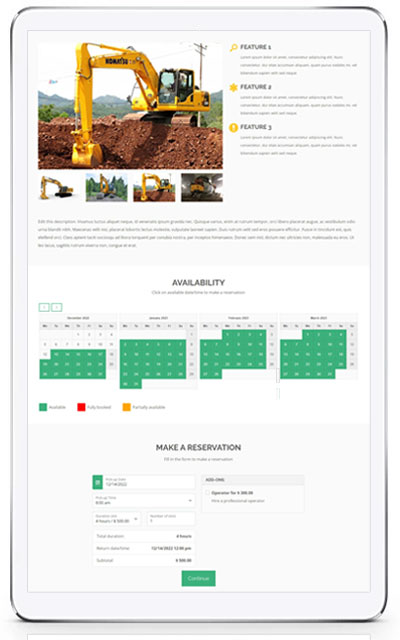 Whether you offer heavy construction, tools, party, audio, or video equipment, machinery or others, the VEVS inventory rental management software will meet all of your business requirements.
Show equipment online
Use powerful equipment rental software to present your equipment and services on your website in the best way possible and easily attract visitors' attention.

You can create as many listings as you like, upload high-quality photos, highlight specific product features, describe each in detail, and organize them by category to make your website more user-friendly.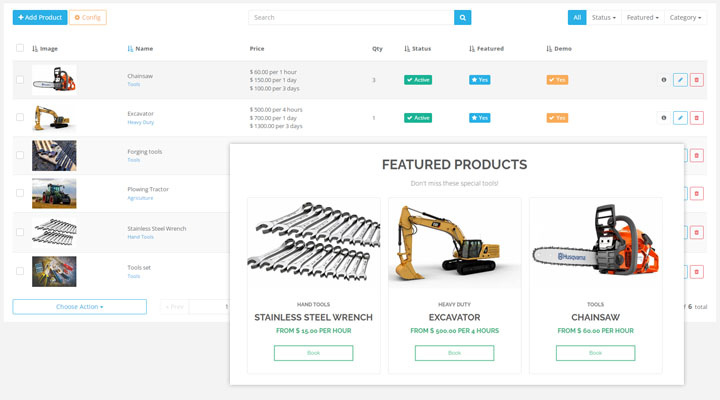 Display availability calendar
Your equipment can be displayed on your website with its own availability calendar, a general availability calendar for all your products, or both.

Choose from two options when displaying the availability calendar - displays the product availability in a monthly calendar view or show the available equipment throughout your working hours for the day.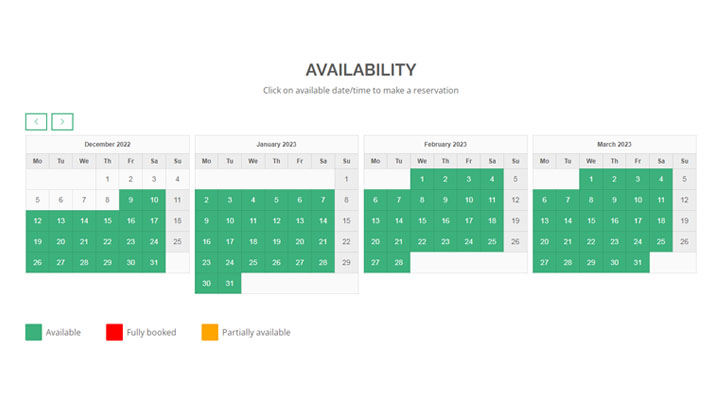 Accept online bookings
Make your workflow much easier to manage by accepting online bookings and payments via the robust equipment rental booking software.

This not only makes it easier for you to manage your equipment rental business but also provides a straightforward and transparent online rental process for your clients with easy-to-follow steps and a quick checkout process.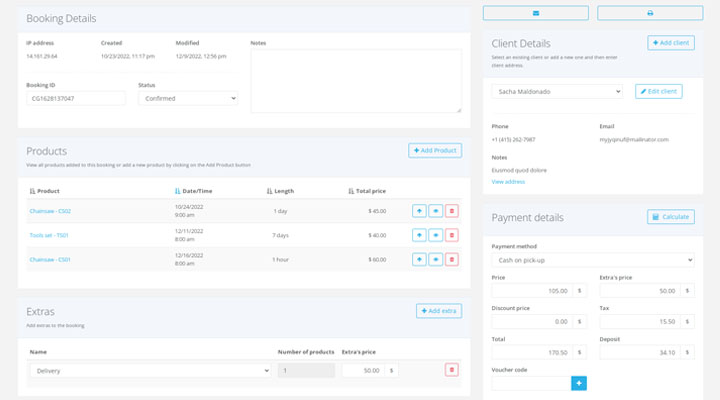 Take your equipment rental company to the next level. Use our state-of-the-art equipment rental booking software and powerful content management system to manage everything from anywhere with only a few clicks.
Secured payments
Reduce cancellations and no-shows by collecting a % deposit payment or full payment in advance. Accept payments 24/7 by allowing your clients to pay you securely online for the equipment they book.

Choose from our 12+ most popular payment gateways. If you don't find your preferred one, we can add it to your equipment rental management software per request.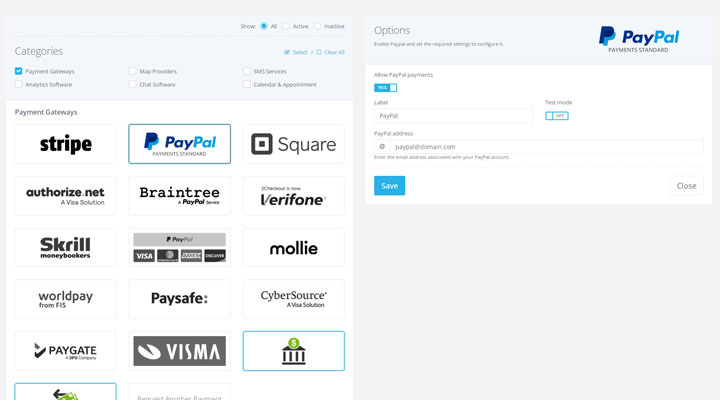 Offer add-ons and extras
Boost cross-selling by allowing your clients to purchase additional services, such as product add-ons, extras or services during the shopping process.

You have two options to set up and sell extras - per product or booking. Product add-ons include protective kits, gloves, helmets, glasses, or other accessories. Booking extras apply to the entire booking and could be, for example - delivery to the client's address, or other.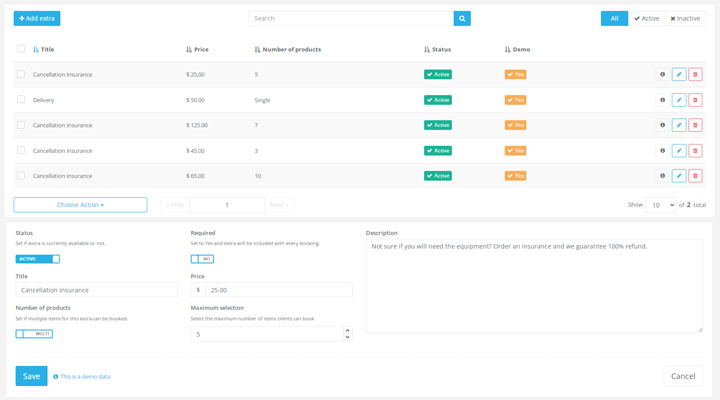 Clients' accounts
Allow your customers to create an account on your online equipment rental software to provide them with a convenient booking process and allow them to track and manage their reservations easily.

You can also access your client's information, see the booking history, view or download documents and use their contact information to send them special promo codes and quickly convert them into returning clients.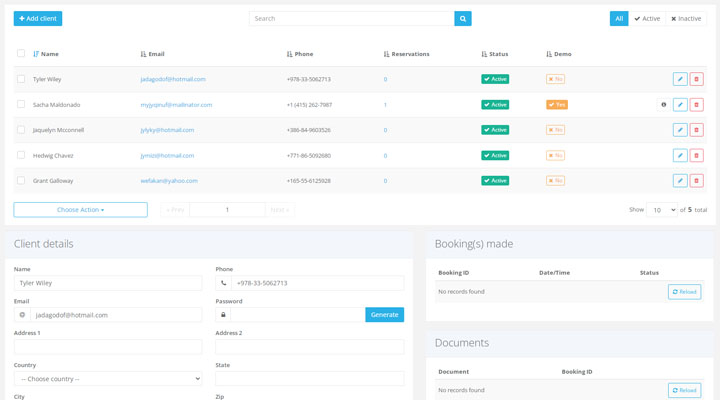 Manage reservations effectively
Utilize our online equipment rental software to take complete control of your business. You can access your reservations from anywhere and at any time and manage them in a way that suits your needs.

With just a few clicks, you can change any booking details, including pick-up and return dates, add extras and insurance, change payment methods, add essential documents, and much more.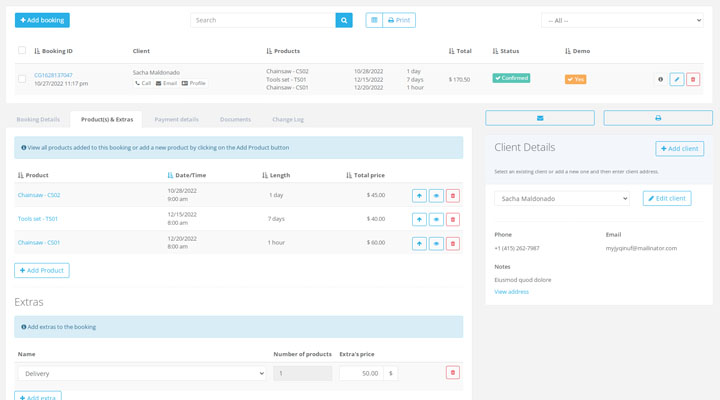 One-of-a-kind solution that perfectly meets all of your needs. Try it free
Automate notifications
Improve your equipment rental business management and make communication with your staff and clients online more effective with a powerful equipment reservation system.

Send personalized and automated email and SMS notifications to your clients throughout the reservation process and afterwards. Notify your staff for each event, so you don't have to message them manually.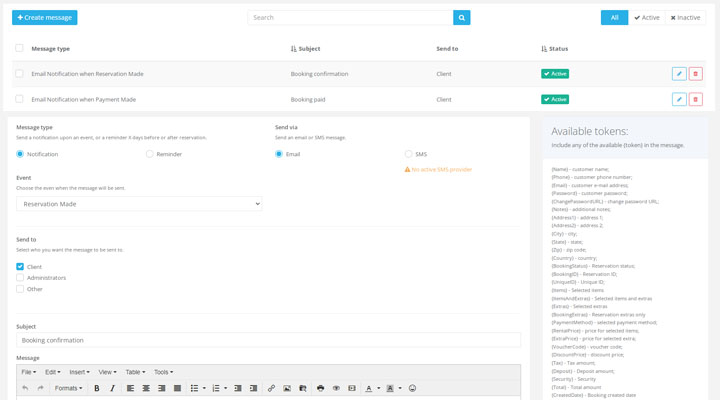 Manage inventory
Invest in a powerful equipment rental business software that contains all the essential features to help manage your inventory.

You can set up inventory numbers and unlimited items for each of your product rentals, set up individual booking conditions, manage pricing packages, and track availability.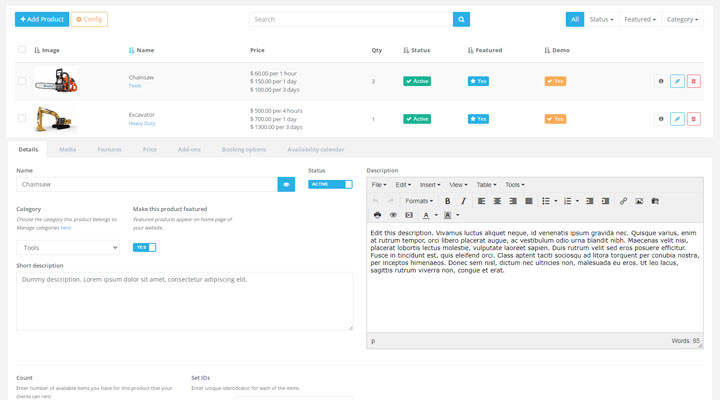 Track real-time availability
Track your equipment inventory availability and occupancy in real-time to monitor the business and increase its efficiency. The VEVS inventory rental management software makes overlapping bookings impossible.

You can view your equipment rentals in the calendar showing the whole inventory. Filter by product to track only the availability of the selected product or make equipment rentals unavailable for specific periods using the items blocking function.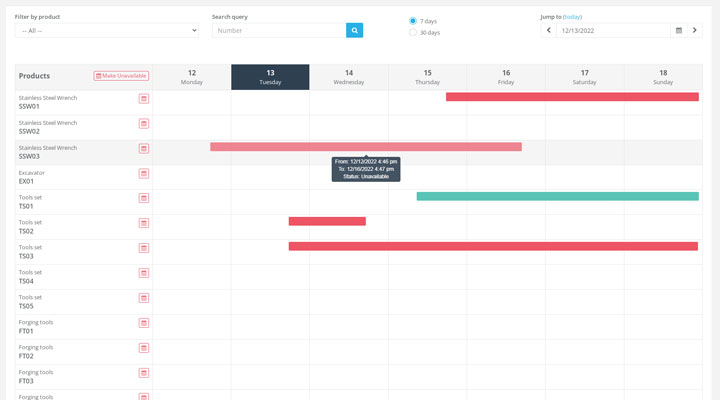 Make your company more profitable with a powerful equipment rental software. Implement a 24/7 online self-serving process, automate your business operations, increase your clients' satisfaction and grow your online business with ease.
Contracts and documents
Setup and automate your client service documents in your equipment rental business software, access them at any time and from any place and manage your business more effectively.

You can customise the document templates, generate them automatically for each reservation, print, send and view them, or manually edit them, depending on your needs.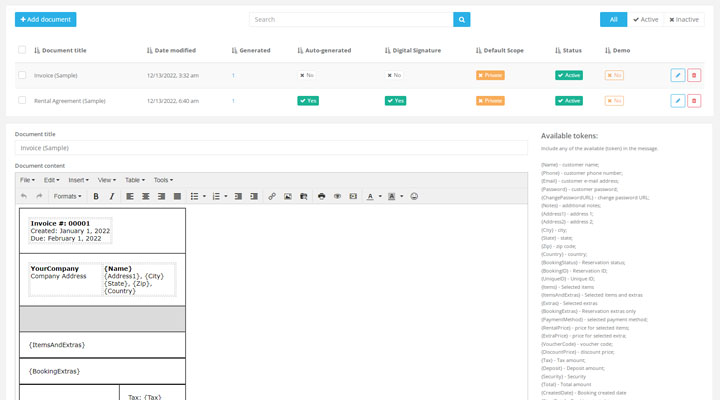 Flexible price management
You can set up rates based on the rental length and offer them as packages to your clients. You can now also set pricing based on the pickup weekday, allowing weekend rates and packages to be set.

The must-have seasonal rates management is also included in our online equipment rental software in a hassle-free way.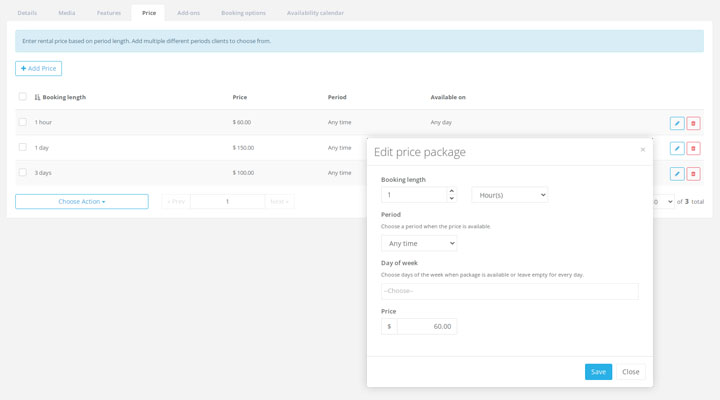 Set pick-up time options
VEVS equipment booking software allows you to set the pick-up time options in the way that best suits your service.

Pick-ups can be scheduled for any time during your working hours, a specific pick-up time can be selected during your working day, or the client does not have any say in the time of pick-up.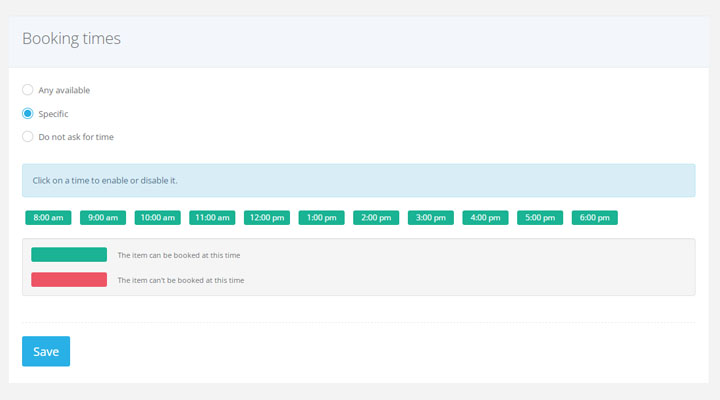 Create your Equipment Rental Software trial account. Start now
Various booking settings
You can set up the booking settings, such as the shopping cart or single product checkout, available items for purchase, and booking times, to fit your online equipment rental business the best.

You can manage them on a product level, or if you have the same settings applied for all of your products, you can specify them on a global level and make them valid for all of your newly added equipment rentals and save a lot of time.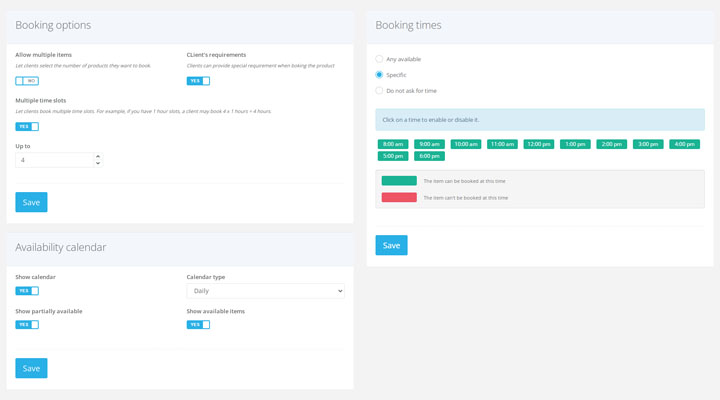 Cart or one-product checkout
The VESV inventory rental software allows you to choose between two alternatives on how many products your clients can book during the checkout process - multiple products (shopping cart) or a single product.

The shopping cart function allows clients to rent multiple products in one transaction, perfect for tools or party equipment. On the other hand, single-product checkout is ideal for heavy equipment rentals since clients can only reserve one product.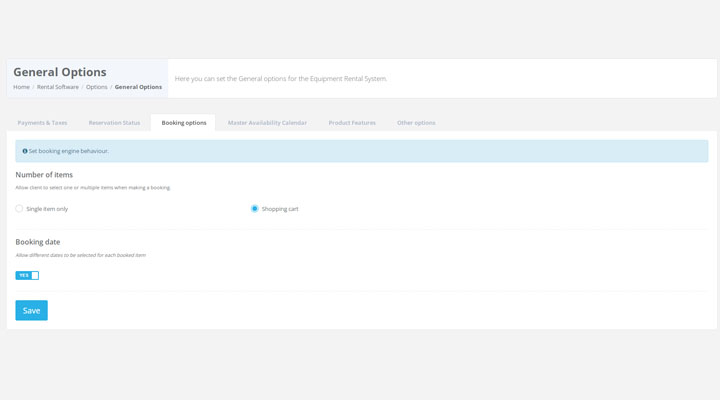 Promo Codes and discounts
Send your clients a personalised promo code and effortlessly increase sales. You can select for which products the voucher is valid, set minimum order value and other settings.

In addition, you can create an automatic discount for reservations that meet the criteria you specified, such as booking period, starting days and more and increase sales with ease.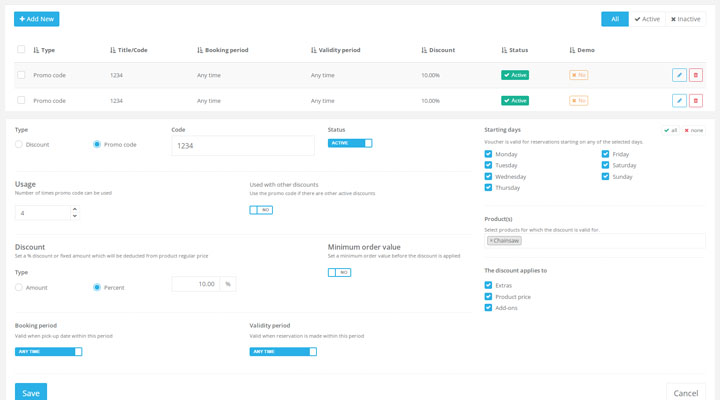 Show similar products
To never miss a reservation, display similar products at the bottom of each product detail page via the equipment rental management software.

Don't lose customers if they can't find the product they need from the first click. Increase conversions by providing additional options at a glance and through the sales funnel.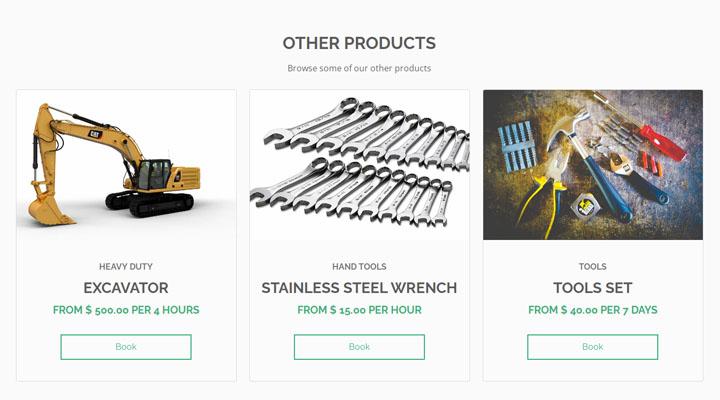 Analyze reports
In your VEVS Equipment Rental Software, you will also find valuable business data that will give you an insight into how your business runs online.

As a result, you can access various reports, export and analyze them, and create successful marketing campaigns that can help streamline your business processes and grow your online business.
API & Export
Using the built-in Export and API functions from your equipment booking software, you have full access to all the data from your boat rental software.

Manage different API tokens and export all the data in multiple different formats - iCAL, CSV, JSON, XML. Use API calls to check product details, availability, discounts, reservations and anything else you need access to.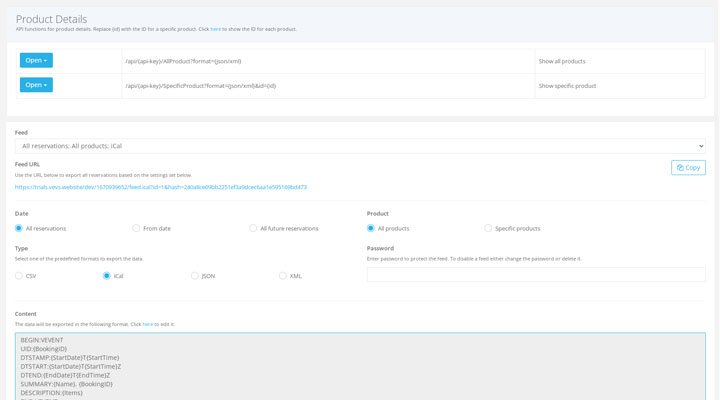 Create your Equipment Rental Software trial account. Start