Website Setup

Business Software

Shuttle & Taxi Website
Need any help?
If you have any questions or dificulities manging your business website, just reach out to our Customer Success Managers!
With our Shuttle & Taxi website, you can build a website for a company that offers any of the following services:
Shared Shuttle
Private Transfers
Limo Services
Chauffeur Services
There are 4 different booking engines for each one of the services that you can enable and disable depending on what your company offers. So if you only offer Private transfers, for example, you can hide the other 3 booking engines.

The reservation form on your website allows your clients to choose the service they are interested in and make a reservation. If you disable some of the booking engines the respective reservation form will be hidden.

For all the 4 booking engines you can set various configuration settings
Checkout form - collect only the information you need for your customers based on the service that they use.
Notification message - predefine confirmation message that clients will receive when they make or cancel a reservation
Payment gateways - collect online payments for all reservations made. You can enable one payment gateway for one service, and another payment gateway(s) for the other service.
Taxes - set different taxes for your services. You may charge a VAT for Shared Shuttle, but not for Limo services.
There are also 3 other main components that you need to set - Drivers, Vehicles, Extras.
Drivers
You can create different user profiles for all the drivers that work for your company. Later when a reservation is made you can assign a driver to it which will make it easy for you to monitor who is responsible for each reservation.
Vehicles
With Private Transfers, Limo Services and Chauffeur Services your clients have the option to select the type of vehicle they want to use. So you will need to enter all the different vehicles that you operate. It's not necessary to enter information for each particular vehicle, rather than the different types of vehicles. For example, if you offer Limo Services and you have 3 different limos (same make/model, price, extras, etc..) there is no need to enter each one of the limos but only one of them. Then on the front reservation form, your clients will see Limo and will be able to book it.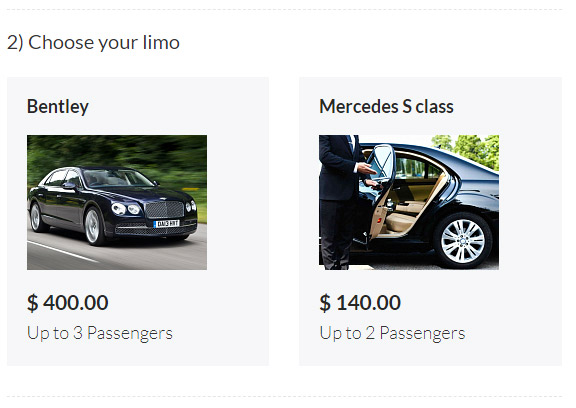 When you add a vehicle you can specify the type of services it's used for. Later when you configure your services you should specify the price for each one of the different vehicles.

IMPORTANT: you need to add at least one vehicle used for any of the services, including Shared Shuttle or otherwise the reservation forms will not work correctly.
Extras
You can add an unlimited number of different extras that your clients can book along with the selected service. For example, for Private Transfers you can offer "Home address drop-off/pick-up", or for Limo Service a "Free bottle of champagne". You can set different options for each extra such as - service(s) it's available for; price - free, per person, per reservation; description; image; the maximum number of items client can purchase.